Surfing is different than many sports because it only requires one piece of equipment: just you and the board working together to shred the perfect wave. You must have a trustworthy and durable board under your feet, and the perfect board gives you confidence and the ability to improve fast. We know this is a huge decision but to be the best surfer you can be, you need the best surfboard. Whether you are new to surfing or a seasoned veteran we have narrowed your best surfboards search down to these tried and tested top 9 surfboards to take your surfing to the next level.
1. Firewire Dominator 2.0 Surfboard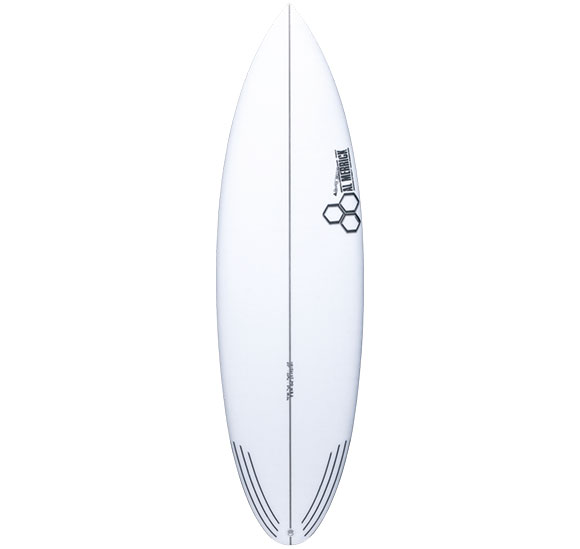 Editor's Choice #1: We have always been a fan of the Dominator and its versatility. We were amazed at Firewire's ability to somehow improve upon that. We love how this version can surf so many different waves now, and it still has an excellent feel and great durability – with a couple of minor changes that make a big difference.  
The Firewater Dominator 2.0 Surfboard has been noticeably upgraded: with the goal of being able to catch waves more frequently, only a few changes were made to this model that has been around since 2008. This is very big news to finally get this new version under our feet and it did not disappoint.
The obvious change here is on the tail, which has switched from a rounded tail to a squash style. This adds a noticeable amount of surface area which you can convert into tighter turns and have more grab on the wave. To balance that, the bottom has been adjusted with a double-barrel into vee for the last 5" out of the tail. This adds a lot of smoothness to those carving turns and allows the board to release more from the turns that a squash tail provides.
Versatility Across The Waves
These improvements were made in an effort to introduce this board to a wider range of waves. This board now performs better in smaller waves while still being enjoyed on waves up to 6 or 7 feet. Advanced surfers will still have a blast on it while intermediates can use it as a transition board to get away from a longboard surfboard. It makes surfing more accessible on smaller waves for many different levels of surfer. The nose and chest of the board remain the same as the first Dominator. Its signature concave hull under your front foot really helps to channel water right down the middle, keeping your speed up as it produces less drag.
2. Firewire Glazer Surfboard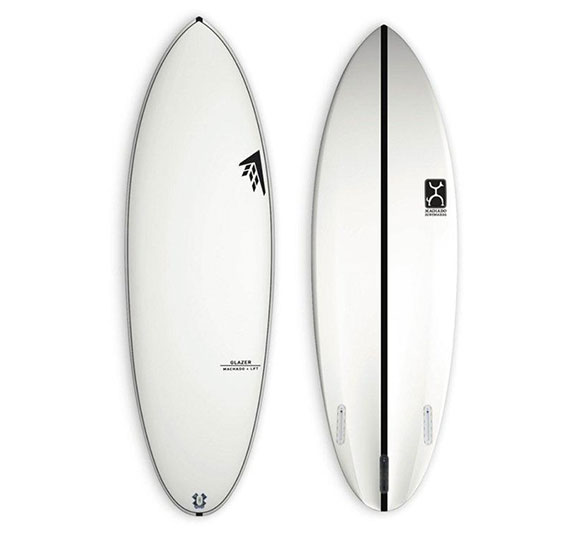 Editor's Choice #2: Everyone loves a traditional surfboard and this one provides just that. We applaud any professionals who are so dedicated to their craft that they take this much time to work on one product. Surfing is supposed to be fun and this board was built to give you that and more – it seems like the surfboard itself is having a blast while out there.
The Firewire Glazer Surfboard has been a work in progress for almost a decade. There has been a lot of time put into getting this board just right. With small changes being made here and there over the years to get everything just right for many different styles of surfer and waves.
Great For Various Conditions
The round and sleek curves on this board make it not only look good but very manageable when turning for a board of this size, and this versatility is carried through to the rockers. With gentle rockers, you can maximize your performance in small surf. This makes it very easy to ride in various different conditions. There is ample volume in this board, making it a nice easy paddle out to your favorite surf spot. The widest point of the board is just past halfway so it has a nice buoyant chest to it. With its extra volume and gentle rocker, this board can pick up speed quite well for its size.
This board is tough to classify but we would put it just above a groveler. It's not exactly a full performance shortboard but takes a lot of inspiration from that genre. If you currently ride a longboard or mid-length then making the switch to this board should be easy. It's a great way to improve your turns and get really good at carving waves. You will also be able to tackle some steeper waves that you would otherwise avoid with a longboard. Experienced surfers will also have a lot of fun with it as well. It still has the capability to shred out there so as a second or third board this could fit nicely in your quiver.
3. Firewire El Tomo Double Diamond LFT Fish Surfboard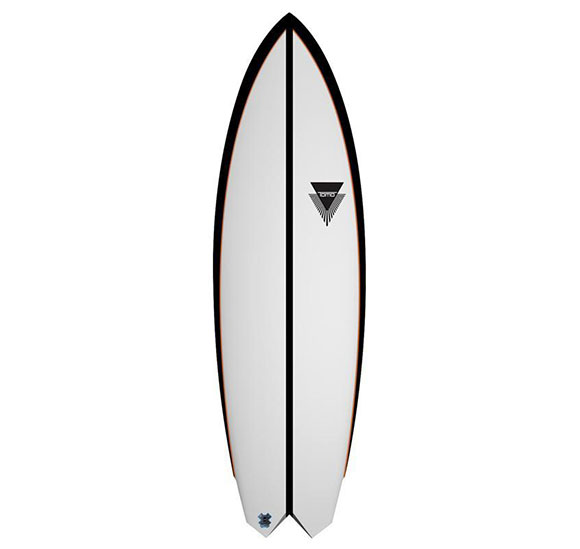 The Firewire El Tomo Double Diamond LFT Fish Surfboard is perfect for small wave fun. The setup and design allow you to catch waves easily that other boards couldn't catch – its killer design will also have a few people taking notice while you're out there.
The first thing you will notice is its outline: taking inspiration from classic fish surfboards, this double diamond tail channels water out the sides of the tail to provide a stable ride and easier maneuverability. It has a very low rocker bordering on a flat rocker, maximizing your potential with small mushy waves. The hull features a multi-concave which is really going to help your transitions: you will find that easing from left to right is very smooth and speedy, counteracting the generous volume which tends to slow a board down a bit.
What little you lose in speed will be made up with buoyancy. Due to its stability, it is very easy to paddle so catching waves is no problem. Finally, the styling here is very clean and professional; a popular look among veteran surfers who have had their fun with loud and vibrant designs. This board looks like you could take it out to a nice dinner at a fancy steakhouse and not be out of place.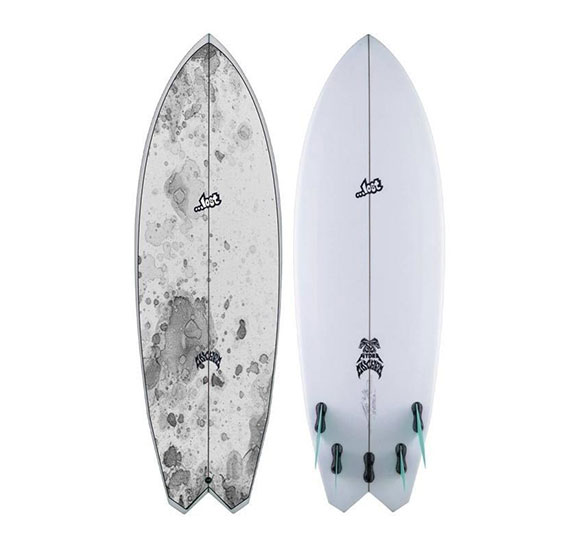 This board combines the best features of many different designs to create an amazing hybrid board. If you are having trouble choosing a genre to go with and are caught between a fish design and mini-longboard then this is a great option for you. It has great resilience in the smaller wave category and provides the rider with a wonderful experience.
Turn Sharply And With Confidence
What makes this board unique is its outline – inspired by snowboards to really lock into each wave. This feature makes it easy to carve and hold turns for longer. If you ride unpredictable waves then this board is equipped to adapt with you for more enjoyment and many more waves.  Also contributing to maintaining speed, this board features a double concave hull. Underneath, you'll find subtle grooves that are strategically installed to quickly channel water and transition it to the back. This creates a lot less drag so you can capitalize on many different kinds of beach breaks.
Control This Board In Various Conditions
The tail is the best part of this board as it supports the speed and control that the hull and outline provide. It's slightly wider than most but with the split tail, it significantly reduces the surface area so you can have all the control when turning. If a surfboard had 4-wheel drive then this is it.  With all these characteristics of a snowboard, it's still great for an intermediate surfer. It has a more flexible deck so if you like to challenge some rougher waves this board will support you, keeping you balanced with a slightly flatter deck than most which lets it retain some really good volume.
5. Lost Smooth Operator Surfboard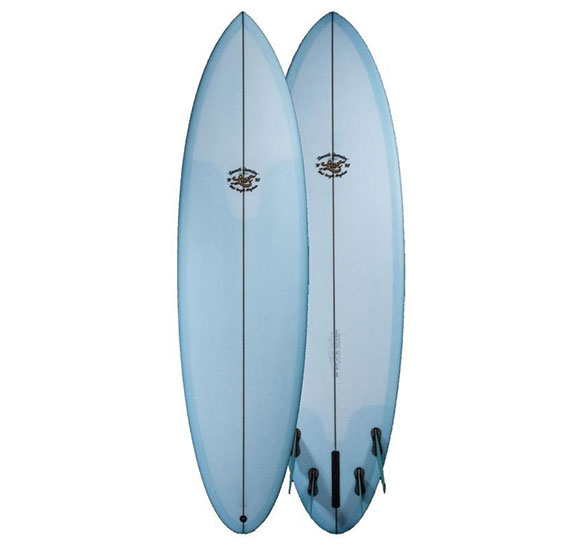 The first thing you will notice about the Lost Smooth Operator Surfboard is how much fun it is to ride. Not built for huge waves or to be used by professionals, this board can still give experienced surfers a great time. Its design and construction have taken all the best things from a typical longboard and squeezed them into a smaller and more compact ride.
To give riders a lot of options when dealing with different wave conditions this board has been set up with a 4 + 1 fin box. By having removable fins the rider can optimize this board to suit their own preferences and conditions. It provides a high volume to make paddling easier – combined with low rails, you have a very buoyant surfboard, letting you get the feeling of a high-performance shortboard even though it is inspired by classic mid-length surfboards.
The evidence of its mid-length beginnings is highlighted on the nose section. It has a wide and round nose that promotes long glides. The round nose also helps to catch smaller waves that other surfers may pass on. We really love the look of this board – the outline is very gradual and allows for a lower style of rocker which helps the board to grab on to waves and turn a little bit better. Although not great for maneuverability, it is still very fun if you keep to smaller wave sets.
6. Pyzel Phantom Surfboard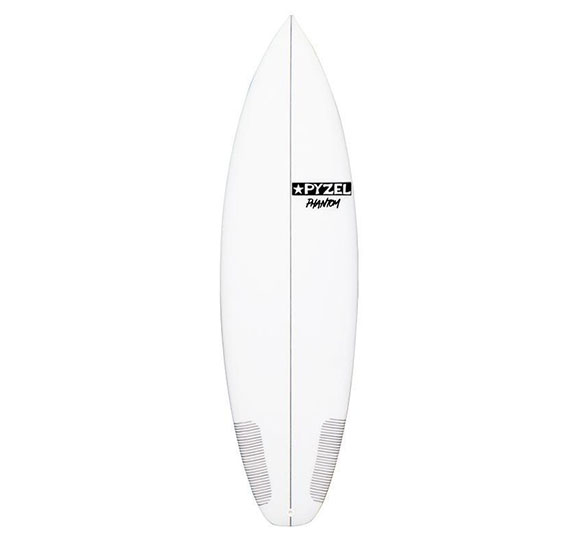 Pyzel has been making great boards for quite some time now and they have really had some successes, especially with high-performance shortboards. Now they are using that expertise to help surfers get the most out of small mushy waves with the Pyzel Phantom Surfboard.
Inspired By The Ghost Model
Originally designed from their successful Ghost model, the Phantom is a slightly smaller version. You will notice it most in the tail which is now a squash style which gives you a lot more control in less than ideal wave conditions. They have also made the tail a little wider to assist with maintaining speed. This added surface area was only made possible by switching the design on the tail. The hull is a single concave to flatten out the board a bit – especially advantageous through slow sections of the waves, keeping you going so you can find the sweet spots.
Perfect For Intermediate Riders
To make this board attractive to all riders they have added width in the tail and the nose. Not only helping with the stability of the board but also assisting with turns. Not great for sharp turns but very manageable. The rails have also been increased in size – not chunky but definitely more full to keep this board float a little higher in the water.
7. Pyzel Gremlin Surfboard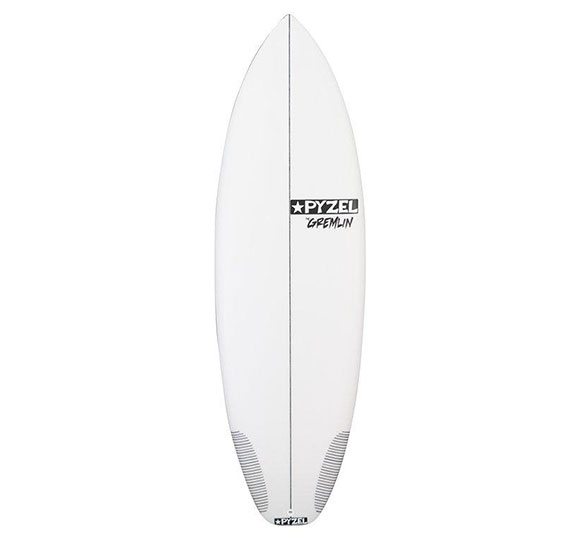 Another great option from the Pyzel family of foam boards is the Pyzel Gremlin Surfboard, a board is designed for enjoyment. Pyzel generally makes versatile boards but this one is the speedster of the bunch and even high-level surfers will get a kick out of it.
To keep intermediate surfers upright the gremlin features a slightly wider outline than you would expect from a high-performance shortboard, giving you more glide through those small waves making you look like a professional. To offset that, the rockers have been lowered to give you a little extra speed in those same small waves. A big difference in this board is the tail end rocker: the curve is quite noticeable for a board of this size so the skilled surfers can still let loose and really carve some nice lines. It makes it a little harder to catch surf in the small waves but the gremlin has an answer for that.
An Outstanding Transitional Board
To keep this board appealing for most levels of surfers the designers have put some added soft foam in the chest. With all the other attributes favoring skilled surfers, this feature is made to allow intermediates some paddle power and maintain balance for longer. The rails themselves are very forgiving, evident in small waves. As your skill progresses you will notice the benefits this board has to offer; you can improve with it and even when you outgrow it there will still be many days where you'll want to take this out for a spin.
8. Lost Surfboards Rad Ripper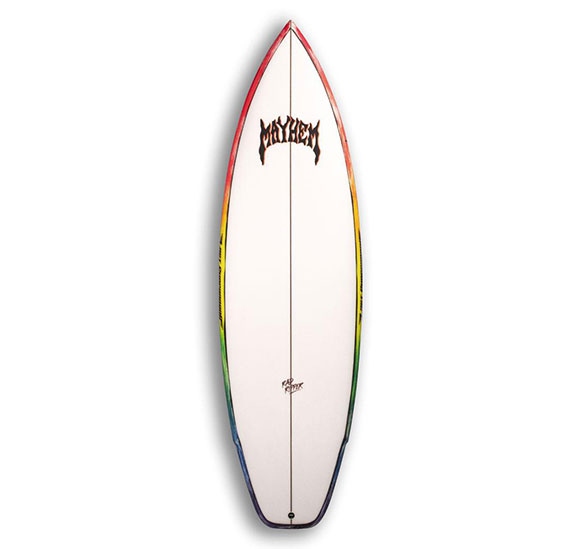 Inspired by surfboards of the 80s the Lost Surfboards Rad Ripper is a nod to the old school, retro boards. Its color scheme will be the first thing you notice as the bright colors will catch anyone's eye. All your adoring fans will be able to spot you anywhere on the water and it will look amazing under your arm when moving from spot to spot.
Strong Foundation To Add Speed
The reduced rocker will not only make your paddling easier but also assist in entering waves a little earlier to really extend your time – and fun – on the wave. You can catch waves sooner than the other riders out there and thus ride more throughout the day. The squash tail adds a lot of girth to the back of the board so there is a good foundation under your back foot. It can create some speed on those waves that don't give you the push you're looking for. The single to double concave also adds speed so as soon as you enter the wave you can hit your top speed.
A Perfect Everyday Surfboard
This is a great option for daily rips as it can accommodate almost any wave. The flat deck provides stability with larger waves while the soft rails make it easy to pick up speed. If you give it one good power pump you will unleash some hidden power there (kinda like the nitrous button in every Fast And Furious car). Add this board to your current array of surfing equipment and you will enjoy all the perks of the 80s retro boards with modern adjustments.
9. Channel Islands Surfboard Neckbeard 3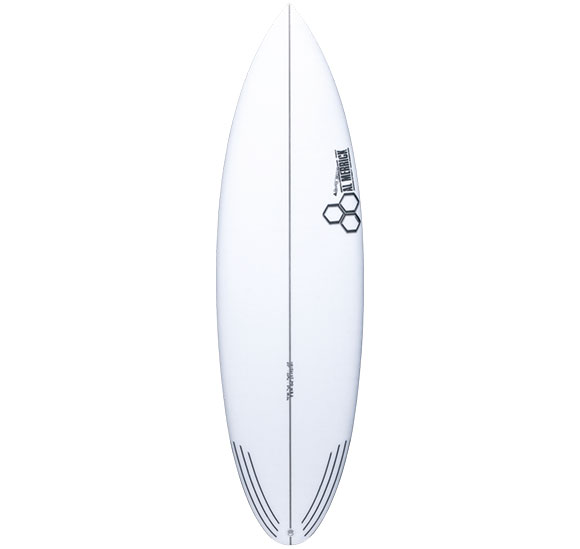 If you have ridden a Neckbeard before then you know all the great things about this board already. You may be wondering why they would change such a successful board in the first place but there are a few refinements made to the Channel Islands Surfboard Neckbeard 3 board that really separates itself from its predecessors.
They Fixed What Wasn't Broken
The main improvement is on the tail; more round than previous models it feels a bit looser and "skatey". This gives a lot more excitement when wave riding so you can look like all the pro surfers out there. This loose feel also gives the board more control with turns. You can really lean in and take some aggressive lines and the board will keep up with you. Because of this, it holds really nicely even if you find yourself in a barrel every now and then.
Not much has changed with the outline – it still has that signature Neckbeard line but underneath they have switched to a single concave throughout. This change is to make wave entry easier and pick up speed a lot quicker. This is something more advanced riders will love. It's designed with a tri-fin setup but can be modified to a quad fin to get the best of both worlds.
When navigating the world of best surfboards, we help you with what to look out for.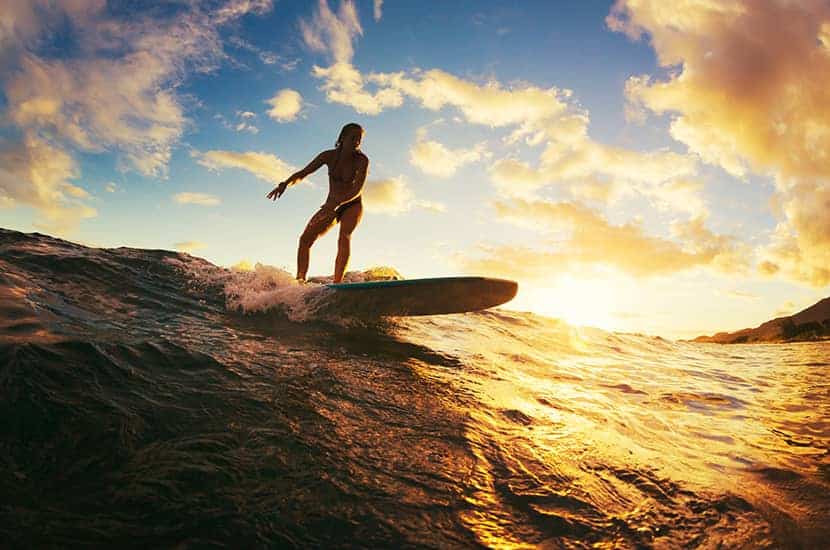 What To Consider When Choosing The Best Surfboard For You
Determining the conditions you will be surfing and your level of expertise are the first things you should consider which will narrow your search immensely by using the process of elimination.
If you are new to surfing then a longer board will suit you perfectly. You can find greater length in soft-top surfboards and longboards. The added length adds buoyancy which is engineered into all soft top boards and makes it easier to paddle and pop up when the time is right.
The size will depend on what kind of waves you will be surfing – if you are experienced and going big then you want a smaller board that is easier to maneuver and turn on a dime. If you're just learning, a larger board will be a big target for waves and will catch them a lot easier.
The thickness or volume in surfboard sizes is a little bit more personal – if you are new, you will want something that is very thick and has a lot of volume. A soft-top board is a perfect example of this and is great for beach breaks. Thinner boards will have less buoyancy but that is perfect for a performance shortboard.
Buying The Best Board For Your Ability
There are lots of boards for all levels and nobody wants to have to buy a new board for every level they reach. If you are a beginner surfer then a longboard might be the right surfboard for you but how quickly will you outgrow it? If you are progressing nicely then challenge yourself with a hybrid surfboard. These are available in many different styles ranging from fun boards to almond surfboards to mini mals and beyond. If you are living in a surf town then your local shaper will be able to shed some more light on finding which board offers the most to you.
When choosing your new surfboard, being honest with your skill level and where you will be in a few years from now is paramount.   
Learning to surf is no easy task: unless you have an experienced (and patient) friend who is willing to take you out then finding an instructor is recommended – there is more to learn about surfing than just the pop-up. Learning the safety precautions is very important; an instructor will be able to assist you with local etiquette about where and when to surf. There are also a lot of unspoken rules about how to get to a surf spot and who gets to ride what wave when. Standing up is only half the battle as your instructor will tell you.
Choosing which wave to go for is something that comes with practice – you will find each surfer has a different opinion about what makes a good wave.
Frequently Asked Questions
The world of surfing is vast – and exciting. Getting a new board is the equivalent of Christmas morning for new surfers so whether you choose the Firewire Dominator 2.0 Surfboard or any other surfboard on this list it should make you very very happy. Surfing is great fun, a great source of exercise, and provides some great camaraderie. So pick one of the best surfboards, get out there as often as possible and soak up the sun – just stay away from those pesky wave storms.