If you love playing different types of board games, we are sure you have checked out one of the oldest board games in the world. Mahjong is an old Chinese game that is still very popular worldwide. And, if your friends come by, you will only need one of the best mahjong sets your money can buy and you are ready for an exciting night full of fun.
How to choose which one to buy when the market is flooded with numerous sets? This is when we jump in. We have spent hours researching dozens of mahjong sets and picked the top 10 based on appeal, practicality and playability.
1. Linda Li American Mahjong Set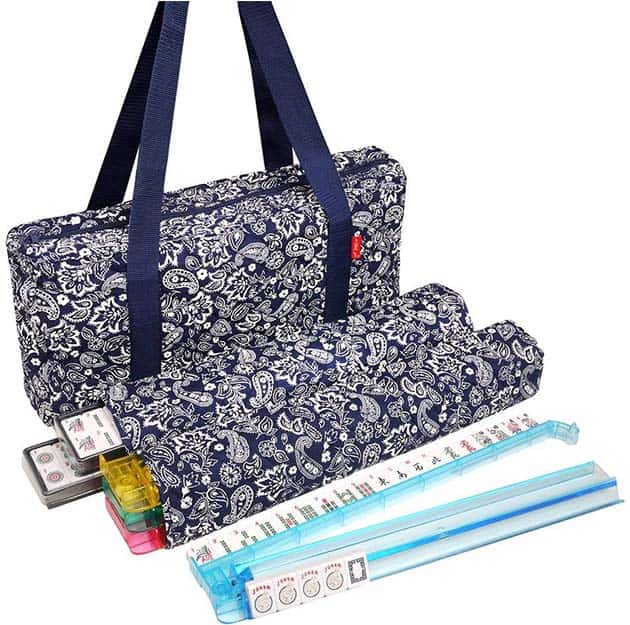 Editor's Choice #1: The stylish, high-quality American Mahjong Set by Linda Li comes fully equipped in a gorgeous carrying case. The set has 166 white-colored tiles that are beautifully hand-printed. These are probably the nicest Bams and Dots you will find. Together with the 4 Mahjong racks and other helpful accessories, this set stands above the others.
This amazing Mahjong set has everything you need to enjoy this game. It also has everything set up so you can easily introduce the game of mahjong to beginners. It includes a complete book with 3D color graphics to help the beginners learn the basics.
Meanwhile, experienced players will appreciate the attention to detail on the 166 finely created tiles and the four all-in-one pusher and tile rack. Three dice, 100 money chips and a bettor are all included, but the quilted case is the true standout. It not only looks the part, but its exceptional quality outperforms any similar-looking set on the market.
2. White Swan Mahjong Set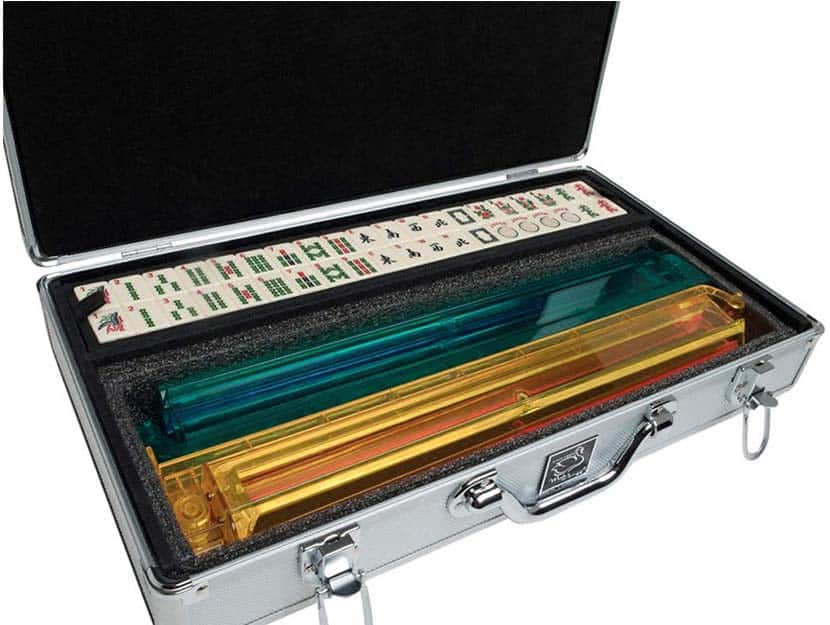 Editor's Choice #2: The White Swan Mahjong Set is one of the best mahjong sets that would surely make a worthy addition to your game room. A team of Mah Jong players designed this amazing mahjong set for experienced players and that makes the set stand above the others. It has all the accessories you need to enjoy your favorite board game.
This quality Mahjong set has 166 tiles made from melamine. Melamine is a rigid, plastic-like, environmentally-friendly material that is practically impossible to damage. Along with them, you will get chips, spare tiles, a bettor and a rule book – everything you need to become the envy of your Mahjong group! Compliments are guaranteed.
This set comes in a beautiful, high-quality case that features reinforced handles, extra strong hinges and latches and great corner protectors. Inside the case, you will discover numerous other upgrades, such as the inside lid, which is perfect for keeping your tiles and other components in their place during transport.
3. Yellow Mountain Imports American Mahjong Set
All Mahjong sets come with a carrying case but some are better than others. However, few are better than this one so if you plan to have some games on the go, then check out this traditional Chinese mahjong kit.
Great For All Types Of Players
The case is made from wood and adorned with gorgeous gold accents. This protects your set but also makes you look like a Mahjong boss no matter where you go.
No matter your level, this set is laid out to work well for beginners to advanced players. The scratch-resistant tiles are also engraved with Chinese characters, Roman (Western) letters and Arabic (Western) numerals in vibrant colors. They are playable with both American and Chinese Mahjong rules.
This set includes elegant tile racks, which are also accented with gold fixtures. This makes it easy for beginners to see their tiles and experienced players will love the professional feel that they have.
4. Yellow Mountain Imports Professional Chinese Mahjong Game Set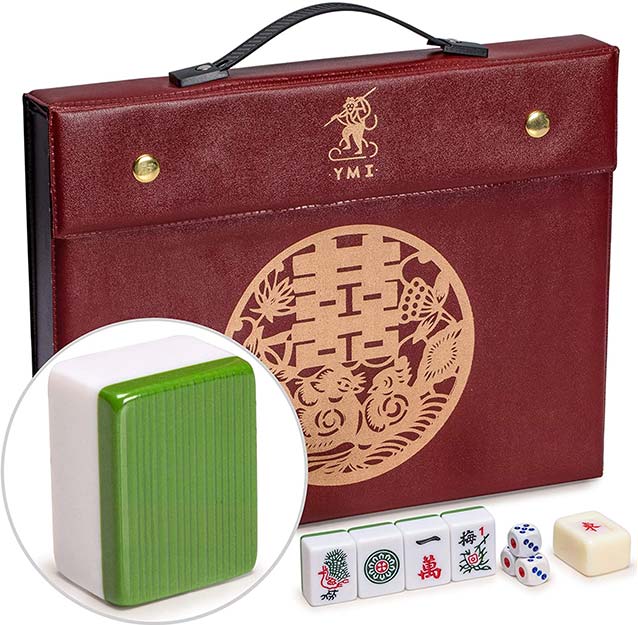 Mah Jong is a game steeped in tradition and is one of the world's oldest games. For the purist in you or your family, have a look at this professional set.
Based On Old-School Designs
The size, shape and quantity of this traditional Chinese mahjong set are all made to spec so if you have an elderly relative, this is the perfect game for them to bring back old memories.
It has 146 scratch-resistant tiles that are elegantly designed with a bamboo print on the back. The vibrant engravings are detailed and painted deep so they maintain their look even after heavy usage.
Because this is a traditional set, it does not include the jokers but it has an immaculate carrying case. It's emblazoned with traditional Chinese artwork so you will fit in at even the most local games.
5. American Mah Jongg Set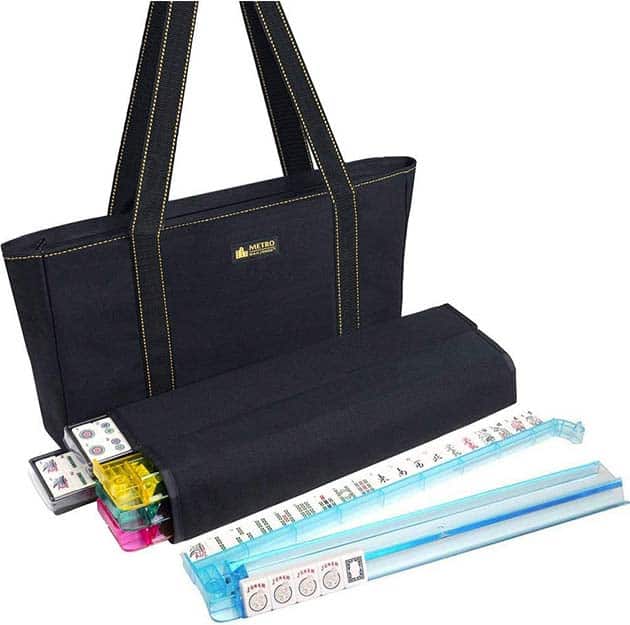 If you are looking for fun for the whole family, this is one of the best Mahjong sets for you.
This American set has a simple case for easy portability and storage. The case is padded for extra protection. It comes in a gender-neutral burgundy bag so you can easily carry it anywhere you go and enjoy playing the best Mahjong game whenever you wish.
The set comes with everything you need to play your favorite board game. Most importantly, 166 tiles are of high quality and the set is much more affordable than some similar brands. The included accessories are all in the set – you get pushers, tile racks, coins and dice – at no extra cost to you. Just go and play!
6. Mose Cafolo Chinese Mahjong Set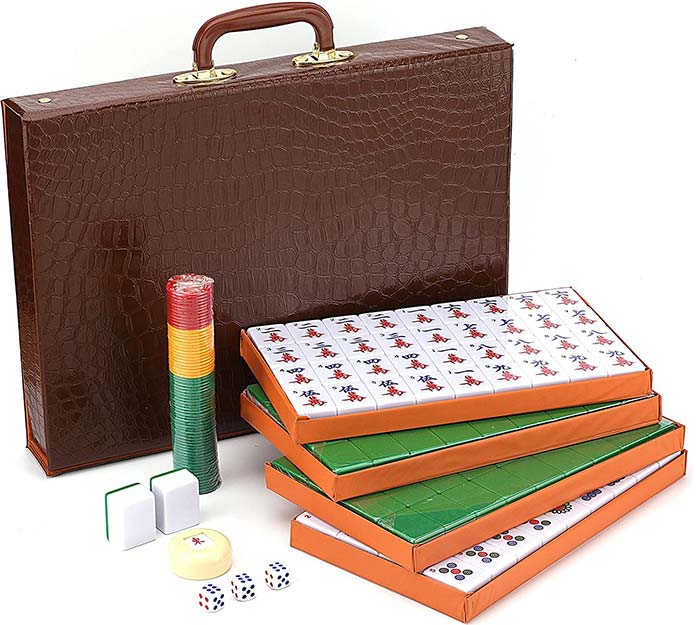 All other sets on our list can be packed and carried around, but this one is designed specifically for travel. Let's take a look at the Classic Chinese Mahjong Set by Mose Cafolo brand.
This Mahjong set can be easily carried around without taking up a lot of space. Its travel-friendly design sets it apart from others and that's its biggest selling point. But it's far from being the only thing you will love about it.
What we found the most interesting about this set is the unique look of its tiles. These different tiles are smaller than in other sets and are made from bright and vibrant acrylic. We should mention that there are fewer tiles than in most other sets – 144 only, with no joker or black tiles included.
7. Verve Culture Thai Crafted Mahjong Set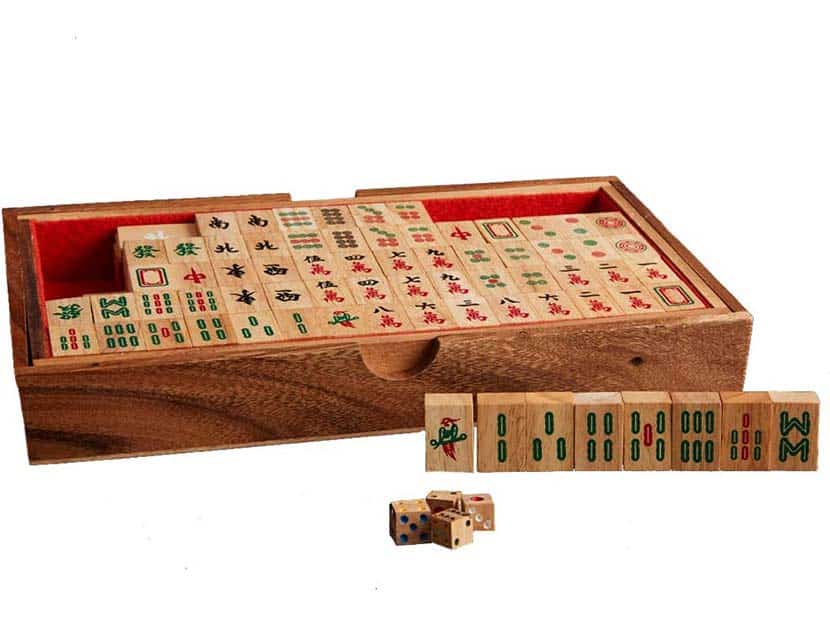 Mahjong is a game steeped in tradition for centuries. Many who learn the game want to know about all its intricacies so they can play the same way their ancestors did. For those looking for something a bit more stylish and less stuffy, this wooden set could fit your collection nicely.
Take A Break From Chinese Tradition
The case and tiles are all made from wood and the symbols are all etched deeply into each tile. This provides a great feel in your hand but also protects them from fading for years to come.
Deviating from traditional Chinese design, this Thai-inspired set looks great in any setting. It's perfect for the lake cabin but will also suit your home in the city. It's also a bit smaller than other sets, making it easy to store or travel with.
The set includes dice and 166 tiles so even though the look is not classic Mahjong, the game's unique style and intensity do not change.
8. CHH American Mah Jongg Soft Bag Set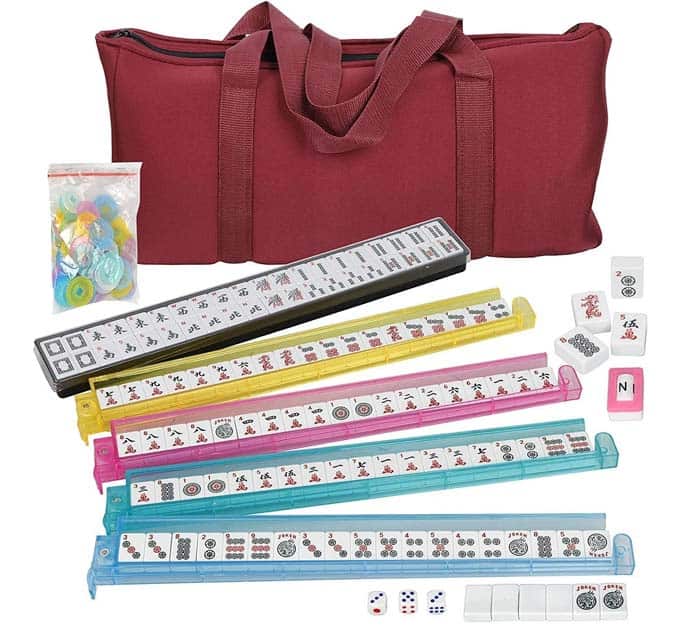 Add some color to your life with a Mahjong set that is as bright as you are. At the same time, we don't want to stray too far from tradition. This game set tastefully updates the kind of traditional mahjong set you're used to.
Starting with the racks, you'll see why this set is so much fun. Each rack is a different color so the competition starts right from the beginning as everyone will be clamoring for their favorite.
The game is set to be played in the American/Western style with 166 perfectly white tiles. This makes it very easy to decipher between the symbols for anyone who is new to the game.
Lastly, the case makes it easy to transport this game anywhere you like. The thick nylon straps are comfortable to hold and the stitching is done with quality in mind. Although this is great for beginners, you'll probably end up having it long after you renounce the title of "beginner".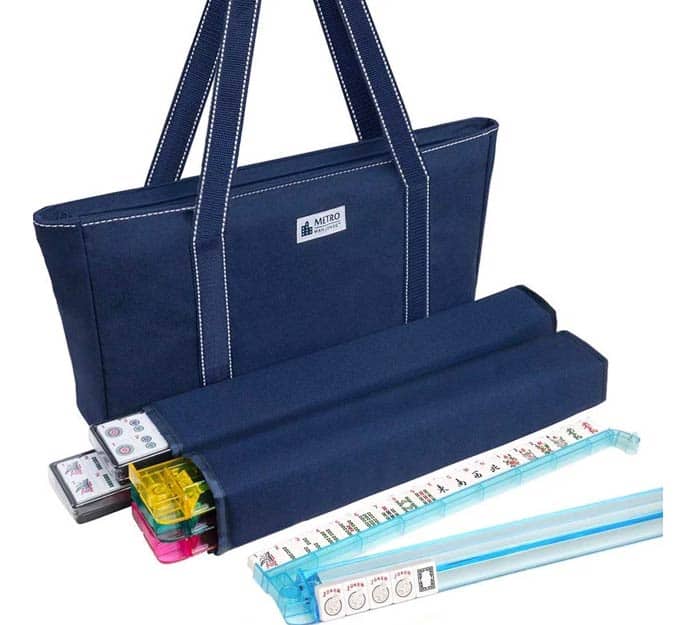 This all-in-one set is great for casual Mah Jongg players and can be transported quite easily for a game that consists of this many pieces.
Great For Traveling Beginners
This American-style game includes 166 hand-painted tiles arranged neatly in the included navy blue carrying case. The soft case makes it easy to pack and unpack all your tiles and it fits them into a small space that makes it easy to store or travel with.
This set also includes four racks which make it easy for beginners to see their hands without fumbling around. You don't want experienced players to think you don't know what you're doing!
There's even a rule book so there will be no discrepancies when disagreements inevitably arise. This book puts the entire game in its simplest terms so everyone can understand and enjoy the game to the fullest.
10. Classic Chinese Mahjong Set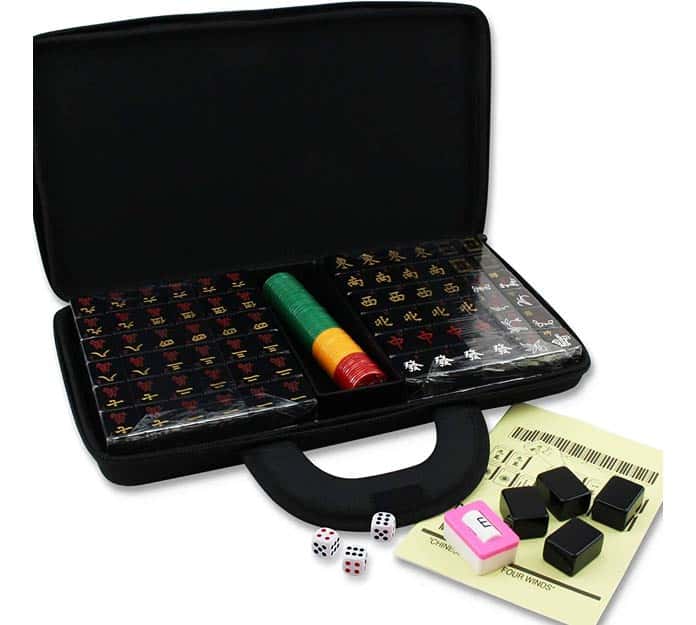 While Mahjong the game is ultra-fun and gives us all a glimpse into how people enjoyed this game hundreds of years ago, half the fun is finding a set with superior quality and a design that suits your personality. If you've read this far and haven't found what you're looking for, feast your eyes on this.
For Anyone Who Wants To Show Off
The first thing you notice is the sleek black finish of these tiles made with traditional Chinese characters. The gold writing makes it look like this set was owned by a master ninja and is only for professionals.
This traditional 144 mahjong tile set is to be played using Chinese rules but if you can't read the symbols, don't worry. There are numerical indications on each tile and it comes with an instruction booklet in English.
To hone your game, you must play against better players and sometimes, this means traveling to a different location. This set makes that easy with its ultra-slim case. It's lightweight but resistant to tearing so it will keep all your tiles and dice safe.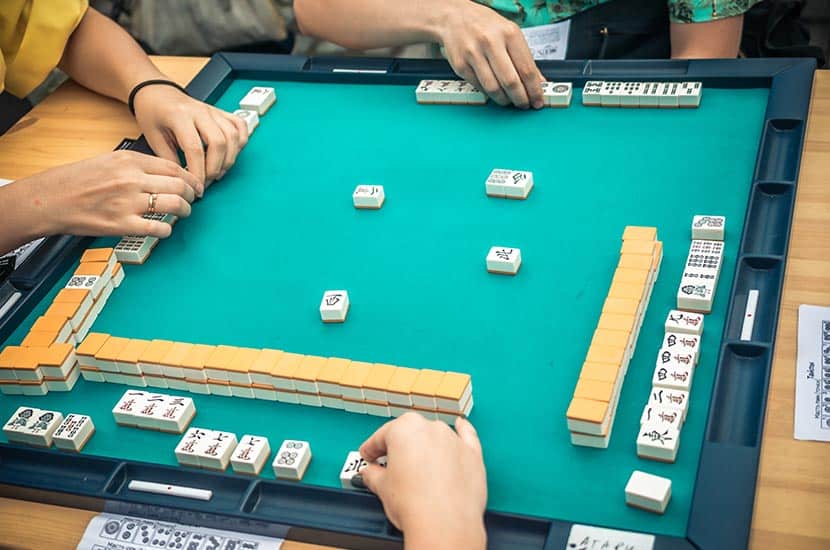 Learn more about the Mahjong game and its rules and pick up some super-useful tips.
What Is Mahjong And What Are The Rules?
Mahjong is a tile-based game that originated in China over 2,000 years ago. The objective of this board game is simple: get all of your tiles into four sets and a pair before any other player can do so. You have to make matching sets and pairs like the card game gin rummy or poker.
Mahjong is a strategy game that also requires a bit of observation and a bit of luck. Mahjong is usually played with 4 players, but it can be played as a 3 player board game too. It is considered one of the best games for adults.
Click here to read our blog post about the benefits of board games.
How To Choose The Best Mahjong Set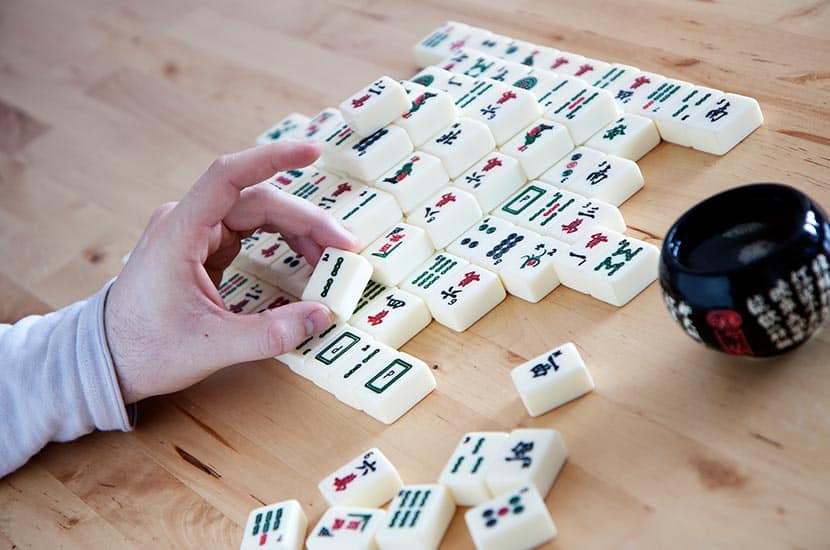 Here are some things you should consider when choosing the best mahjong sets.
The number of tiles inside a set depends on the version of the game it is designed for. The traditional mahjong set has fewer tiles than the modern one. The American variation usually has more tiles because the American sets include jokers and Charleston, extra tiles which aren't used in the Chinese version.
You should consider what materials the sets are made of. Most sets are made of plastic or bone and bamboo. There are advantages to both. Plastic sets are often cheaper and they are also easier to clean. On the other hand, bone and bamboo are traditional materials and we can't deny they look fantastic. But they also cost more.
Interested in other classic board games? Read about them here.
Portability is also an important factor to consider when choosing the right set. If you are planning on taking it with you to play with your friends, you should find one that is-travel friendly and easy to carry around. Mahjong sets are not as small as chess sets.
Tile Size, Design & Artwork
Smaller tiles make the game harder to play. Consider choosing larger tiles because they are better for beginners and easier to play with. You should pay attention to the tile artwork, too. The characters and colors can be beautiful, but they can sometimes be harder to read.
If you buy a Western set, you may want Western characters rather than Chinese characters. You can learn Chinese characters quickly if you play the game very often. But if you want the set for a casual play, having Western characters will make your life much easier as a player.
There are a lot of different Mahjong sets that offer all the necessary accessories. In our list, you will find sets containing everything you should need. Consider the accessories and extras when picking the best mahjong set if you want to have it all in one. Pay attention that it also comes at no extra cost for you.
As you have already learned, there are two versions of the Mahjong game – American and Chinese. You should read more about the rules and differences to choose the right set. The American version is considered to be a bit more complicated.
Pro tip! The secret to winning the Mahjong game is to have a clear plan of attack!
Different Types Of Mahjong Sets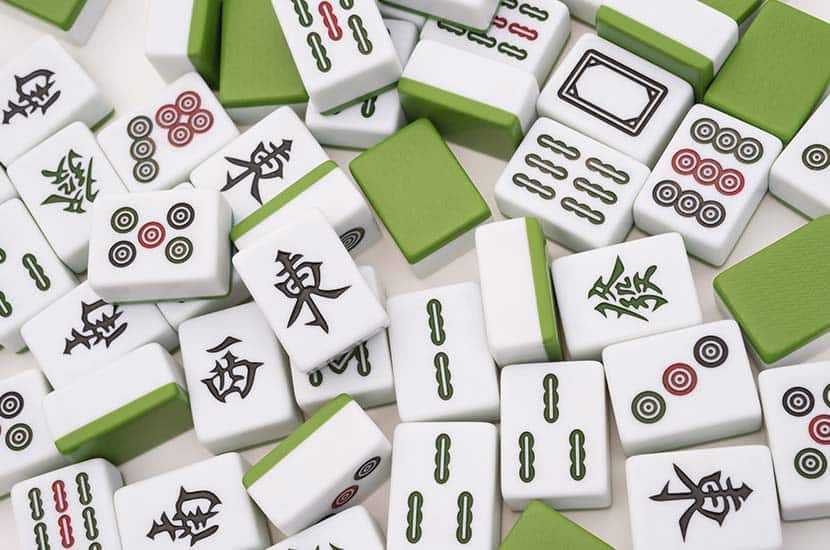 Apart from Chinese and American Mahjong, there are also other versions of Mahjong sets. Here is the list of the most popular versions.
The Chinese classic set has 144 tiles. There are no Roman letters or Arabic numerals on the tiles. There is also a version from the 1920s, with Roman letters and Arabic numerals.
Hong Kong sets are usually very heavy and the tiles are large. This version also uses 144 tiles but it has slightly different scoring rules from the Chinese version.
The Japanese version also uses 144 tiles and this version is a popular one as it is used in the vast majority of tournaments.
The Korean version of Mahjong uses fewer tiles than other versions – only 104. It is suitable for three-player games.
This version has extra options. It uses 152 tiles as it includes some honor tiles and Jokers. The modern American version is considered a bit more difficult than others.
The Taiwanese version is very similar to the classic Chinese version. It also uses 144 tiles but has a few different playing rules.
For this version of Mahjong, you will need only 110 tiles, which allows you to play faster than usual.
American Vs Chinese Mahjong: What Is The Difference?
The main difference between American and Chinese Mahjong is in the number of tiles. Traditional Chinese sets have 144 tiles, while the American version is played with eight additional jokers and Charleston.
Jokers are wild cards, although the rules of how they can be used vary. A common rule is that a joker is a substitute for any tile as long as it is included in a group of three or more. The Charleston is a tile exchange that occurs before each hand.
Here are a few tips for beginners.
Play A Lot Of Games – The more you play, the more you learn. If you play with more experienced players, you will gain more skills.
Think Fast And Plan The Next Move In Your Mind – Experienced players play the game very fast, while beginners move pretty slowly.
Always Have A Clear Plan – Think carefully about your next move and which tiles you choose to pick up and which ones you don't.
Don't Grab The First Discard – Otherwise, you will reveal too much about what you already have.
Frequently Asked Questions
The Mahjong board game has undoubtedly stood the test of time. It is played all over the world and many countries have their versions. With so many versions out there, finding the best Mahjong version for you might seem hard at first but that should not be the case. We have spent hours researching dozens of sets to assemble the list of the best Mahjong sets. Now you can easily choose what will work best for you and your family. Enjoy playing!