Thinking of buying a canoe but don't have a lot of storage space? Want to be able to toss it in the back of the car when you go on holiday, or even take it hiking? An inflatable canoe may be just the thing for you. But how do you choose which one to buy out of the many types and models out there? Luckily, we have compiled a product list of some the best inflatable canoes on the market to help you make the right decision. Whether you want to go fishing, touring, kayaking up the rapids or just have some fun in the water, you can find the best inflatable canoe for your needs.
1. Sea Eagle Travel Canoe 16
Editor's choice #1: The Sea Eagle Travel Canoe 16 has all the elements you could ask for in a canoe. Its drop-stitch technology and 10 PSI inflation means incredible rigidity, buoyancy, durability and stability. You can do almost anything in this boat, from touring to fishing to whitewater paddling. This is by far the best of all the inflatable canoes on this list.
The Sea Eagle Travel Canoe 16 inflates to a 10 PSI, making it incredibly buoyant, yet also rivaling the rigidity of hard-shell boats. It has a double-walled, high pressure drop-stitch construction which means this boat can handle pretty much anything you throw at it. Indeed, it is rated for use in Class IV whitewater rapids, and you don't have to worry about dings from rocks along the way.
On top of this Sea Eagle handling up to Class IV rapids, it features front and rear spray skirts as well as 4 open and close floor drains in case water gets into the boat. Its 6 D-rings will help you secure all your gear, and its streamlined exterior hull makes for unparalleled speed. Plus, these inflatable canoes have phenomenal tracking due to their well-designed tracking fin.
With this Sea Eagle canoe, you really get the best of both worlds. Despite being optimized for adventure, it has an amazing weight capacity of some 915 lbs (415kg), seating for 3 people and a ton of deck space. On top of that, it is virtually untippable. This makes it one of the most versatile canoes on the market, and you can use it for just about anything, from touring to fishing to whitewater rafting.
2. Sea Eagle 370 Inflatable Kayak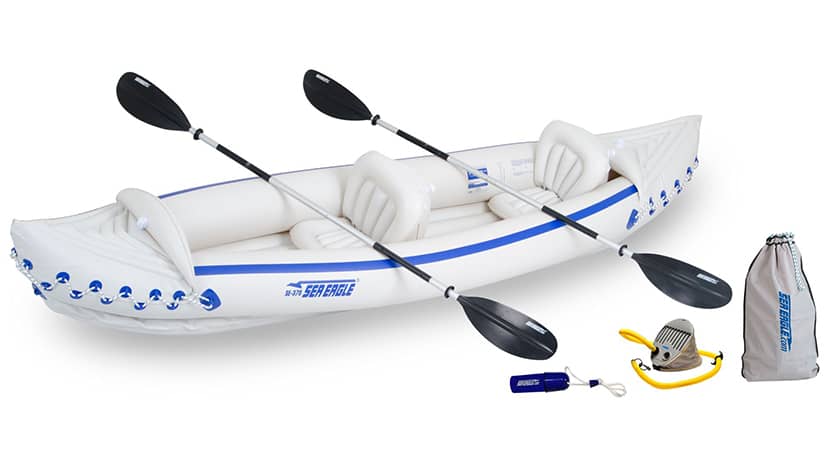 Editor's choice #2: For people looking for a more affordable option that is still versatile and high quality, the Sea Eagle 370 may suit your needs perfectly. Although the 370 is not quite as durable as the Travel Canoe 16, it is still one of the best boats you can buy. It is also lightweight, with an impressive carrying capacity.
The Sea Eagle 370 is classified as a kayak, but it is one of those boats with elements of both. What is great about the 370 is that it has lots of space on deck and can carry 3 people and up to 650 lbs (295kg), yet it folds up compact and is easy to transport. This Sea Eagle canoe is fairly lightweight at 33 lbs (15kg).
The Sea Eagle 370 works well with 1 or 2 people on board and this will allow you to bring more gear for fishing or touring – if 3 people come along you probably won't have much extra space. The seats of the 370 are removable and adjustable, so you can place them wherever gives you the right amount of leg room.
The Sea Eagle 370 is one of the more versatile boats on this list. You can use it in up to Class III rapids, which is impressive for a budget boat. However, it works just as well for fishing or casual paddling. It is also made of decently durable material with strong seams. The I-beam construction of the boat floor improves stability, as do the removable skegs underneath.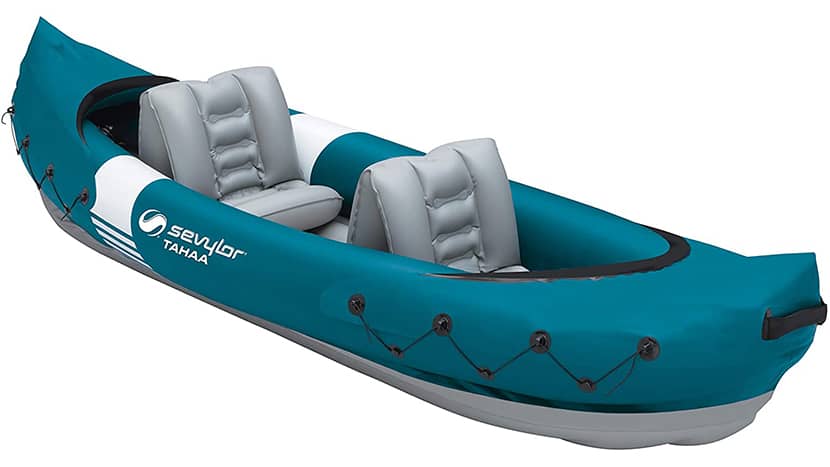 Sevylor is a great inflatable canoe and kayak manufacturer. The Sevylor Tahaa Inflatable Kayak is perfect for beginners: lightweight and stable.
This boat is perfect for people who want a taste of adventure, but aren't ready for the rapids quite yet. It is very durable, featuring a strong PVC outer shell, two wing chambers and a floor with bar construction for enhanced stability. It boasts pressure control with an integrated pressure display, so you know exactly when you have inflated the boat enough. You can also bring gear along easily even in rough conditions due to straps on the bow and stern.
The Sevylor Tahaa Inflatable Kayak has a good deal of leg room. It has removable, adjustable seating, and you can easily paddle with one or two people in this boat, with the seats themselves highly comfortable. It is easy to control, and its wide shape ensures stability. Despite this, the Sevylor Tahaa is remarkably lightweight at 18 lbs (8kg), meaning it is so easy to transport, you can bring it on a hike, bike or even airplane. As a bonus, this boat also comes with a repair kit.
4. EPROSMIN Inflatable 2 Person Sport Canoe
The Eprosmin 2 Person Sport Canoe performs just as well for racing down a river, fishing on a lake or in the sea or laden with camping gear for touring. You can easily bring this inflatable canoe with you wherever you go, as it is lightweight and compact.
The Eprosmin Inflatable 2 Person Sport Canoe is a strong and sturdy boat, and it can carry a lot of gear without losing stability, buoyancy or tracking ability. It is made of thick, abrasion-resistant PVC, meaning it is highly durable for such a low-cost boat. In addition, it has 5 air chambers with safety valves, meaning you will be safe even if you do spring a leak.
This inflatable canoe features a tubular I-beam floor, which improves buoyancy, tracking performance, and stability and also makes for a comfortable boat. It also features a lengthways bar behind the front seat's back for extra stability. It has a spacious cockpit design and lots of leg room. This is a touring ready canoe you can easily spend lots of time in.
5. SOARRUCY Inflatable Boat Canoe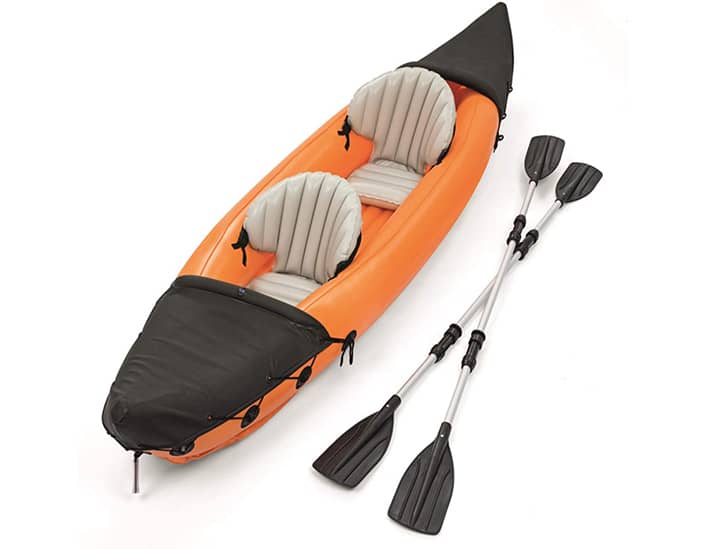 This boat is lightweight and easy to transport. It weighs only 30 lbs (13.6kg) and can carry up to 400 lbs (180kg) of weight. It is easy and quick to assemble, even for beginners and comes with two paddles and a repair kit so that you don't need to purchase another thing.
The bright orange color of the Soarrucy Inflatable Boat Canoe is not just for style – it will help you be spotted in case of an emergency. It is made of ultra-durable environmentally-friendly material, so it can withstand a few knocks. However, this canoe is better suited to casual paddling on a calm sea, lake or river than adventure sports, and is easy to transport and assemble.
The seats of this inflatable canoe are wide and comfortable, with a curved high back for ultimate support. This is a great boat to spend a relaxing and leisurely time in. Although a two person boat, one person can paddle it just as well. It is stable and easy to control, so is a good option for beginners. It doesn't have all that much storage space, but its small size makes it easy to maneuver.
6. EPROSMIN 4 Person Inflatable Boat Canoe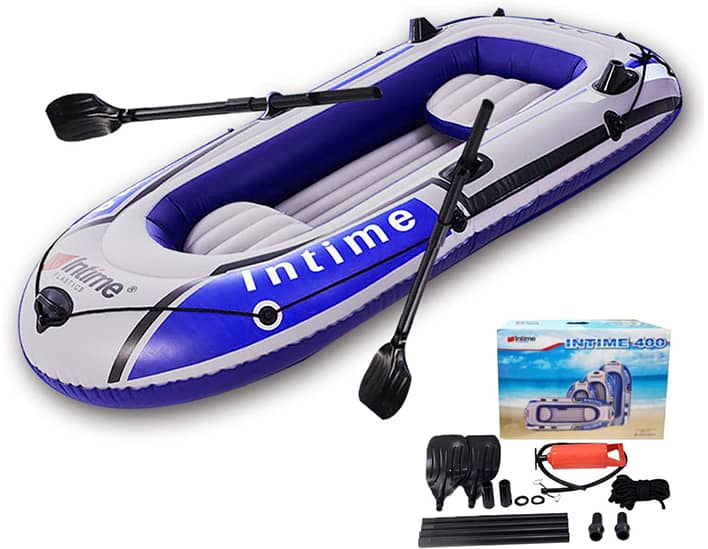 The Eprosmin 4 Person Inflatable Boat Canoe can carry up to 4 people, though if you want to bring gear along it performs better with 2 or 3 on board. It is made of thick PVC-polymer materials, which makes it fairly wear-resistant.
If you want a canoe to take on a fishing trip, this is a good product. With lots of space on deck for fishing gear, you can have many long fishing trips in this inflatable canoe. Its seats are uniquely designed to be facing each other, so it is a great option for relaxing and socializing on the water. It also features fishing pedestals, as well as oar fixing buckles so you can stop paddling and not worry about losing your oars.
This is not the boat to take with you if you want to go whitewater rafting or canoe racing. However, it is good quality for the cost and is perfectly good for some family fun and casual paddling. It is quick and easy to set up and comes with all the accessories you need. If you want an affordable canoe to go fishing in or for the kids to enjoy, this may be the way to go.
How To Choose The Best Inflatable Canoe For You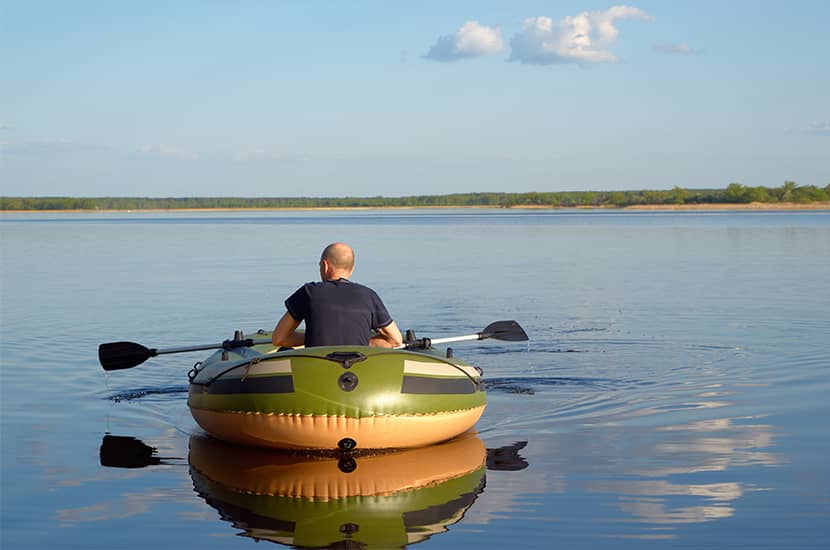 It's all very well to look at reviews, but someone else's ideal inflatable canoe may not be right for you. So how do you decide what type of product to go for?
This one is pretty simple – do you want to be alone on your canoe, or do you want to bring along passengers? Even if it's just going to be you but you want to bring a lot of gear, you might consider a tandem canoe for the extra room.
Inflatable canoes are all more portable than hard-shell canoes. However, some are so portable you can hike with them up a mountain, while others may need a car to be transported long distances. So think about where you want to go with your canoe and how you want to take it there.
When assessing portability, consider both weight and compactness, as well as quality of the carrier bag.
The level of durability you need all depends on what you want to use your inflatable canoe for, and how often. Do you want to paddle up river rapids almost every weekend? If so, you should put a high priority on durability. Do you want to use it for casual paddling in calm waters during the summer holidays? In that case, you don't need the most indestructible canoe out there.
If you want a high-performance canoe optimized for speed and agility and able to handle rapids, you will need to fork out for a higher-end model. These tend to be higher pressure, have a more ergonomic design and include special features. A more budget model will not necessarily perform as well, but might be perfectly good for a casual paddler.
Think carefully about what you want from your inflatable canoe before you make a decision.
What Is The Difference Between A Kayak And A Canoe?
The line between canoe and kayak is a blurry one. However, there are some general differences. If you are interested in buying an inflatable kayak, check our best inflatable kayak reviews here.
The Paddle: One of the main differences between canoes and kayaks is the paddle. A kayal uses a double-bladed paddle, alternating strokes on either side of the boat. On the other hand, a canoe uses a single-bladed paddle, or sometimes a paddle in each hand.
Seating Position: Traditionally in a canoe, paddlers either kneel, or sit on high benches. On the other hand, in a kayak, the seat tends to be on the floor and the kayaker stretches their legs out in front and leans back.
Deck: Canoes tend to have an open deck, with lots of space for gear, dogs and picnics. A kayak tends to have a closed deck under which the paddler's legs are stretched. This offers secure seating and splash protection.
Purpose: Traditionally, kayaks and canoes have been used for different purposes. Canoes are more suited to meandering down a calm river with a picnic and a few passengers. In contrast, a kayak is more of a sports boat, and is designed for speed, agility and handling difficult conditions.
However, the line is not as clear as these differences make it seem, and inflatable kayaks can make great fun boats, while canoes are also used in racing. For more information about the differences between the two, check out our canoe vs kayak discussion.
Check out our canoe reviews as well as some inflatable kayak reviews and articles before deciding which way to go.
Frequently Asked Questions
The best inflatable canoe is the Sea Eagle Travel Canoe 16. It has all the elements that make a fantastic canoe, such as buoyancy, speed, stability, great tracking and durability. On top of that, it is one of the most versatile boats out there, and works just as well for fishing, touring or paddling in up to Class IV rapids. While the others on this list are all good inflatable canoes, none of them give results like this one.
Inflatable canoes can be very good, but their quality varies just as much as that of solid canoes. Whether you want a cheap fun boat, or a high-spec adventure canoe, you can find one that suits your needs. As long as you read enough reviews and choose carefully, inflatable canoes can be just as good as hard-shell ones, plus they are much more portable.
Inflatable canoes generally do not pop easily. However, again there is a lot of variation. The cheaper canoes cannot withstand the same knocks as the higher-end boats. However, affordable inflatable canoes can be surprisingly good quality. A model on the top end will take many years and lots of wear and tear to spring a leak, and even then they are repairable.
To conclude, the best inflatable canoe is without a doubt the Sea Eagle Travel Canoe 16. It does everything you would want a canoe to do and more. Whether you want to enjoy fishing trips with the family, battle the rapids or go camping, you won't be disappointed. But if you want a more affordable or lightweight inflatable canoe, perhaps one of the others we have reviewed will suit your needs. Either way, have fun on the water!