There are few kids who won't go nuts for an inflatable water slide. Better yet, many of the products on this list are full water parks complete with water slides, splash pool, climbing wall, water cannon, bouncy house and more!
But even a simple slide and splash pool is guaranteed to keep your little ones joyfully oblivious of screens for hours. If you are feeling overwhelmed by all the products on offer, don't worry! We have trawled through all the information available and put together a list to help you choose the best inflatable water slide for your family. Get ready for your kids to have their best summer yet!
1. Banzai Hydro Blast Water Park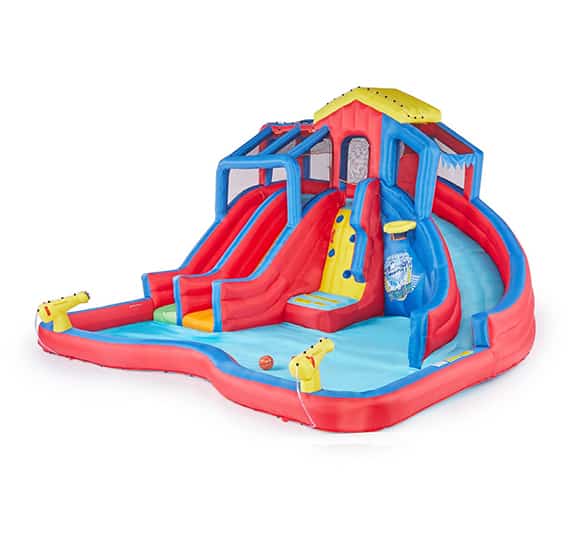 Editor's Choice #1: With three water slides, squirt guns, basketball ring and more, your kids will go nuts for this inflatable water park! Parents can rest assured that all safety measures have been taken, and it is as sturdy and durable as can be. This is one of the best inflatable water slides money can buy!
If you want to invest in a top-of-the-line inflatable water park of your kids' dreams, this is the one. It includes every feature imaginable, from a basketball hoop, water cannons, climbing wall, a double slide and a third curved slide. This water slide is sure to give your kids endless hours of fun! This Banzai Hydro Blast is even strong enough for adults under 150lbs to use the slides, though no more than 4 individuals should use the structure at a time.
With this inflatable slide, you really do get what you pay for. Made from heavy duty PVC with added UV protection, you can rest assured it will last for many years to come. The durability of this product enhances its safety so you can have peace of mind while your kids play. On top of that, the soft landing provides extra cushioning and the set includes ground stakes and weighted bags to keep it secure.
2. Bounceland Water Slide And Bounce House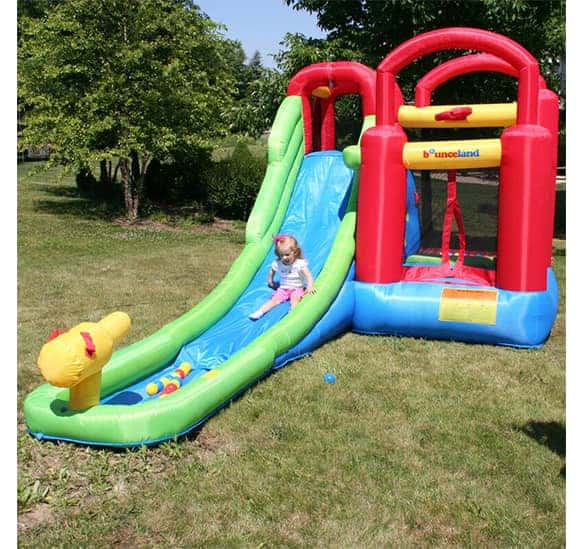 Editor's Choice #2: Our second editor's choice is more affordable but still packed with plenty of fun. Perfect for those who want something that can be used wet or dry, meaning it can be used indoors. This water park is super durable, a breeze to set up and also features a bounce house!
Water Slide And Bouncy House
If your kids love bouncy houses (and who doesn't?) this inflatable water slide is a great buy! It has a water slide, climbing wall, bouncy house, squirt gun and basketball hoop. Plus, it includes colored balls and a fun tunnel. This water park is usable wet or dry, meaning it can be used indoors if you have the space!
This can withstand hours in the sun due to its UV protection, and on top of that, it is made from commercial grade vinyl and heavy duty nylon material. With reinforced stitching too, this will last you many years to come! Due to the strong UL air blower, this water slide is super quick to inflate. Because it is so well made, it has an impressive weight limit of 400lbs. This means kids of all ages can enjoy this!
3. Bounceland Jump And Splash Adventure Bounce House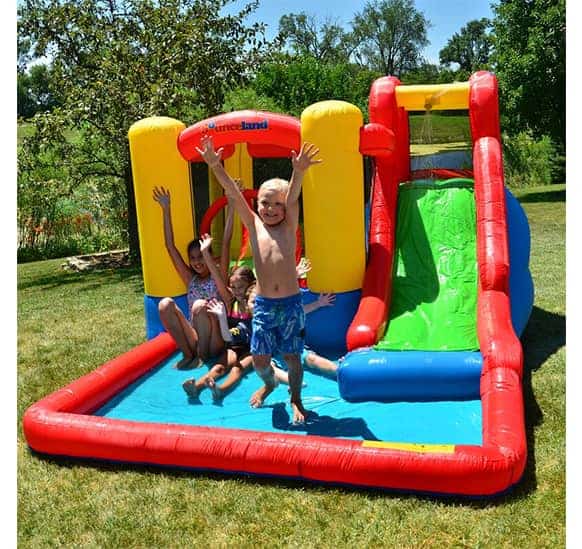 If you like the idea of a water park and bouncy house combo, but don't want to lose out on the splash pool, this is a great alternative. It includes a water slide, pool, climbing wall, bouncy house and basketball ring! And the great part is that it is still compact at 11.5'x9' (3.5×2.7m). This is the perfect product for budget conscious folks with kids of 3-8 years.
Both Bounceland inflatable water slides on this list can be used with or without water. They are also both UV resistant and well constructed. This one does lose points for its plastic material, but the quality is still great for the price. Because the included heavy duty blower is a whopping 600 watts, you will have this inflated in less than 2 minutes! It is also super quick to deflate and pack away.
4. Bestoutdor Crocodile Inflatable Water Park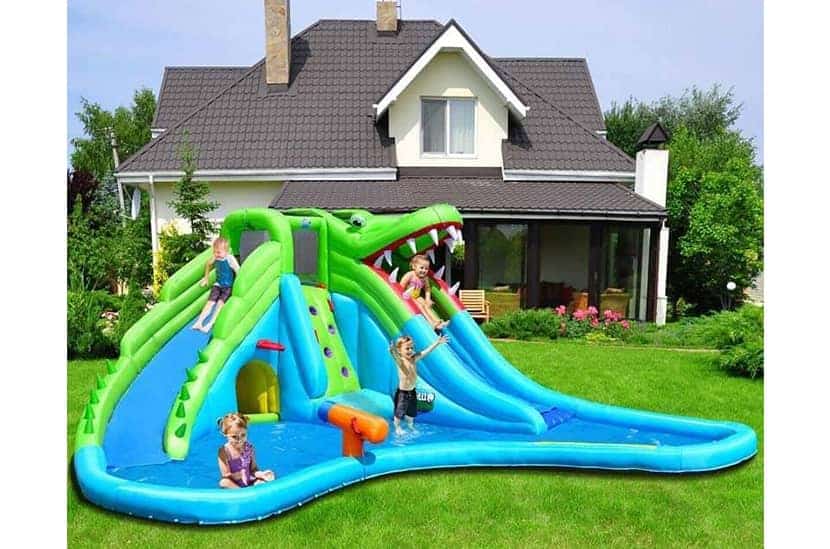 Loads Of Features & Fun Design
If your kids like crocodiles, this is a must buy! Sliding down the crocodile's tongue under its fearsome teeth adds extra excitement. This inflatable water park has enough features to keep your kids entertained for hours. With two slides, climbing wall and water cannon, it also boasts a tunnel and a basketball hoop! If you have the space for this 20'x22' (6.1×6.7m) inflatable, it is a fantastic choice.
This water slide is made from puncture-resistant Oxford fabric coated with PVC. It is not UV resistant, but most reviewers found it highly durable, even when subjected to wild kids! It also folds up compactly into its carrying bag. Plus, those with kids of different ages will appreciate the 3-10 year age range. This water park is also ideal if you have a big brood – up to 6 kids can play at the same time. Just note that the combined weight limit is 300lbs (136kg).
5. Bestoutdor Inflatable Water Slide With Mighty Splash Pool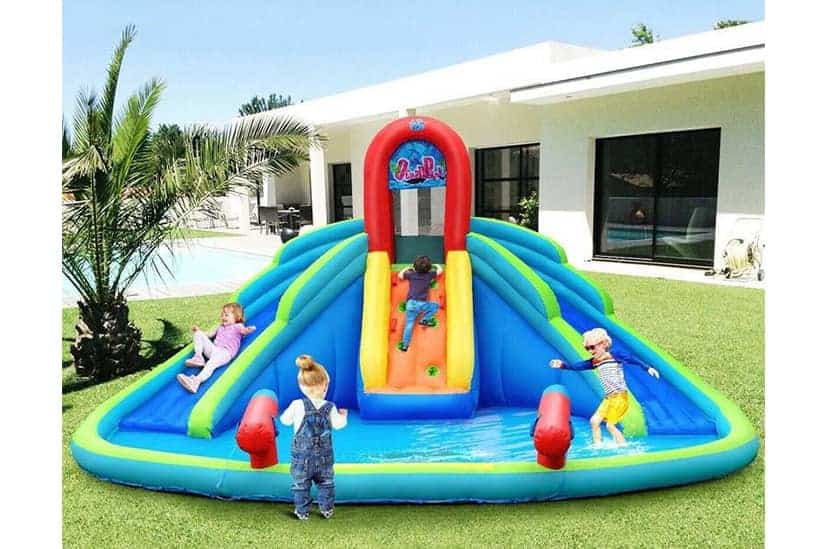 Multiple Ways To Have Fun
This inflatable water slide is similar to the previous slide, but is a little more budget friendly. It is still packed with features – two curved slides, a climbing wall, a large splash pool, plus water cannons! The sprayers on top will keep the slides wet, but this water park can be used dry too. It also folds up compactly into its storage bag and has the same age range of 3-10 years as the product above.
At 18'x17' (5.5x5m), there is lots of room for your kids to play. This also means this water park can accommodate several kids, as long as you make sure that no more than 3 get onto the castle area at a time! Like the above product, this water slide is made from puncture-resistant Oxford fabric coated with PVC. It does not have any extra UV coating, so make sure to put it away between uses.
6. Banzai Sidewinder Falls Park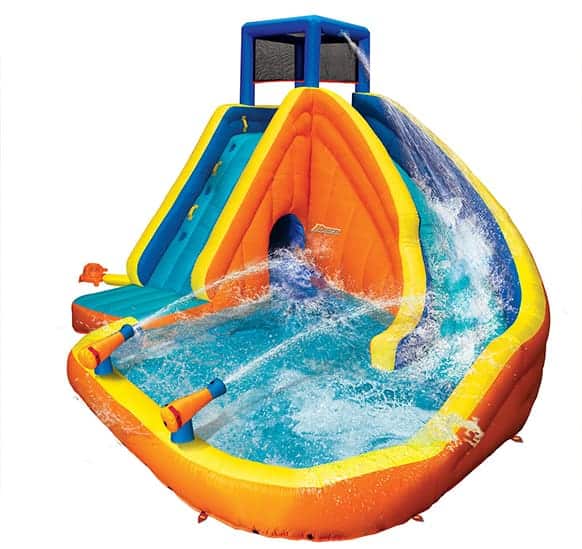 If you want the Banzai quality but are looking for something more budget friendly, their 10' high Sidewinder Falls water slide is a decent option. It may not have all the bells and whistles, but there is still a climbing wall, a curved slide, two water cannons, a massive splash pool, plus a secret tunnel! The mesh walls around the clubhouse give you peace of mind and with an individual weight limit of 120lbs (54kg), 4 kids of multiple ages can use this water park safely.
UV Resistant & Comfortable
Made from heavy-duty PVC, this water park should last a long time if well taken care of. It is UV resistant, which is great for those long summer days. It should be noted that a few people have reported tears in the fabric after a few months. Usually, it seems this is due to packing it away before it is totally dry. The cushioned lining on this water slide means no painful bruises and a comfortable sliding experience!
7. Sunny & Fun Deluxe Inflatable Water Slide Park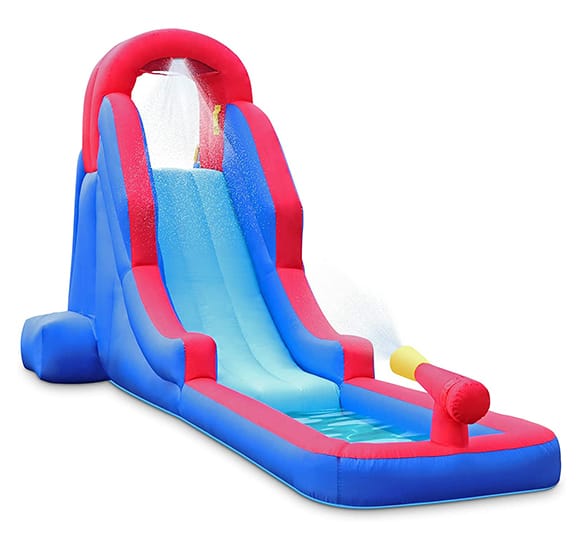 This inflatable water slide is perfect if you have a small backyard. At 15 feet (4.6m) long and 79 inches (2m) wide, it easily fits into a narrow space. And with a slide, climbing wall, water cannon, and sprinkler, you aren't missing out! Just make sure to adhere to the maximum weight capacity of 230lbs.
Good Quality & Quick Set Up
The durability of this inflatable water slide makes it a great choice. It is constructed from heavy duty nylon with reinforced stitching. It does not have extra UV protection though, so remember to pack it away when not in use. Most users love how easy and quick this kids' slide is to set up. It inflates in 6 minutes and the tube connects easily to your water hose! The instructions are minimal but it is unlikely you will have any issues. It also deflates quickly and is easy to fold up nice and compact.
8. Bestway H2OGO! Hurricane Tunnel Blast Inflatable Water Park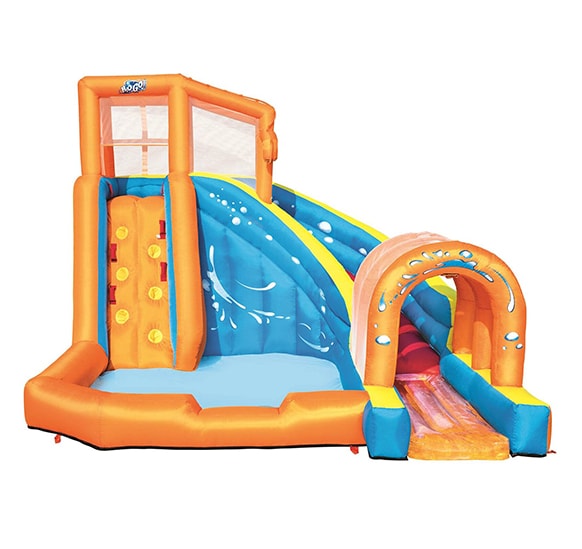 Perfect For Older Kids & Parties
This inflatable water park features a climbing wall, a curved slide, and a wading pool. It also has sturdy walls and a water blob for a cushioned landing. With an amazing weight capacity of 720lbs (327kg), this water slide is perfect if you have several kids of different ages! It is also perfect for parties, as it can accommodate up to 7 kids!
The weight capacity of this product and its 1 year warranty is a testament to its sturdy construction. Made from PVC, this water slide can withstand lots of battering. Just don't leave it out in the sun too long as it is not UV resistant. This water slide is super quick to set up – once flat, it inflates within 2 minutes. One negative point is that the slide does not go into the pool, so the water runs off onto the ground.
9. Intex Surf 'N Slide Inflatable Kids Backyard Water Slide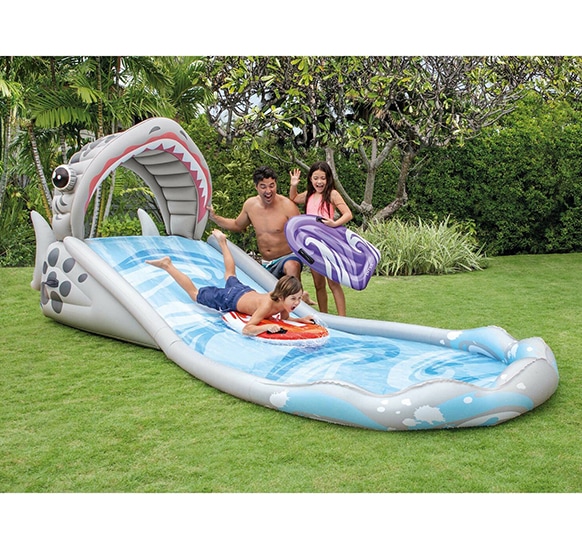 If you have really limited backyard space, this 181'x66' (4.6×1.7m) inflatable water slide is a great choice. A small yard does not mean you have to miss out on the summer fun, plus your kids will love the shark design! You will need to buy a pump separately though, as this is not included.
Unique Slide & Quality Construction
Most of the inflatable water slides on this list require you to slide feet first. But this one is different – slide head first on the inflatable surf riders for extra fun! Parents need not worry – with a cushioned landing pad and slow descent at the end, this slide is super safe. Made from 16 gauge PVC, this water slide can withstand some wear and tear. It is not UV protected, but if it does spring a leak, the multiple air chambers mean this is not a disaster.
10. Intex Inflatable Kids Pool Center With Slide
If you have younger children of 2-7 years, this wading pool is a fantastic option and alternative to an above ground pool. It has two small splash pools with a slide connecting them. It also includes lots of fun games – a ring toss game, a ball roller game and a ball toss game! However, you will have to buy balls separately, as this product only comes with 6.
Decent Quality For Outdoor And Indoor Use
When it's too cold to get wet, no problem! The wading pools can double as a ball pit and all the games work just as well dry. Intex is a reliable brand, and this is a great product for the price. Although made from plastic, it will last you a while with proper care. However, you should pack it away between uses as it can get damaged from sun exposure. Some reviewers also reported it losing air after being out all day. Nevertheless, this is a good budget pool.
Helping you to decide on a slide your kids love playing in all summer long.
What To Consider When Choosing Your Inflatable Water Slide
If you consider the following factors, you'll find it a breeze to choose from the best inflatable water slides for your family.
Most inflatable water slides include an age range in their product specifications. Make sure you follow this! If your kids are too young, it is unsafe because the components will be too large and the slides too high. On the other hand, if older kids or adults use a water park designed for tots, they are likely to damage it.
Size & Height Vs Available Space
Your heart might be telling you to go for the most exciting inflatable water slide you can find, but it has to fit into the available space! And by 'available space' we mean space that can actually accommodate a water slide – it needs to be a relatively flat, unobstructed area, with plenty of clearance around the sides.
It is also crucial to consider height if you are going to put your inflatable water slide underneath trees or a roof.
When it comes to material, you want to make sure you are getting something that will last. PVC is popular due to its elasticity and durability. Chemical grade nylon is also a good choice as it is durable but lightweight. The best inflatable water slides are also UV resistant – it will probably get lots of sun exposure!
Most of the top inflatable water slides are between $300-$1000, but there are a few small water slides in the $100-$200 range that are still good quality. On the other hand, a large water park with multiple slides and extra features for under $500 implies that corners have been cut. If you have a tight budget, rather go for something simple and good quality than something elaborate and cheaply made.
From water cannons, ball pits, basketball hoops, tunnels and more, there are so many fun extra features that water parks can come with. Think about what your kids will enjoy, as well as your available space and budget. Plus more practical inclusions such as an air blower.
Safety With Your Inflatable Water Slide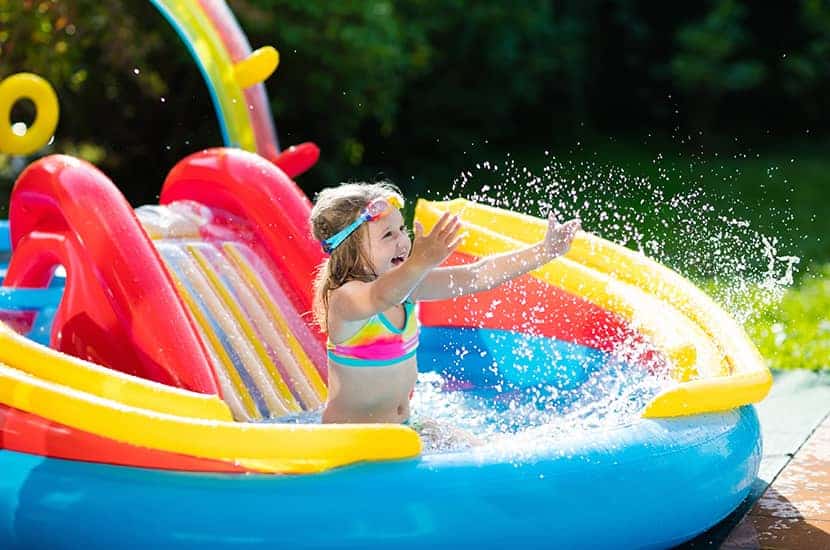 When it comes to safety, it is crucial to follow the manufacturer's restrictions. These will specify the age range, maximum weight capacity, and number of kids that can use the slide at a time. Here are some additional tips for safe summer fun:
Make sure there are no sharp objects inside or around the water park
Before using, make sure the product is not damaged and there are no leaks or tears
Make sure the slide is properly assembled
Do not over inflate the slide! This can lead to stretching and tears in the fabric.
Kids should remove all jewelry, shoes, and eyeglasses before using the product
Use the product as intended: e.g. no jumping on slides and no sliding on climbing walls
Make sure kids play safe: no wrestling, piling, tumbling or rough play
Small children should always be supervised when using the water slide.
Frequently Asked Questions
In conclusion, the best inflatable water slide we found is the Banzai Hydro Blast. Not only is this inflatable slide packed with exciting features, it is also safe, sturdy and durable. But if you want a smaller or more affordable slide, or something you can use dry, we have got you covered! Once you have chosen from the best inflatable water parks for your family, get ready to make precious summer memories!