It's finally summer and time to spend some time outdoors. With the hot days upon us, we've come up with the best sprinklers for kids that are available today. These sprinklers for kids are specifically designed to be a family favorite and provide loads of fun. The best kids sprinkler is subjective but we're sure that the perfect one for you is listed below. Kids run through the spray for hours on end, and even a little sprinkler can provide some great water play for older kids – and adults might just want to join in on the fun as well.
1. Inflatable Backyard Rocketship Sprinkler
Editor's Choice #1: This was the most impressive sprinkler based on sheer size alone. Once set up it is a sight to behold, bringing out the brightest smiles in everyone – even neighbors will see it far and wide. Despite being large it's still sturdy with the included stakes. Makes us wish we were kids again…
Summer fun is about to "lift off" with the Inflatable Backyard Rocketship Sprinkler. This is an impressive toy that may even attract a few adults its way as well. Standing over 7.5ft tall this looks every bit like a rocket ship launch. It's sure to please even the most critical young space enthusiasts. What better way to cool off this summer than with a huge rocketship sprinkler.
Lots of space is recommended to set up this sprinkler toy in order to see it work at full capacity. With 4 water sprinklers on all sides of the hull, there is 360° of water flow so everyone can get in on the action. Great for younger kids or older kids, it easily inflates and deflates with rapid valves to make storage and clean-up a breeze. It comes with 4 ground stakes to keep it in place and resistant to wind to make sure you have the best sprinkler fun possible. 
2. Mushroom Sprinkler For Kids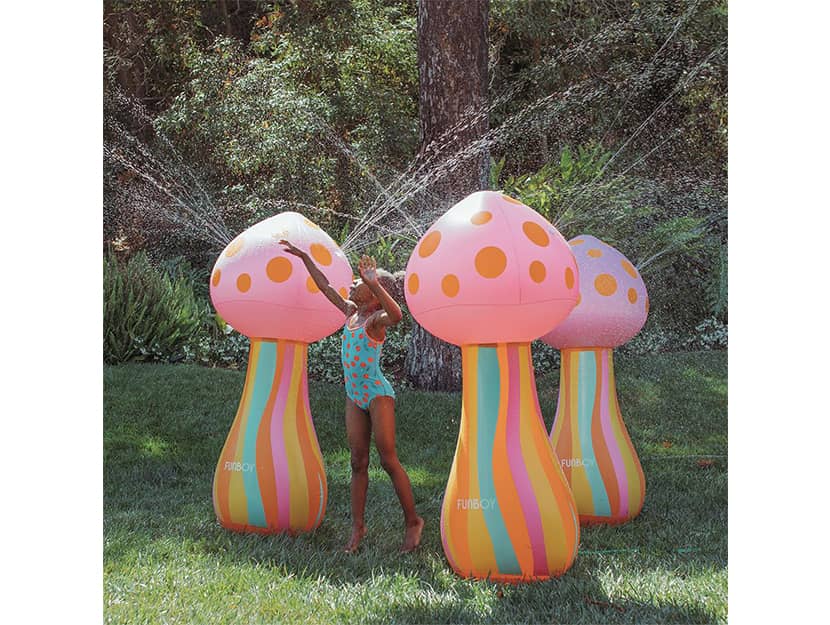 Editor's Choice #2: Based on design alone this was one of our favorites. Stay cool in the spray with this unique look that has that Alice In Wonderland feel to it. These can easily be used as garden decorations in addition to watering your garden. Not just for kids, this sprinkler is sure to please everyone.   
A colorful and creative sprinkler gives a nod to a different era. The colors are the first thing to catch your eye as this is a beautiful sprinkler that you'll want to leave up in your yard all the time – exactly what you want.
Stays Upright All The Time
It's strongly supported by a base that fills easily with water, keeping your mushroom upright, working like a toy boxing clown where if knocked over it will stand itself back up. Its durability makes it perfect for birthday parties with a lot of kids and with two sprinklers positioned at the top, it provides a wide range of spray in various directions – each mushroom is over 5 feet tall maximizing the spray distance. Take a trip down memory lane with these psychedelic mushroom sprinklers; bell-bottoms not included.
3. Inflatable Standing Cactus Kids Sprinklers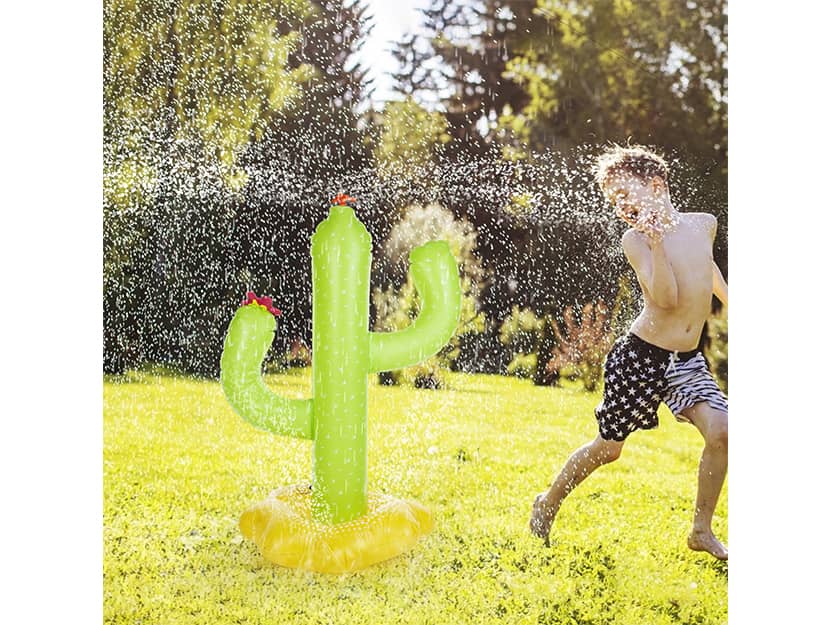 When it's as hot as a desert out there, why not embrace it and get some cacti? These are the best kind of cactus not just because they don't have thorns but because they can cool you off quickly. Outfitted with a helicopter spray system at the top, this cactus will have everyone drenched: a perfect addition to any backyard party that's popular with kids or adults.
Great For Kids And Adults
Kids will get a kick out of the revolving helicopter sprayer and the fountain streams that come from the base. The base keeps the cactus stable and upright by easily filling it with water. This is important because they are over 5 feet tall each. This is a great size since it's big enough to be fun but still easy to deflate and store easily. As a bonus, you can also play ring toss with this sprinkler, and the cactus arms are reinforced to add extra strength. Test your skills while keeping cool all summer long.
4. Volleyball Sprinkler Inflatable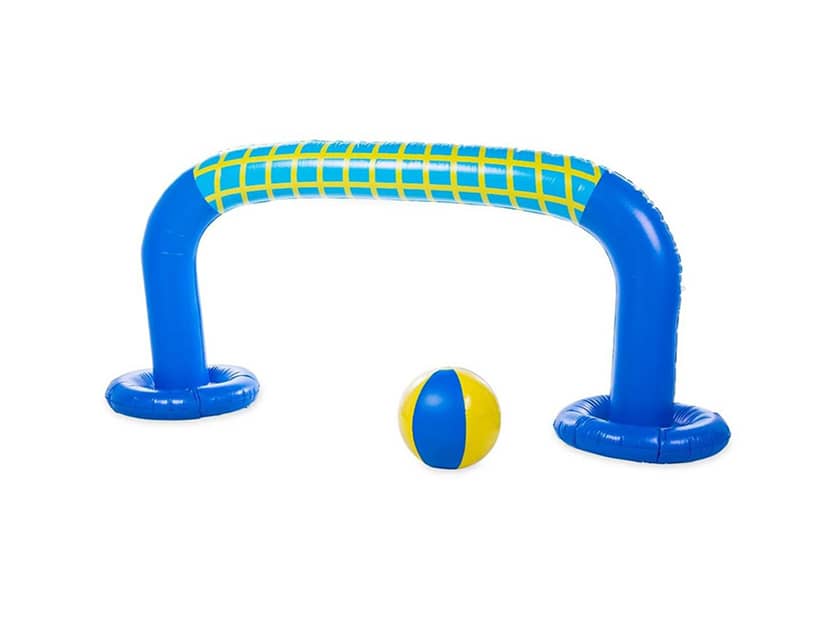 This Volleyball Sprinkler Inflatable plus beach ball means you will never want to go back to beach volleyball after playing with this inflatable. With tons of sprinklers covering the top, you can use the water to determine the height of the "net". For kids, keep the pressure from the hose low. The sprinklers and soft beach ball will be gentle making it easy to learn the game of volleyball.
Customize For All Levels Of Players
For the more experienced player, turn up the pressure to raise the "net" height and have a highly competitive game with included beach ball. No need to worry about this blowing away in the wind; water pockets keep this net firmly in place. For added security, it comes with stakes and proper eyelets to loop strings through. If volleyball isn't your thing you can also use this as a soccer or field hockey goal as well. You may have to take turns being goalie since that will be the most refreshing spot on the whole field.
5. Rainbow Arch Sprinkler Inflatables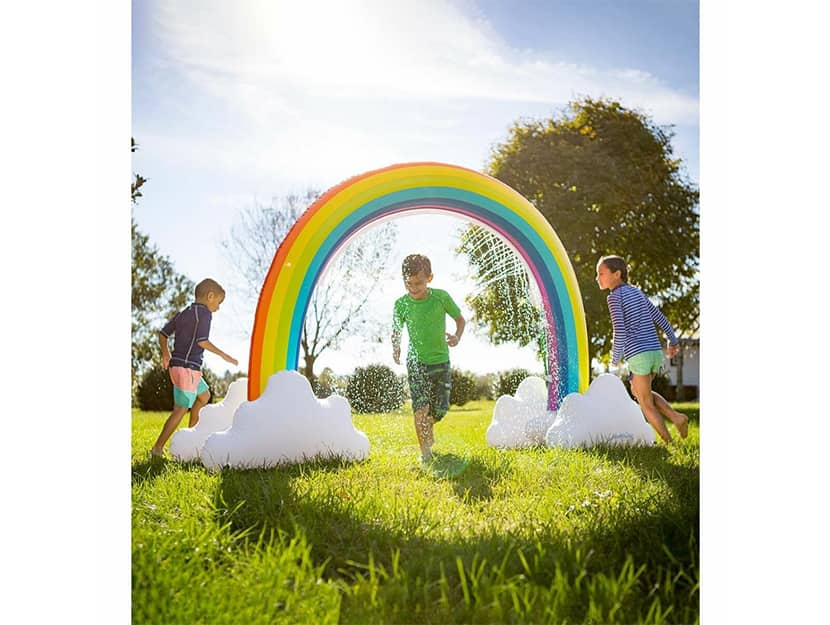 Not all rainbows have a pot of gold at the end of them, however this one will provide hours of the best sprinkler fun for the whole family. Isn't that worth more than gold? The Rainbow Arch Sprinkler Inflatable is a beautiful addition to your yard and the little ones will love it. It easily connects to your garden hose to disperse water in multiple directions so no one gets left out. The inflatable rainbow itself is accented by clouds to give it a really fun and cartoonish look.
Perfect For Parties And BBQs
Built into the clouds are pockets that can be filled with water or sand so keep your rainbow upright and arching perfectly.  Your kids will love running through the arch to stay cool on those hot summer afternoons. It easily inflates and deflates so you can bring this with you to the cottage, birthday parties, BBQs, or anywhere else the kids need a little excitement. You could even use it in combination with an inflatable water slide! Made from heavy-duty vinyl you can be sure this inflatable will be around for many summers to come.
6. Funphix Small Kids Sprinklers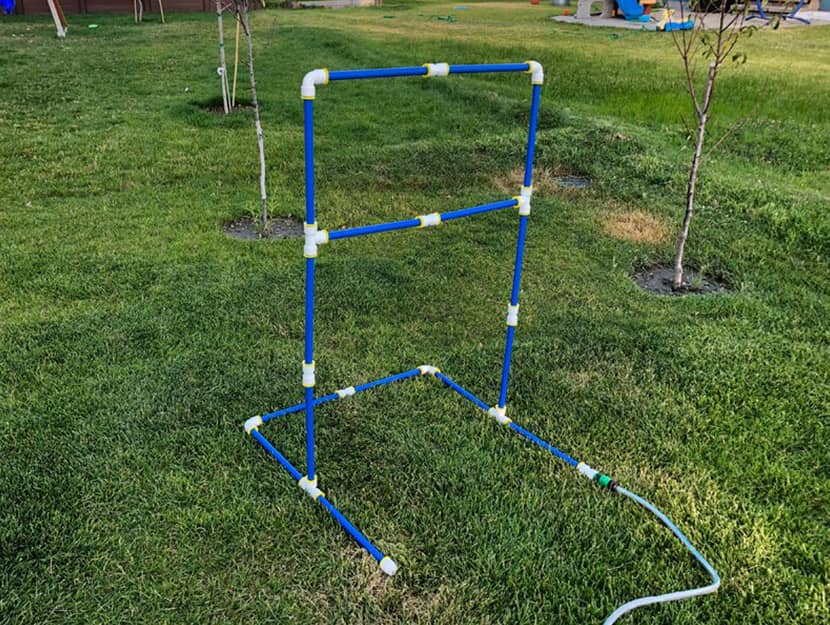 Kids can enjoy this water sprinkler while also having fun building and exercising their creative muscles. The Funphix Small Kids Sprinklers can be put together any way you can think of as it fits together like a puzzle, and your garden hose easily attaches to the quick-release valve on one of the pieces. From there the sky's the limit as to how your kids will want to build their sprinkler, and each piece has various sprinklers to keep everyone soaked.
Sprinkler With Added Features
This is a perfect afternoon activity that also teaches problem-solving skills. The pieces fit together to create a ladder ball apparatus or ring toss poles or any other game you can imagine. It's just as easy to disassemble as it is to put together. When you're all done simply detach all the parts and store them in the handy carrying case. Now you can bring your sprinkler anywhere you like!
7. PINXOR 1 Set Laughing Trampoline Sprinkler Set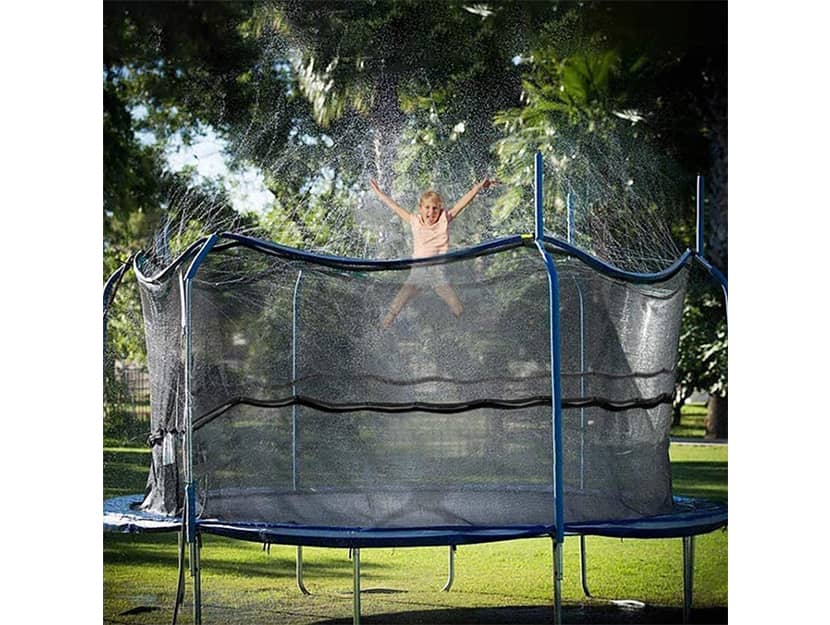 The only thing more fun than a trampoline is a trampoline with a sprinkler set attached to it – bounce and enjoy the cool spray at the same time. The PINXOR 1 Set Laughing Trampoline Sprinkler Set is the best accessory for a trampoline since the invention of springs. Everyone knows you can really work up a sweat when you're bouncing on a hot afternoon, and this sprinkler addition will help you stay cool.
A great gift for the avid bouncer who wants to jump for all hours of the day, this system installs to any trampoline net easily with all pieces included in the set. You get a durable hose with a quick-release attachment to connect to a standard garden hose and twist ties to secure the hose to the top of your net. Water pressure is adjustable with a handy valve.
8. Spicymedia Game Outdoor Water Splash Mat
The perfect splash pad for younger children does exist! This is a great way for kids to get some outdoor fun and play safely while staying cool and comfortable on a hot day. Featuring a fun aquatic theme that is very bright and includes pictures of different kinds of sea life.
It's Not Only A Sprinkler...
The main attraction is the whale that adorns the middle which shoots water out of the top in a 360° stream to ensure everyone gets wet. There are more sprayers around the perimeter of the splash pad making it fun for kids to jump through the streams from both elements: a huge advantage over other splash pads since this one is also a small pool. As the water collects from the different sprayers, the bottom fills up and provides a nice place for kids to sit and enjoy the water fun. It's large enough to fit a few kids so this makes it perfect for backyard parties.
Bonus tip: Adjust the pressure of the hose to control the height of the fountains of water. High pressure equals higher water and higher enjoyment.
9. Inflatable Sprinkler & Splash Pad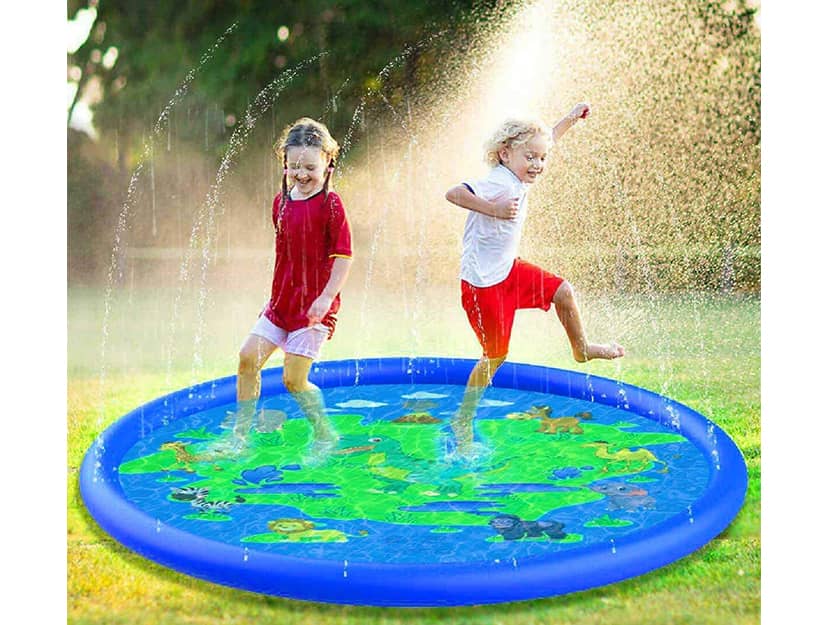 This is perfect for introducing toddlers to the joy and wonder of water fun and all its refreshing benefits. This splash pad easily connects to your regular garden hose and provides hours of fun for kids. It's 68" in diameter so it's large enough to fit multiple kids at once – great for birthday parties out in the sun and fresh air. This fun toy may even attract adults under its refreshing water shoots.
Also A Great Learning Tool
This is a great kids sprinkler toy for learning as well. The design displays many different animals to test a child's knowledge of the animal kingdom. The bright colors and eye-catching art will keep kids entertained long after the water is shut off. It's made of heavy-duty PVC plastic to make it durable enough to withstand some roughhousing. Easy to inflate and deflate quickly and it's very light so you can take it on camping trips as much as you like.
10. Cozy Home Humongous Unicorn Kids Sprinkler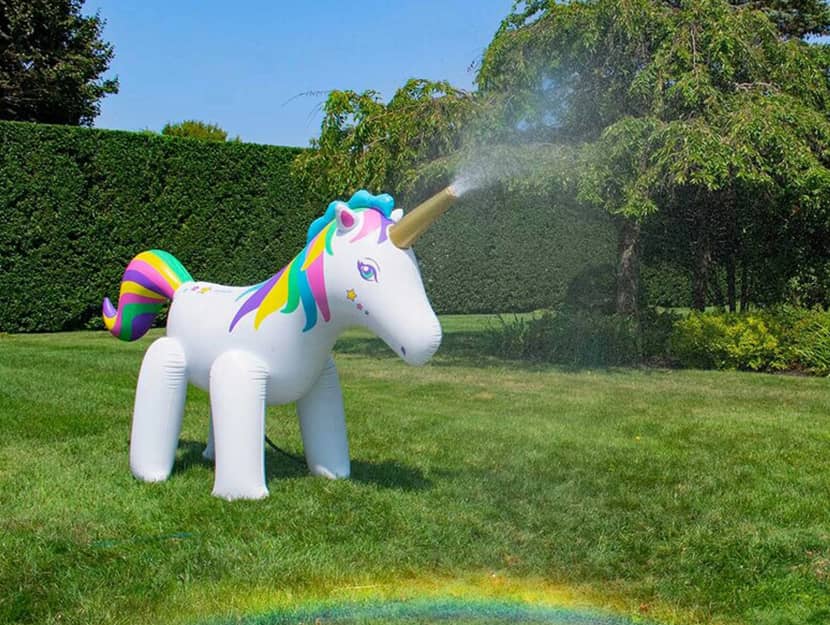 One of the best sprinklers for kids who want the biggest and brightest, the Cozy Home Humongous Unicorn Kids Sprinkler is a great sprinkler toy to keep the kids busy in the spray for hours. Standing over six feet high this unicorn is as impressive as it is fun. The colorful design is sure to brighten any kid's day and provide so much fun in the backyard. The horn on the unicorn is fitted with a sprayer so it splashes water high in the air which covers a lot of ground so everyone can have fun playing.
This sets up easily by connecting your water hose to the adapter provided and once inflated the kit also includes a set of anchors that can be used to secure your unicorn to the grass, keeping it in place all day regardless of the weather. It's made of high-quality and durable vinyl that holds up well against UV rays and fading. If there is a problem it also comes with a patch set to repair any blemishes.
Here are some things to help you when shopping for kids' sprinklers, to help find the best sprinkler for your yard.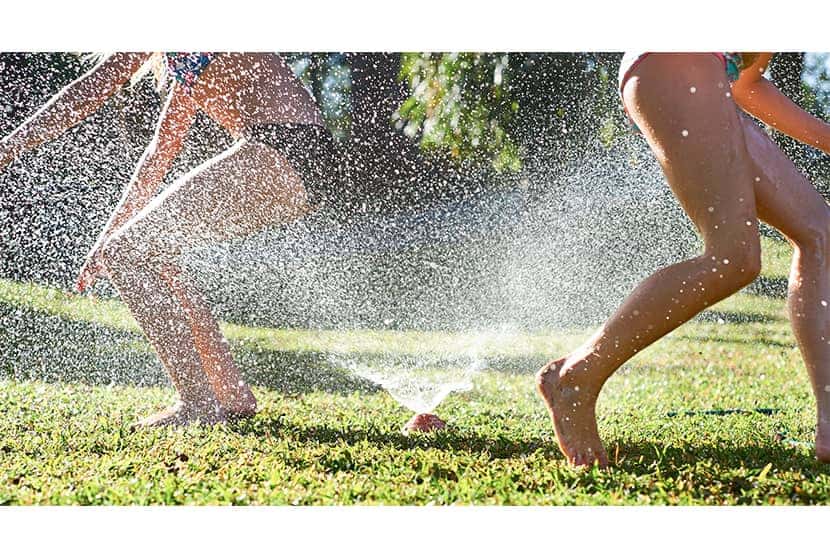 What To Look For In A Kids Sprinkler
These water sprinklers come in many different styles for backyard fun, and we have noticed that these attributes are most important when choosing the best sprinkler.
Whether you're hosting boys or girls ranging in ages, the color scheme could be the most important aspect. We know how picky kids can be so regardless of the actual sprinkler if you get the color wrong then you might be the only one enjoying the refreshing spray.
There are many sprinklers to choose from, include everything from a fire hydrant sprinkler to a dinosaur sprinkler. The best advice here is to know your audience. Younger kids will prefer colorful set ups while older kids may prefer stronger water pressure for the most fun.
Speaking of water pressure, it's most convenient to find a sprinkler that has a pressure adjuster right on the valve. This will save you having to make multiple trips back to the other end of the water hose to get the spray right.
Make sure you test the pressure before allowing kids to play with it. Sometimes the water can come out at a pretty high pressure so a little adult supervision here goes a long way.
Most sprinklers will be made of heavy duty vinyl – a great sprinkler material for kids as it's durable and very resistant to leaking. It also allows the manufacturers to get creative and build sprinklers that capture the imagination just as much as they cool us off.
The top sprinklers will cost more as there is more material being put into them with potentially more valves to allow water and air in quicker making inflation faster. Big sprinklers can be impressive but it takes a lot of design and packaging to produce these so naturally the cost will reflect that.
Sprinklers are best enjoyed on the grass. You can place them wherever you want in your yard but keep in mind that the spray will make any surface more slippery. If you place them on a driveway then someone could slip and fall, especially if it is not level.
Keep your sprinkler away from sharp objects. Although made from high-quality and durable material these sprinklers are susceptible to puncture. Even the smallest hole will be tough to repair and your sprinkler may be ruined for good.
Ensure that there are not too many kids running through the water all at once. It's easy for children to be looking one way while running in the other and collisions can happen.
Make sure you do not overinflate your sprinkler. If there is too much air pressure then it could burst. Fill your inflatable sprinkler to the point of it being full but not taught. This way, if someone falls into it then it won't explode.
Frequently Asked Questions
The best sprinkler for kids is the Inflatable Backyard Rocketship Sprinkler. Perfect for boys and girls, its sheer size alone is sure to impress and your neighbors will think it's a real rocket ship. Enjoy the multiple sprayers that are placed high on the ship to cover a huge area.
The amount of water that a play sprinkler uses is minimal in most cases. The sprayers on these sprinklers really disperse the water so even if you're operating on a low-pressure hose the water will cover a lot of ground. The spray is light and fun and that's what kids love.
Yes, sprinkler water is safe to play in since the best sprinklers will disperse the water spray to low pressure. All sprinklers for kids will be sure to have low water pressure to keep everyone safe. This is what makes these sprinklers so much fun. Just be aware of slippery surfaces!
There are lots of water toys out there but none as classic as running through the spray from a sprinkler to stay cool in summer. Topping our best kids sprinkler list, the Inflatable Backyard Rocketship Sprinkler is a perfect example of how far sprinklers for kids have come. Whether you want a little sprinkler for a birthday present or a big one to add some life to your next BBQ, we can't think of a better way to cool off on a hot day than a water sprinkler for your yard.