Good cornhole bags can make a good game even better. You'll want to be able to pitch solidly and accurately, so the right bag can make all the difference! Bags that feel good in your hand, throw straight, and land well, will take your cornhole game to the next level. Of course, you'll also want bags that look good and that stand up to heavy play. If you play outdoors, you'll probably also want bags that can stand up to the elements as well. Real corn feels real, but synthetics don't get buggy, either literally or figuratively. Read on to learn which we think are the best cornhole bags around!
1. GoSports Premium Bean Bag Filled Cornhole (Set of 4)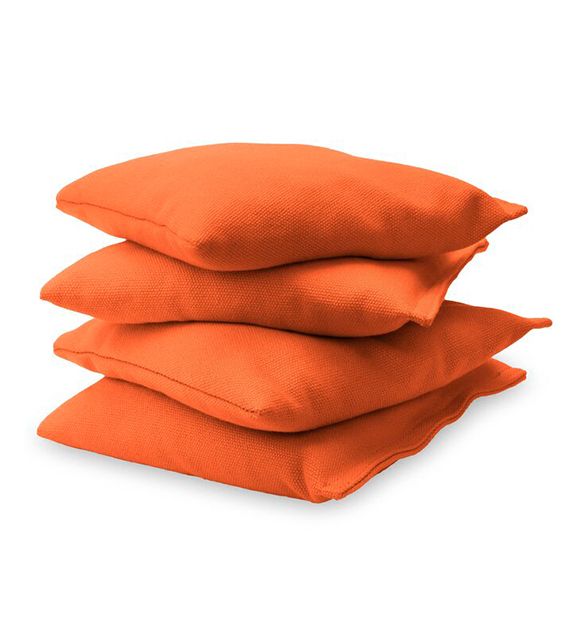 Editor's Choice #1: These GoSports Premium Bean Bag Filled Cornhole Replacement Part bags are high-quality premium bags that offer the look, feel and play of traditional organic materials, with none of the drawbacks (such as durability, disease, decay and pests). Every cornholer will appreciate their sturdiness and the way they throw.
These premium cornhole bags have been made with specially designed synthetic corn to replicate the feel and weight of authentic kernel corn feed, without the inherent possibilities of mold, decomposition and critters. At 6″ x 6″ x 1″ and one pound each, the bags meet the size and weight standards of all the major cornhole governing bodies. The synthetic corn is packed well so it won't shift during play. The bags are manufactured with heavy duck cloth and are tightly double stitched for high performance under any conditions. The regulation cornhole bags are weather-resistant, water-resistant and mildew-resistant.
These duck cloth material bags are sold in sets of four so you can create your own color combinations for home and guest teams. Choose from a wide variety of traditional and unexpected cornhole colors, including grey, pink, gold, royal blue and purple. The bags can take a toss nicely and they'll slide just the right amount on any good cornhole board. They truly are the premium bags you'd expect.
2. Corn Filled Regulation Fabric Cornhole Bags (Set of 8)
Editor's Choice #2: These Corn Filled Regulation Fabric Cornhole Bags are the real thing — classic heavy duck cloth filled with genuine feed corn. They come in a wide range of colors and meet the standards of all major cornhole organizations and tournaments. They're also fantastic and fun for backyard play!
These authentic cornhole bags are made of heavy duck cloth bag material, packed with real corn kernels, and triple-stitched with outdoor nylon thread for durability. They are certified by the ACA and manufactured to tournament-grade standards. Each of the regulation cornhole bags measure 6″ x 6″ x 1″ and weigh between 15 and 16 ounces. These sturdy, solidly filled bags are perfect for true cornhole enthusiasts who want the real deal — and the real deal is real corn! These sets are sewn by hand in the USA for an even more all-American experience.
Every cornhole player will be able to find their favorite color here! Choices include turquoise, fuschia, dark grey, orange, dark green, maroon, silver, lime green, gold and many more. Whether you want your signature color to take on the road with you or the perfect complement to your custom cornhole board, you won't be disappointed. Great quality and great choices!
3. All Weather Cornhole Bags (Set of 8)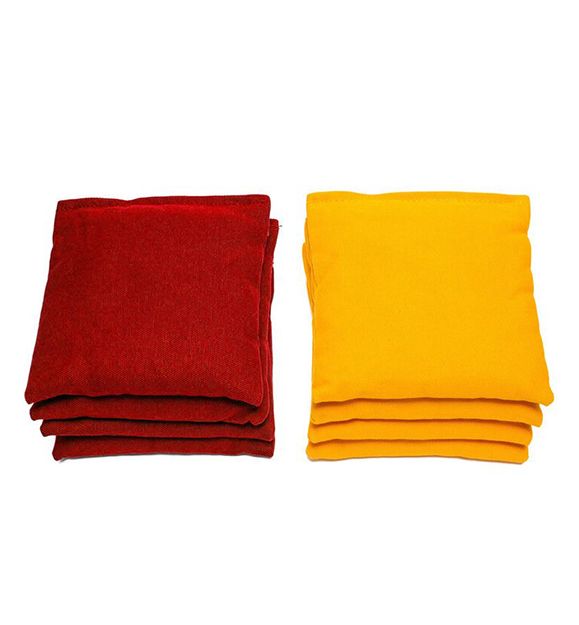 These cornhole bags are thoughtfully designed to meet every cornhole need in 2023 and beyond. They are constructed from sturdy 10-ounce fabric and double-stitched for durability. The premium quality bags are filled with recycled plastic pellets so they are earth-friendly, as well as game-friendly. They are weather resistant for outdoor play; they will hold up to the elements and they won't fade in the sun. The duck canvas bags are ACA, ACO and ACL regulation size and weight at 6″ x 6″ x 1″ and one pound each.
You get eight bags with each order, and you can pick cornhole bags to match any team or theme. They'll look great with your custom cornhole board! Color combinations include orange and black, red and royal blue, or yellow and navy blue. This is a great set of cornhole bean bags for new or tournament-level players. They're durable, they're weather-resistant, they feel nice in your hands and they land solidly on the boards. The bags can be spot-cleaned with diluted dish or laundry detergent.
4. Weather Resistant Duck Cloth Cornhole Bags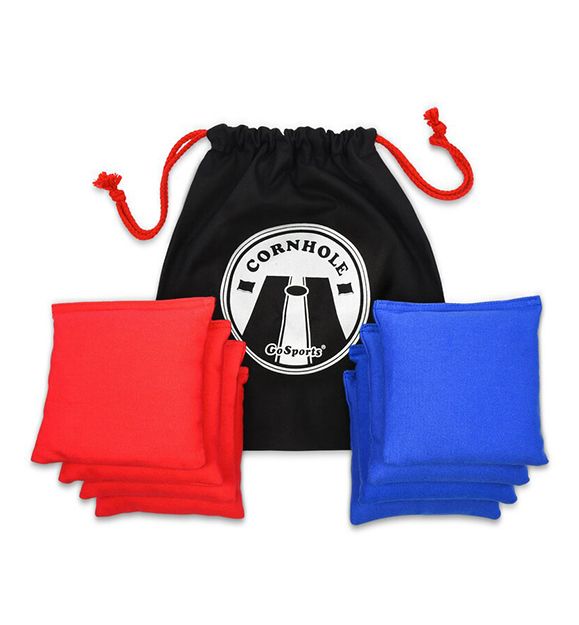 Sometimes classics get to be classics for a reason, and this is a perfect example, even in 2023. This set is made of classic cotton duck cloth, filled with classic (synthetic) corn kernels, comes in classic red and blue team colors, and is the classic regulation size and weight at 6″ x 6″ x 1″ and one pound each. You'll get eight bags (four for each side) and a sturdy carry bag with a cornhole logo and drawstring handles.
These bags are made to stand up to everything that Mother Nature can dish out. The canvas duck cloth and double stitching is sturdy and weather-resistant. The synthetic corn is designed to feel like real corn in your hands and sound like real corn when it hits the board. But unlike feed corn, these new and improved kernels won't mold, won't mildew and won't attract critters. These double stitched cornhole bean bags are great for playing in the back yard or practicing for a tournament.
5. GoSports American Flag Cornhole Bean Bag Set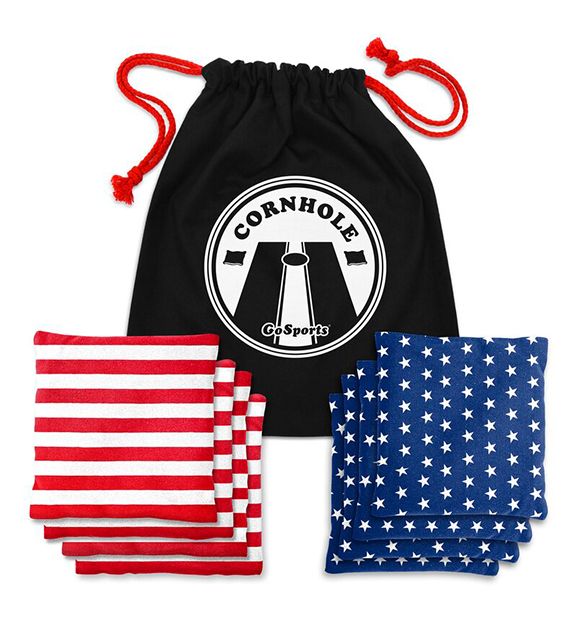 Stars And Stripes Forever
This 2023 American pride cornhole bag set features the iconic red, white and blue colors in star and stripe designs. They are made to fly high and proud with heavy cloth, industrial-grade stitching and synthetic all-weather plastic fill. They are six inches square, one inch thick and one pound each in weight, to meet the regulations of the American Cornhole Association, the American Cornhole Organization and the American Cornhole League. The resin pellets are packed tightly for good weight distribution and a solid feel.
You'll get two sets of cornhole bags, as well as a convenient logo carry bag with drawstring handles. You can take these cornhole bean bags to any game or store them with your boards at home. The bags are made to be weather-resistant so they can go anywhere you can, such as backyard barbecues or tailgate parties. Enjoy the high-quality materials and the patriotic designs. These bags offer you a good throwing experience and let you show your pride.
6. AJJ Cornhole Bag (Set of 8)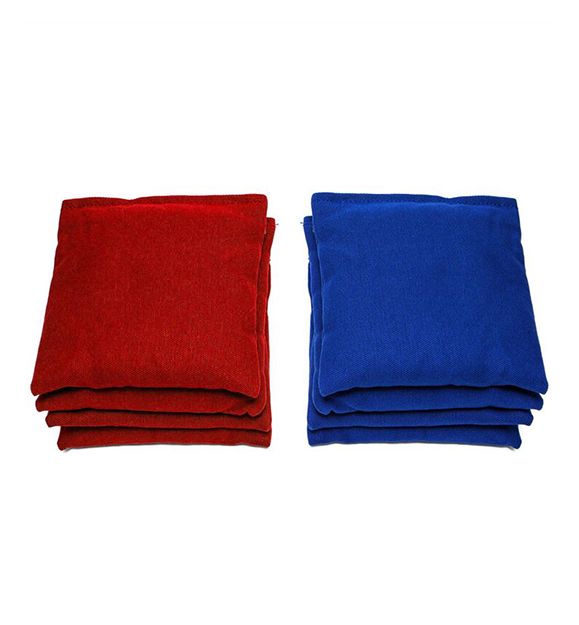 Cornhole Like You Mean It
Play cornhole as it was meant to be played with this set of triple-stitched duck cloth bags filled with real corn kernels. Nothing else feels the same, throws the same or sounds the same. These sturdy bags are just what you need for a good old-fashioned cornhole game in your backyard or basement. At 6″ x 6″ x 1″ and one pound each, they meet the standards set by the American Cornhole Association, the American Cornhole Organization and the American Cornhole League for tournament play, although they are just right for more casual players as well.
You can select your home and away colors from a selection, including red and black, orange and yellow or red and navy blue duck canvas. These bags are meant for outdoor use as untreated corn can bring extra guests along with it. They offer great gameplay and a great throwing experience. You will definitely appreciate the authenticity they bring to your next game!
Key Things To Consider When Choosing The Best Cornhole Bags For You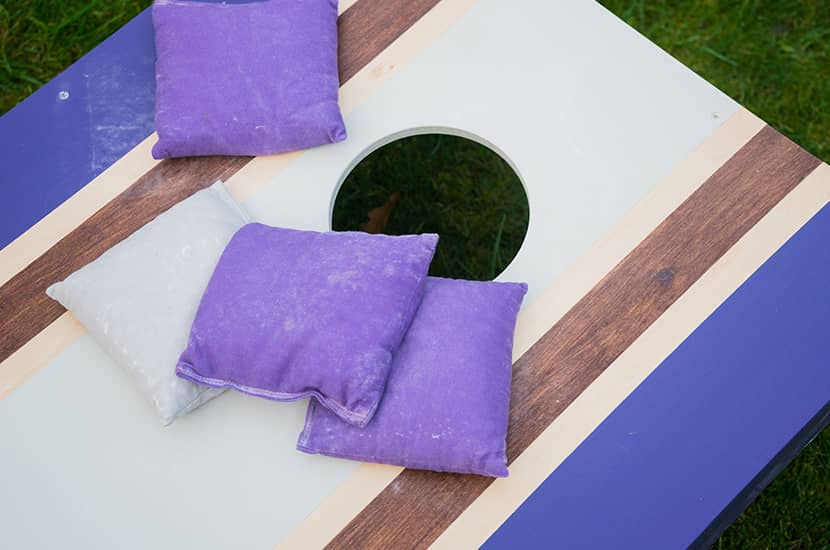 A beanbag isn't just a beanbag! When you're playing seriously, or even just for fun, you'll want to make sure that you have the top cornhole bags that you can find. Some considerations include:
ACA, ACO and ACL 2023 regulations dictate that a cornhole bag should be six inches square (with seam allowance), one inch thick, and 15 to 16 ounces. If you're getting ready for tournament, league, or even pro play, you'll probably want to stick with these standards. But if you're playing with family or friends, smaller hands might want smaller bags and those are readily available.
You'll definitely want sturdy canvas material and nylon or polyester thread for the seam stitching. You'll be throwing these bags repeatedly against a hard surface and you won't want the bag or seam to break. You'll also want material that slides a bit, but not too much! Canvas or duck cloth are the typical bag choices, but some cornhole players prefer leather or other fabrics.
Cornhole bags are typically square in shape. You'll also want to pick contrasting colors so you know at a glance which bag belongs to which player or team. Other than that, there are no limits! Feel free to get a little wild making your cornhole set the best that it can be.
Resin Vs. Corn Filled Bags
Cornhole is named after corn; some people aren't happy playing with anything other than corn that grew on a cob. Synthetic pellets have come a long way though, and the best of them offer an authentic playing experience. Resin or plastic fill stands up to outdoor weather better and is not nearly as attractive to critters. For more information in the differences between the two types, check out our blog post on resin vs corn filled bags.
Bean bags aren't as durable as harder tossing toys like bocce or ladderball balls, so each seam should be at least double stitched with nylon or polyester thread. Some of the best bags feature triple stitching for each seam. Bag material and fill can also affect durability and wear.
What feels best to each person is a highly individual choice, but you'll probably want a material that's got at least a bit of texture to it so you can get a good grip and therefore a good throw. Thick weaves tend to work well.
Don't forget to check out our cornhole board reviews next!
Frequently Asked Questions
In our opinion, the best cornhole bags are the GoSports Premium Bean Bag Filled Cornhole Bags, followed closely by the Corn Filled Regulation Cornhole Bags. Either of these would make any cornholer super happy. Overall, you want bags that feel good in your hands and that you can pitch accurately. For most people, this means a solidly packed bag with good weight distribution and moderately "grippy" material. It also makes sense to consider durability, weather resistance, color choices and price, when you're shopping around in the cornhole market.
Cornhole bags are filled with feed corn or manufactured materials that are designed to replicate the look, feel and weight of corn kernels. The synthetic pellets can be made from plastic, resin or other materials. Manmade "corn" filled bags tend to be more durable and less buggy, but a lot of players swear by the real thing.
There are 8 bags in cornhole, meaning there are 4 bags in each color. Cornhole matches are played between two individuals or teams; each side pitches four bags per inning. Bags should be purchased in multiples of four so that each side has its own color — you definitely don't want to knock your own bag off the board or your opponent's bag into the hole for an accidental slick woody!
The right cornhole bags can really make a difference in your gameplay. As with other types of game gear, what feels best to each person depends on the person, but you won't go wrong with any of our choices here and in our opinion the best cornhole bags on the market now are the GoSports Premium Bean Bag Filled Cornhole Bags and the Corn Filled Regulation Fabric Cornhole Bags.