A game room simply isn't complete without the addition of a pool table! That's why we've created this handy buying guide that goes over all of the pool table features and the differences between various tables. While many products on the market look great, we've carefully researched the pool tables on our list to ensure their quality.
Whether you're in search of a table with a compact size and folding legs, or whether you'd prefer a full-size table complete with a ball return system, we've included a variety of style options below that you're sure to enjoy. Read on to find out more about the best pool tables for your game room or even your outdoor entertainment space!
1. Mizerak Donovan II 8ft Slate Pool Table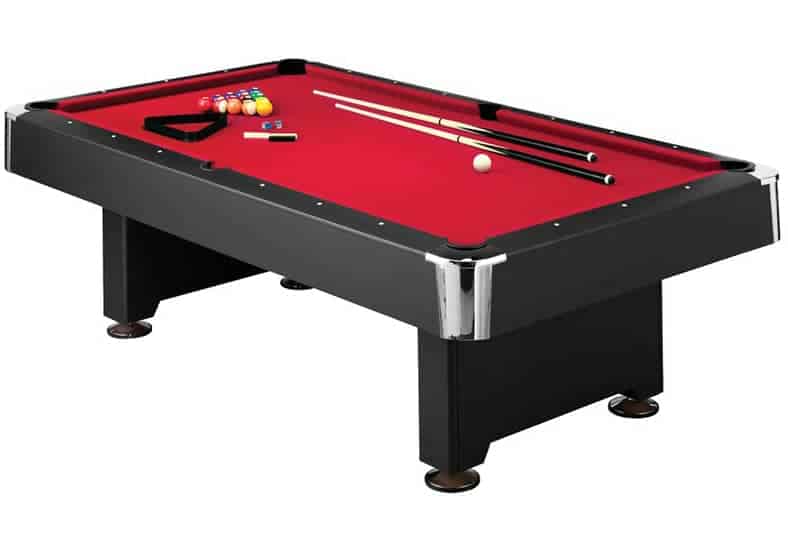 Editor's Choice #1: The Mizerak Donovan II 8-Foot Slate Pool Table is our favorite option when it comes to indoor home pool tables for your game room. Of all the products on the market, this model leads our list of quality tables thanks to the slate playing surface and MDF frame paired with high-quality wool felt and built-in leg levelers.
Among professional players, slate playing surfaces are often preferred. This is because slate is heavier, harder and built to maintain its quality for years! While wood and other materials tend to warp over time, slate retains its flat surface for decades. The Mizerak Donovan II is a slate bed table covered with bright burgundy felt that can be replaced years down the line if necessary.
Along with the eight-foot table, you'll also receive drop pockets, a table brush, pool balls and pool cues–everything you need to get the game started! While this heavy table (weighing in at 715 pounds) will need a few adults to carry it in and assemble it, this table will last for the foreseeable future thanks to its high-quality materials and construction.
2. Imperial Outdoor 8ft Pool Table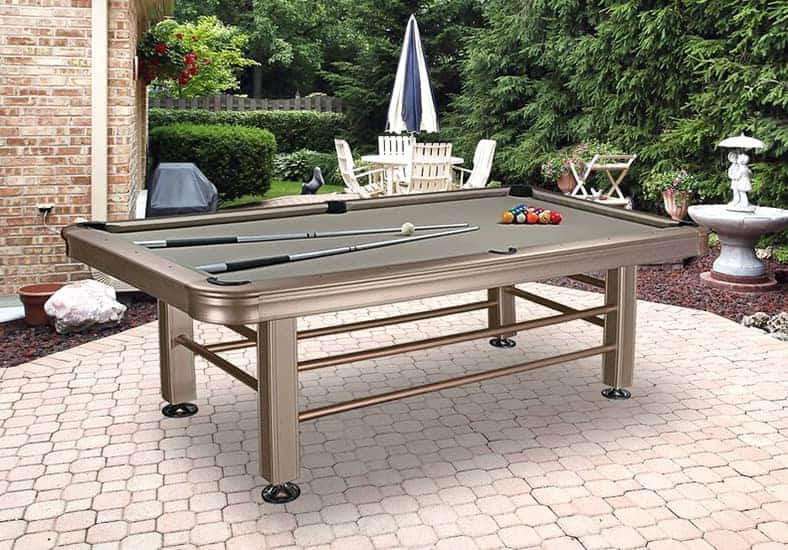 Editor's Choice #2: If you're in search of a heavy-duty pool table that is capable of withstanding the elements, the Imperial Outdoor Pool Table is a wonderful choice! With its sleek tan coating and high-quality construction, this pool table will make a great addition to your patio or other outdoor space. Included are two pool cues, a set of polyester balls, two pieces of chalk, a triangle and a table cover.
Designed For The Outdoors
This quality pool table is made from all aluminum parts. The anodized aluminum rails, corners and legs are constructed to last with strength and durability. The playing surface is waterproof and fire retardant, perfect for standing up to the elements. Meanwhile, the included cover maintains the table's quality when not in use.
The impressive pearl board bed is 18 millimeters thick. It's covered with waterproof Taclon cloth, and the bed itself is made up of 140 layers of Formica sheets and polyester resin. These layers were then put through a high temperature and pressure process to ensure the playing surface's durability, as well as its waterproof and fire-retardant capabilities.
3. Playcraft Extera 8.3ft Pool Table
This outdoor pool table is crafted with resistance to inclement weather in mind. The electric blue playfield is sure to draw attention to the table and make the game even more fun! And with included leg levelers, it's simple to level out the table perfectly, even on slightly uneven ground.
Manufactured Wood Surface
The Playcraft Extera's playing surface is constructed from a type of manufactured wood called MDF, or medium-density fiberboard. MDF is well-known for its strength and durability. In addition, this pool table comes with a protective cover that will maintain the quality of the playing surface. Also included are rubber pockets, a table brush, pool cues, a cue rack and a set of billiard balls.
The frame of this billiards table from Playcraft is constructed from aluminum and finished with an anti-rust coating. Meanwhile, the eye-catching electric blue surface is made from polytech billiard cloth. It's weatherproof and UV-resistant, so you can rest assured that you'll be able to enjoy playing pool at this table for years to come.
4. Barrington Hawthorne 8.3ft Pool Table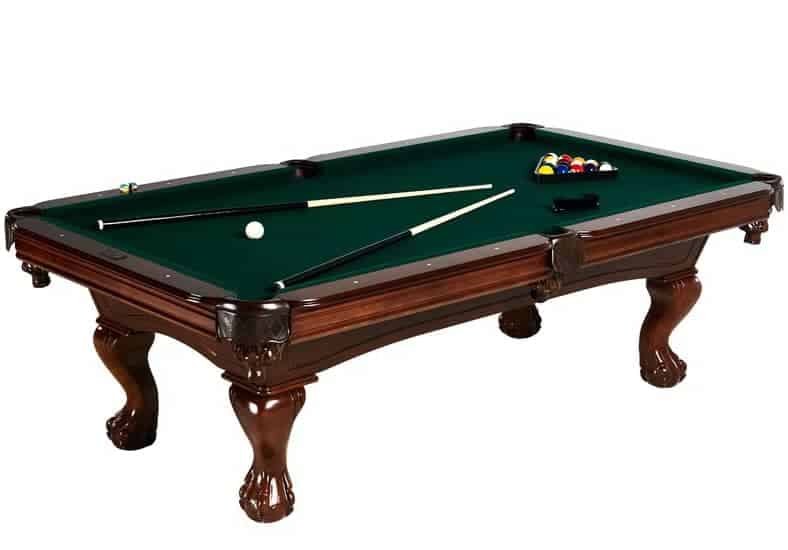 The elegant Barrington Hawthorne pool table is the perfect addition to any upscale game room or high-end man cave. Its appearance alone is hugely impressive, with a gorgeous rich cherry finish on the furniture-quality wood veneer–not to mention the artfully crafted claw leg design. But this table doesn't just look good; it also plays well!
The one-inch reinforced particle board playfield is covered with a classic green felt made of a 50% wool blend. It features classic drop pockets with leather tops for a truly authentic feel, and the solid wood top rails ensure durability. Plus, the rubber bumpers provide accurate ball bounce that will keep the game going smoothly.
This model from Barrington sure isn't lacking in accessories! With this home pool table, you will also receive two cue sticks, two chalk cubes, one triangle rack, 15 numbered billiard balls and a cue ball. Forget about making additional purchases for accessories–everything you need to play a great game of pool is included with this billiard table!
5. Minnesota Fats Covington 8ft Pool Table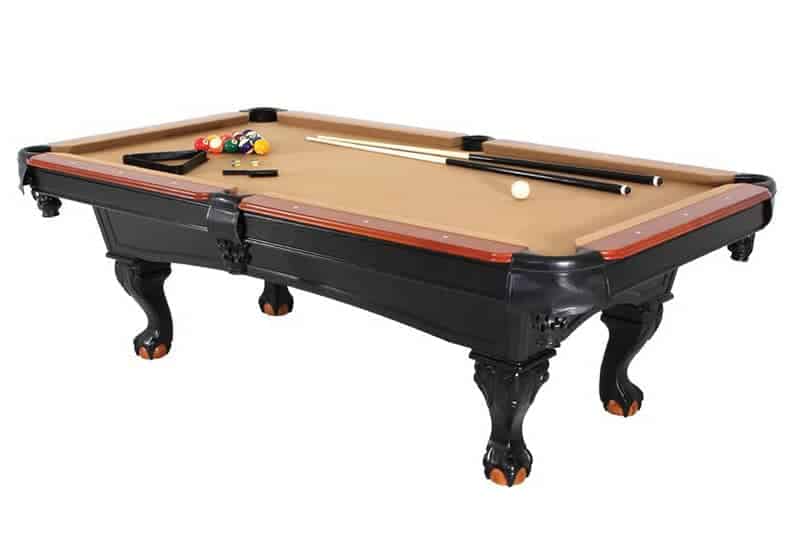 If you are in search of an elegant piece with nontraditional coloring, be sure to check out the Minnesota Fats Covington 7.5ft Pool Table. With lovely claw-design legs paired with a unique tan felt, this artfully constructed table will add an air of sophistication to any room you put it in.
While you will need to have at least two adults for the assembly process due to the size and weight of the table, Minnesota Fats has designed this billiard table to be constructed in less than an hour. Forget about spending your entire day constructing the table, or blowing hundreds of dollars to hire a professional to construct it. For this easy-to-assemble piece, just attach the side and end aprons and table legs, level the table, and you're ready to play!
The Minnesota Fats Covington billiard table is complete with a dur-a-bond MDF play bed, drop pockets with diamond embossed shields and inlaid round rail sights. The frame itself is constructed from a highly durable medium-density fiberboard, which is often compared to solid wood. The espresso-colored finish and tan felt make this table aesthetically pleasing as well!
6. Barrington Urban 8ft Pool Table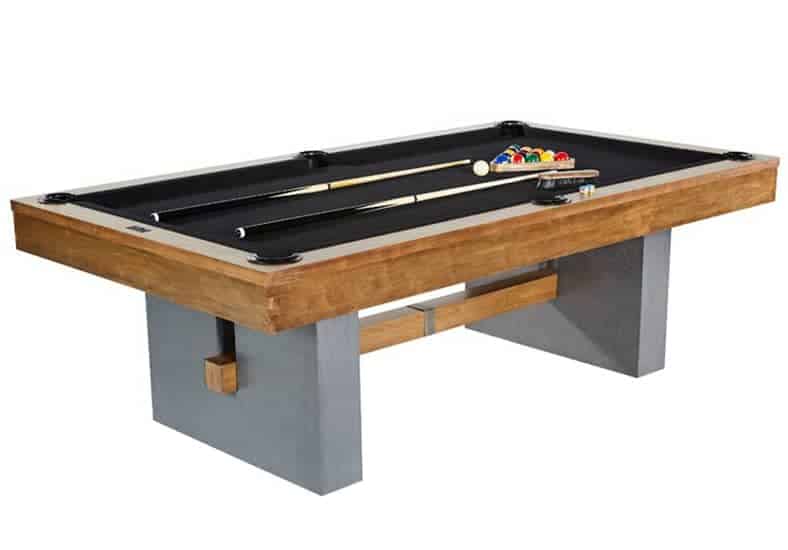 If you're ready to step away from traditional pool tables and prefer a more modern and urban design, look no further! The Barrington Urban billiard table not only looks impressive, but provides ultimate playability. It's a wonderful piece to add to a stylish man cave or family game room!
This table rests on strong, durable faux-concrete legs in a gunmetal gray shade. The 25 millimeter competition-grade playing surface is covered in jet-black wool felt, and it features leather drop pockets. In addition, a beautiful birch wood frame and wooden rod connectors add stability and aesthetic appeal to the billiard table.
Optimal Playing Conditions
Barrington designed this table specifically to encourage superior play. The professional-grade felt bed paired with high-quality pool cues and balls provides a smooth and flawless execution. Plus, the included accessories are made to last for years. These include chip-proof billiard balls, two cues, a triangle, a brush, and chalk, so you have everything you need to get the game going!
7. Hall of Games Edgewood 7ft Pool Table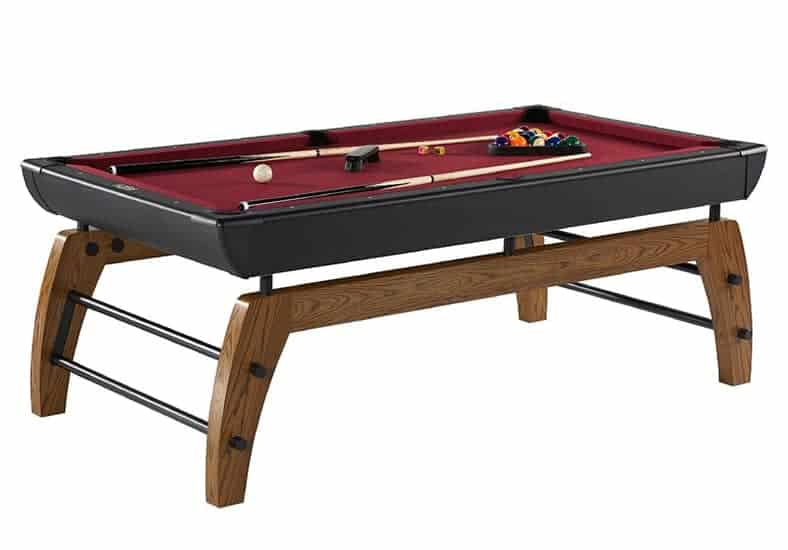 This uniquely-designed billiard table from Hall of Games has an innovative frame paired with a slightly compact construction, so that it'll be easier to fit the table into the room of your choice. The combination of the dark red felt, the black aprons and the solid wood grain legs makes this product a highly attractive piece.
The Hall of Games Edgewood seven-foot table features a sturdy top rail, aprons for added stability, a double-sided laminated play surface covered with 50% wool blend cloth that provides a consistent ball roll. Plus, the sturdy leg construction has a wood grain laminate finish, the hidden leg levelers allow you to keep the table steady and metal cross bars provide additional stability.
Convenient Compact Construction
While many of the best pool tables in our buying guide are the regulation size of eight feet, this product is only seven feet long, which makes it much easier to fit into your game room or any other area in the house. When it comes to quality pool tables, this one not only looks attractive but provides great, consistent play.
8. Hathaway Games Spartan 6ft Pool Table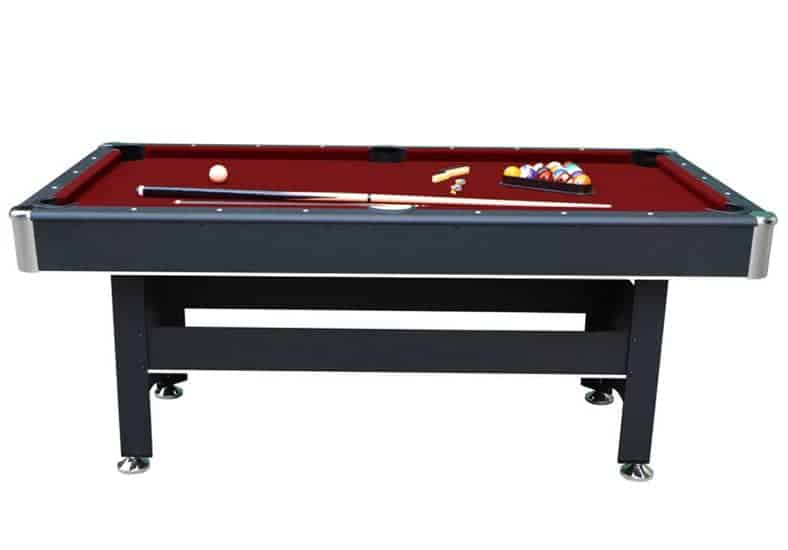 Looking to save space while adding more games to your collection? Then the Hathaway Games Spartan table may be the one for you! It is a convertible-top table that functions as both a billiards table and a ping pong table–two classic games of skill in one! Its great style paired with truly functional features makes it one of the best pool tables on the market today.
This six-foot table was created with style and versatility in mind. Hathaway Games wanted to create a home pool table of the highest quality that played just as well as a professional table, but was able to squeeze into smaller spaces. The black melamine finish paired with the deep burgundy felt of the pool table make it a gorgeous addition to any room.
Convertible Table Tennis Top
The best part about this table from Hathaway Games is that it includes two games in one! This pool table comes with a table tennis top to add another dimension of competitive fun to your space. This lightweight table tennis tabletop is easy to install and comes with all the accessories you'll need to play ping pong. You can find more multi game tables here, or check out our ping pong table reviews next!
What To Look For When Buying A Pool Table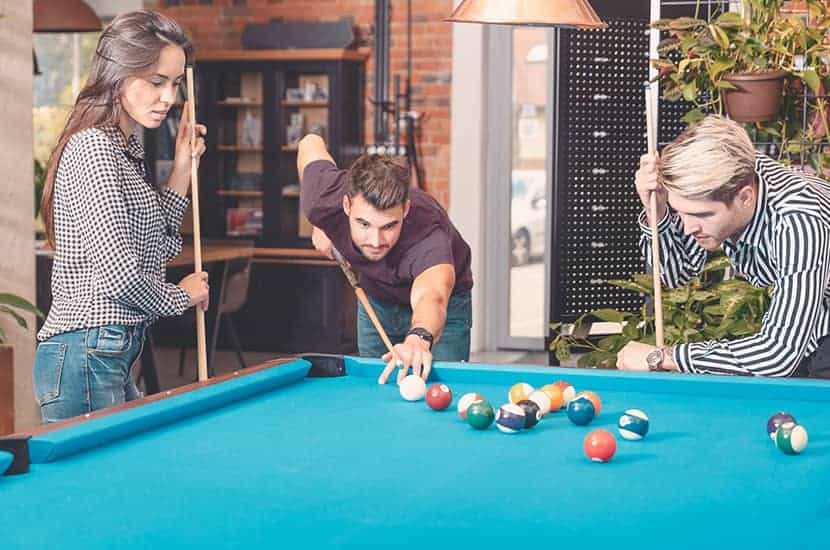 The first thing to consider when buying a pool table is the purpose. Is a professional player going to be using the table, or is it intended as a fun activity for the family? Your answer to this question can help you determine whether it's necessary to invest in a table with a slate surface, or whether an MDF table will be sufficient for your purposes.
The material the table is made from plays a huge role in its quality overall. Slate is the most highly-recommended material. However, MDF is also a good choice. When it comes to the frame, solid wood is sturdy and durable, while manufactured wood is pretty comparable. Aluminum frames are also built to last and are often seen on outdoor models.
Of course, size is always a huge factor when making a large purchase such as a pool table. Be sure to measure the room well and consider the extra space needed to use the pool cues comfortably. Just because a room can fit a billiard table doesn't mean that it has enough space to enjoy the game, so be sure to keep your measurements in mind when making your choice!
Generally, you will need to add an extra five feet from each side of the pool table in order to avoid denting the walls with pool cues or having to shoot from an awkward angle.
Aside from the question of whether you'd prefer a slate playing surface or an MDF playing surface, you'll also want to consider the type of felt used on the table. Billiard cloth ranges from 19 to 24 ounces, with the higher-quality cloth at a higher weight. Slower, thicker blended felt is often used in bars, while higher-quality felt is typically made of napless worsted wool that allows the pool balls to roll much faster and more smoothly.
Frequently Asked Questions
Of all the best pool tables, our number one Editor's Choice product is the Mizerak Donovan II 8-Foot Slate Pool Table. This table is designed to impress even professional players, with its slate table surface and gorgeous burgundy felt. But if you're looking for an outdoor pool table, our second Editor's Choice may be best for you. The Imperial Outdoor 8ft Pool Table is a regulation-size 8-foot outdoor table that has a surface consisting of 140 layers of Formica sheets mixed with polyester resin. It's built to withstand the elements of the outdoors for years to come!