Some of our best childhood memories take place right in the driveway shooting hoops with family and friends. Those experiences are irreplaceable and we need to make sure we keep the tradition alive! Competing with all the entertainment that is available online means we have to make a greater effort to grow the game to keep enjoying it. It can be hard to decide which is the best in ground basketball hoop for you. With different backboards, rims and installation processes choosing the right one can be intimidating, especially if you're not a pro. Here you will find the best in ground basketball hoops available.
1. Lifetime Mammoth In-Ground Basketball System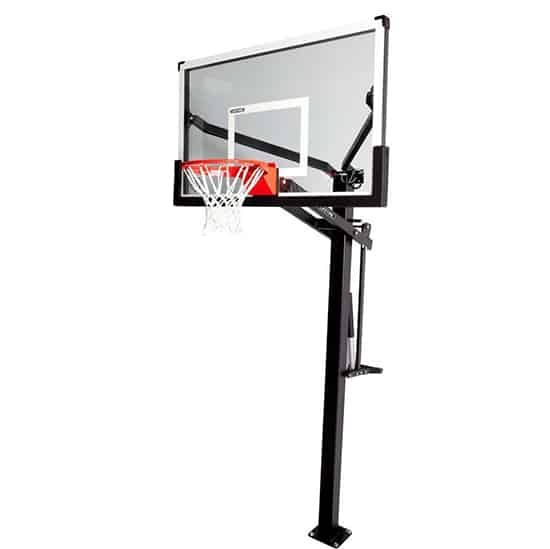 Editor's Choice #1: The Lifetime Mammoth In-Ground Basketball system is the complete package. With its durability and styling, this is the closest anyone can get to playing in Madison Square Garden. Easy bolt-down bottom makes re-locating it easy, and weather-resistant powder-coat paint plus support from a great warranty plan makes this net built to last.
Regarded as one of the best in-ground basketball hoops on the market, you will be the envy of all your neighbors with either the 60" or 72" pro-styled backboards. Supported by a heavy-duty spring-flex rim this hoop can withstand the heaviest of slams, perfect for hanging on just a few seconds longer. The rim is a whopping 40" from the pole to give plenty of clearance for added safety – get the camera ready for these dunks!
This Backboard Is The Real Deal
Strong and durable is the only way to describe this tempered-glass backboard. Available in 60" or 72" these are some of the larger backboards on the market. That won't affect any dunks though because the backboard comes with a fitted pad to prevent any collisions. No matter how hard you practice, this backboard will still look great with its fade-resistant graphics and all-weather net. Nothing sounds and looks as good as the perfect swish.
Fully Supported On And Off The Court
This powder-coated steel frame is very sturdy measuring 5" x 5". If you have any issues with your Lifetime Mammoth In-ground Basketball system you can easily contact their customer service center. This kind of support will have you playing better in no time. The frame also supports a pump height adjuster, making it easy to adjust the height anywhere from 7.5' – 10'. This provides limitless height adjustment to suit every level of player.
2. Lifetime 54 Inch Legend In-Ground Basketball Hoop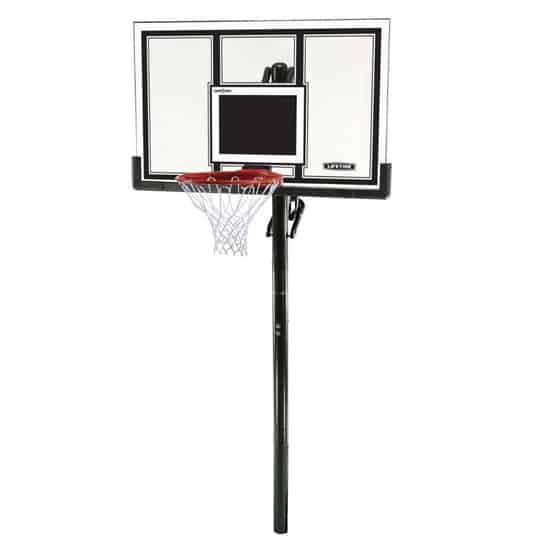 Editor's Choice #2: The Lifetime 54" Legend Hoop is a perfectly well-rounded basketball hoop system. Providing value with a professional look and the durability to please every player out there. We especially like the tempered glass backboard that provides pro-style rebounds. it easily adjusts as low as 7.5' so everyone can look and feel like the real thing even if you're not a professional. 
Family and friends will be spending a lot more time on your court if you have this Lifetime in-ground basketball hoop. The height adjustment system makes it easy to change the height of the rim to any height between 7.5' to 10' – the whole family can customize the height to their liking and skill level.
As well as being a perfect family hoop, this system includes a Slam-It Ultra rim. Having this unit ensures your rim will hold up to those game-winning slam dunks. The key is the double compression springs mounted securely to the backboard providing extra strength. Every part of this basketball system is built with care, right down to the all-weather, nylon net. The whole system is supported by a beautiful powder-coat finished, square pole. This process prevents corrosion and is weather-resistant.
Lifetime has a great reputation for providing high-quality and durable basketball systems. This one is no different as it comes with a steel frame backboard featuring 54" of tempered glass designed to produce true rebounds and improve layups. With its two-piece, square pole design you can be sure this will stand up to years of play for everyone. Lifetime also has a highly rated customer support center so if something should happen to your basketball system, help is a phone call away.
3. Lifetime 54 Inch Tempered Glass Basketball Hoop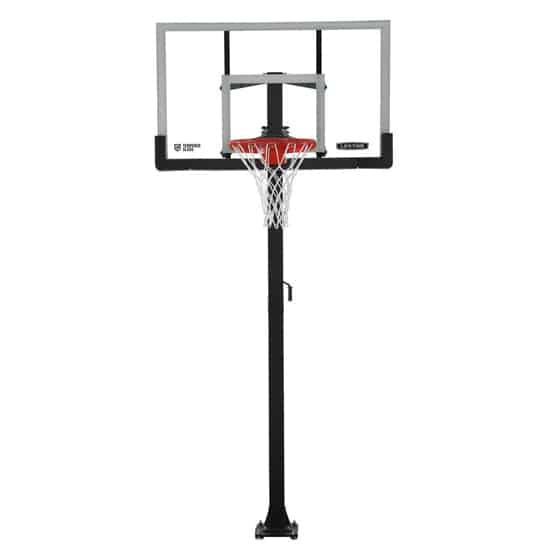 If you're looking to work on your game without concern about the quality of your hoop then this is the best basketball system for you. A Lifetime 54" Tempered Glass Basketball Hoop is designed with durability and versatility in mind.
What Is A Crank Adjustment Mechanism?
This Lifetime basketball hoop is outfitted with a crank adjustment mechanism which allows players to adjust the height of the rim from 10' down to 7.5'. With its unique design, anyone can easily customize the rim to infinite heights. Once the desired height is reached, simply remove the handle and pull out the pin to lock the rim and backboard in place. It also comes with a sticker to indicate at which height the rim has been set.
Be The Master Of Rebounds
By having a tempered glass backboard your rebounds and layups will hold just like the pros. It also features 54" of surface area to provide a larger target similar to professional backboards. Featuring fade-resistant graphics to help improve your 3-pointers by always keeping you on target. Outfitted with double compression springs, this rim will always return to its preset height after every slam dunk. The high-performance Spring-Flex rim adds durability and stability to your basketball hoop. It also sports a continuous net hook which locks the nylon net into place and keeps it there.
4. Lifetime In-Ground Power Lift Backboard Basketball System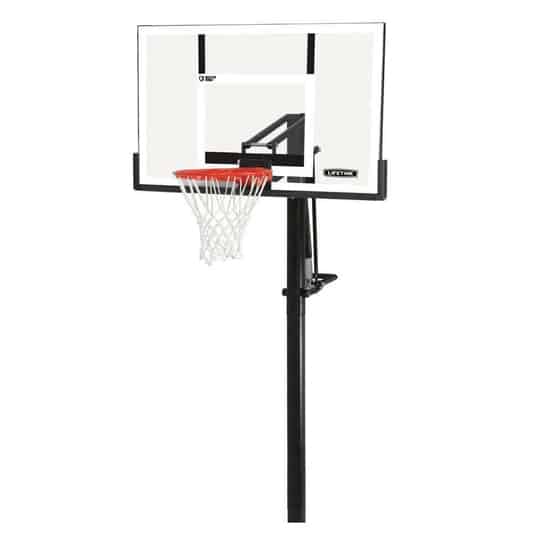 The Lifetime In-Ground Power Lift Backboard Basketball system has everything you need to take your game to the next level. From beginner to advanced, install this hoop and you will start improving instantly.
This Basketball system comes fitted with a Slam-It Pro rim to protect your hoop from any damage during monster slam dunks. It also includes a shatterproof backboard to ensure safety during those intense moments. To support endless hours of play and practice, this package comes with a 3-piece support pole. It is treated with a powder coat to protect against wear and tear and because of the 3-piece construction, it is easier to install and dismantle.
This basketball hoop comes with a power lift height adjustment mechanism which makes it easy for anyone to customize the height. It can be set to any number of increments to suit all players – the mechanism allows for any height between 7.5' and 10'. Lifetime is also known for its outstanding customer service program – no matter what issue arises, they are always on your team for replacement parts, questions, instruction or anything else you may need.
5. Spalding 888 Series In-Ground Basketball Hoop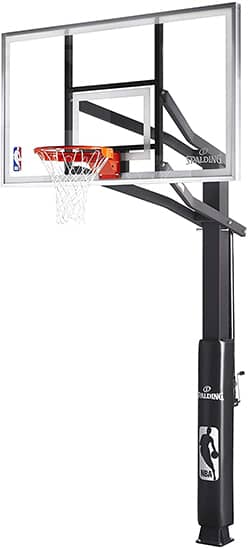 Spalding has long been a name associated with quality basketball products ranging from beginners to pros. The Spalding 888 Series In-Ground Basketball hoop is proof that decades of experience produce a great product.
Quality Goes Above And Beyond
A one-piece pole construction gives this basketball system one of the sturdiest foundations available on a home court, featuring a J-bolt anchoring system to secure your 6" square pole in place. As an added safety feature, this in ground basketball hoop system comes with custom pole padding for protection. The backboard material is made out of tempered glass which gives it that pro feel when attempting layups and predicting rebounds. This backboard is available in three different sizes – you can choose from 54", 60", or the regulation size 72" – all of which are constructed with the same high-quality backboard material and care.
Included is Spalding's Breakaway rim, it was designed with the player in mind and will always break to the front. This protects your basketball hoop and the player. If practicing your slam dunks is your goal then having a U-Turn Pro addition makes it easy to adjust to any specific height. It's perfect for advanced players and rookies alike. It can be adjusted to an infinite number of heights within 7.5' and 10'. It also comes with a safety stop to ensure the hoop never drops below 6'6".
6. Lifetime 90020 Height Adjustable In-Ground Basketball System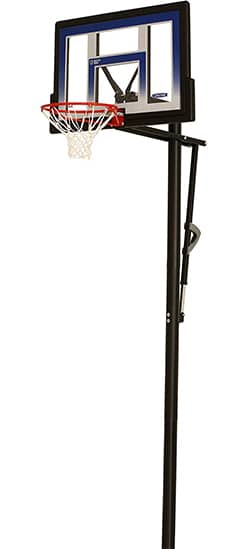 Lifetime has a reputation for producing ultra-durable and professional-looking basketball hoops. The Lifetime 90020 Height Adjustable In-Ground Basketball System proves itself in all aspects. The 48" shatterproof fusion backboard provides the same look and feel as that of professional setups, consisting of a Makrolon playing surface and fade-resistant graphics to ensure a long life.
Height Adjustment Made Easy
Staying true to the quality brand of Lifetime, this basketball system comes with a special action grip adjustment. This allows the user to adjust the height by any increment using only one hand. The pole for this basketball system is treated with powder-coat paint which protects against weather and most importantly, rust. The pole itself is 3.5" in diameter and comes with fitted padding for an added level of safety. Go ahead, give your all when practicing with this hoop!
Fitted with an 18" Slam-It rim this system can absorb some pretty hard dunks. Just in case, this rim also features ⅝" of solid steel that provides extra support. It also has ½" steel braces and double compression springs attached to maintain its integrity after years of wear and tear. This rim is a great addition to any home court as it provides all the characteristics of the best in ground basketball hoops. Being a Lifetime product you also have access to their amazing customer support service.
7. Silverback In-Ground Basketball Hoop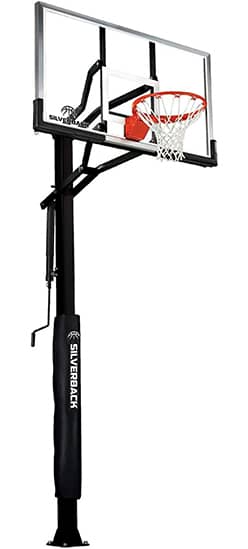 The Silverback In-ground Basketball Hoop will provide its users with exceptional stability and long-lasting durability. With many professional attributes, this system will keep you practicing for hours.
In-Ground Mounting System
With easy-to-follow instructions, installing this hoop does not require a professional. The entire pole is treated with a weather-resistant powder coat. At the bottom is an added layer of powder-coating which creates an impenetrable barrier to prevent ground moisture and corrosion.
Easily use the crank actuator to adjust the height of the rim to any desired height. It also has a safety feature preventing it from lowering below 7.5'. The height adjustment system can be set to an infinite number of heights to accommodate any player preferences. This backboard material consists of highly rated tempered glass that is used in professional leagues. This kind of glass backboard provides an optimal feel for layups and rebounds, made possible due to the structure of the support pole providing overall durability.
8. Goalrilla GS54 In-Ground Basketball Hoop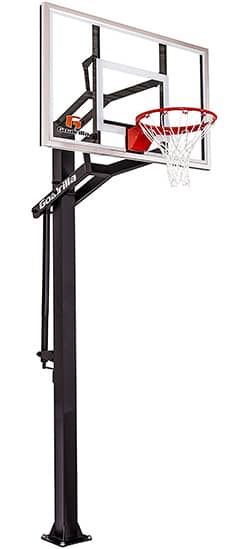 The Goalrilla GS54 In-Ground Basketball Hoop has all the features a home basketball system should have. From durability to performance there is nothing to not like about this hoop setup.
Stability And Performance
The Goalrilla is known for its strength and this in-ground hoop is no exception. It provides a wide 5" x 5" support pole that is cemented into the ground using an anchor system. This design also allows for easy removal so you can take it with you wherever you move. Utilizing tempered glass, just like the pros use, provides unparalleled feel and performance – this material is used in college leagues as well. This Goalrilla backboard measures 54" across and an astounding ⅜" thick to provide the most durable surface found on home courts.
Complementing the outstanding backboard of the Goalrilla is an equally impressive pro-style breakaway rim to encourage big slam dunks. The one-piece steel support pole provides excellent stability and is treated with a layer of powder-coat to prevent damage from the elements including rust. The crank actuator makes adjusting the rim height easy by just turning the crank – players can adjust the rim to any desired height within a range of 7.5' and 10'. This system also includes steel rebar rods to add more stability and support to the in-ground pole.
What To Look For When Choosing Your In Ground Basketball Hoop
You've already found the best basketball for you, but if you're searching in ground basketball hoops then here are a few key factors to consider.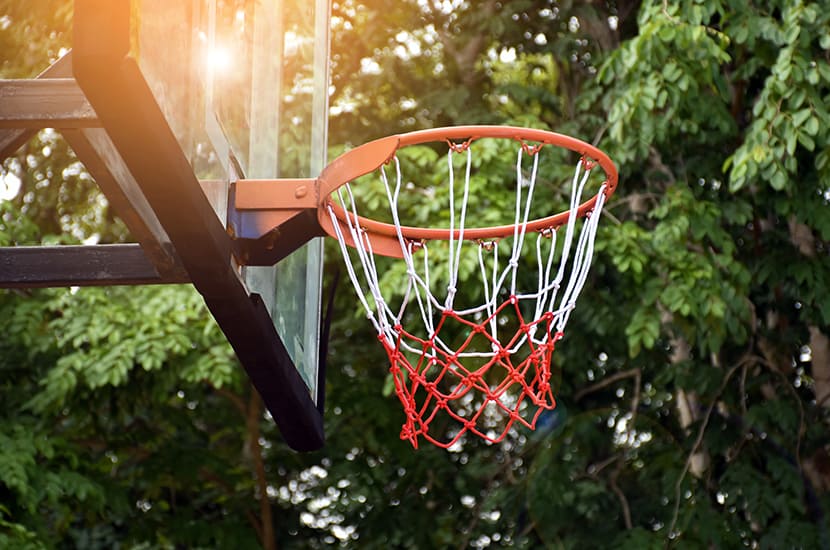 The strongest support poles for in ground basketball hoops will come in one piece. While not convenient for moving around this will provide your goal with the utmost stability during games and against mother nature
The thickness of the pole plays a key role in determining the longevity of your basketball system. For more stability look for something above 4" in diameter
If you are planning on keeping your goal when moving then it is recommended to find one that features a bolt anchoring system. This will allow easier access to remove your support pole from the ground and take it with you
Check with your local authorities when choosing a placement for your hoop before installing
If you want to play like the pros then look no further than a tempered glass backboard. This backboard material provides excellent resilience and also performance. Perfect for hitting those silky layups or recovering lots of rebounds
Depending on your climate, searching for a backboard with fade-resistant graphics will keep your goal looking great through those harsh winter months
The amount of dunking that takes place on your court will determine the type of rim that best serves your needs. For those hosting a slam dunk contest look for rims that include double compression springs. If you want top of the line, look for rims with reinforced steel wrapped around them
For fewer slam dunks a rim should still have one compression spring to prevent long-distance shots from ricocheting off the court
How To Install Your Basketball Hoop
Look for underground pipes or power lines. Contact your local municipality to identify these.
Items you will need:

Concrete (about 10 bags)
Wheelbarrow
Shovel
Level
Trowel
Tape Measure
Wrench

Determine if you're using an anchor system or not. Anchor systems are recommended for in ground basketball hoops as they allow the installer to make adjustments after the concrete is laid to ensure a perfectly level rim and backboard.
Dig a hole that is 48" deep and exactly parallel to your court's baseline. Confirm by using the tape measure.
Pour concrete in and agitate to ensure there are no air pockets.
If included, insert 4 steel rebar rods in each corner of the hole. This will add stability.
Add the anchoring system in until it's flush with the top of the concrete. Smooth out concrete and ensure the anchoring system is also parallel to the baseline using the tape measure.
Use the level and trowel to smooth over the concrete and then let it dry for 72 hours.
Your Support post is now ready to be attached to the anchor system using the appropriate wrench.
Once installed, use the level to check the rim and backboard to make sure both are parallel with the ground.
If you don't have room for an in-ground basketball hoop, a portable basketball hoop like these may be more suitable.
Frequently Asked Questions
Now that you have all the information needed to purchase the best in ground basketball hoop, it's time to get out there and start practicing. Basketball is a great form of exercise and provides some great camaraderie amongst friends and neighbors. What are you waiting for? Get out there and show 'em what you got.