Ladder ball games are easy to set up, easy to learn and suitable for players of all ages, sizes and skill levels (they can easily be adapted so that a mixed group can play together). We think that the best ladder ball sets are the Viva Sol Ladder Ball with Carrying Case and the Yolo Sports 25 Piece Ladder Ball Set, but whether you pick one of these, an AmazonBasics ladder ball set or any other ladder ball game set, you're in for a fantastic time with your family and friends. Pick the one you like best to have in your yard and get started — you'll be glad that you did.
1. Viva Sol Ladder Ball with Carrying Case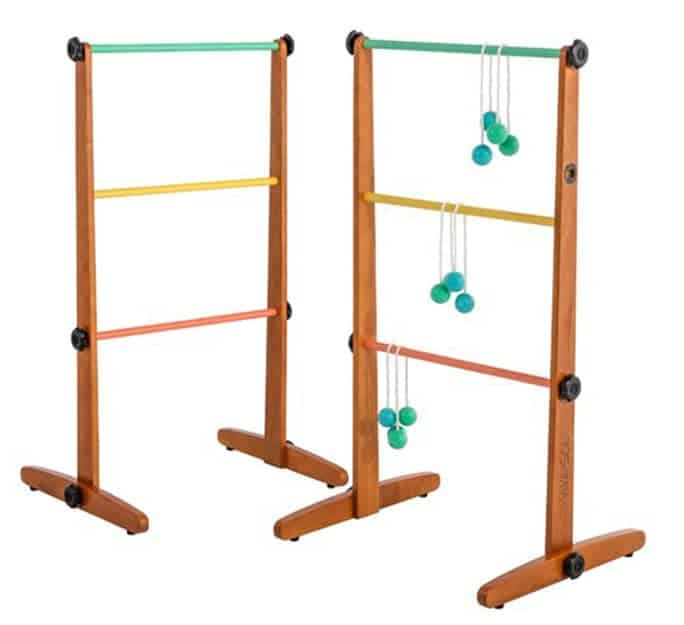 Editor's Choice #1: Viva Sol ("long live the sun") game products are thoughtfully and beautifully crafted and this Viva Sol Ladder Ball with Carrying Case is no exception. It's made of high-quality materials in the colors of a beach sunset and even features built-in bottle openers so that you can enjoy cold drinks on hot days.
This ladder toss game set is made of stained hardwood with powder-coated steel rungs in the shades of sunset, along with beachy pastel bolas in blue and green with an emblazoned logo. The set even has bottle openers built into the ladder legs – the best addition for hot sunny days! It looks great in the backyard, on the shore or wherever you choose to set it up. It folds away into an equally attractive logoed carry case with rope handles.
The wooden ladder is made of walnut-stained hardwood with solid steel crossbars. They are durable no matter how hard you play! The set is made for easy setup with hand knob assembly. The set is thoughtfully designed to look and play great and includes two ladders and six bolas. The ladders measure 41.7″ x 19.5″ and the complete, bagged set weighs under eight pounds so it's easy to store and transport.
2. Yolo Sports 25 Piece Ladder Ball Set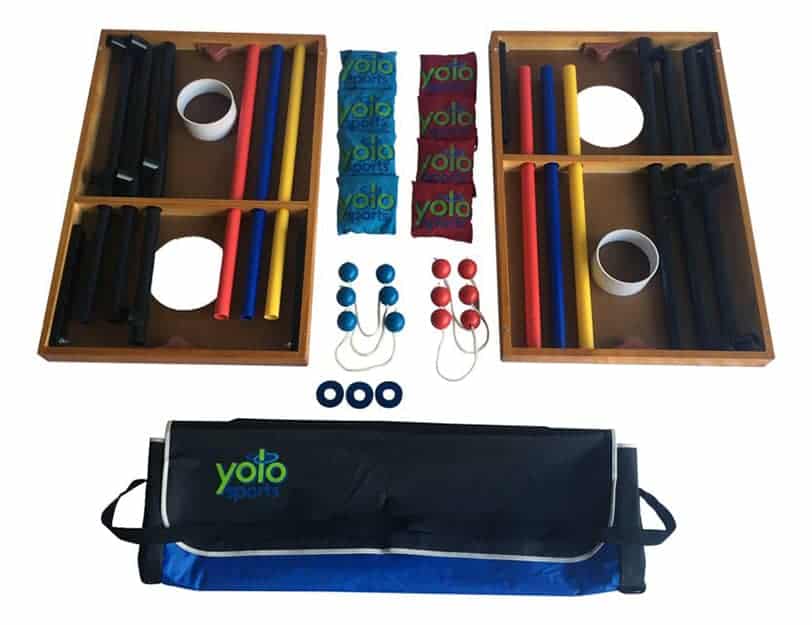 Editor's Choice #2: This attractive, multicolored Yolo Sports 25 Piece Ladder Ball Set provides everything you need to enjoy a multitude of games in your backyard, at a tailgate picnic, on the beach or wherever else you want to play. It's a sturdy, high-quality set and a great value when you consider how much fun you'll have with it.
This 25-piece trinity toss outdoor game package includes everything you need to play ladder ball, washer toss and bean bag toss (similar to cornhole). It makes a great investment or gift because it guarantees hours of outdoor fun for family, friends or any other group that you want to entertain. Cleverly designed to tuck away in its own carrying bag, this set goes on the road, to the beach or to the campground with you.
This set includes:
Two target boards
One ladder
Eight steel washers
Eight beanbags
Six bolas
Instruction booklet and owner's manual
The beanbags and bolas are red and blue, the ladder is multicolored, the boards are natural wood and the case is navy with a logo and carrying strap. It weighs in at 22 pounds but it's tons of fun.
3. Hathaway Games Ladder Ball Set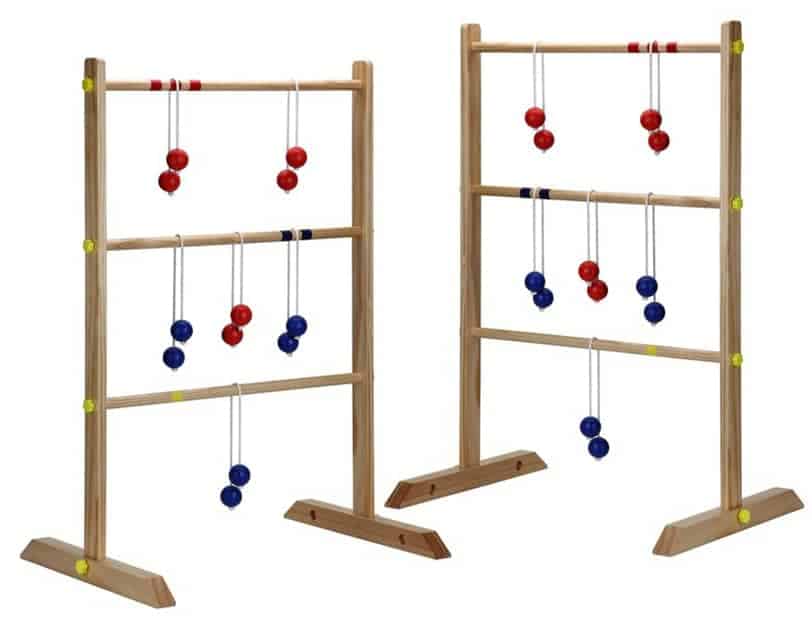 This ladder balls set is made from solid hardwood, metal hardware and real golf balls. It's a set that epitomizes the best quality but is still great for games with family, friends and anyone else you want to play with. The solid hardwood ladderball game set weighs 38 pounds total and has broad, stable feet. You can set up and play wherever you want; the ladder golf set is finished to be resistant to:
Weather
Water
Heat
Mildew
UV rays
The wooden ladder golf set includes all the pieces needed to assemble the two ladders, three red bolas, three blue bolas, a carry bag with a zipper and handles and an instruction book/owner's manual (which is also downloadable). It's got everything you need for serious play or family fun.
4. GoSports Premium Ladder Ball Set With Carrying Case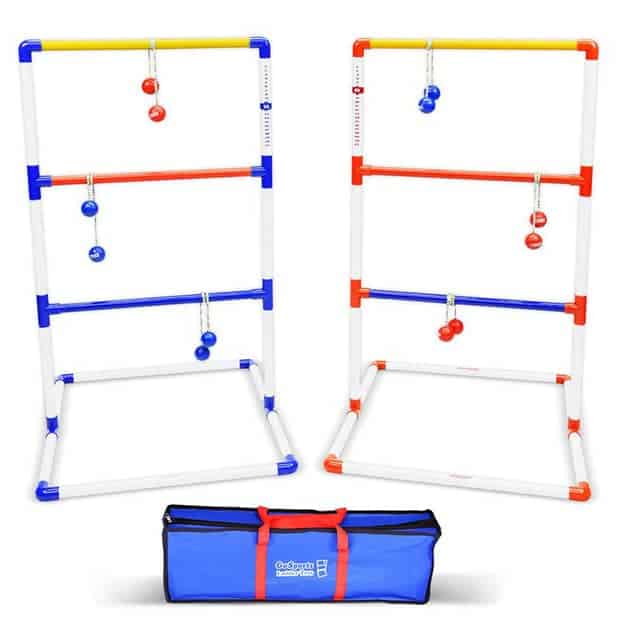 Regulation-Style And Stylish Too
This premium ladder toss set is regulation size and cheerfully colorful. It's constructed from the best thick white PVC pipes made from recycled materials, is non-toxic and is resistant to weather, water, rust, mildew, and UV rays. The ladders have colorful accents and scoreboard markings to keep track of who's winning! They measure 36″ x 24″ x 24″ square at the base. The bolas are made with golf balls and 16″ of thick, multicolored rope.
The ladders assemble quickly and easily with minimal fuss. The ladder golf game set comes with everything you need: two ladders, three red bolas, three blue bolas, a rulebook/owner's manual and a carry/storage bag. It's lightweight at 10 pounds and requires only minimal assembly so you can bring it with you and set it up anywhere you go.
5. Franklin Sports Professional Ladder Ball
Tool-Free To Take Anywhere
This professional-quality, regulation-size ladderball set is designed to be put up and taken down quickly and easily without the need for tools. The entire game can be packed away in the storage/carry bag for simple, stress-free transport. Ladders are made of the best 100% steel for durability so this game set can go to the beach, the backyard or wherever you want without worry. Enjoy this easy-to-assemble game set anywhere, any time.
You get all the pieces you need to set up the regulation-size (36″ x 24″) ladder game, the case with a zipper and handle, three red golf ball bolas and three blue golf ball bolas. The bolas are made with strong rope, and the ladder looks spiffy with multicolored rungs. All in all, this is a set that's easy to assemble, easy to use and lots of fun.
6. Hey! Play! Ladder Toss Set Ladder Ball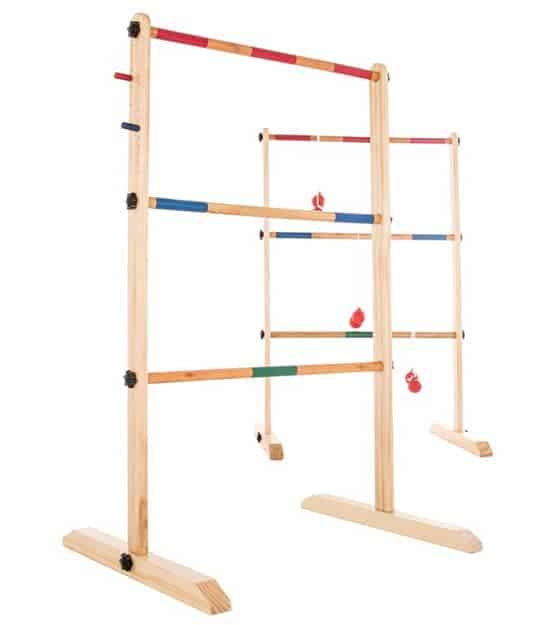 This ladder ball toss set has everything you need to get started with a game or five! The set comes with:
Two ladder targets
Six bolas (three red and three blue)
Instruction book/owner's manual
Scoring pegs
Black carry case with a zipper and handles
The support legs for the ladders are cleverly designed so that they can be used to mark the score as you play. The ladder ball game is easy to set up and easy to play, so you'll be able to enjoy it with family and friends whenever you want.
The toss game set is made from solid yet lightweight pine wood that's been finished to be UV- and mildew-resistant. It's ideal for outdoor use and it weighs in at under 12 pounds so it's also easy to take on the road or to the beach with you. The toss game set ladder targets measure 38.5″ x 24.5″ x 18.75″. The pieces secure with washers and everything can be wiped down with a damp cloth.
Features To Look For When Choosing A Ladder Ball Set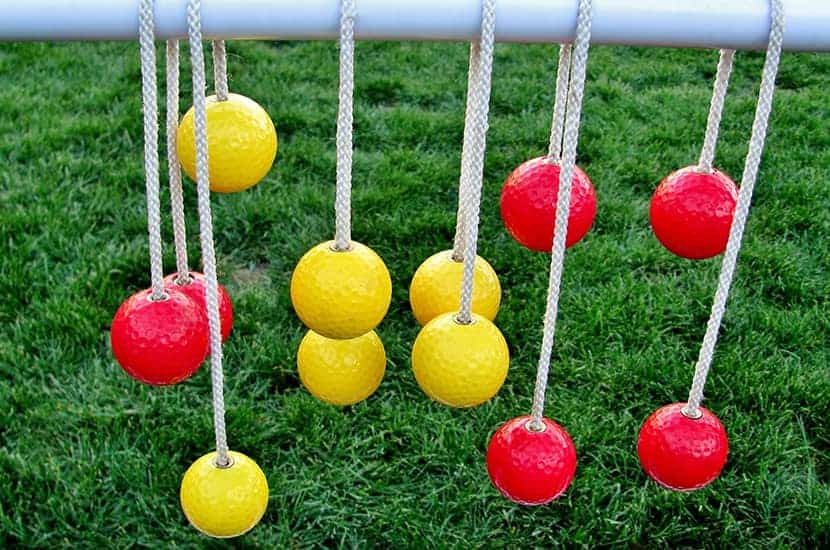 This is one of many super-fun yard games to play and it's well-suited to players of all ages and stages. You can get ladder ball sets that range from an AmazonBasics ladder toss game to a high-quality, tournament-ready set. Read on to learn more about what might matter to you when considering the best ladder ball set.
Ladder Material: The ladder can be made from wood, plastic, metal or any combination of these materials. Each has its advantages: plastic is lightweight and generally weather-resistant, metal is durable and wood is generally considered the most attractive. Powder-coated steel is also weather-resistant.
Bola Material: Bolas are two spheres joined by a rope. The most common material used for the bolas is golf balls, which are a size and weight that's great for most people to throw. Since the goal of the ladder ball game is to wrap the rope around the ladder, for the best ladder ball set possible, you'll want to look for ropes that grip instead of slip.
Stability: It's crucial that the ladders stay in place when the bolas are thrown at them. You'll want to make sure that the ladders have solid feet and/or a wide stance, and that they're heavy enough not to bend under pressure.
Installation/Portability: A ladderball set can be a great game to take to a party or picnic. If you plan on taking your set with you, make sure that you choose a kit that's easy to set up and take down. Some of the sets made of wood or metal can be fairly heavy, so that can also be a consideration when choosing from the best ladder ball sets. On the other hand, if your plans are to keep everything set up in the backyard, this may not matter as much to you.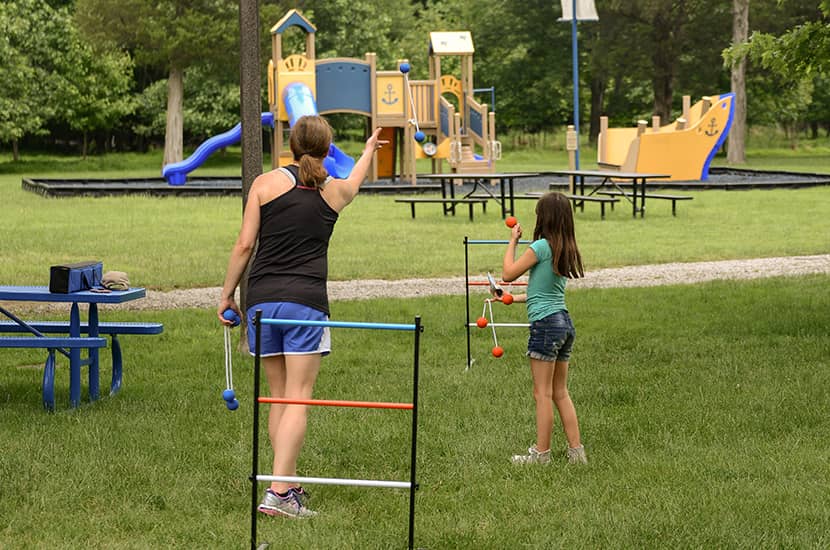 In ladder golf, the throw line should be approximately 15 feet from the ladders. For a friendly backyard game, that's about five average adult paces.
Each player has three bolas to throw at the ladders, with the goal being to hang the balls over the rung. A player can also use their throw to knock an opponent's bola off the ladder. At the end of the round, the bolas on the ladder are tallied: a bola on the top rung is worth three points; a bola on the second rung is worth two points; and a bola on the bottom rung is worth one point.
The game is typically played to 21 points, but any agreed-upon score is fine — it's your game so feel free to play it your way! House rules can include an extra point for a "birdie," in which a player lands a bola on each rung, or a "hat trick," in which a player lands all three bolas on a single rung. Click here to find out more about Ladder Golf rules.
Frequently Asked Questions
Ladder ball is a fun and easy game to learn, set up and start playing! We think that the best ladder ball sets are the Viva Sol Ladder Ball with Carrying Case and the Yolo Sports 25 Piece Ladder Ball Set but you'll be happy with any of the sets we have shown you — so enjoy!