Magnetic toys are fascinating for kids of all ages. Whether your child is a toddler, a preschooler or even a teen, chances are there is a magnetic toy out there that will grab their attention. Making toys magnetic opens up a wide range of possibilities, from building to fridge art to even playing darts! Plus, many magnet toys are great for teaching STEM skills – as kids play, they learn without realizing it. But with all the options out there, figuring out which ones are actually good can be difficult. That's where this list of the best magnetic toys for kids comes in! Make sure to read our buyer's guide at the end of this article too, as it will help you understand what to look for.
1. Magna-Tiles 100-Piece Clear Colors Set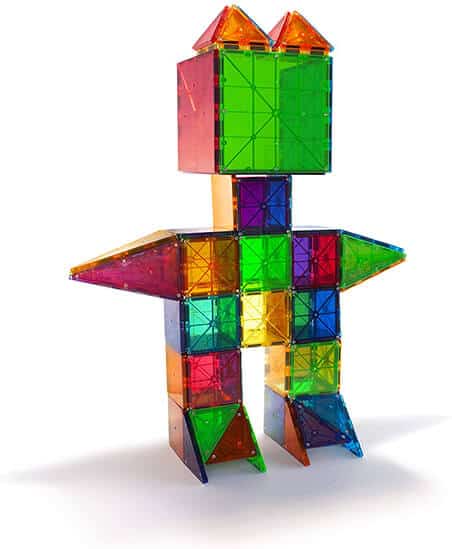 Editor's Choice #1: Magnetic tiles are a suitable toy for all age groups, and kids love playing with them. They are great for learning math, spatial reasoning and critical thinking, and they enhance motor skills and creativity too. This magnetic tile kit is the original version, and the best magnetic toy we found!
Magnetic tiles are one of the best magnetic toys, and Magna Tiles are still the best version. These colorful geometric shapes can combine to create endless different structures. Your toddler can sort colors and shapes, your preschooler can make simple houses, while your older child can design complex structures. You will soon want to buy more pieces!
These tiles are the cream of the crop when it comes to magnetic toy sets. The magnets are strong, but not so strong to pose serious dangers. The tiles are double-sealed with metal rivets, making them virtually indestructible! You will not have to worry about magnets falling out and becoming choking hazards.
Great For Cognitive Development
These magnetic tiles are great for cognitive development, merging math and engineering skills with creativity. They allow your child's imagination to run wild, but teach them geometry, balance and problem solving skills as they play. Plus, they are great for coordination and fine motor skills.
2. PicassoTiles 100 Piece Set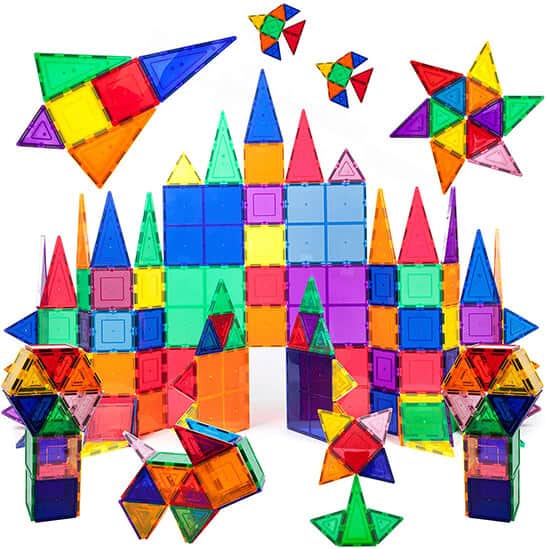 Editor's Choice #2: PicassoTiles are almost identical to Magna Tiles, but much more affordable. They will stimulate your child's mind and provide all the same benefits. The only reason they lose the top spot is that they aren't quite as durable, but they are still one of the best magnetic toys around!
PicassoTiles magnet building tiles are almost identical to the tile set we reviewed above. They contain the same geometrical shapes that can be used to make endless different structures. If you love the idea of magnetic tiles but are looking for something more affordable, these are a great option.
Like all magnetic tiles, PicassoTiles teach spatial awareness, problem solving and creative thinking. They introduce ideas like balance and gravity, and the geometric shapes introduce key math concepts. For toddlers, they are great for color and shape recognition, and they also enhance hand eye coordination.
PicassoTiles are much more affordable than Magna Tiles, though they are almost identical. Magna Tiles has a slight edge because of being slightly thicker and sealed with metal rivets, meaning that PicassoTiles can break more easily. But they are well made from very durable plastic, and most have found them to have good magnet strength. Check our comparison of Magna Tiles Vs Picasso Tiles.
3. Magformers Challenger Set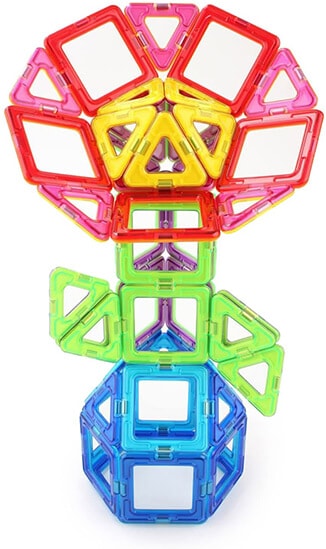 Magformers makes magnetic tiles with a twist – the magnets are neodymium rare earth magnets, so they are much stronger than most tile sets. Because of that, the structures kids build will stay together, and can even be moved around! However, it does mean that the magnets attract and repel, making them a bit too tricky for toddlers.
Develops Spatial Reasoning, Whilst Being Safe And Durable
With all the different structures that can be made with these magnetic pieces, Magformers are wonderful for developing spatial reasoning. The magnetic set comes with instructions for building awesome structures and even a base to make a car! Kids playing with these can also invent their own structures, but the options are more limited than with traditional magnetic tiles.
Magformers shapes are made from BPA-free plastic, and the pieces are virtually indestructible. Plus, the fact that they have open centers makes it easier to put them together to create complex structures.
4. TrueBalance Coordination Game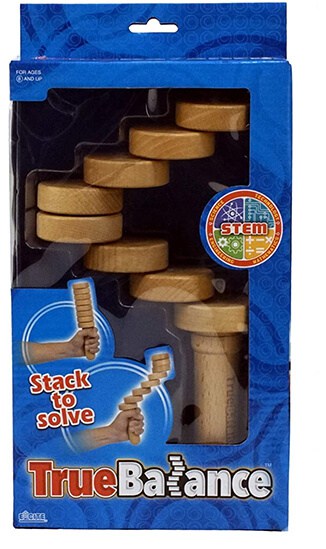 Deceptively simple, this TrueBalance Coordination Game is one of the best magnetic toys for older children and adults. All you have to do is stack the magnetic wooden disks – but each magnet rotates a different way, so it won't work unless you stack it just right! This toy is a fun way to improve concentration and focus, making it wonderful for kids with ADHD or autism.
Highly Durable Family Game
Designed in Europe, these magnetic wooden disks are very high quality. Their durability means you can subject them to almost anything and they will survive. Plus, if you are trying to avoid plastic, this could be the right magnetic toy for you.
This coordination game is loved by kids and adults alike. It is a little too difficult for young kids, but it has three difficulty modes to suit different levels. For older kids and adults, it is the perfect level of challenging but achievable. Make it a competition for a fun family game night!
5. 4M Magnetic Mini Tile Art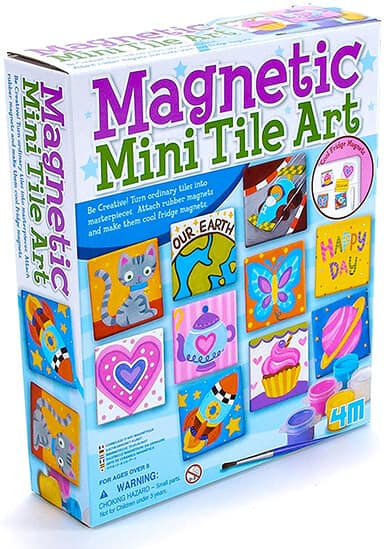 Chances are, your fridge is covered in your child's artworks, which end up covered in food stains. But what if the fridge magnets themselves could be the art? This Magnetic Mini Tile Art set is the perfect way to showcase your child's creativity in a neat and durable way. Plus, your kids will love seeing their magnets on the fridge!
High Quality Perfect Rainy Day Craft
Painting these magnetic tiles is the perfect craft activity for a rainy day. It gets kids' creative juices flowing, and provides some quiet screen-free time. It is also a great family bonding activity. The tiles are a little small for young children, but they are perfect for ages 7 and up.
The magnets provided attach easily to the tiles and stick well to the fridge. The set comes with brightly colored paint, which should be enough for all the tiles. However, you can easily use different paint or even sharpies to decorate your tiles! Once painted, these make great DIY Christmas gifts.
6. Melissa & Doug Deluxe Wooden Magnetic Pattern Blocks Set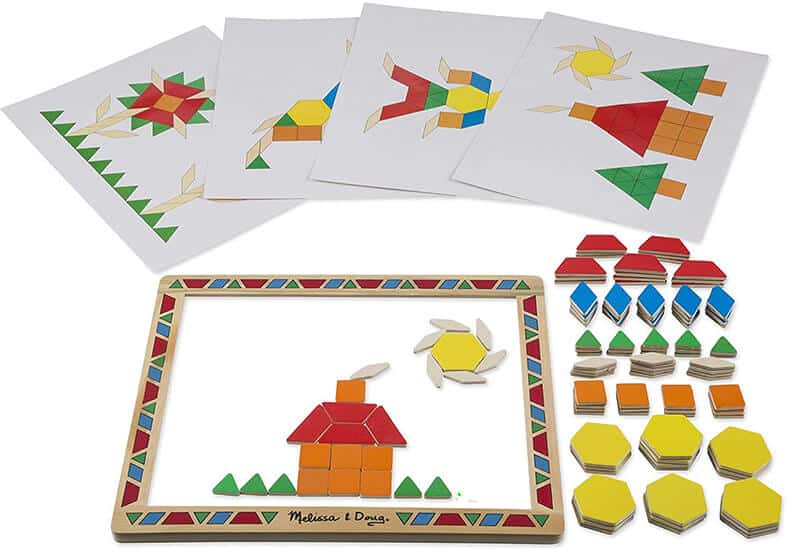 Melissa & Doug is partnered with the American Academy of Pediatrics to foster cognitive development in preschoolers. This tan-grams style game with its geometric pieces fosters both math skills and creativity. Kids can copy the suggested designs, or make their own – either way, they will be using their brains!
Great For Different Age Groups And For Traveling
Kids of all ages love this magnetic toy set. Toddlers can sort colors and shapes, preschoolers can copy the designs, and older kids will love making their own pictures. The magnetic element makes it much easier to use than traditional tan-grams, as the pieces aren't easily shifted.
With a compact travel case, this is the perfect toy to take on holiday. The separate zippered pouch holds all the magnetic pieces, so everything stays organized. One small issue is that the pieces are not strongly magnetic, which means they can slip off the magnetic board if not held flat.
7. Dowling Magnets Magic Penny Magnet Kit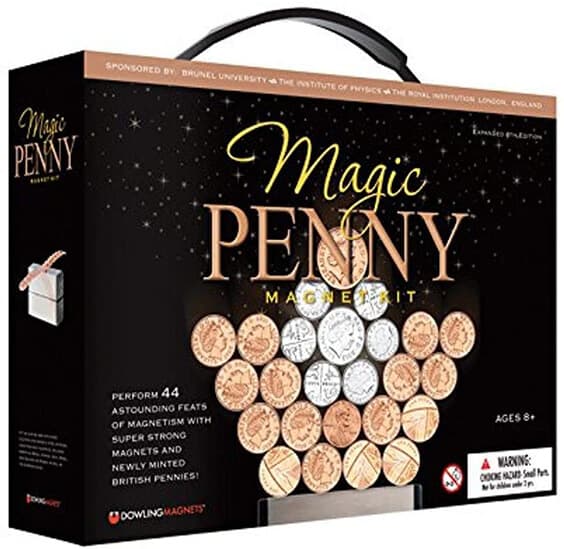 It can be hard to shop for older kids, but this Magic Penny Magnet Kit is a winner. It has a more grown up 'feel' than many of the other magnetic toys on this list, and is challenging enough to engage older children. It can even work well for teens or adults as a fidget toy!
Includes 44 Activities Introducing Many STEM Concepts
This penny magnet kit comes with a booklet describing a whopping 44 different activities! These include structure designs, as well as fun experiments – but you can come up with your own designs too. Some users found it too difficult to make some of the taller designs, but others loved the challenge.
For older kids, this toy offers a chance to learn about magnetic forces, motion, stability and geometry in a creative way. In addition, the booklet teaches interesting facts about magnets and pennies. This toy is great for engaging kids' curiosity, as well as their creativity.
8. Magnetic Poetry Kids Kit
If you have children just entering first grade, this is the perfect way for them to practice reading. Simply let kids play and make up funny sentences, and they won't even realize they are learning! You could even set up little challenges for them like finding rhymes or alliterations.
Versatile, With Simple And Advanced Words
This 360 piece set is perfect for kids, as it includes many simple words and some more complex ones. You may not want to have all the pieces up at the same time, as this can be overwhelming. Besides, if you change up the tiles, it will keep things fresh and fun for your child!
These tiles have a great magnetic stick to metal surfaces – you can use the fridge, washing machine or even the car door! The size of the words also makes them compatible with other magnetic poetry kits. However, for kids, it might be better if they were larger, as the small pieces can be tricky to manipulate.
9. Doinkit Darts Indoor Magnetic Dart Board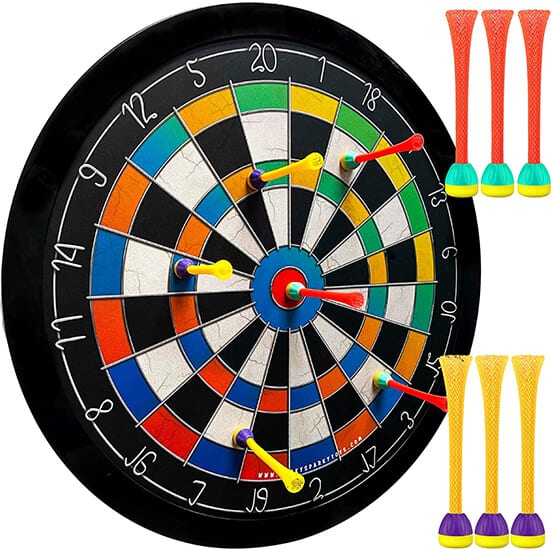 If your kids long to play darts but you won't let them due to safety concerns, this is one of the best magnetic toys for you. Instead of sharp points, the darts end in magnets which stick to the magnetic board. The darts work surprisingly well – they fly like real darts and stick well to the board!
Family Bonding Which Improves Hand Eye Coordination
Playing darts improves kids' coordination and focus. With a recommended age range of 6 and up, this fun competitive game also introduces the concept of sportsmanship. Some reviewers found that the board comes off the wall when removing darts – though with some double sided tape, this should not be an issue.
Playing games as a family is a great way to bond. Most of the time though, games that young children like to play are not very fun for adults! This darts set from Doinkit provides a game that everyone can enjoy playing, regardless of age.
10. Lauri Foam Magnets – Numbers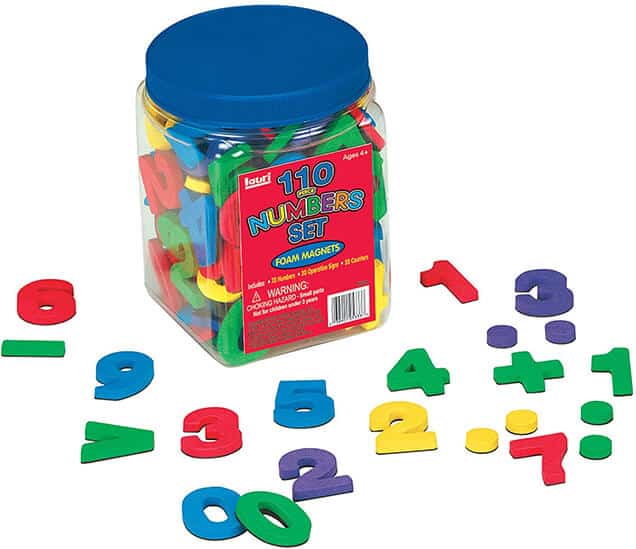 This foam magnet kit is the best magnetic toy for young kids to practice math. The bright colors make learning fun, and you can use it on any metal surface. You could turn it into a daily game by getting your child to complete a sum before getting a treat!
Wide Age Range With Good Combination Of Numbers
The large foam pieces are easy for a toddler to manipulate, and help improve motor skills. With a toddler, you can use these to practice number and color recognition, and move onto simple math equations with older kids. Just remember to keep the smaller pieces away from toddlers, as these can be choking hazards.
This magnetic number kit comes with 70 numerals, 20 operation signs and 20 circle counters. The kit includes a handy plastic storage box, though it would be nice if this had compartments to organize the pieces. The magnetic pieces stick well to metal surfaces, and are easy to clean.
Everything you need to know about choosing the right one for you!
What To Consider When Choosing A Magnetic Toy
Here's what you should think about when choosing a magnetic toy for your child.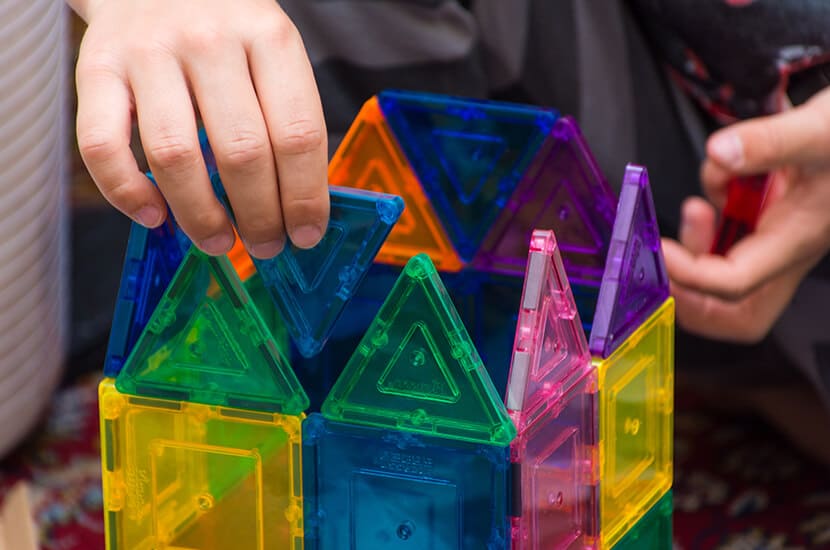 The most common material used for magnetic toys is plastic. To avoid toxic chemicals, look out for plastic toys advertised as BPA-free. If you are opposed to plastic for environmental reasons, there are options that are not made from plastic. For example, there are some great magnetic building blocks made from wood.
Toy design is a tricky factor to assess, and different children have different interests. In general though, it is a good idea to aim for open ended toys with high replayability and the possibility of kids playing at different complexity levels. Toys that can grow with children provide value for longer, and nurture improvement over time.
When assessing the safety of a toy, the key factor is age appropriateness. If you are buying for a toddler, make sure to avoid anything with small parts that could be choking hazards. Some magnetic toys for older kids have very strong magnets, which can pinch little fingers or cause severe injuries if swallowed. Low quality toys that break easily can also be safety hazards if they expose sharp edges or small parts.
Making Sure Your Magnetic Toy Is Age Appropriate
Children at different ages have very different interests and cognitive abilities.
Toddlers are naturally curious, and they interact with the world in a physical way. Go for large and colorful magnetic toys that are tactile and easy to use.
Preschoolers are energetic and imaginative creatures, so toys that inspire creativity are a great choice. You may also consider toys that introduce basic math.
At this age, kids love to follow instructions and figure puzzles out by themselves. Building sets with models to follow are a fantastic option.
The Benefits Of Magnetic Toys
Magnetic toys are great for kids in many different ways.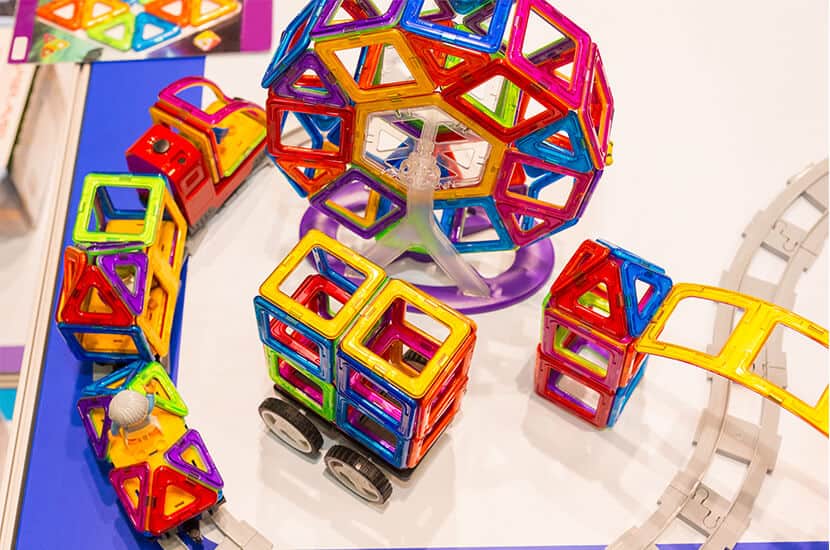 Frequently Asked Questions
Although all the products we reviewed are some of the best magnetic toys on the market, we have to award the top spot to Magna Tiles. Its quality is unrivaled, as is its versatility and popularity across all age groups. But hopefully this list has shown there are so many great magnetic toys for kids out there! Whatever your child's age, interests and abilities, you can find something they will love to play with.