Teens can be a mysterious breed, and many parents find it difficult to figure out how to spend time with their teenage children. Board games for teens are a brilliant way to bridge the divide, because they are enjoyed by people of all ages. Whether your teen loves strategy and roleplaying, silly hilarity or irreverent mischief, there is a game on this list for them. Our list of the 10 best board games for teens includes games that are perfect for family game night, slumber parties, RPG obsessed teens and more. While most of these games are not specifically designed as board games for teens, they are guaranteed to tear even the most screen-obsessed teenagers away from their devices.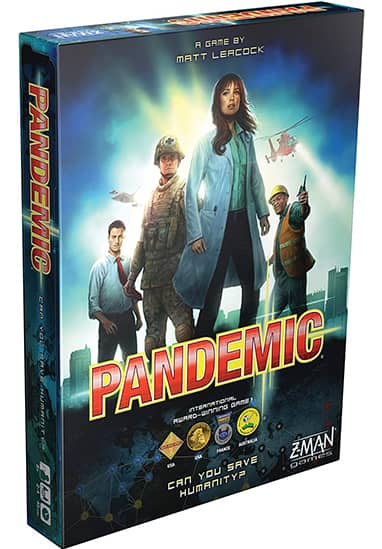 Editor's Choice #1: Pandemic is one of the best board games for teens who love strategic thinking. This extremely popular game requires genuine player cooperation to win. The perfect strategy game – its rules are intuitive, but it is highly challenging in the best way possible. Get ready to become obsessed with this immersive game!
Pandemic is a strategy board game in which players cooperate to save the world from disease outbreaks. As a cooperative game, players must work together closely to have any chance of winning. As such, it encourages teamwork and is a great bonding experience.
Let's be clear: Pandemic is not easy. Even if you play the lowest level (out of three), chances are you won't win on the first few gameplays. But this is what will keep you coming back! For teens who love challenging strategic games, Pandemic is a fantastic choice. It draws you into the high-tension, exciting narrative and keeps you guessing with lots of twists and turns.
Despite the game's challenging nature, the rules of Pandemic are intuitive. It is also a quick game to play, usually taking between 30 minutes to an hour. Customers consistently become obsessed with this game, so your strategically-minded teen is sure to love it!
2. Telestrations Original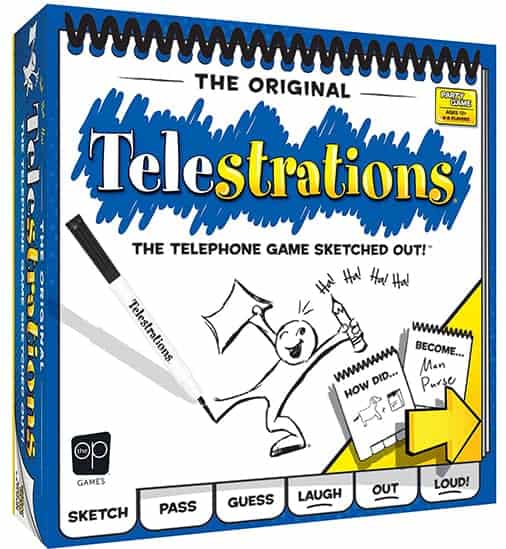 Editor's Choice #2: If your teen is more into silly, funny games, Telestrations is the perfect choice. No game will provide more laughs for the whole family than this. It's also one of the best board games for teens about to become college students, as it makes a fantastic icebreaker amongst young adults.
If your teen has lots of friends, or you're looking for family games, Telestrations is an awesome option. It is playable with 4+ players, but the more players you have, the more fun it is. Think a combination of Pictionary with the classic game of broken telephone, and that is Telestrations!
Hilarious And Fun – Great Party Game
Everyone loves a belly laugh, so it's hard to go wrong with Telestrations. It is less about competition and more about a sense of humor – in fact, the worse you draw, the funnier it is! You can play competitively, but the scoring system can be confusing, so some found it better to ditch the points.
Because it is so hilarious, this is a great game for breaking the ice, or to strengthen relationships. Your teen is sure to love playing this game with friends and family alike. Because it can be enjoyed by anyone from around age 6, Telestrations offers raucous fun for the entire family!
3. Exploding Kittens – A Russian Roulette Card Game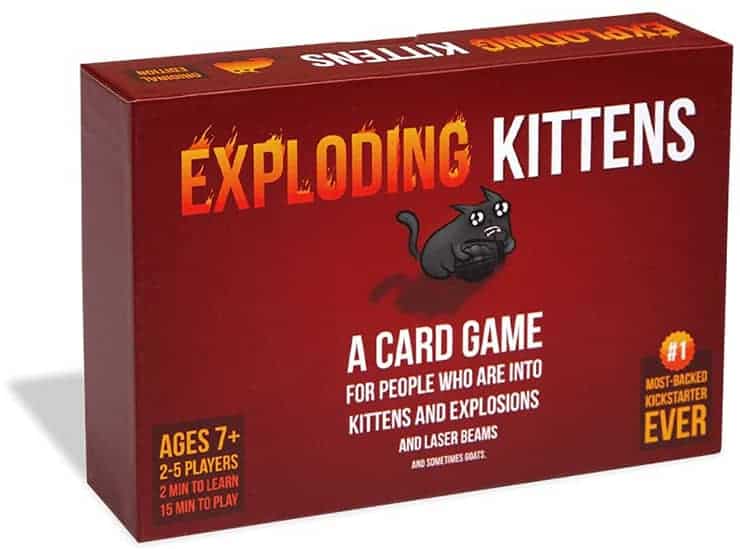 From the creator of The Oatmeal comics, Exploding Kittens is a hilariously twisted Russian Roulette game. Described as a card game for people "into kittens, explosions, laser beams and sometimes goats", the objective is to survive the exploding kitten cards. As the game progresses, the tension builds, as the likelihood increases that the next card is an exploding kitten card!
The rules of this game are simple to learn, and it only takes 15 minutes to play. Nevertheless, it is a strategic card game that requires you to make decisions about when to play which cards. Full of fun twists, you can play defensively or be crafty and take your opponents out.
Teens are often drawn to things that are a little edgy and irreverent. There isn't anything really explicit in this game, though it definitely has a slightly rude, mischievous edge. Some parents found it too vulgar for younger children, though it has just the right level of impropriety for teens.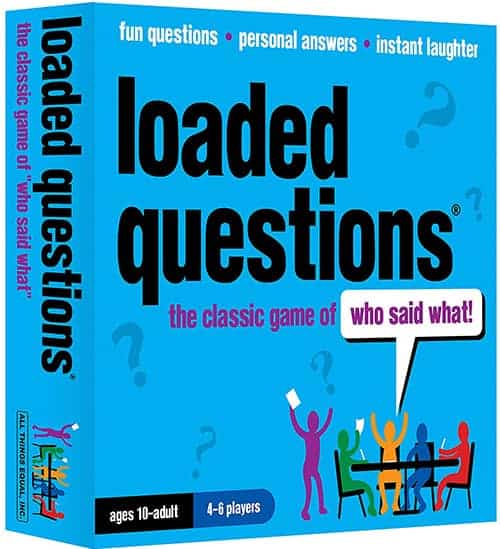 In Loaded Questions, one player draws a card and asks a question, and the other players write down their answers. Then, the player to the right of the card reader has to guess whose answer is whose. It is perfect for breaking the ice among new friends, but if you know each other well, no worries! Be creative with your answers and the guesser will never know it's you.
Loaded questions is one of the best board games for tweens, teens and adults alike. Because it is simple to play and requires little brainpower, it is a highly inclusive game and great for parties. You can also easily adjust it to be shorter or longer by tweaking the gameplay.
Because you advance both by guessing correctly and by giving creative answers, there is an encouragement to be creative that enhances the hilarity. The game is advertised for 4-6 players, but you can always play with more by adding your own pieces or ditching the game board. Some reviewers found the board unnecessary anyway.
5. Taboo Party Board Game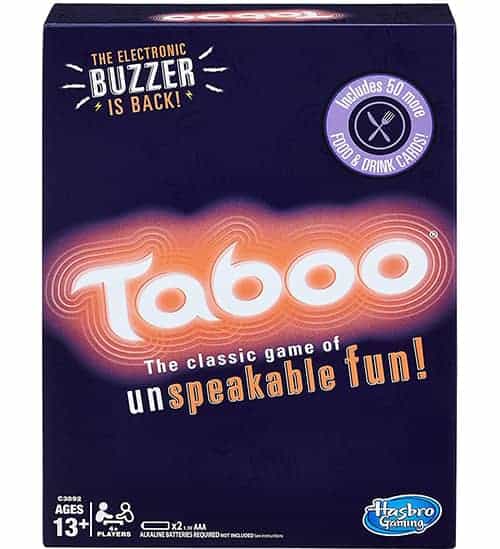 This classic game has been around since the 80s, and is truly one of the best board games ever made. It is perfect for game night as anyone can enjoy playing it. All you have to do is get your teammates to guess the word on the cards… without saying the taboo words underneath!
Taboo is a hilarious game and is sure to have everyone in stitches. It is simple and fast paced, and can be played for however long you feel like. It is also a very family friendly game, though it may be difficult for kids under 10.
With a whopping 450 words, the replayability of this version is fantastic. The cards mostly contain common words, meaning they won't go out of date. However, some found the lack of pop culture words a disappointment. This edition also does not include a card holder, but it does include a buzzer to buzz when your opponent says a taboo word!
6. Unstable Unicorns Card Game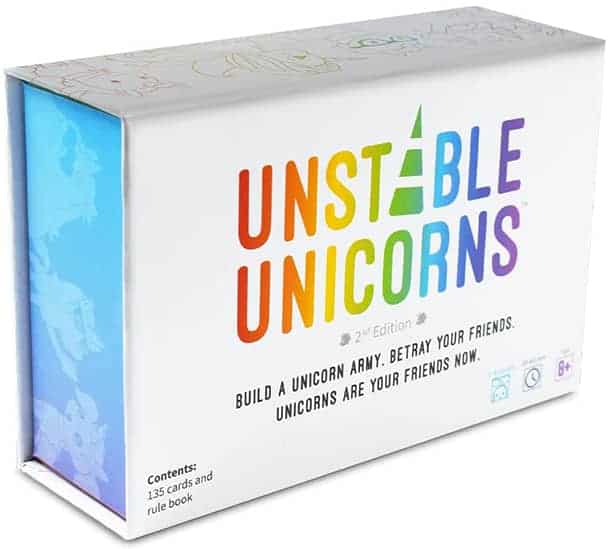 From the creators of Exploding Kittens, Unstable Unicorns is also a fun and quick game packed with sneaky twists. The goal is to be the first person to collect seven Unicorns in your Stable. Collect and defend your unicorns, while trying to sabotage your opponents! The rules can be confusing, but you will love this fun game when you get the hang of it.
There is some strategy involved in Unstable Unicorns, but it's not too much to put off newbies. The game is described as "destroying friendships… in a good way" because of all the brutally crafty moves you can make to betray the other players!
This award winning board game has the same offbeat humor of Exploding Kittens, and is full of tongue-in-cheek characters. It is not as vulgar though, so it is ideal for family game night. And if you start to get tired of the cards, you can always get some expansion packs!
7. Smart Ass – The Ultimate Trivia Game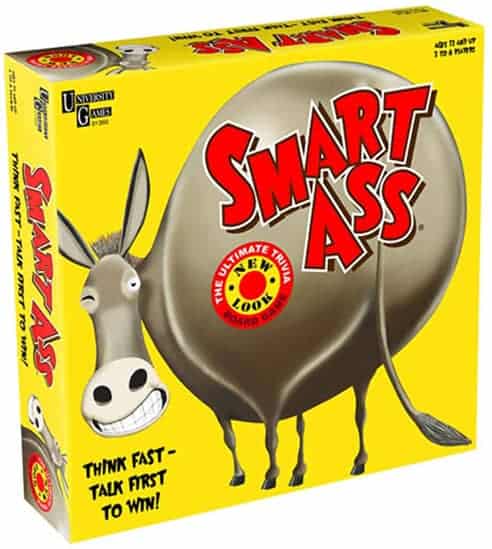 Smart Ass is another fast paced party game that everyone can enjoy. It involves answering trivia questions to move around the board – whoever shouts out the correct answer first gets to move! This speed element definitely boosts the excitement factor. Some found the game a bit too short, but you can always play another round!
Smart Ass can be played with two, but it is much more fun as a group game. This great board game for teens teaches players facts in a fun atmosphere. A combination of knowledge, speed and luck determines the winner, who will be pronounced the ultimate smart ass!
Smart Ass includes nearly 500 question cards, which span a wide range of topics. The questions are well balanced so that you can play with people ages 10 – 80 and it doesn't feel unfair. While the older folks may have more knowledge, kids will take advantage of the speed factor!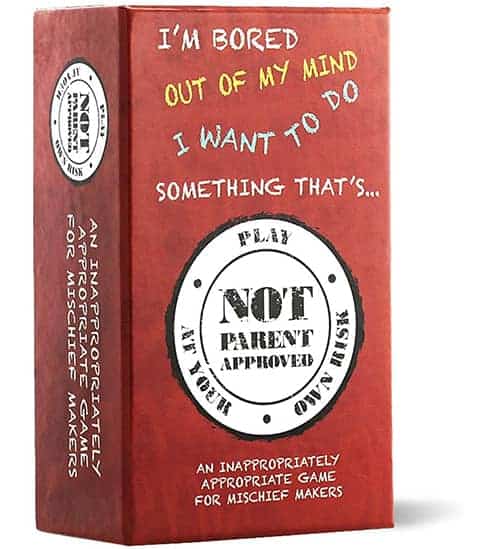 Not Parent Approved is another hilarious game perfect for slumber parties, family game nights and vacations. It is all about filling in the blanks in the funniest way possible – think a family friendly version of Cards Against Humanity. The answers are judged by the Burp Boss, assigned based on who wins the burp-off of course!
Hilarious Fun Anywhere, Anytime
This card game is perfect for a game night with friends, or some family fun on vacation. Because there's no game board, it is easy to transport and you can play it anywhere. According to the creators, it was designed to entice families away from screens, and it certainly does that!
Mischievous But Family Friendly
Not Parent Approved is just edgy enough for teens to feel mischievous, but is mostly family friendly. There are a few slightly lewd cards, but you can always remove those when playing with younger kids. It is an incredibly popular game among tweens and younger teens, and older teens will enjoy playing too.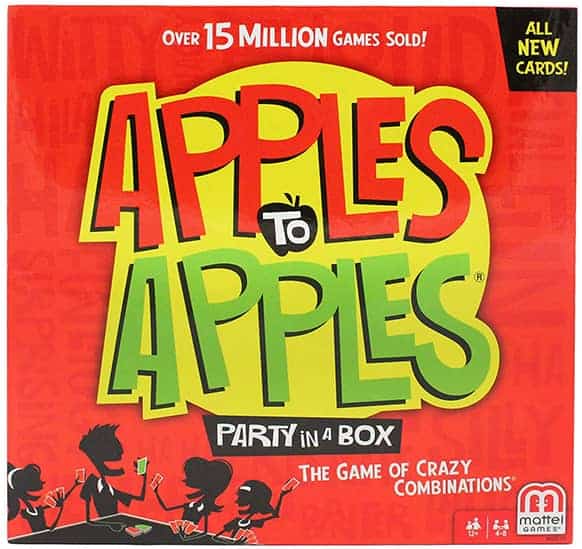 Apples to Apples is quick to learn and can be played for however long you like. It's not explicitly in the board games for teens category, but it is great fun for the entire family. Some customers were disappointed in the number of cards, but you can always get the party expansion pack.
As Hilarious As You Make It
Like Not Parent Approved, Apples To Apples involves making matches that a judge will like. This time, it's about choosing the card that best matches the word card drawn by the judge. This fun game is best for teens who are creative with words – it is hilarious, but only if you make it so!
All the cards in Apples to Apples are child-appropriate, so it can easily be enjoyed by the whole family. Young kids may not know all the places or celebrities, but there's no frustration or embarrassment because you can always just randomly pick a card and let hilarity ensue!
10. Betrayal At The House On The Hill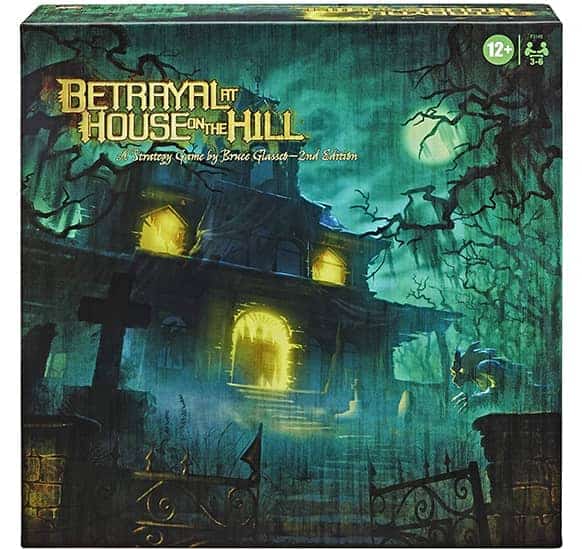 Betrayal at the House on the Hill is one of the best board games for teens into horror and tabletop games. You begin by building a haunted mansion, then must work together to escape it alive. The most exciting element? One among you is a traitor – but you won't know who it is until the betrayal…
With 50 different unique haunts, each with its own storyline, this game has a very high replayability. Each scenario is packed with random events and strategies for survival, and is very immersive. For teens who love role playing games, this is sure to be a winner!
This is definitely not a casual party game, nor is it the right game to introduce teens to tabletop gaming. The instructions are confusing, it takes a while to get the hang of and will take over an hour to play. But if your teen already loves tabletop games, this is the perfect gift.
With so many popular board games out there to choose from, we give you a helping hand to choose the right one to ensure your teen has all the fun!
What To Consider When Choosing A Board Game For Teens
Choosing board games for teens is very different to choosing games for younger kids. Here are a few things to keep in mind.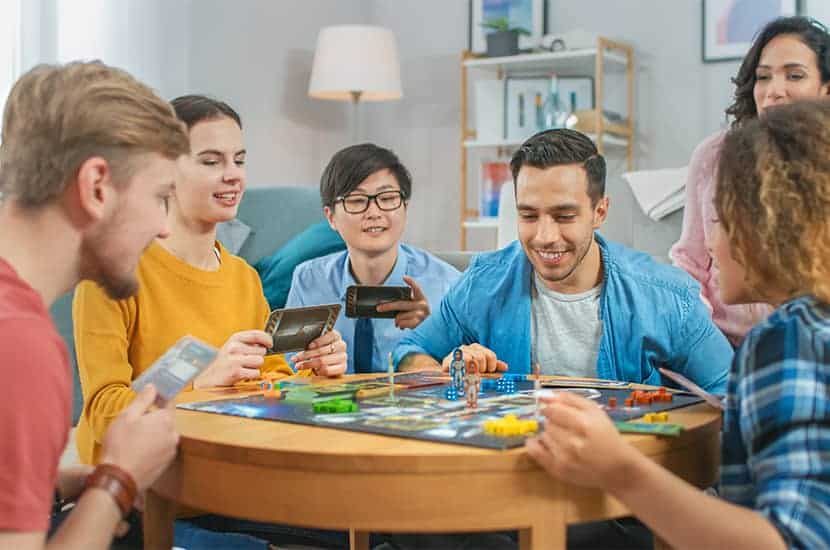 Sure, you are buying a board game primarily for your teen. However, if you want to be able to play it on family game night, you might want to choose something that younger kids can play too. Teens also span a wide range of ages, and something that 17 year olds love may be inappropriate for young teens.
Teens are fully formed people with their own interests and hobbies. Think about what your teen is interested in and the kinds of games they have liked in the past. Do they like roleplaying games, competitive games, word games or hilarious party games? What themes would they be interested in, and what is their sense of humor? If you're not sure what your teen would like, it might be best to talk to them, rather than buy something they won't enjoy!
Of course, teens can handle highly complex games, but it all comes down to interest again. If your teen likes solving puzzles, a complex strategy game could be great. But if you think your teen would rather enjoy something quick and silly that will act as a fun icebreaker, choose a simpler game with a short gameplay.
Benefits Of Board Games For Teens
Board games provide benefits for all ages. Here are some of the reasons they are good for teens.
Frequently Asked Questions
Teens play all kinds of board games, from educational games, to silly and fun games, to complex strategic games. Finding the best games for your teen is less about a board games for teens category, and more about choosing something that suits your teen's interests and personality to ensure it is a fun game for them.
The best board game for teens is Pandemic. We chose this one because of its immersive storyline, its tension and excitement, and its intuitive gameplay. The theme of the game is adult enough for teens to feel mature, without being inappropriate or boring. It's also the perfect level of challenge to make you want to play again, without being impossible to beat!
Board games are good for teens because they are great for family bonding as well as developing social skills and breaking the ice with new friends. Games for teens stimulate teens' brains in a fun way, and keep them away from screens. They are also great for reducing stress, because they stimulate laughter and healthy social interactions.
Out of all the board games for teens we reviewed, Pandemic is the one most likely to get you hooked. But if your teen is not into strategy games or you're looking for something to play on family game night, Telestrations is probably a better bet. Whatever your teen enjoys, there is the perfect fun board game out there for them!