A pool table is an awesome addition to your game room – it allows you to practice whenever you feel like it and it's a great way to spend time with family and friends. However, before you rush out to buy your new pool table, you need to make sure you have enough space. Not only does your game room need to fit your table, but you need enough space around the table so you can make a shot from any angle. This article will answer the question: how much room do you need for a pool table? We've included a handy chart so you can immediately know what size table to get according to your room dimensions, as well as instructions on how to calculate it for yourself.
You need enough room for the pool table itself as well as space around the table for your pool stick. So, the amount of space you need depends on two factors: the size of your pool table and the length of your pool cues. For example, if you're playing on an 8ft (2.4 m) table with 58″ (1.4 m) pool cues, your minimum room size is 13′ 6″ x 17′ (4.1 m x 5.18 m). By the end of this article you should know:
Whether you have enough room for a pool table
What size pool table you should buy
While you might dream of playing on a tournament table, it's best not to go for the biggest table you can squeeze into your game room. You will regret this when you experience the frustration of the butt of the pool stick hitting the wall! Rather, choose something that can fit comfortably in your space and that leaves a good deal of room around the table. You can check out a variety of the
best pool tables
here.
If you have a small room, choose a smaller table – it is just as fun to play on!
Some people have a dedicated game room or pool room, while others set up their pool table in their living space or in their basement or garage. Either way, the amount of space you need around your table is the same. To play comfortably, you need to be able to take a shot from any angle without the back of the cue hitting the wall. So, if you're playing with a standard 58 pool cue, the minimum space you need around the table is 58" (1.5 m), which you can round up to 5 feet (1.5 m). If you're a beginner, you can learn more about pool basics here.
Because you need 5 feet away from the wall on all sides, the ideal room size dimensions when using a standard pool stick are 10' x 10' (3 x 3 m), plus the size of your pool table. If you're trying to figure out your maximum table size, measure 10 feet (3 m) from the wall (length and width) and see how much space is left in the room. That's how big your pool table can be!
Pool tables come in several different sizes. While 9' (2.7 m) is the standard pool table size for tournaments, it is not common for home use. 8' (2.4 m) is close to the standard size, but is more practical for most homes. However, if you have a smaller space, you can get tables in 7' (2.1 m) or even 6' (1.8 m) sizes. Another option for tight spaces is to use a short pool cue. 54", 48" and 42" (1.3 m, 1.2 m, 1m) can all work for casual use. Click here to find the best pool stick for you.
Typical Pool Table Dimensions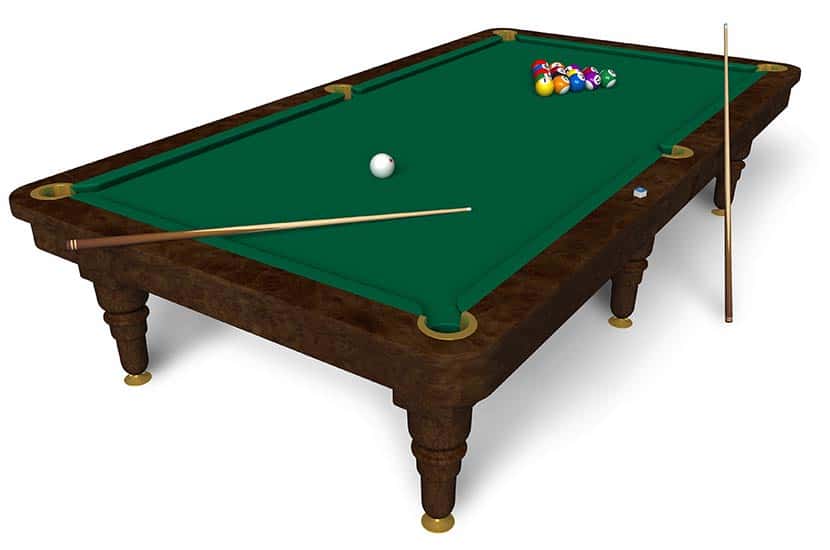 Pool tables come in several different sizes. Below we discuss them by length.
Pool tables are usually twice the length that they are wide. For example, an 8 foot table is 4' wide.
British 6ft: These are the most common size for pool tables in British homes, as well as clubs and pubs.
British 7ft: This is the full size for British pool tables. It is the size you'll see in tournaments and leagues in the UK.
American 7ft: 7ft is the smallest you can get when it comes to US pool tables. They are a great option if you have minimal space.
Note that the actual size of the American 7ft table is slightly larger than the British 7ft.
American 8ft: 8ft is considered the ideal size for home pool tables in the US, and is also often the size you'll find in bars. It is small enough to fit in most game rooms, but it is close to the standard size.
American 9ft: This is the full size for American pool tables. It's often called the standard size as it is the size used in tournaments and leagues. However, it is very rare for homes to have tables of this size.
Pool Table Room Size Chart
If you know the room dimensions of your pool room, the below chart can tell you exactly what size table and cue you can use.
Pool Table Room Size Chart (Imperial)
Pool Table Room Size Chart (Metric)
How To Calculate Minimum Room Sizes
If you want the exact room size requirements for your pool table and cue, here is how to calculate it for yourself:
Measure Your Pool Table
The first thing to do is determine your pool table dimensions – measure both its length and its width.
Determine Your Pool Cue Length
Next, you'll need to measure your pool cues. If you have pool cues of different lengths, make sure to measure your longest one. Then, multiply this by two, because you need space on both sides of the table. So, if your pool stick is 58" (1.4 m), this comes to 116" (2.9 m).
Add It All Together
Now that you have made your measurements, all you have to do is add it all together! Take the length of your pool table and add it to the (doubled) pool cue length, then do the same for the width. For example, if you're playing on a 4ft x 8ft table (48″ x 96″) and playing with 58″ cues (x2 = 116″) you would add 48″ to 116″ giving you 164″, and 96″ to 116″ giving you 212″. This equates to a room size of 164" x 212", or 13′ 6″ x 17′.
How Far A Pool Table Should Be From The Wall
If you have experienced your cue hitting the wall as you make your shot, you'll know how annoying it is! That's why it is crucial to leave a decent amount of space around your pool table. If you're using a standard 58" (1.4 m) pool cue, your table should be at least 5 feet (1.5 m) from the wall. If you're using a shorter cue, you can get away with a little less space, but it's best not to push it.
Pool Tables In Confined Spaces
If you have limited space, there are a few things you can do to make having your own pool table feasible. First, of course, you can choose a small pool table. The smallest tables available are 6' (1.8 m). Next, you can use a shorter pool cue. 48" cues (1.2 m) allow quite a bit more room, but are still long enough for an adult to use comfortably. Lastly, you can position the table cleverly so you have all the room you need around the common shooting areas.
What Is The Perfect Height Between The Pool Table And The Ceiling/The Lights?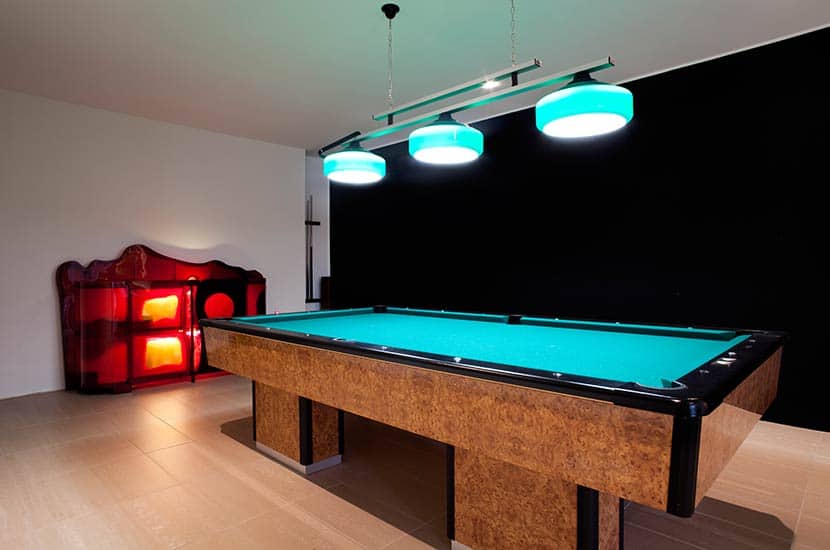 The perfect height between the pool table and the ceiling/the lights is 32 – 36" (81 – 91 cm). Adding pool table lighting is a great idea because it helps you play a better game. However, you need enough room between the table and the light fixtures so that they do not get in the way of players taking their shots.
For adequate lighting, it's a good idea to get specialty pool table lights so that they illuminate the playing area without causing shadows.
Other Space Considerations
If your room is large enough for a pool table but there is a beam obstructing it, not to worry. Just place the table so that the beam is in the least obstructive spot – ideally on the long side of the table next to the side pocket.
When setting up a pool table in a smaller room, you'll need to think about storage. If all you have is a cue and a set of balls, you can probably leave it on the playing surface. But if you have lots of billiards accessories, a wall mount pool stick rack is great for saving space.
How much does a pool table weigh? It's important to know this if you want to be able to move it around.
Frequently Asked Questions
So how much room do you need for a pool table? The answer depends on the size of the table as well as the cue you use. Hopefully, you now know the amount of room required for a pool table and what size table can fit into your room. Now it's time to start working on your pool game!