Is your air hockey puck suddenly dragging, stopping or curving? Chances are, your table is overdue for a cleaning. The air holes could be clogged with dust, thus blocking the air flow or dirt on the table itself could be causing your puck to drag. You may not be aware, but cleaning your air hockey table regularly is an important part of maintenance, as a dirty or dusty table can seriously inhibit your game. This article will tell you exactly how to clean an air hockey table so your puck glides effortlessly and your table shines. The cleaning process is quite lengthy, but simple – and we've also got tips to keep your table spick and span so you don't have to clean it too often.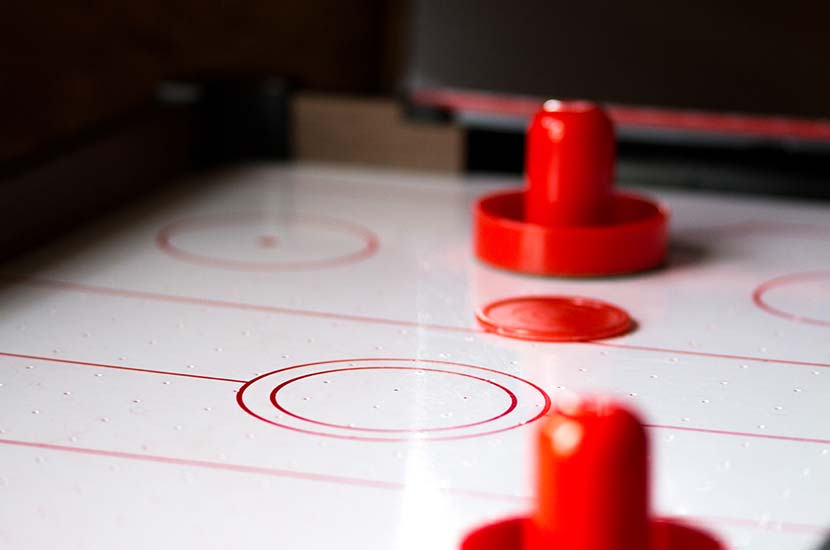 It's not that complicated to clean your air hockey table – just follow this step by step guide and you're good to go.
Step 1: Turn The Fan/Blowers On
Having the air blower on throughout the cleaning process will help remove dust particles and debris, thus making cleaning easier for you! Keep the fan blower on the whole time you are cleaning to prevent more dust from entering the playing surface and to dry any liquids you use for cleaning.
Step 2: Vacuum The Air Hockey Table
The blower probably won't get rid of all the dust, so the next step is to vacuum your air hockey table surface to remove dust and cobwebs. Use the smallest vacuum nozzle or attachment and make sure to hold it slightly off the table's face so that the vacuum hose won't dent the table. For the same reason, you should also use a very light touch when vacuuming.
Remember to vacuum the repair area and spend a little extra time on the air holes to remove stubborn dust particles.
Step 3: Wipe Stains Away With Window Cleaner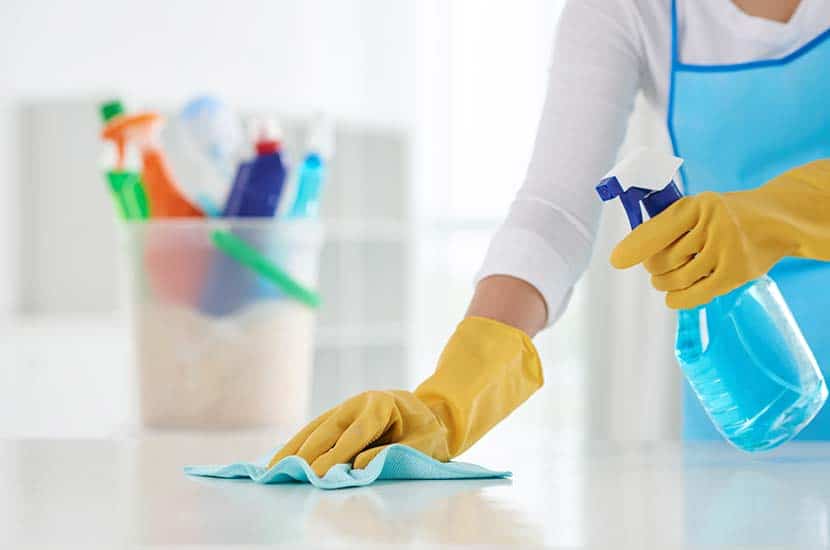 If there are stubborn stains on your air hockey table surface, you can use window cleaners (without ammonia) to remove these. Another option is to use rubbing alcohol-based cleaners such as isopropyl alcohol or dishwashing liquid.
If you're using a window cleaner, apply this to a soft cotton cloth and use as little liquid as possible so that it evaporates and dries quickly.
Do not apply cleaning fluid directly onto the table.
Scrub gently, but enough to get rid of any dirt stuck on the table. Remember to clean the table's outer surface, including the feet, in addition to the tabletop.
Step 4: Clear Any Blocked Air Holes
You will have removed loose dust from the air holes with the vacuum cleaner, but there may be stubborn dirt particles still blocking the air holes. If that is the case, you can use drill bits or toothpicks with cotton swabs attached or pipe cleaners on the clogged holes. Insert the drill bit/toothpick/pipe cleaner into each hole one at a time. Slowly and cautiously raise the dirt up and out of the air hole. Make sure the fan is switched on to help you get the dirt out of the holes.
If you use a drill bit, make sure it is 1/32″ (0.79 mm) or smaller so that it doesn't change the shape of the holes.
Step 5: Polish The Air Hockey Table Using Furniture Polish Or Wax
This step isn't necessary, but it does help to maintain the flexibility of your table, which prolongs its lifespan. The smooth polished surface can also improve gameplay. Using furniture polish or wax, apply a thin spray coat over the playing surface. When the polish dries, gently wipe the table with a dry microfiber towel or soft cloth and polish for a shiny finish.
Silicone spray lubricants can also work to give the table a beautiful shine and smoothness for improved gameplay. If you'd like an air hockey table but don't have the space, check out the best mini air hockey tables here.
Step 6: Sand The Pucks And Mallets
If you've noticed that gameplay on your air hockey table is slow lately, the problem may not be the table. It could be that the pucks and mallets have developed slight imperfections through normal wear and tear. If you think this might be the case, you can solve the problem by sanding them carefully with ultra-fine sanding paper. If you're still having issues, learn how to make an air hockey table slide better here.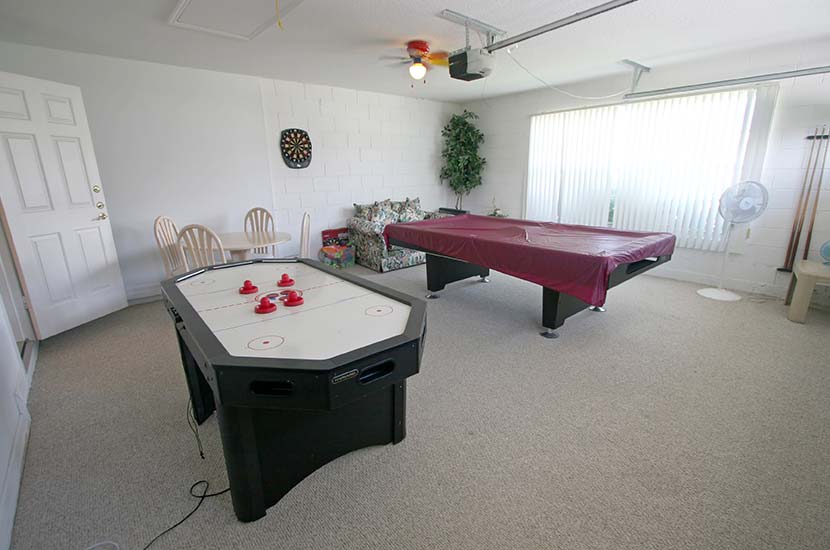 While cleaning air hockey tables is a crucial part of their maintenance, you can limit how frequently you need to do this by covering your table when it's not in use. If you don't, dust will accumulate daily and block the holes!
Tools And Equipment You Need To Clean An Air Hockey Table
Here's all the equipment you'll need to clean your table:
Vacuum cleaner: make sure yours has a small attachment nozzle.
Window cleaner or an alcohol-based cleaner or dishwashing liquid.
Soft cloths or microfiber towels to apply the cleaner and wipe away the furniture polish.
Pipe cleaners to clean the air holes. You can also use drill bits or toothpicks and cotton swabs for this.
Furniture polish: if you want a super smooth, shiny surface.
Fine sandpaper: if your pucks or mallets have developed imperfections.
Air Hockey Table Maintenance Tips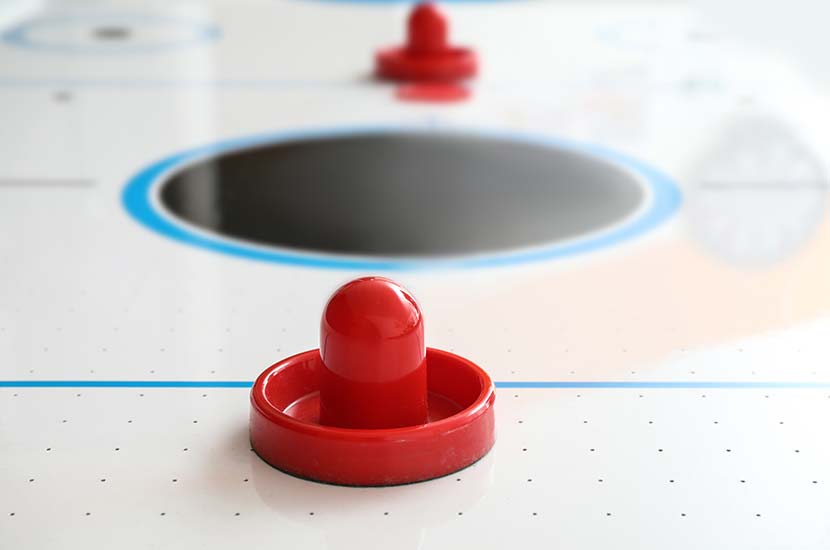 Keep It Covered
If your table isn't covered, dust will accumulate. It can also clog the blow holes meaning your puck won't slide as easily.
Clean Regularly
How often you clean your table depends on how quickly it gathers dirt or dust, but you must do it as soon as dirt begins to accumulate!
If you use a cover, you can probably do a full clean every 1 – 3 months and dust or vacuum every week.
Check Equipment
Treat your equipment gently while you play to keep it in good condition. Check your equipment regularly for nicks and scrapes – if you find any, you can remove them with a fine sandpaper.
Proper Cleaning
Perform a deep and full clean every few months. You can follow the steps laid out above to do so.
Be Careful With Food And Drink
In order to avoid sticky situations that are difficult to clean, keep food and drink away from your air hockey table. If you get hungry or thirsty while playing, pause and go eat somewhere else!
Remove The Obstruction From The Air Holes
These small holes will often be filled up with dust particles, so you need to check them often and clean them if they are obstructed. You can clean them with a pipe cleaner or a
drill bit
or toothpick and cotton swab. Once you're done with that, turn on the blower to push the loosened dirt out of the holes.
What You Can Use To Cover Your Air Hockey Table
A specially made air hockey table cover.
Thick plastic sheeting cut to size.
Lightweight plywood or plexiglass cut to size and sanded smooth. Cut it into two equal sections and add basic handles to make it easier to lift the covers off.
For a makeshift solution, a tablecloth draped over the air hockey table will also do the job!
Why You Need To Clean Your Air Hockey Table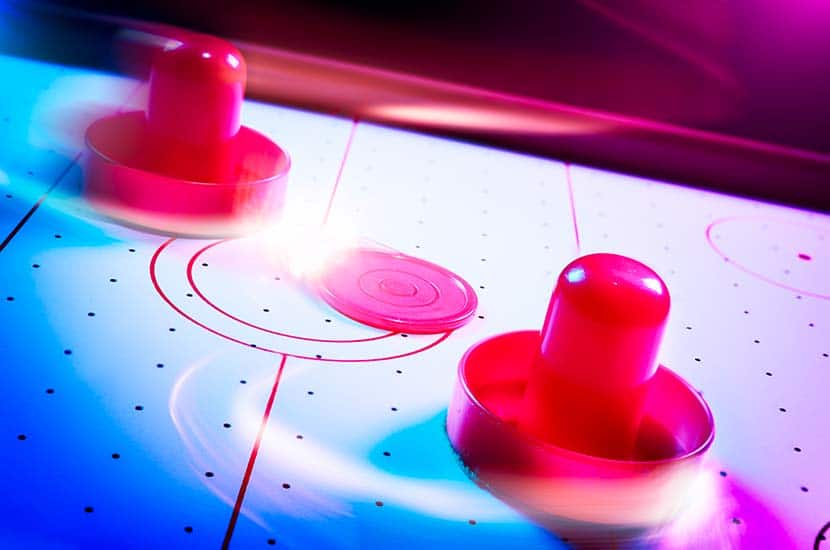 A clean air hockey table is essential to a good playing experience. If the air holes are clogged, the air flow will be obstructed, which is key to the functioning of the table. In addition, a grimy table surface will prevent your puck from gliding smoothly over it. On top of that, dirt particles can also cause the puck to buck or even fly off the table!
How Often Should You Clean Your Hockey Table?
You should clean your hockey table thoroughly every 1 – 3 months depending on how quickly dirt builds up. However, if you are not using a cover, you will need to clean much more frequently. Even if you do use a cover, it's a good idea to perform weekly maintenance of a light dusting or vacuuming every week or so. If you need to brush up on air hockey rules,
click here
.
Frequently Asked Questions
Well, there you have it – that's all you need to know about how to clean an air hockey table! It's important to clean your air hockey table consistently, but luckily it's pretty simple to do. Remember to keep it covered and remove the dust weekly – then you'll only have to do a deep cleaning every month or so.