Have you ever wondered about ping pong table dimensions? You have probably noticed that they come in a wide range of sizes. However, there are rules about the standard size of a ping pong table. If you are wondering how those statements can both be true, do not worry – we are here to clear up all the confusion! And if you are thinking of buying a table to make your own table tennis room, this article will also tell you how much space you need so you can figure out which size to buy. While smaller tables are perfectly fine to play ping pong recreationally, if you are serious about improving your table tennis skills, you will need a full size table.
Ping Pong Table Dimensions – Standard Ping Pong Table Sizes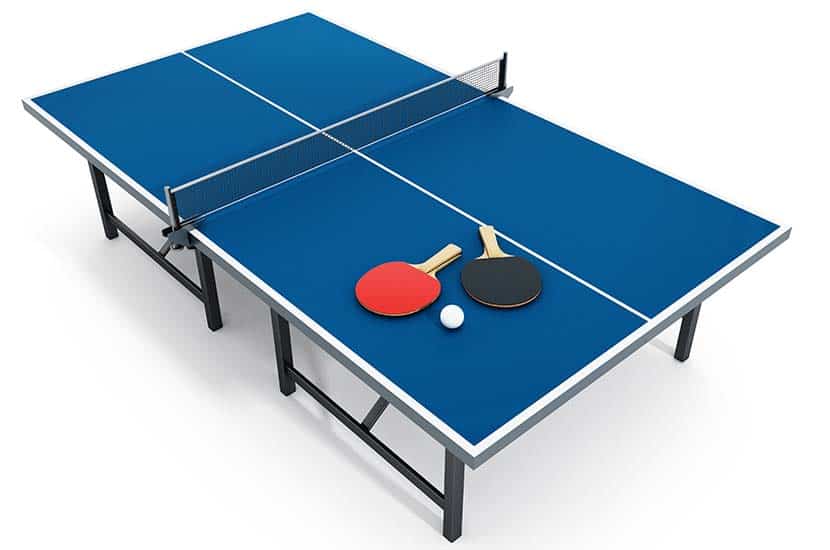 The standard size of a ping pong table is 9 feet (2.7 m) in length, 5 feet (1.5 m) in width and 2.5 feet (0.7 m) in height. However, when you are buying your own table, you can choose to get one in a smaller size.
Full Size Ping Pong Table
When a table tennis table says it is full size, that means it should be standard size. So it should be 9' x 5' (274 cm x 152.4 cm) and 2.5' (76 cm) high. The vast majority of ping pong tables have these dimensions and it is the regulation size for all table tennis tournaments. If you have enough space, these tables are the best to play on. If you plan to ever play in tournaments, you will need to practice on a regulation size ping pong table. But before you do that, you will need to learn ping pong rules!
If you are planning on turning your garage into a table tennis room, you should have ample space for a full size table.
If you do not have enough space for a full size table tennis table, there are ¾ size tables available. While dimensions can vary, the most common standards are 6.75' x 3.75' x 2.5' (205.7 cm x 114.3 cm x 76 cm). If you are just playing for fun, this is still ample space. However, if you are used to the full size, you will notice that you lose quite a lot of the playing surface.
If you have really limited space but you still have your heart set on a table tennis table, you can opt for a midsize table. Once again, exact sizes can vary, but midsize tables generally measure 6' x 3' x 2.5' or 182.8 cm x 91.4 cm x 76.2 cm. While these are much smaller than standard size, they are perfect if you live in an apartment or small space. A smaller table makes it much more difficult to play expansive/attacking shots, but you can still use them for a fun game! This size can also be a good choice if you have younger children who struggle to maneuver around a full sized table.
Lastly, the smallest ping pong table you can get is a mini ping pong table! These are not really a substitute for full size tables, as playing table tennis on them is a totally different experience. However, they can still be fun to play with and have the advantage of being easily transportable. While ¾ and midsize tables have fairly standard sizes and are the same height as full size tables, the same cannot be said for mini ping pong tables. These vary massively in length, width and especially height. Some have legs or stands that bring them to a normal height, while others need to be placed on other surfaces or used while sitting down.
While mini table tennis tables are not for anyone looking to improve their table tennis game, they can be great for young kids!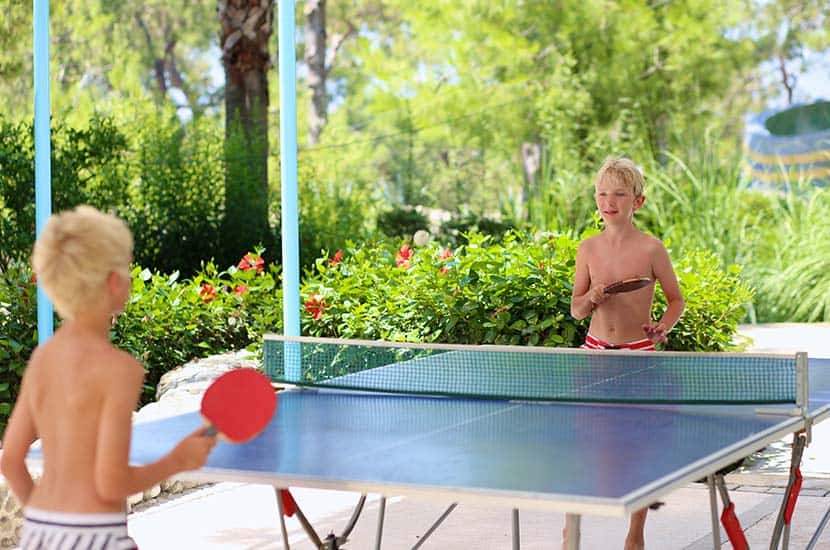 If you want a full size ping pong table but you do not have sufficient space inside your house, another option is to go for an outdoor ping pong table. Outdoor ping pong tables are generally full size. These tables are made from stronger material, making them resistant to the elements such as rain, wind, sun and cold. It can cost quite a lot to buy a quality outdoor table, but it is an investment that will last a long time and provide priceless fun and quality time for your whole family.
What Is The Standard Size Of A Ping Pong Table?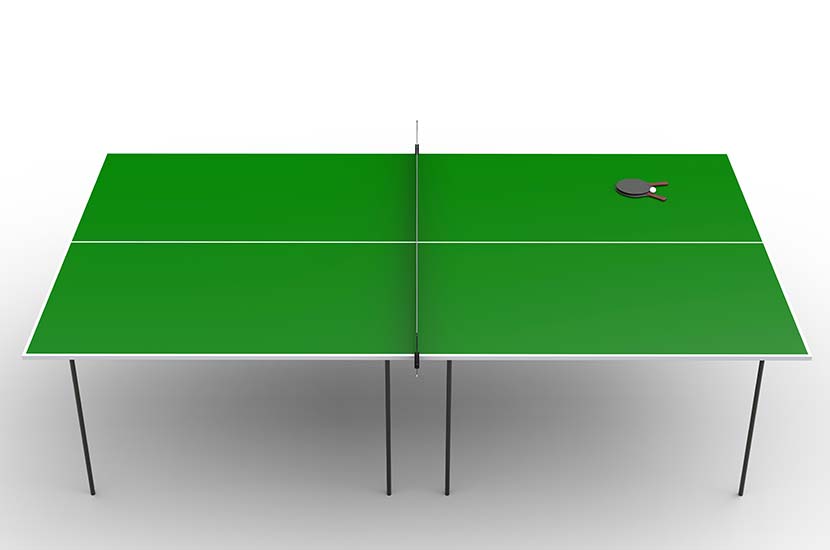 The standard size of a ping pong table is 9 feet in length, 5 feet in width and 2.5 feet in height. If you are used to the metric system, that translates to 2.7 m in length, 1.5 m in width and 0.7 m in height. In addition, official ping pong table dimensions also include regulations about the height of the table tennis net. A standard ping pong table net should be 0.5 feet or 15.25 cm.
When it comes to both local and international tournaments, all ping pong tables must conform to these dimensions, which have been set by the International Table Tennis Federation (ITTF). Thus, professional tables are all this size. This is because playing techniques need to be completely different on different sized tables. However, if you just want to have fun with friends, smaller ping pong tables are perfectly fine if you do not have enough room for a standard sized table.
Standard Ping Pong Table Dimensions
Ping Pong Table Room Size – How Much Room Do You Need?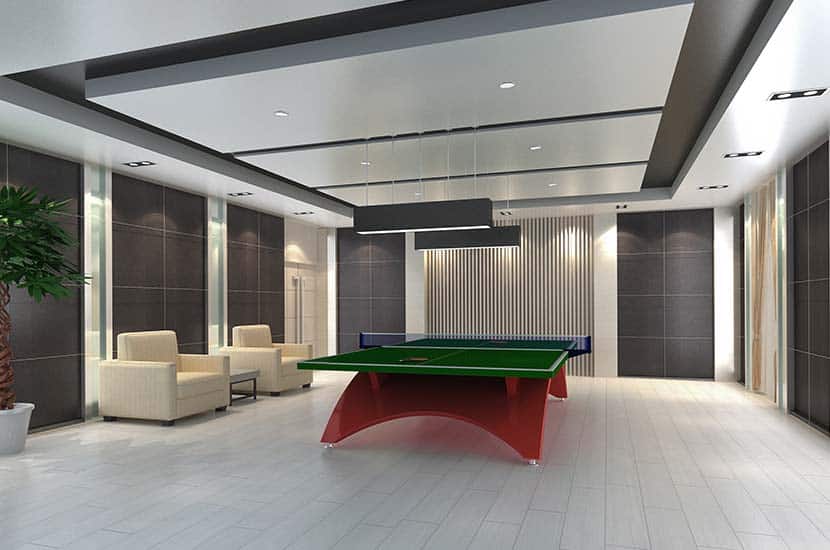 You need approximately 5' (1.52 m) on either end of the table and 3' (0.91 m) to each side in order to have enough room for playing space. If you use a standard sized table, that means your minimum room size is 19′ x 11′ (5.7 m x 3.3 m). However, if you do not mind the inconvenience of occasionally leaning on furniture or hitting the wall, you could get away with a room that is slightly smaller. Now that you know what size table you need, click here for the best ping pong table reviews.
Low ceilings and hanging light fixtures can get in the way of flying table tennis balls. To avoid that, ideally your table tennis room should have a ceiling height of at least 10′ (3 m).
What Is The Height Of A Ping Pong Table?
The height of a ping pong table is 2.5 feet or 76 cm. This is the height of a standard table, so all full sized tables are this height. In general, most ¾ and midsize tables are the same height. However, as these do not conform to regulation, you may find ones that are a little shorter. Mini ping pong tables can vary widely in height, with some being the standard height of 2.5' and others being so low they need to be played sitting down.
Tournaments & Professional Regulations
In addition to dimensions, the ITTF has specified several regulations official ping pong tables must adhere to.
Regulations
The table must yield a uniform bounce of about 23 cm (9'') when a standard ball is dropped onto it from a height of 30 cm (11'').
The playing surface must be uniformly dark colored and matt. Most tables are dark blue or dark green, allowing players to see the white/orange balls easily.
Tables must include white side and end lines along each edge that are 2 cm wide (0.7").
Playing Area
While you can get away with a much smaller room when you play table tennis recreationally, the minimum playing area for international events and Olympic games is 46' x 23' (14 m x 7 m). However, for national tournaments the playing area can be 40' x 20' (12 m x 6 m) and for local league matches and tournaments 30' x 16'6" (9 m x 5 m) is sufficient.
ITTF Approval
In order to be legally used in competitions and tournaments, a table tennis table must be
ITTF approved
. To be listed as one of the ITTF's official tables, manufacturers must arrange for the ITTF to test and review their tables.
How Much Does A Ping Pong Table Weigh?
A ping pong table can weigh anything from 50 to 300 lb (22 – 136 kg). However, most fall within the 100 – 260 lb range (45 – 117 kg). Nevertheless, unlike its dimensions, there are no rules specifying how light or heavy a ping pong table must be. A table's weight can vary widely, due to the materials they are made with as well as how thick the components are.
Outdoor tables tend to be heavier than indoor tables due to their durability.
Playing Ping Pong In A Small Room
Though it is best to have ample space around your table, there are things you can do to get away with a smaller room size.
If you do not have a dedicated room for your table tennis table, why not purchase a folding one? A ping pong table folded can simply be stacked against the wall! And do not forget about the paddles – click here for more info.
If you already have a dining room table, you could try using a table tennis conversion top or even make one yourself. These attach to your regular table, giving you a place to play without taking up too much space!
You can still use your table for solo practice even if you do not have enough space for competitive play, by attaching rebound boards. If you are still a beginner, learn how to hold a ping pong paddle here.
Frequently Asked Questions
In conclusion, standard ping pong table dimensions are 9' x 5' x 2.5' (2.7 m x 1.5 m x 0.7 m). If you want to play in tournaments, you will need to practice on a table tennis table of this size. However, if you have limited space and just want to play for fun, there are many smaller sized tables available.