Whether it's at a tailgate, a tournament or simply in your backyard, cornhole is a lot of fun. And while you don't have to be an expert to have a blast, mastering a few key techniques will improve your game significantly and give you an edge over your opponents. This article will tell you how to throw a cornhole bag like a pro so you can get more bags in the hole and score more points next time you play a game! But of course, knowing the techniques will only get you so far. As with anything, practice makes perfect and in cornhole, practice makes for more bags landed!
If you're new to the game, it's best to take a first step and learn how to play cornhole. But if you've got the basics down, we can get into how to achieve that perfect cornhole technique:
Before throwing your bag, you need to get your head in the game. Focus on the bag in your hand and the cornhole board in front of you and ignore all other distractions.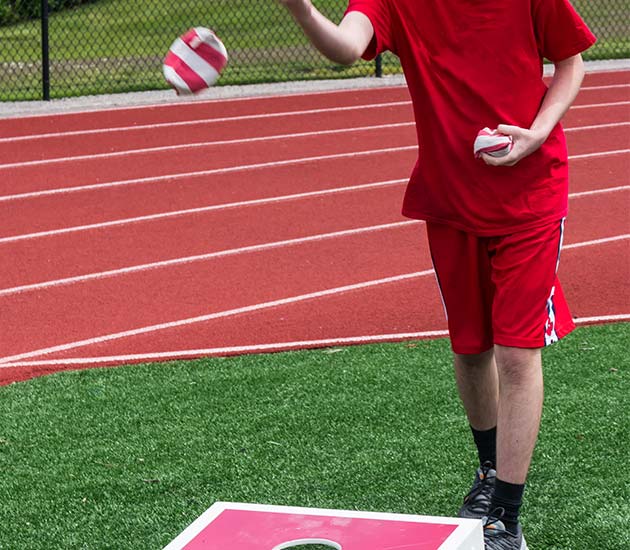 When it comes to foot placement, there are a few options. You could stand with your feet equal distance apart and your weight equally distributed, in which case your arm is your only driving force. Another option is to stand with your left leg forward and your right foot back (if you are right handed). In this stance, your legs provide some of the momentum. You can also try a bowling stance, in which you step forward as you bring your throwing arm back. Either way, make sure your legs are firm with the knees slightly bent.
If you go for the step, make sure you do not step over the foul line.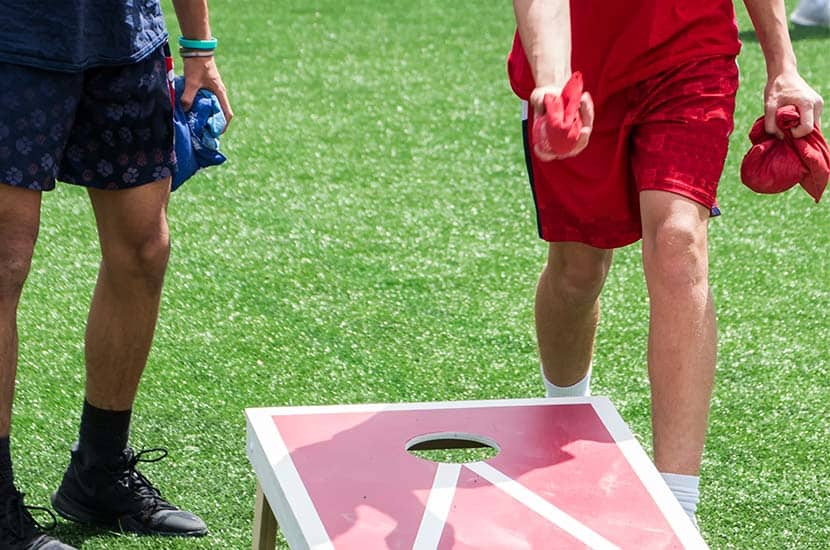 In a cornhole throw, grip and aim is everything. While amateurs simply toss the bag without much thought, cornhole pros know they can use grip and aim to maintain control over the bag.
Start by holding the bag in your dominant hand.
Place your thumb in the center of the bag, making sure that the resin/corn is evenly distributed.
Curl your other fingers around the underside of the bag. You want a firm grip on the bag, with about half of it in your hand.
Aim your toss for slightly below the hole rather than the hole itself. This is because bags will almost always slide a little, so aiming for the hole itself is likely to cause you to overshoot.
Aiming for the exact center means you have a greater chance of getting it in the hole and even if you don't, you're still likely to get it on the board.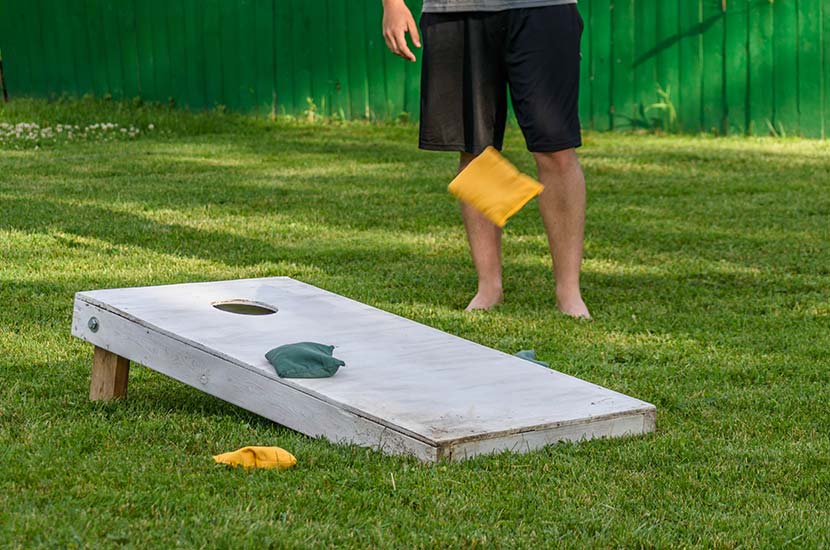 When it comes to the actual toss, the name of the game is smooth and slow. When you're ready, swing your arm in one beautiful fluid motion to make an underhand toss. To get the ideal arc, you want to release the bag when your arm is at a 90-degree angle. Arc is important so that the bags land at an angle and do not have too much slide. A ball tossed straight will end up going too fast, landing flat and sliding off the end of the board.
However, the real secret to a more controlled toss is the spin. A critical piece of cornhole toss technique is to toss your bag like a frisbee, so that it spins through the air, remaining flat the entire time. The spin stabilizes the bag, meaning that it is much more likely to go where you are aiming.
Follow through is an easily forgotten but important aspect of the cornhole throw. Like in a game of golf, continue swinging your arm after you release and keep your eye on the bag until it lands. Then cue up the perfect victory dance for your perfect victory!
A well executed toss is a great excuse to break out some of those dad dance moves!
Once you can consistently throw cornhole bags with control, the next step to playing cornhole like the pros is developing a solid strategy. While getting your ball through the hole is the best way to get points, you can also get ahead by preventing your opponent from scoring. If you can land a bag on the board just short of the hole, you can block your opponent's bags from sliding into the hole from the front. Learn more about how to score cornhole here.
On the flipside, if your opponent is trying this strategy on you, you'll need to find a way to land balls other than sliding them in! This means learning how to throw airmails, in which you land the bag in the hole without hitting the board. Airmails are pretty challenging though, so work on your basic cornhole skills first!
Although learning cornhole technique is important, the only way you will improve is by practicing … and practicing and practicing! Practice your toss again and again with drills. Although for most throws you want to get the perfect arc, there are times when you do want your bag to slide – like if you want to push a bag already on the board into the hole. So it's a good idea to practice both high and low trajectory throws.
It's no good achieving the perfect toss technique if you're playing with poor quality bags. Find the best bags here!
Top Cornhole Bag Toss Tips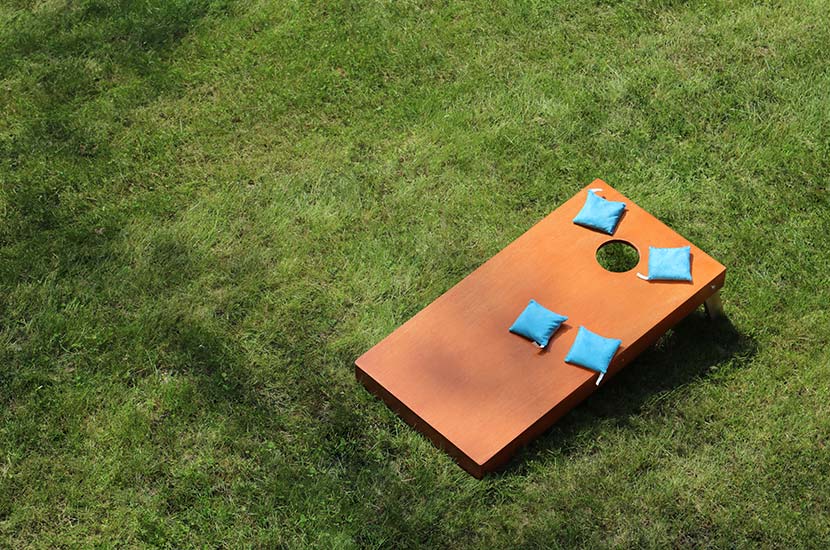 Follow these pro tips for more bags in the hole.
To avoid flailing limbs, you want to make a slow, smooth swing motion. Your back swing should be very slow until you begin the front swing and then you can gradually increase the speed before releasing the bag.
For even more spin, as the bag leaves your hand, maintain contact with your index and middle fingers for a moment longer.
For a high trajectory toss, your arc should be around 5' – 10' (1.5 m – 3 m). Any higher than this will cause you to lose accuracy and can lead to the bag bouncing off the board.
Frequently Asked Questions
You throw a cornhole bag like a pro by throwing it flat and with spin as if you are throwing a frisbee. Your stance can be whatever feels comfortable to you, but many cornhole pros opt for a bowling stance, with one leg behind the other in a bent position. Perfect cornhole technique also involves perfect aim, grip and arc.
The best way to throw a bean bag is underhand, with an arc of 5' – 10' (1.5 m – 3 m). This should lead to minimal slide, but some slide is inevitable, so aim for the center of the board. However, aiming straight and throwing at a low trajectory may be necessary if you want to push a bag already on the board into the hole.
You can throw overhand in cornhole according to the American Cornhole League, though some tournaments may prohibit it. While there are no official rules against it, it is not a very good technique in a cornhole game as it does not give you as much control over the bags as an underhand throw.
To sum up, a perfect cornhole toss requires a considered stance, a firm grip, a slow swing of the arm and a good spin and arc on the bag. Now that you know in principle how to throw a cornhole bag like a pro, it's time to practice, practice, practice! Before you know it, you'll be doing a victory dance after nearly every throw.