Cornhole is a classic American tailgate game, beloved by millions of people across the country. While it is at its heart a backyard game, pro cornhole is rising in popularity. In fact, the American Cornhole League Pro Invitational was watched by a whopping half a million people in 2018! Cornhole is a highly versatile game, as it can be played one on one with or between two teams of any number of players. If you're about to play cornhole but you're not sure how to keep score or how to determine the winner, this article is for you. We will lay out everything you need to know about how to score cornhole, including variations, what constitutes foul play and cornhole slang!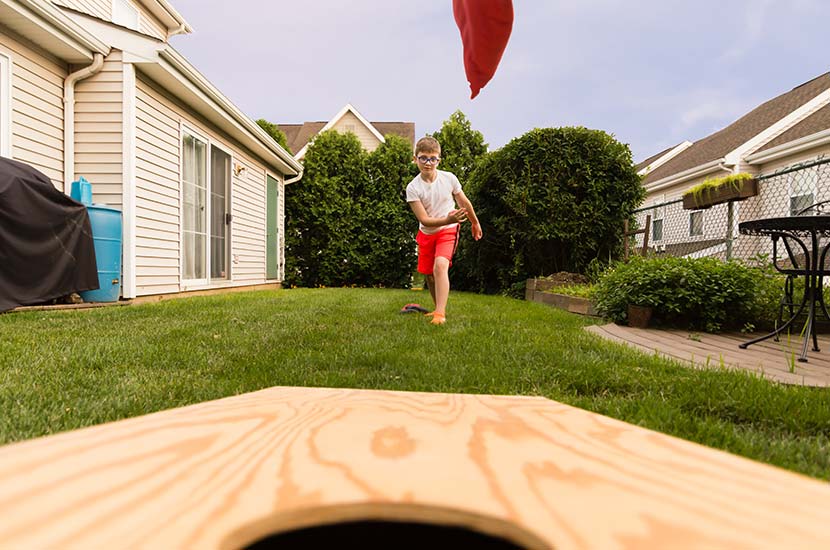 Let's get straight to it! Here is how set-up and scoring works in cornhole:
Cornhole Set-Up: The Basics
Before you learn how scoring works in cornhole, you'll need to know how to set up the game. According to the official cornhole rules, the cornhole court is 8 x 45 feet (2.4 m x 13.7 m), meaning that the boards should be 27 feet apart (8.2 m) when measured from edge to edge. However, if you're playing casually and you don't have enough space, you can set them up 24 feet (7.3 m) apart. In junior games, the distance is usually 21 feet (6.4 m). If you want to play in your own backyard, find the best cornhole boards here.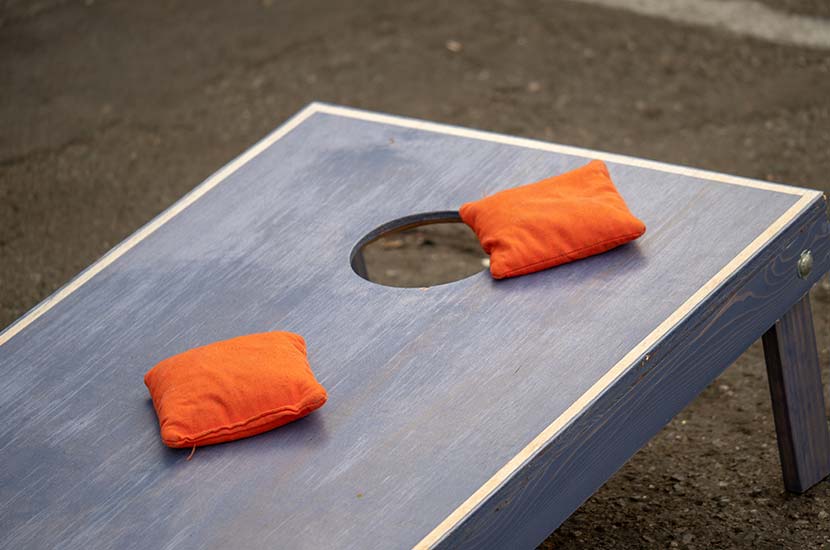 Earning points in
cornhole
is pretty simple:
A bag that goes through the hole counts for three points
A bag on the board counts for one point
A bag that hits the ground counts for zero points
Note that the cornhole bags are counted after the inning is completed. So, if a cornhole bag does not initially go through the hole, but is later pushed through by another, that counts as three points. Similarly, if a cornhole player knocks their opponent's bag off the board, that will not be counted. If you haven't played before, learn how to throw a cornhole bag here.
The thing that makes cornhole scoring slightly more complicated is that it makes use of cancellation scoring. That means that at the end of a frame, only the cornhole team with the most points scores. That score is calculated by subtracting the points of the team with the lower score from the points of the team with the higher score. For example, if one team earns five points and the other team earns seven points, the 5 is subtracted from the 7 and the final score is two points to zero.
Other Options For Scoring
If you want a quicker cornhole game, you can choose to simply add up all the points at the end of a frame.
If you want to make the game last longer, you can give -1 point for fouls and bags that don't make it onto the playing surface.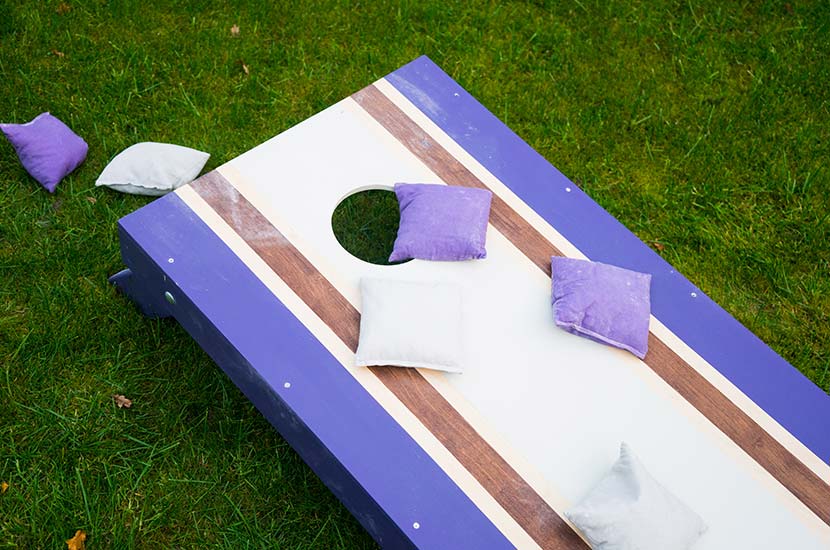 The following actions are considered foul bags and thus do not score points.
Stepping over the foul line (at least one foot must be completely behind the line at the time of release).
Throwing from the wrong pitcher's box. Bags must be thrown by the same player from the same pitcher's box from the start of each inning.
A bag hitting the ground and then making its way to the cornhole board.
A bag hitting anything other than the board, such as a tree or power line.
Pitching a bag more than 20 seconds after the start of the inning or from the previous player's toss.
There are a few different methods for determining the winning team in cornhole.
Play To 21+
In a traditional cornhole game, the first team to reach or exceed 21 points wins. This is still the most common scoring system.
Play To Exactly 21
If you want to make the game harder or last longer, you can set house rules to play to exactly 21. That means that if a team scores more than 21 points, their score reverts to 13 or 15 and the game continues.
Win By 2
Another way to complicate the scoring is to play so that one team is only declared the winner if they beat the other team by two or more points.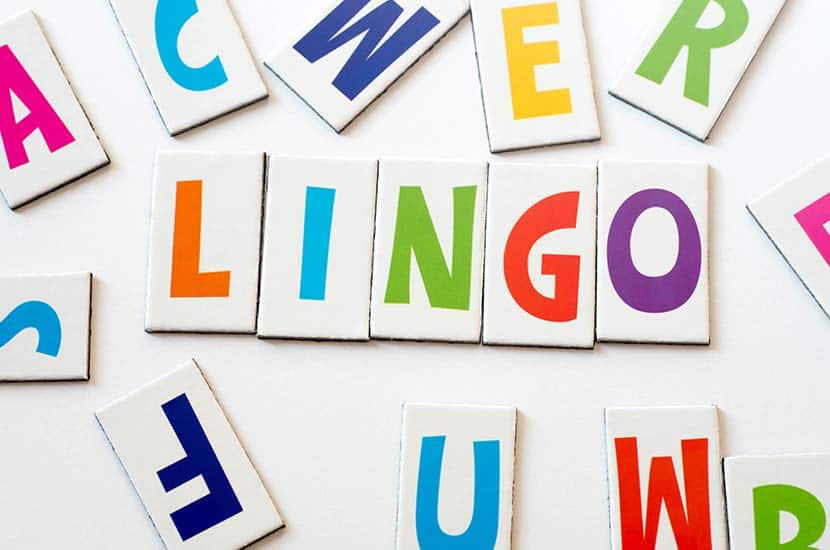 Cornhole, Holer, Corn In The Hole: Getting a cornhole bag in the hole.
Dos Cornholes: When you throw two bags in the hole.
Holy Moly Triple Cornholy: When you throw three bags in the hole.
The Great Cornholio: Someone who succeeds in throwing four bags in the hole. All persons present must bow down to the great cornholio!
Woody, Boarder: A cornhole bag that makes it onto the board but not through the hole.
Corn On The Cob: When every bag a player throws ends up on the board.
Nothin' But Corn: When a bag is tossed through the hole without touching the board at all.
Get That Corn Outta My Face! A term used when you successfully counteract your opponent's attempt to score. For example, if you successfully knock an opponent's bag off the playing surface.
Who Picks Side And Throws First?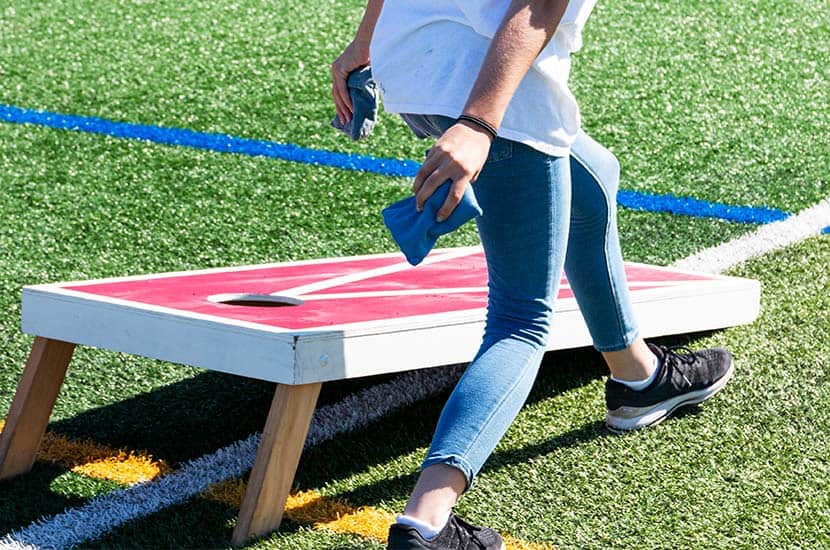 To decide who picks side and throws first, you can use any method you like, such as flipping a coin. However, after the game has begun, the player or team who scored in the preceding frame throws first in the next frame.
If neither team scores, the team who pitched first in the last frame will pitch first again.
What If A Foul Bag Hits The Other Bags?
If a foul cornhole bag hits the other bags, these bags should be moved back to their previous positions and no points calculated. For example, if a foul bag hits another one off the cornhole board, the foul bag should be removed and the hit one placed in the position it was in prior to being hit.
What If I Drop My Bean Bag?
If you drop your bean bag, you can retrieve it and throw it again without penalty. Cornhole bags that have been accidentally dropped prior to pitching are not considered foul. However, if this causes you to take longer than 20 seconds to pitch, this counts as a foul as per the official rules.
What If I Throw Out Of Turn?
If you throw out of turn, this is considered a foul. As such, you will not score any points and if your pitched bag has caused any others to move, these should be returned to their original positions. However, if you have already thrown two cornhole bags before anybody realizes the mistake, the bags are not considered fouls.
Who Keeps The Cornhole Scoring?
The cornhole players themselves keep the cornhole scoring in a typical game of backyard cornhole. However, in an official competitive cornhole game, a third party is employed to keep score.
When you play cornhole, you can simply write down the scores as you go or keep score with a scoring app or magnetic scorekeeper.
Frequently Asked Questions
You score 21 in cornhole by scoring more points than the opposing team enough times that your score adds up to 21 points. Traditionally, cornhole makes use of cancellation scoring, meaning that you only score points in a frame if you score more points than the opposing team and your score is calculated by subtracting the opposing team's points from yours.
You score 2 points in cornhole by throwing two bags onto the board. Some people add their own house rule that a bag that ends up hanging over the hole counts for two points. However, this is not part of the official cornhole rules, which only allow for one or three point scores.
The team that scored in the previous frame throws first in cornhole. If neither team scored, the team that threw first in the previous frame retains that privilege in the next inning. When the game begins, you can simply use a coin flip or any method you like to decide who pitches first.
And that's it – everything you need to know about how to score cornhole. Cornhole rules and scoring are pretty simple, but there are a few details you'll need to check occasionally, so you may want to keep this article open while you play. Now go out and enjoy this awesome tailgate game!