A pool table is an excellent investment if you're looking to enjoy fun game nights and style up your home. This fancy game table comes in various colors, designs and sizes. However, one of the major constraints you're likely to face when buying is moving pool tables due to their size and weight. So you're likely going to be asking – how much does a pool table weigh?
Pool tables do not have a definite weight as it varies depending on their size, material and structure. In this guide, we'll analyze various pool table types and sizes and provide details on how much they might weigh.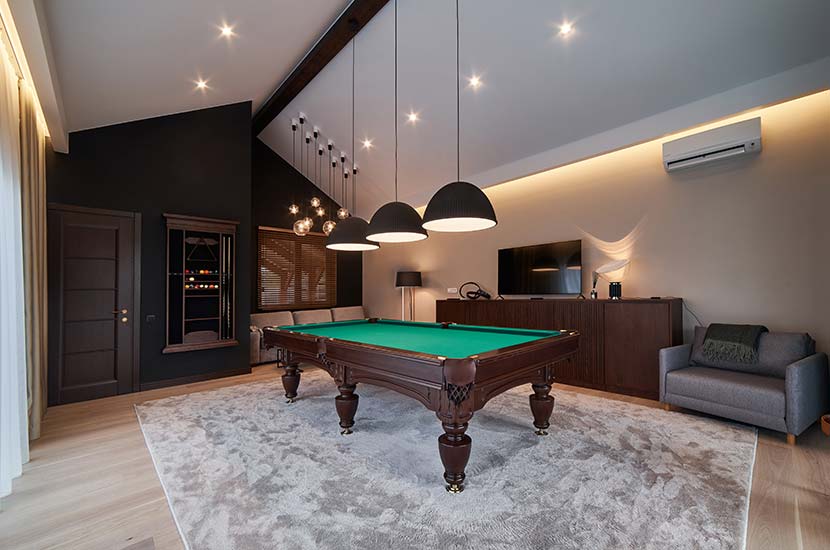 How much a pool table weighs depends on the size and the materials from which the table is made. Some materials weigh more than others, adding to the table's weight. Also, a larger table will obviously outweigh a smaller one.
Different Types Of Pool Tables And Their Weight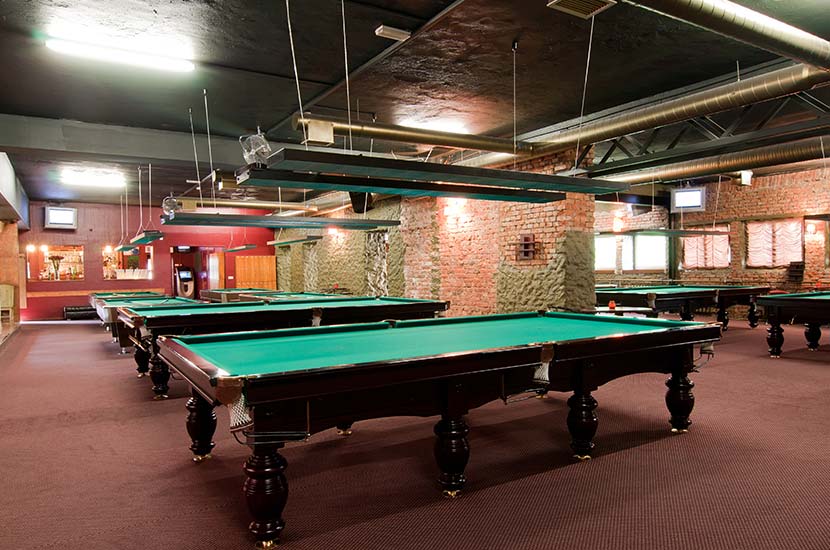 There are 4 major types of pool tables based on the materials from which they are made:
Slate pool tables
Wood pool tables
Metallic pool tables
Acrylic pool tables
Slate is a metamorphic rock made from volcanic ash. It is ideal for pool tables because it can be polished into a perfectly flat surface. Since it is scarce, pool tables made from this material are rare and expensive.
The weight of slate tables depends on the thickness and number of slates used in the table. Each slate bed weighs between 150 to 250 pounds (68 to 113 kg) and a large pool table will have more slates than a smaller one. In general, a slate table weighs between 650 to over 2,000 pounds (294 kg to over 907 kg).
Wooden pool tables usually come in smaller sizes in the form of small game tables for kids, but you may also find larger units. Wooden tables are relatively durable and lightweight.
A wooden pool table may also be heavy depending on the type of wood used. Those made from solid wood weigh more than units made from lighter wood. A wooden pool table weighs between 160 to 950 pounds (72 kg to 430 kg), with the MDF pool table being the lightest in this category.
A metallic pool table is an excellent choice if you're looking for an affordable yet durable pool table. Certain parts of these game tables are made of metal, such as legs and the table frame.
Higher-end metallic pool tables weigh between 500 to 600 pounds (226 kg to 272 kg). The cheaper ones can weigh even more, depending on their thickness and design.
Acrylic tables are great for pool enthusiasts looking for high-quality, lightweight options. In fact, one of the biggest selling points of these tables is their light weight. In addition, they can easily convert into air hockey tables, providing more options to enjoy fun activities. Acrylic tables are very light, weighing between 160 to 300 pounds (72 kg to 136 kg).
Different Pool Table Sizes – Average Weight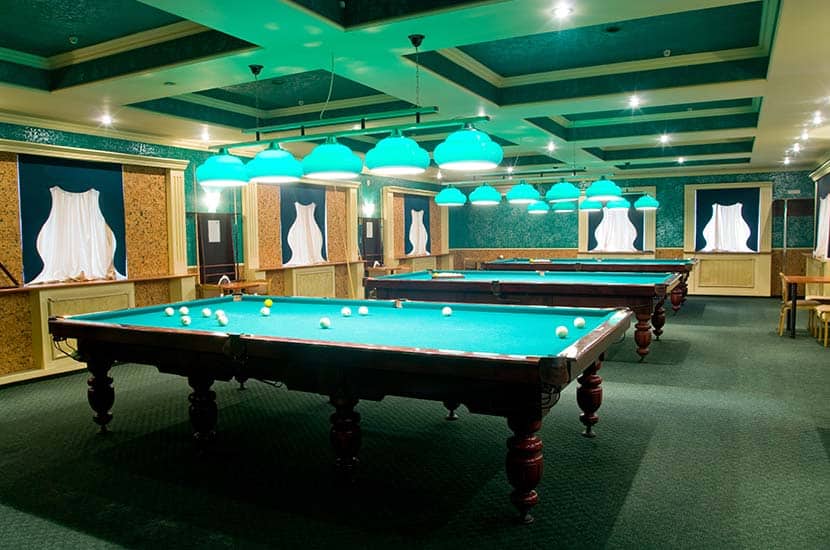 Here we'll discuss how much pool tables weigh based on their sizes.
A 6-foot (1.8 m) table is the smallest standard pool table you'll find. These tables are usually intended for home use, especially in case you have minimal space. Generally, a 6-foot pool table weighs between 160 to 600 pounds (72 kg to 272 kg), depending on the material it was made from.
7-foot (2.1 m) tables are usually called bar size because they are mostly used in bars. You may also find them in pool halls and people's homes. Expect these tables to weigh between 260 and 750 pounds (117 kg to 340 kg). Slate tables are usually the heaviest, weighing above 650 pounds (294 kg).
Wondering how much room is required for a pool table? Click here to find out.
8-foot (2.4 m) is considered the standard size for pool tables. 8-foot tables can weigh between 280 and 1,050 pounds (127 kg to 476 kg), with the weight varying based on the materials they're made from. You'll find slate tables of this size weighing 900 pounds (408 kg) and more, while those made from solid wood usually weigh around 350 pounds (158 kg).
9-foot (2.7 m) tables are quite heavy too. Consider this table only if you have a room with a floor that is able to handle a constant load. A 9-foot size table usually weighs between 400 and 1,350 pounds (181 kg to 612 kg). Those made from MDF and acrylic are the lightest in this category, usually weighing less than 500 pounds (226 kg).
Pro Tip: 9-foot tables are often used in tournaments. Anyone looking to become a professional player should consider a table of this size.
10-foot (3 m) tables are larger than the tournament standard sized tables. Most people choose a pool table of this size to make the game more challenging. These tables are a perfect option if you have a lot of space. 10-foot tables are mostly made from slate, weighing between 1,400 and 1,600 pounds (635 kg to 725 kg).
12-foot (3.6 m) tables are quite large. Like 10-foot models, they are usually made from slate. A 12-foot table generally weighs more than 2,000 pounds (907 kg), so be sure that you are able to move it and that you have enough space to accommodate it.
Factors That Determine The Weight Of A Pool Table
As we have seen, pool tables can vary in weight, which depends on a number of factors that we'll discuss below.
Pool Table Material: Slate Vs MDF
Several factors determine the weight of a pool table. One of them is material. The material under the pool table felt is an important factor that will determine the overall weight of the table. There are two options when it comes to the pool table material:
As mentioned earlier, slate is a type of rock and it's a well-known fact that rocks can be pretty heavy. So expect slate tables to be the heaviest and heftiest of all pool table types. The weight of a small slate pool table is about 650 pounds (294 kg), while the tables of a larger size can weigh up to 2,500 pounds (1,113 kg).
On the other end of the weight scale, there are tables made from MDF, also known as fiberboard. MDF is made from wood shavings and scrap wood which has been processed and compressed into planks. MDF tables are much lighter and can weigh as little as 150 pounds (68 kg).
Do you need a pool table to play outdoors? Visit our blog post to see the best outdoor pool tables.
As expected, the other factor that determines pool table weight is its size. The size makes a lot of difference because a larger table occupies more space and weighs more than a smaller one. For instance, a 12-foot pool table will weigh more than a 6-foot table if made from the same material.
The comparison chart below shows MDF and slate pool table weights in relation to their sizes.
| Table Size | MDF Table Weight (Pounds) | Slate Table Weight (Pounds) |
| --- | --- | --- |
| 6-Foot Table | 160 – 200 | 480 – 550 |
| 7-Foot Table | 250 – 300 | 950 – 1,100 |
| 8-Foot Table | 300 – 350 | 1,200 – 1,400 |
| 9-Foot Table | 420 – 470 | 1,400 – 1,600 |
| 10-Foot Table | 580 – 620 | 2,400 – 2,600 |
Apart from the material and size, you should also pay attention to the table's structure. For example, slate pool tables need to have a firm structure that will be able to bear the weight of the slate bed. The supporting materials determine how sturdy and durable the table is.
Do I Need To Reinforce My Floor?
No, you do not need to reinforce your floor before bringing a pool table upstairs. Most floors are able to bear more weight than a pool table. Even though some pool tables can be pretty heavy, the weight is distributed evenly, so your floor won't be overloaded.
You don't need to worry about your pool table falling through the floor unless the floor has significant structural damage. As long as your pool table can fit into a room, a solid floor will carry the weight.
Frequently Asked Questions
If you have followed all the way through, you finally have the answer to your question – how much does a pool table weigh? To sum up, these game tables do not have definite weight. A pool table made of MDF or acrylic can weigh as little as 160 pounds (72 kg). On the other hand, a 12-foot (3.6 m) slate pool table could be over 2,500 pounds (1,133 kg) in weight.