It's that time of the year again! Your family and friends have gathered together for another season of the holidays and you're racking your brains about what to do. Now that you will be spending time with your family and loved ones, you're looking to keep them entertained. What better entertainment than some good old trivia to get your loved ones to use their noggins and compete against each other in a fun and carefree game? To keep it in the spirit of the holidays, we have compiled an extensive list of Christmas trivia questions and answers you can ask and answer on Christmas Eve and Christmas Day. We hope you'll enjoy it!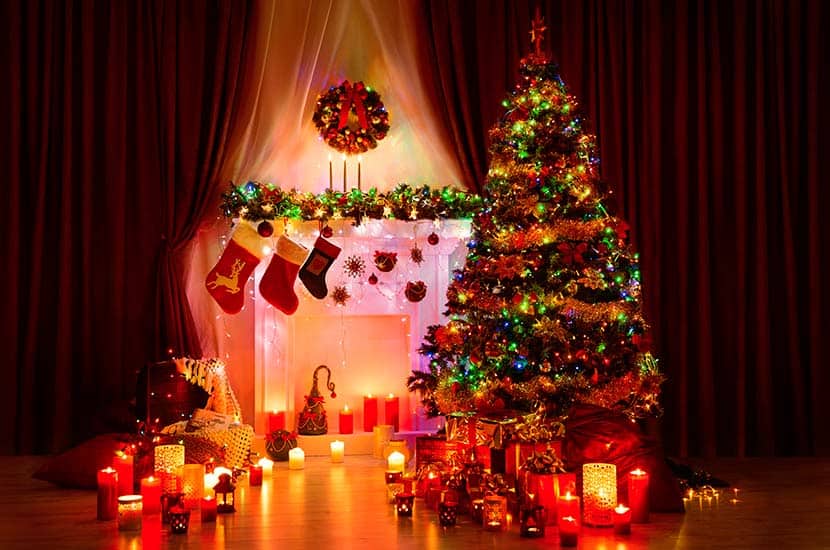 Now, without further ado, here are some fun Christmas trivia questions to ask.
Family Christmas Trivia Questions And Answers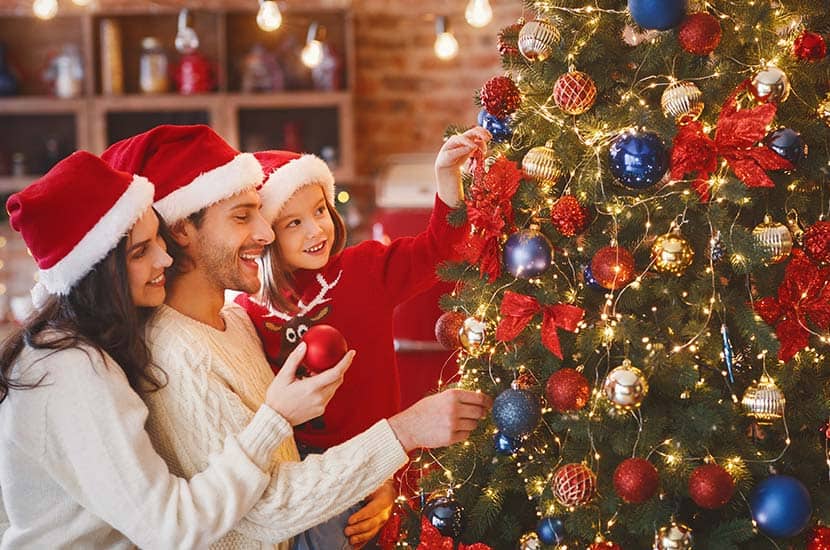 What percentage of the annual retail purchases are made during the Christmas season?
19%.
How many Christmas gifts end up being unused?
A quarter.
What do we call a snowman in the song "Winter Wonderland" by Bing Crosby?
Parson Brown.
In percentage terms, how many people in the world celebrate Christmas?
32%.
What were the original decorations on Christmas trees?
Nuts and berries.
What is the Christmas wreath representative of?
The crown of thorns Jesus wore.
Why are the 12 days of Christmas called as such?
Because that's how long it took the kings to travel to the birthplace of Jesus.
What is the most watched Christmas romantic movie?
Love Actually.
What is the largest Christmas gift ever given?
The Statue of Liberty.
How long does the Christmas holiday season last?
From late November to early January. 
If you are a fan of board games, check which types of board games are great for you to bond with your family. If you're into avoiding technology addiction, we have reviewed some excellent pen and paper games you can play with your loved ones.
Christmas Movie And TV Trivia Questions And Answers
In "The Holiday", which paper from Britain does Iris write for?
The Daily Telegraph.
How many siblings does Kevin from "Home Alone" have?
Four.
In "Elf", what are Buddy's four main food groups?
Candy, candy canes, candy corns and syrup.
What is the group name for the pair of burglars from "Home Alone"?
The "Wet Bandits".
In "Santa Clause", who helped Scott get out of jail?
The E.L.F.S helped him.
Fill in the blank: "Every time a bell rings, _________________." This is a line from "It's a Wonderful Life".
An angel gets his wings.
How long do Hallmark Christmas movies take to make?
Two weeks.
What are the three words The Grinch can be described with?
Stink, stank, stunk.
What are the two fathers searching for in "Jingle All The Way"?
A Turbo Man action figure.
What's the name of the Grinch's dog in "How the Grinch Stole Christmas"?
Max.
In "The Santa Clause", what was Scott Calvin's job?
Toy salesman.
What is the most popular adult Christmas movie?
Bad Santa.
What story is "Frozen" based on and who wrote it?
The Snow Queen by Hans Christian Andersen.
In "A Christmas Prince", what is the main heroine's job?
Journalist.
In "A Christmas Prince", Amber finds out something shocking about Prince Richard. What is it?
He's adopted.
What does Ralphie get from his aunt in "A Christmas Story"?


A pink bunny suit.
Christmas Carols And Songs Trivia Questions And Answers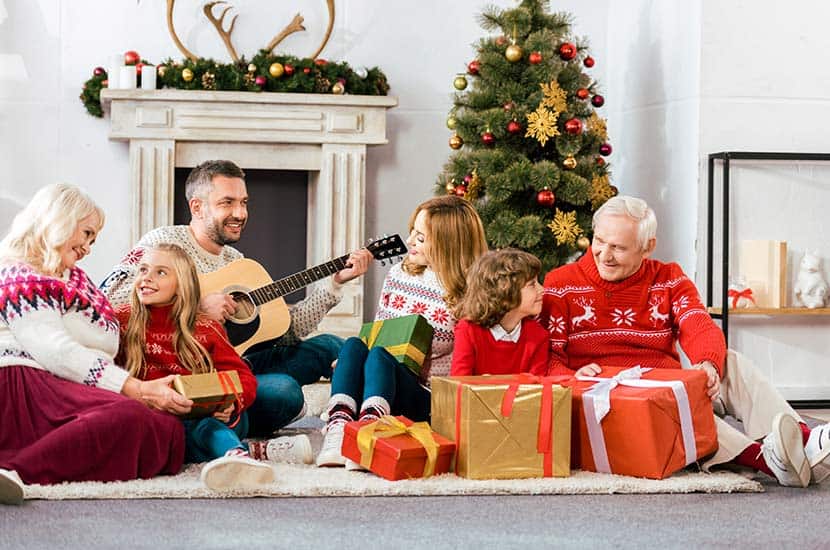 In the Christmas song "Twelve Days of Christmas", what is the 10th day gift?
Ten lords a-leaping.
Complete the lyrics from "Hark! The Herald Angels Sing": "Peace on Earth and mercy mild, ____________________."
God and sinners reconciled.
What does Alvin want for Christmas in "The Chipmunk Song"?
A Hula-Hoop.
Which Christmas song was one of the first songs played in space?
"Jingle Bells".
Who is the songwriter who wrote the line: "Christmas doesn't come from a store, maybe Christmas perhaps means a little bit more"?
Dr. Seuss.
What holiday was "Jingle Bells" originally written for?
Thanksgiving.
When will the third ghost appear in "A Christmas Carol" according to the Ghost of Christmas Present?
"In his own good time".
In the popular Christmas song, where was mommy kissing Santa Claus?
Under the mistletoe.
What is the most published Christmas Hymn?
"Joy to the World".
What is another name for "O Tannenbaum"?
"O Christmas Tree".
What brought "Frosty the Snowman" to life?
A magical silk hat.
In "A Charlie Brown Christmas", who wins the Christmas decorating contest?
Snoopy.
In "It's a Wonderful Life", who is George Bailey's guardian angel?
Clarence.
How many roles did Jim Carrey play in Disney's adaptation of "A Christmas Carol"?
Eight.
How many horses pull the sleigh in "Jingle Bells"?
One.
In "A Christmas Carol", Scrooge has a faithful employee named…
Bob Cratchit.
How many gifts were received in "The 12 Days of Christmas"?
364.
Religious Christmas Trivia Questions And Answers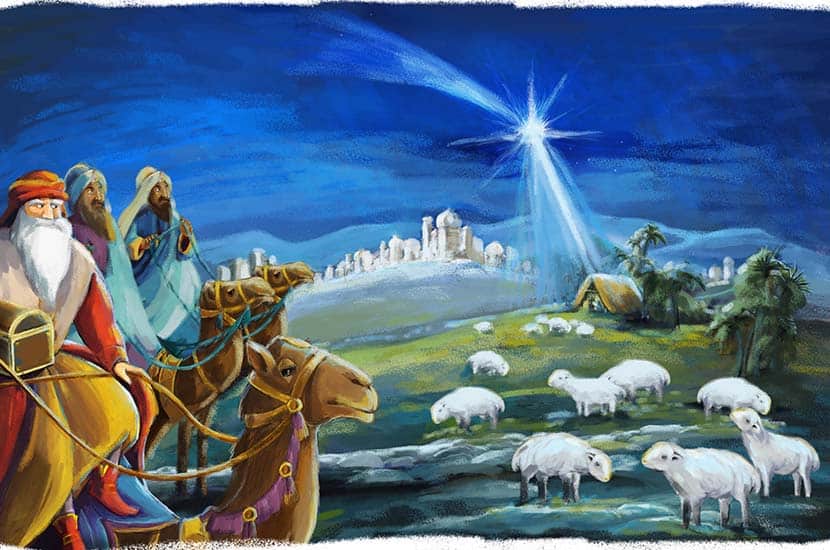 Why did Mary and Joseph want to move to Bethlehem?
To register for the census.
Which gospels preach the story of Nativity?
Gospel of Luke and Gospel of Matthew.
In which modern country would you find the city of Bethlehem?
Israel.
What was the river Jesus was baptized in?
River Jordan.
In which city was Jesus presented in the Temple?
Jerusalem.
How many angels spoke to the shepherds?
One.
The wise men traveled to Jerusalem from the East or the West?
East.
What happened after Jesus stepped out of the river after being baptized?
A voice from Heaven announced that Jesus is the Son of God.
Which of the twelve tribes did Jesus descend from?
Tribe of Judah.
What was Joseph's profession?
Carpenter.
After Jesus was born, who visited baby Jesus second?
The Magi.
On December 24th, the early churches celebrated what holiday?
Adam and Eve's Day.
What does Epiphany celebrate?
The Wise Men who visited baby Jesus.
Christmas Trivia Questions And Answers About Santa Claus For Kids
In what two countries is Santa Claus known as "Pere Noel"?
Belgium and France.
In what two US states are there towns called "Santa Claus"?
Indiana and Georgia.
Where does Santa Claus live?
Santa lives at the North Pole.
On what real-life person is Santa Claus based?
Saint Nicholas.
Reindeer Christmas Trivia Questions And Answers For Family Or Friends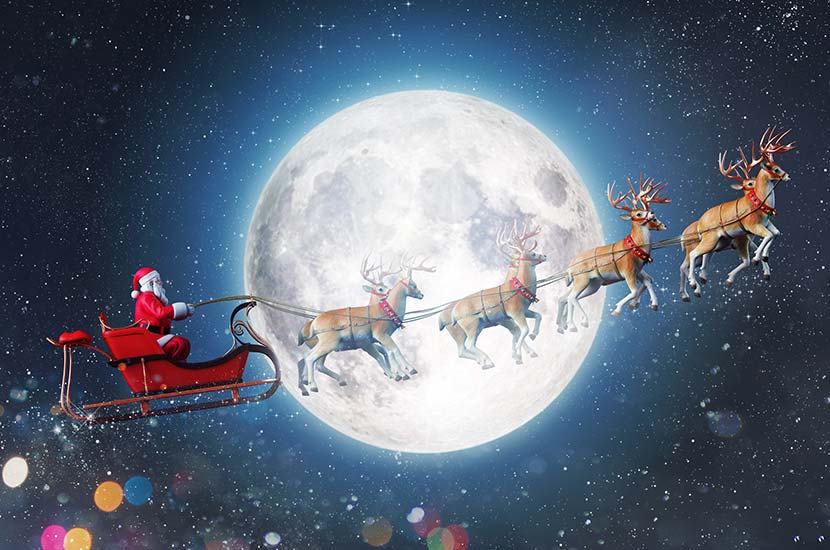 Which of the reindeer is named after another animal?
Vixen (fox).
Which department store is credited for creating Rudolph the Red-Nosed Reindeer?
Montgomery Ward.
Which reindeer's name means "Thunder" in German?
Donner.
What do Santa's Reindeer use to fly through the sky?
Magic.
Which Santa's reindeer is the fastest?
Dasher.
Which mountains in Canada are named after Santa's eight reindeer?
The Christmas Mountains.
What was the first poem to mention Santa's reindeer?
"Old Santeclaus with Much Delight".
What is the name of Rudolph's son?
Robbie the Reindeer.
Which of Santa's reindeer is named after a Greek God?
Cupid.
Which reindeer was mentioned first in the song "A Visit from St. Nicholas"?
Dasher.
What were Donner and Blitzen called initially?
Dunder and Blixem.
What is the name of Rudolph the Red Reindeer's mom?
Mitzi.
How many reindeer are mentioned in the poem "Twas the Night Before Christmas?"
Eight.
Christmas Traditions & Cultures Trivia Questions And Answers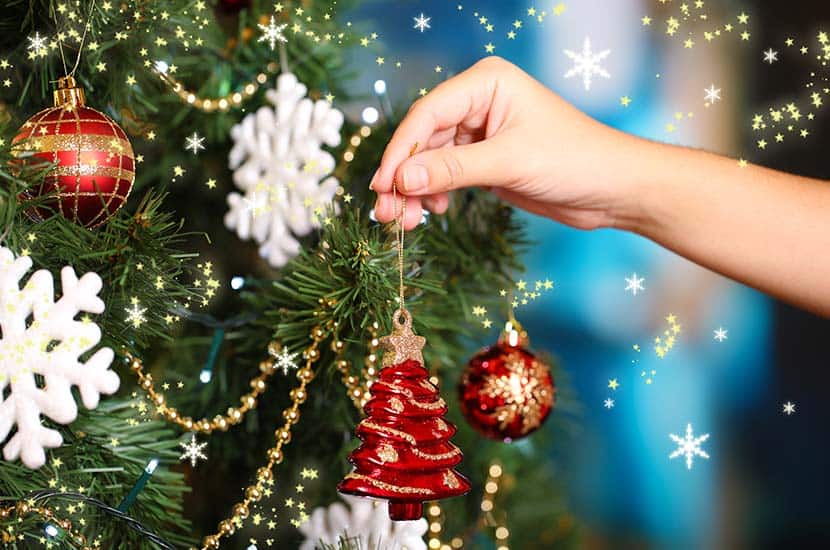 What traditional Christmas decoration was initially placed on top of the Christmas tree?
An Angel.
Which country has the longest-running Christmas parade?
Peoria, Illinois, has been holding the Santa parade since 1887.
Which country has a story that a witch dropping gifts comes around during Christmas time?
Italy.
What Norse God is said to have inspired the character of Santa Claus?
Odin.
What do people call Santa Claus in Italy?
Babbo Natale.
What do Germans call the Christmas season?
Yuletide or Yule.
Which country has the tradition of lighting candles and praying for loved ones on Christmas Eve?
Finland.
When is Epiphany celebrated?
Twelve days after Christmas, on January 6th.
What do Bolivians celebrate on Christmas Eve?
Misa del Gallo or "Mass of the Rooster".
Bolivians believe the rooster was the first animal to announce Jesus's birth.
What is the name of the Colombian holiday honoring Mary before Christmas time?
Little Candles' Day.
In France and French speaking Canada, they don't exchange gifts on Christmas Day, but…
The night before Christmas Day, commonly called Le Réveillon de Noël.
What do people usually place in their homes and stables to ward off evil spirits?
Evergreen foliage.
Which fruit is traditionally put in stockings?
Oranges.
What nation usually eats "Wigilia Supper" at Christmas time?
Poland.
In which country is Santa commonly referred to as Santa-San?
Japan.
What do children in Chile leave for Santa Claus?
Pan de Pascua (sponge cake with fruit, ginger and honey).
Boxing Day Questions And Answers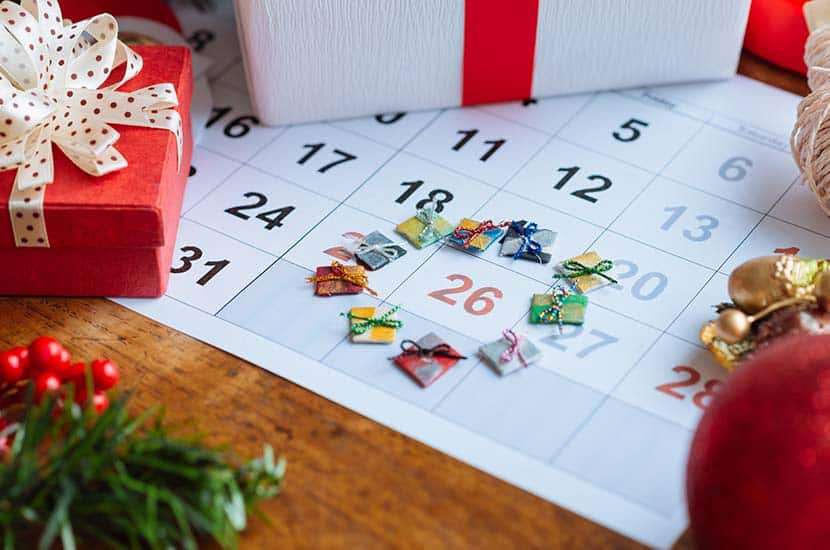 What was Boxing Day previously called?
The Feast of St. Stephen.
Who originally received praise and gifts during Boxing Day?
Servants, postmen and people of similar occupations.
How many states celebrate Boxing Day?
Six.
What places in Asia celebrate Boxing Day?
Just Hong Kong.
Which countries in Europe celebrate Boxing Day?
The UK and Ireland.
Which countries celebrate Boxing Day in the Americas?
Canada, the Bahamas and six U.S. states.
What countries celebrate Boxing Day in Africa?
Nigeria and South Africa.
What countries celebrate Boxing Day in Australia and Oceania?
Australia and New Zealand.
What is Boxing Day primarily known as?
A shopping holiday.
What do people traditionally do on Boxing Day?
People usually play and watch sports on Boxing Day.
Christmas Nativity Questions And Answers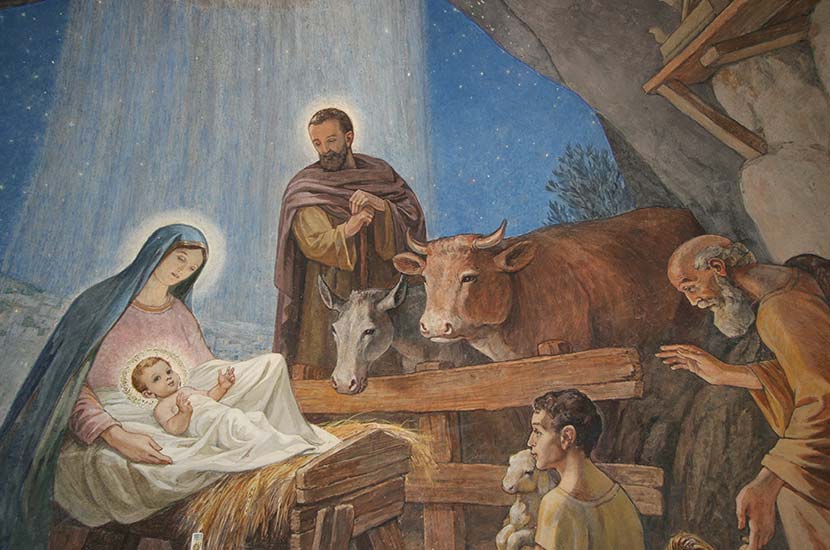 In what building was baby Jesus born?
In a manger.
What did the kings and shepherds follow to find Jesus Christ?
A star.
Why couldn't Mary and Joseph find a place to stay in Bethlehem?
Because the inn was full.
What did the angel say to the shepherds?
"Glory to God in the highest and on earth peace, good will to all men".
How many wise men visited baby Jesus?
Three Magi visited baby Jesus.
"Immanuel", the other name for Jesus means what?
God with us.
What is the name of the prophet who foretold the virgin birth?
Prophet Isaiah.
The news of Jesus's birth was spread by who?
The shepherds.
Where did Mary and Joseph live before the birth of Jesus?
Nazareth.
Which animals are believed to have been present at the birth of Jesus?
Donkeys, cows and lambs.
Funny Christmas Trivia Game Questions And Answers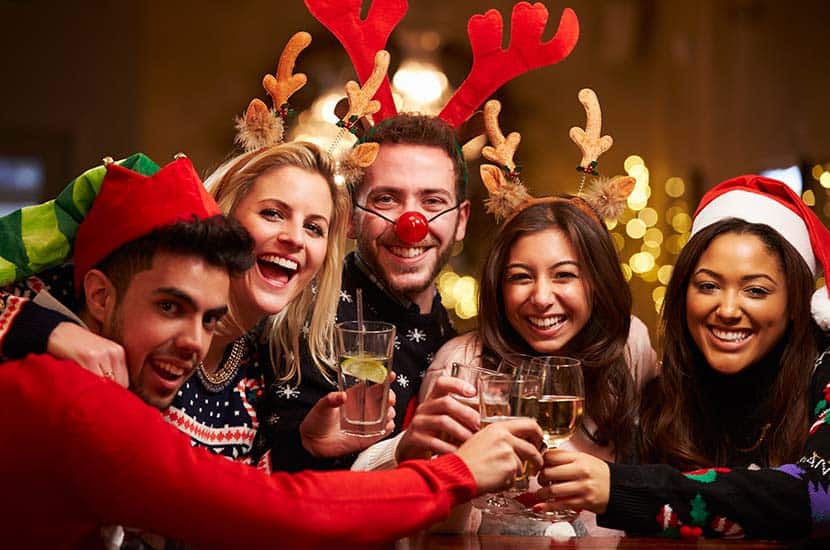 Why does Scrooge from "Christmas Carol" like darkness?
Because it costs less money.
What was the record for most Santas gathered in one spot?
18,112 Santas gathered in Thrissur, Kerala, in 2014.
What does Santa's belly shake like?
A bowl full of jelly.
Teddy Bear, a popular Christmas toy, was based on what politician?
Theodore "Teddy" Roosevelt.
What is the annual gathering of Elves in Alabama called?
Elfapalooza.
What is the toy with magical superpowers that spies on children during the holidays?
Elf on the Shelf.
How many people gathered to form the largest human Christmas tree ever?
4,030 people.
Christmas Food Questions And Answers For Adults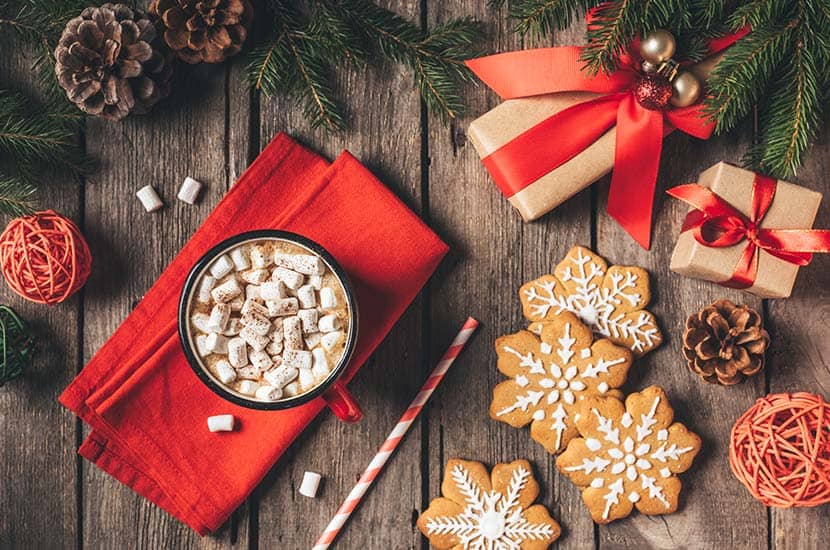 What is the food made of small bacon-wrapped sausages and usually served during Christmas in Britain called?
Pigs in Blankets.
Which continent does a traditional Christmas dinner turkey come from?
North America.
In which direction should you stir mincemeat for good luck, clockwise or counter-clockwise?
Clockwise.
When following a traditional Bread Sauce recipe, what should you stick into an onion?
The Cloves.
How many turkeys are cooked during Christmas each year?
22 million.
When was the first gingerbread cookie recipe made in Europe?
11th century.
What are the three most common types of meat eaten during Christmas dinner in Germany?
Duck, Goose and Rabbit.
What are the two most popular sweets solely associated with Christmas?
Candy canes and Gingerbread men.
What do children in England leave for Father Christmas?
Mince pies and sherry.
Is Plum Pudding made out of plums?
It used to be, these days, people opt for chocolate most of the time.
What does Plum Pudding on Christmas day signify?
It's said that Plum Pudding needs to contain 13 ingredients to represent Jesus and his twelve disciples.
How did Mince Pies get their name?
They were initially made with minced meat instead of fruits.
What dessert is known as "Edible Eggnog" in England?
Creme Anglaise.
Christmas Drinks Questions And Answers For Adults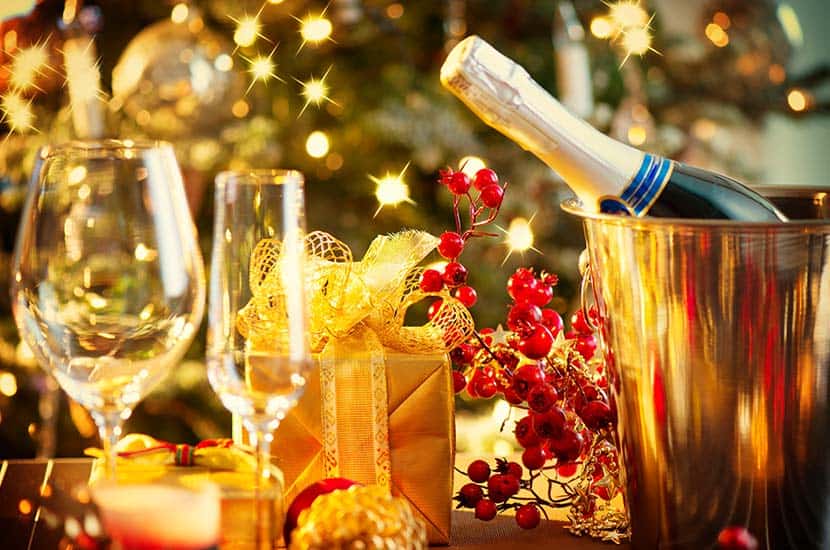 Which alcoholic beverage is used as a base for a Christmas trifle?
Sherry.
A popular Christmas beverage, hot mulled wine, is made of what?
Red wine, spices and sugar.
In a Snowball cocktail, what is the primary alcoholic ingredient?
Advocaat.
Served with Christmas pudding, which spirit is traditionally added to butter?
Brandy.
What holiday drink is popular in the UK and tastes of cinnamon, caramel and orange?
Winter Pimm's.
Which nation invented the popular Christmas drink Eggnog?
England.
A popular Christmas drink, Port, forms a crust at the top that looks like an insect's wing. Which insect's wing does it look like?
Bee (Beeswing).
What is the popular drink with a fawn mascot invented by Francis Showering?
Babycham.
When is National Eggnog Day celebrated?
December 24th.
Easy Christmas Trivia For Kids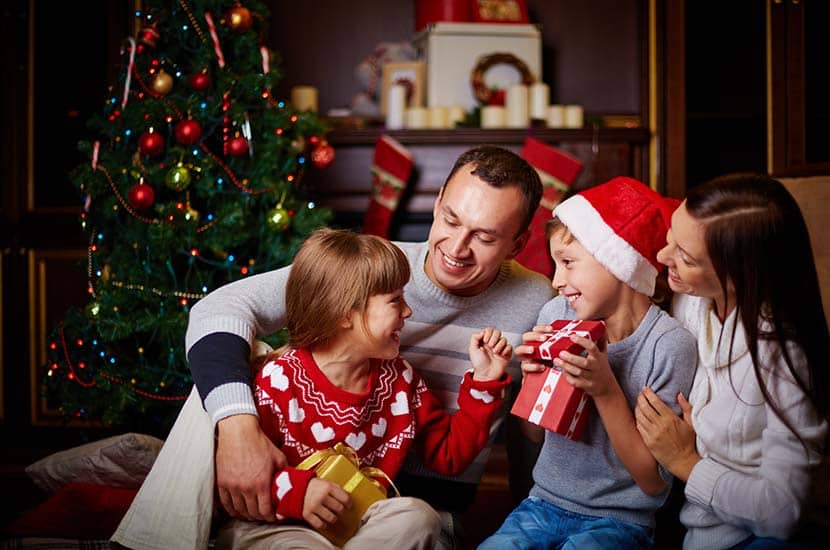 What is the most common phrase during Christmas time?
"Merry Christmas".
How many sides does a snowflake have?
Six.
What pudding is commonly known as "Christmas Pudding"?
Figgy Pudding.
What ornaments do Elves have on their shoes?
Bells.
Who lives in Whoville?
The Whos.
Who does Nutcracker battle?
The Mouse King.
On the first day of Christmas, what did my love send me?
A partridge in a pear tree.
The color of the Mistletoe berry is?
White.
What piece of clothing do you hang for Christmas?
Stocking, also known as socks.
Who are the three ghosts that visit Scrooge in "A Christmas Carol"?
The ghosts of Christmas Past, Present and Future.
Hard Christmas Trivia Questions And Answers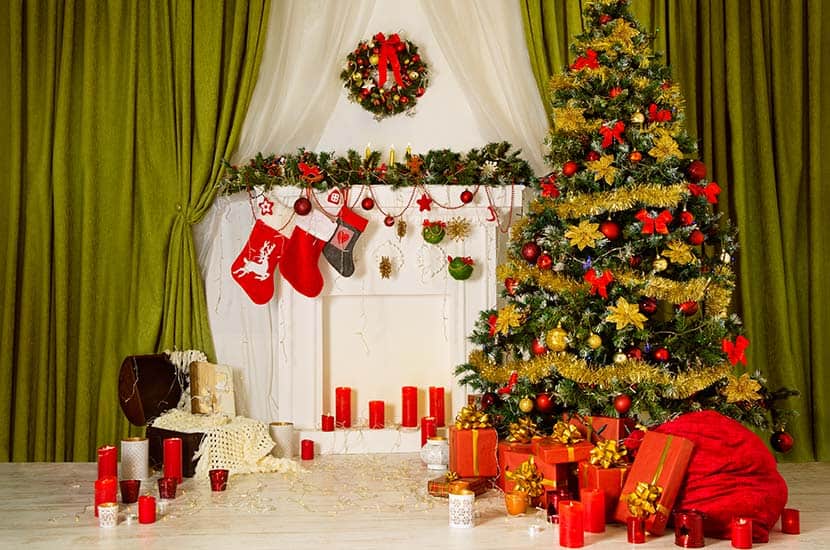 How many churches are devoted to Saint Nicholas?
2,000 churches.
What is the original name of "Twas The Night Before Christmas"?
"A Visit from Saint Nicholas".
Frank Baum, the writer of "Wizards of Oz", also wrote a Christmas book. What's its name?
"The Life and Adventures of Santa Claus".
What was the name of the girl who was the first one to ask The New York Sun newspapers if there really was a Santa Claus?
Virginia.
Where is Saint Nicholas buried?
Bari, in Southern Italy.
What was the first soft drinks company to use Santa Claus in their advertisements?
White Rock Beverages.
What year was Santa Claus born?
280 A.D.
Which was the last state to declare Christmas as an official holiday?
Oklahoma.
What is the most popular Christmas song by Elvis Presley called?
"Blue Christmas".
Why do Orthodox Christians celebrate Christmas Eve and Christmas Day on the 6th and 7th of January, respectively?
Because they use the Julian calendar.
Christmas Color Trivia Questions And Answers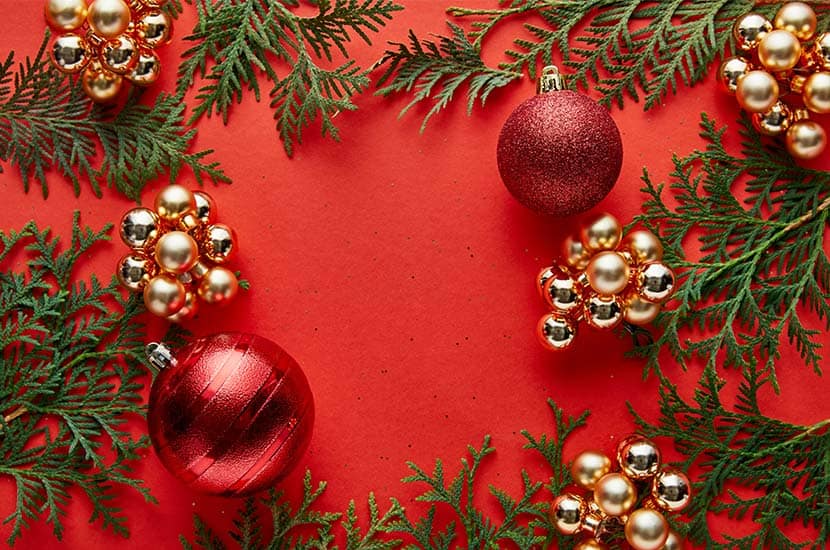 Candy canes are red and white but why is that?
Red represents the blood of Jesus and white represents his cleanliness.
What are the seven traditional colors of Christmas?
Red, green, white, blue, purple, pink and gold.
Why is Poinsettia one of the most popular Christmas flowers?
Because of its vivid red and green color.
What does the red color represent during Christmas?
Not only does it represent the blood of Jesus, but his teachings on compassion and love.
What does the green color represent during Christmas?
Green represents growth, harmony and, ultimately, resurrection.
What does the gold color represent during Christmas?
Two things, the first is that wise men brought it to Jesus as a gift and the second is the gold star they followed on their way to baby Jesus.
What does the white color represent during Christmas?
The white color represents how Jesus is sinless, spotless and pure. White also represents new beginnings.
What does the blue color represent during Christmas?
Blue signifies the healing power of God. It represents stability, faith and intelligence.
What does the purple color represent during Christmas?
The primary color of Advent, purple, represents repentance and fasting.
What does the pink color represent during Christmas?
Pink is the representation of care, love and compassion.
True Or False Christmas Trivia Questions And Answers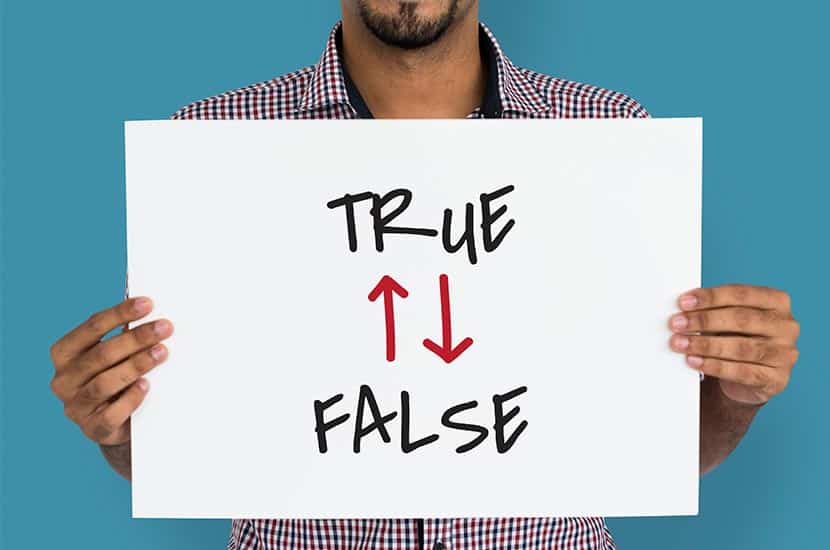 True or false: "Saint Nicholas is the patron saint of sailors, merchants, children and drivers."
False. Pawnbrokers, not drivers.
True or false: "Jesus was born on December 25th".
False. Jesus's birth was never specified.
True or false: "Santa lives at the South Pole."
False. He lives at the North Pole.
True or false: In "How the Grinch Stole Christmas", Grinch hated Christmas for 53 years.
True.
True or false: "34th Street is where Santa's miracle happened".
True.
True or false: "Santa Claus used Rudolph's nose as a signal light".
False. Santa Claus used it as a fog light.
True or false: "Queen Elizabeth I popularized the Gingerbread cookie".
True.
True or false: Three ghosts appear in the "Christmas Carol".
False. Four ghosts.
True or false: "Advent calendar dates back to the 19th century".
True.
True or false: "The full name of Dr. Seuss is Dr. Theodore Seuss Geisel".
True.
True or false: "Balsam, Douglas, Fraser and Noble are all types of Christmas trees".
True.
True or false: "Santa has more than 30 different names".
True.
True or false: "Over fifty Lego sets are sold each second during the Christmas season".
False. The average is 28.
True or false: "An original handwritten copy of "Twas a Night Before Christmas" was sold for a million dollars".
False. It was sold for 280,000$.
True or false: "Eggnog was invented in the 13th century."
True.
Miscellaneous Christmas Trivia Questions And Answers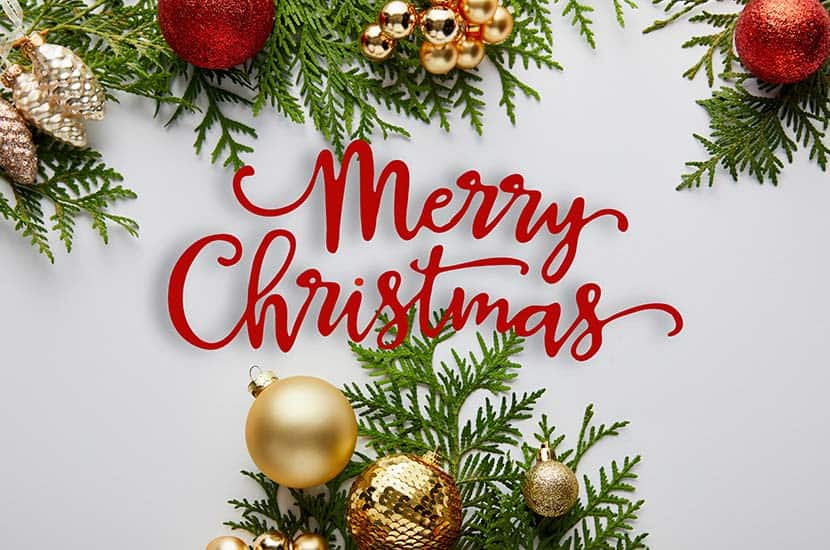 Who had the biggest hit song of her career titled "Santa Baby" in 1953?
Eartha Kitt.
Nutcracker, a popular Christmas-themed ballet, premiered in what year?
1892.
How much time did it take Charles Dickens to write "A Christmas Carol"?
Only six weeks.
When was the first Christmas card sent and who designed it?
1843. John Horsley designed it.
Who invented electric Christmas lights and when?
Thomas Edison in 1880.
In what decade did Coca-Cola begin using Santa Claus in its advertisements?
In the 1920s.
Who wrote "Twas the Night Before Christmas"?
Clement Moore.
What is the best-selling Christmas song?
"White Christmas" by Bing Crosby.
When was the first Christmas movie ever made and what was it called?
Santa Claus, 1898.
What is a Christmas tree also called?
A Yule Tree.
What part of the Christmas tree is healthy and is often used in tea?
Pine needles.
How many people end up at ER over Christmas decoration related injuries annually?
Tens of thousands. 18,000, to be specific.
What was the first year NORAD began tracking Santa Claus?
1955.
What is the highest-grossing Christmas movie ever?
The Grinch.
In early drawings of Santa Claus, what does he hold in his hand?
A birch rod.
When was the Christmas Cracker invented and by who?
By Tom Smith in 1847.
What was the first Christmas song to top the charts?
"Here in My Heart".
Download The FREE Printable Christmas Trivia Questions And Answers
Frequently Asked Questions
These are some interesting facts about Christmas:
Saint Nicholas was the real-life inspiration of Santa.
Japanese people celebrate their Christmas at KFC.
The Dutch were the first to leave milk and cookies for Santa.
See our list of the best Christmas trivia for kids or click here for other trivia. You can also click here to see the best trivia board games.
Here are 5 facts about Christmas:
Christmas became an official holiday in 354 A.D.
A Christmas tree grows for 15 years before it's sold.
America has celebrated Christmas since 1870.
Roosevelt banned Christmas trees in the Whitehouse in 1902.
The word "nog" in Eggnog comes from "gnog", meaning "a drink made of rum".
If you're playing solo this Christmas, check out our great one player game picks.
Here are some questions about "A Christmas Carol":
What does the Ghost of Christmas Past look like?
Who brings Ebenezer back from school?
Who asks Scrooge to donate charitably?
Which character says: "God bless us, everyone"?
Bob Cratchit has how many kids?
If you want to play board games or want to know what trivia game is best for your family to play together, you can find them on our blog.
Hopefully, you and your loved ones enjoyed our compilation of the best Christmas trivia questions and answers! We've put together a pretty hefty list that will surely keep everyone entertained during the Christmas holidays. Once you're done, there are plenty of other trivia games on our blog that you can check out. We wish you a Merry Christmas and happy holidays!