If you're looking to make this holiday season unforgettable and educational for your kids, then you've come to the right place! STEM activities can stimulate children's interest in learning and improve children's skills significantly. If you follow our list, you will find some of the best Christmas STEM activities to teach children the fundamentals of science and math and your children are sure to have a lot of fun too. The Christmas STEM activities we're about to show you will also help improve your children's creativity, competitiveness and teamwork and tighten the parent-child bond. We've compiled a list so extensive, you can do one of these each day until Christmas! So without further ado, let's dive into the Christmas STEM activities to do with your kids this holiday season.
You can give your kids a ruler to compare heights and make this activity even more educational.
The mixture gets extremely hot, so use caution when pouring the liquid and filling the shape kids created using pretzel sticks.
You can use DIY snow globes your kids made as DIY Christmas ornaments.
You can let kids pick fragrances for the bath bombs, which will make this a unique experience for them.
This activity provides a lot of room for creativity for kids. For example, they can create a beautiful landscape using artificial snow and a little plastic reindeer and Santa for example.
If you can't afford magnetic toys for kids, you can use simple craft supplies to make DIY Magnetic Ornaments. This is a fantastic classroom activity for students if you're a teacher.
If it were a parallel series connection, the result would have been drastically different, with just one light going out.
You can also add food coloring to create a colorful storm.
If you don't explain the Glowing Milk Magic process to kids, they won't understand it, so make sure you learn exactly what the chemical reaction is and how it works before doing this experiment.
Growing Your Own Christmas Tree experiment requires strong chemicals so constant adult presence is required.
When building igloos with marshmallows, you don't have to build houses; you can build anything you like.
In this experiment, children can eat too much sugar, so make sure not to let them go overboard.
Engineering Santa's Sleigh is a fun activity for older kids as well and you can easily use the results of this activity as beautiful ornaments.
Playing with play dough doesn't require much hand holding; just make sure children don't try to eat it.
You can compete with your children on whose reindeer flies the farthest, which is a lot of fun.
You don't have to do the entire thing in one day; you can follow the advent calendar and solve a new riddle each day.
The Benefits Of STEM Activities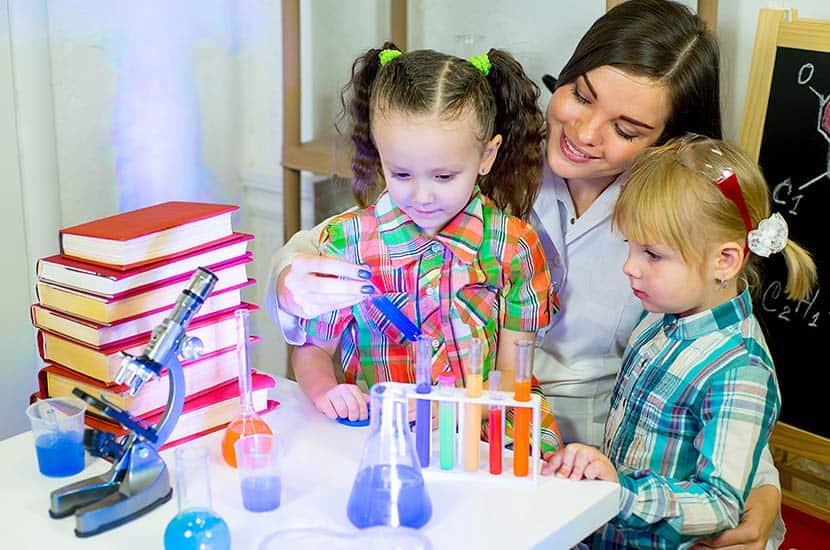 The benefits of STEM activities are numerous. STEM activities:
Help Improve Both Creativity And Ingenuity: This especially holds true for STEAM activities which include art as another key point.
Encourage Experimentation: Testing, comparing and improving STEM activities encourage the use of the scientific method.
Improve Problem-Solving Skills: STEM activities usually involve simple problems that need solving.
Encourage Competition And Teamwork: Tough STEM projects can't be done alone.
Increase Critical Thinking: Finding solutions is one of the key aspects of some STEM activities.
Improve Media Literacy: Books and online research are essential for STEM projects.
Boost Cognitive Skills: Finalizing a STEM project demands a lot of care and precision.
FREE Printable Holiday Countdown For Kids
Frequently Asked Questions
We hope you enjoyed our list of these fabulous Christmas STEM activities and we hope you use some of our ideas to have an unforgettable Christmas time with your family or students. If you're looking for some other great STEM projects and toys, we have plenty of choices on our blog. Happy holidays and Merry Christmas!