It's the Christmas holiday season again! Time to celebrate the holidays with your loved ones and make unforgettable memories. If you're wondering how to have fun with your kids and create beautiful memories this Christmas season, why not teach them some fun lessons by doing Christmas science activities together? You might think that children will be bored doing science activities during winter break, but using Christmas themes for the science experiments will make the kids interested and motivated so they'll be happy to take part in Christmas science activities and learn. So gather your children around and get down to some fun Christmas science experiments. Have a merry Christmas with these thrilling science experiments for kids!
You can use the fake snow for decorations and kids can create a snowy landscape using artificial snow, toys and ornaments.
Ice ornaments should not be used as Christmas decorations indoors since they will melt.
DIY Star Ornament is a Christmas science activity suitable for all ages since you can make it easier for younger kids or more challenging for older ones.
Do your best to keep kids interested during this experiment, as it may not be as fun as some other experiments.
No real glass is involved, so you don't have to be concerned about kids' safety during this activity.
Since there's teaching involved, Evergreen Science is also an excellent activity for a classroom.
This isn't necessarily a winter STEM activity since you can make any other shape with slime so this is also a great idea for spring STEM activities for kids.
You can make the Flying Reindeer more engaging for kids by getting kids to compete in whose reindeer flies the longest distance.
Why Kids Should Do Christmas Science Activities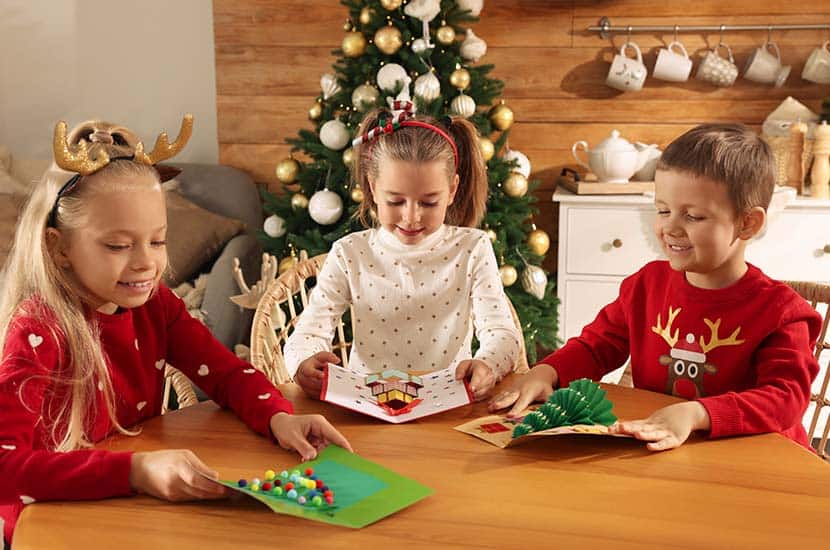 Kids should do Christmas science activities because they promote learning and allow children to practice their skills. Some of the benefits of Christmas science activities are listed below:
They facilitate learning and stimulate critical thinking.
Children express creativity and have fun on a relatively low budget.
Christmas-themed science makes kids more interested in learning.
They foster teamwork and collaboration and children develop their communication skills.
Children develop their research and problem-solving skills.
They can be used to start yearly family traditions.
Top Christmas Science Experiment Tips
Here are our best tips for carrying out Christmas science experiments.
Help your kid question everything they do and explore why things go the way they do.
Let them search for solutions independently unless it's a complex experiment.
Make sure the information they write down is correct.
Make sure they're retesting in the same settings.
Supplies For Christmas Holiday Science Activities
The Full List Of Christmas Science Experiments
Frequently Asked Questions
You can do many experiments with snow, such as:
Melting Snow Experiment
Snow Fort
Banana Hammer
Measuring Water In The Snow
Snow Volcano Experiment
Ice Cream Bag
Snowflake Science
How Color Travels Through The Snow
How To Make It Snow
Snow Sink Or Float Experiment.
You can find many more winter activities on our blog.
Warm water dissolves a candy cane the quickest. Water doesn't dissolve candy canes more quickly if additives like sugar or salt are added to it. Milk and juice dissolve candy slower than water. Water temperature affects how quickly candy canes melt because warm water has faster molecules that melt the candy cane more quickly.
To make Magic Snow, you'll need the following supplies:
Cold water
Cold baking soda
Vinegar
Bowl or container.
Pour four cups of baking soda into the bowl and add a bit of vinegar. Then slowly pour cold water into the bowl and mix until you get the desired snow-like texture.
Now you know what some of the best Christmas science experiments to do with your kids are. We hope you'll try one of these and have an amazing time with your family. Make some unforgettable memories with your kids this Christmas with these exciting activities and teach them some valuable lessons while they're still young. Happy holidays and merry Christmas!