One of the best things about bocce is that you don't need a standard game court to play. You may have seen people playing this sport in public parks, on the beaches or even in their backyards. However, some players prefer to play bocce on a regulation bocce court. This article will explain everything you need to know about the official bocce ball court size.
Bocce ball courts don't have the same design. Their size can vary significantly, depending on the space available. For example, a backyard court may be significantly smaller than a court in a public park. Even the size of competition standard bocce courts may vary depending on the competition and league.
Here, we'll provide details about the dimensions and playing surfaces of five different types of bocce ball courts.
The US Bocce Federation states that official bocce courts must be 86.92 feet (26.4 m) long and 13.12 feet (3.9 m) wide. All courts to be used in competitive bocce games must have these dimensions. Make sure the foul line is one inch (2.5 cm) from each back wall. Aside from the foul line, the other marked area in a bocce court is the centerline.
Note: An official bocce court surface may be made from stone dust, dirt, clay, grass or other artificial materials.
Standard Bocce Ball Court Size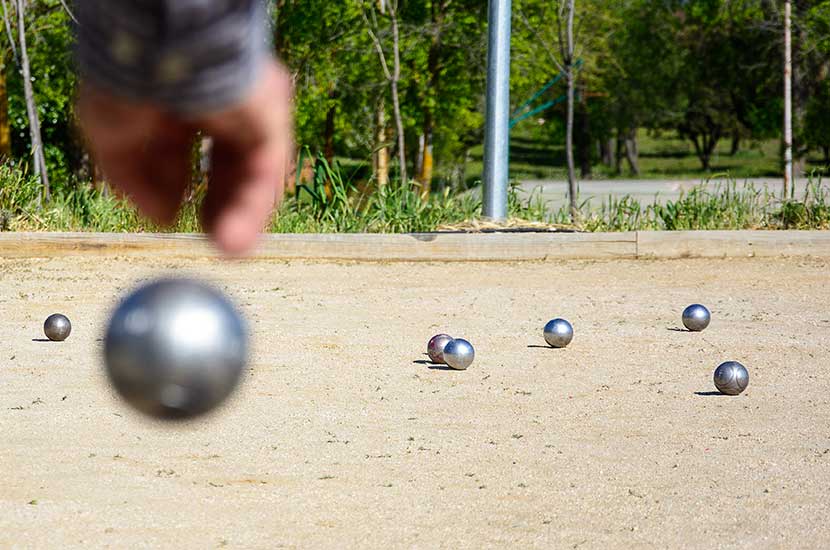 Standard courts might come in slightly different sizes compared to the official ones. Standard bocce ball courts are 13 feet wide and 91 feet long (3.9 x 27 m). These dimensions are quite different from the court dimensions you'll find in most sports arenas. However, the Ancient Romans played bocce on courts of this exact size.
Just like an official court, a standard bocce court surface can be made of various materials. Some of these courts also have side and backboards, which can assist you when making strategic rebound throws. You may use any material of your choice to construct the court's side and backboards, as long as it is firm and does not move during play. You should also make sure that the side and backboards are at least as tall as the bocce balls.
Mini Bocce Ball Court Size
Not all bocce courts have to be as large as official or standard courts. You can make a court of pretty much any dimension for casual play with friends or your kids. In fact, there's a variation of bocce for people with physical disabilities called "boccia". Boccia courts are 6 feet wide and 22 feet long (1.8 x 6.7 m), so they are much smaller than standard and official bocce courts.
Note: Mini Bocce courts typically have their foul lines less than 13 feet (3.9 m) from the end of the court.
Backyard Bocce Ball Court Dimensions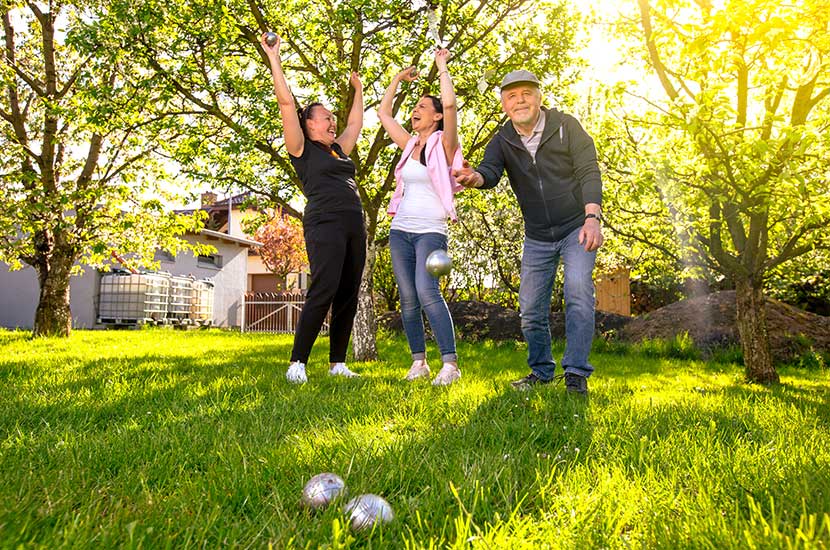 If you can set up a mini bocce court for your kids, nothing is stopping you from making a backyard court where you can play with friends. If you want something close to a regulation size court, consider making it 60 feet long and 12 feet wide (18.2 x 3.6 m). However, you can also strategically tweak the court dimensions to ensure that you're using the available space to the fullest.
Pro Tip: You can use sticks or chairs to mark the backyard court's dimensions before you start transforming the area.
Beach Bocce Court Dimensions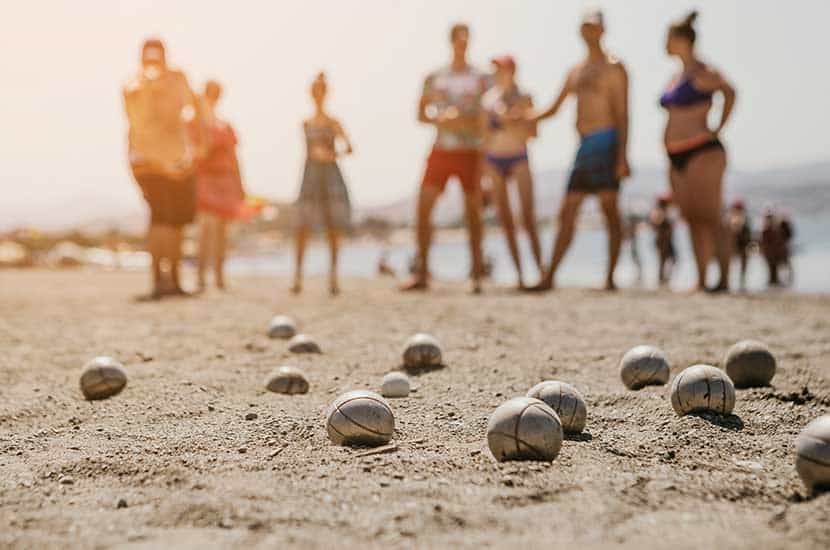 One of the best things about bocce is that the court doesn't take too long to set up. You can enjoy the game with family and friends or even play it on the beach. Choose court dimensions that you're comfortable with while taking the available space into account. If there's enough space, you can make a temporary standard court with dimensions of 13 feet by 91 feet (3.9 x 27.7 m).
Take some time to learn about the rules of bocce ball here.
What Are Bocce Ball Courts Made Of?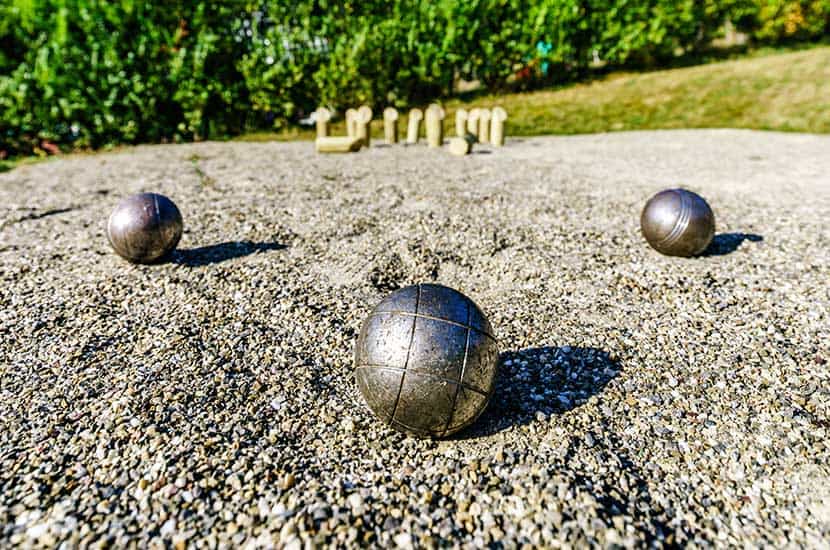 Bocce ball courts are made of a variety of materials, ranging from clay, grass, sand and dirt to artificial grass. As long as the playing surface is flat, you can play bocce ball on it. In ancient Greece, people made bocce courts with wood and surrounded them with stones that served as the court walls.
These days, you may find portable bocce courts made from thermoplastic. These units allow you to quickly set up a game and you can easily put them away when you're done. Communities and localities without the facilities for a standard bocce court can play the game on portable bocce courts.
Most standard bocce courts have backboards and sideboards that you can strategically use to increase toss accuracy while playing. Players can bounce their bocce balls off these side surfaces to bypass obstacles. Concrete and wood are the most common curbing materials for backyard courts. The curbs are usually about 6 inches (15 cm) tall to prevent balls from rolling out during matches.
Tip: When constructing a curb, ensure that you firmly anchor it into the ground to prevent it from moving when the ball strikes.
Best Surface For A Bocce Ball Court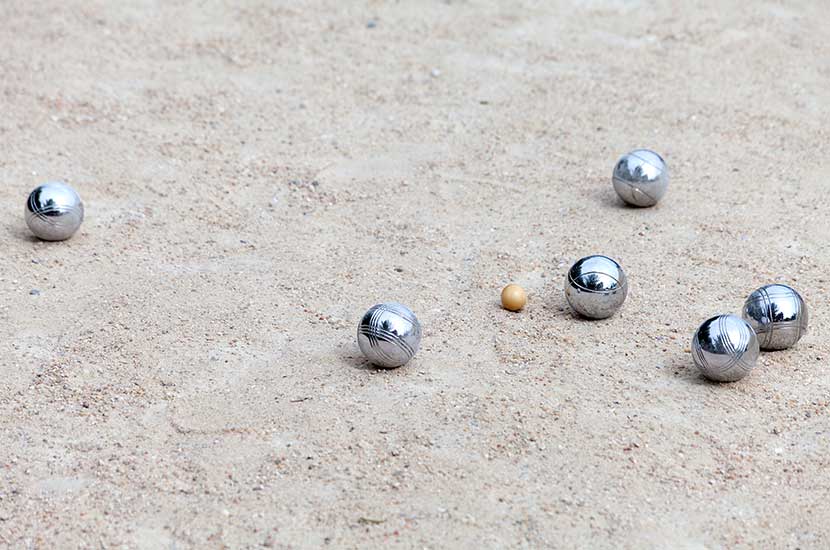 Some materials are more suitable for a bocce ball court. Let's look at some of the best playing surface options for bocce courts.
Oyster Shell – Crushed oyster shell is one of the surface materials commonly used for bocce courts. Because of its lightweight nature and loosefill, it is ideal for outdoor courts in areas with frequent rainfall. However, to keep the shells in place, this court requires regular maintenance and raking.
Sand – Sand is an inexpensive and environmentally-friendly material, making it the ideal playing surface material for bocce. The tenderness of sand surfaces helps reduce bounce during gameplay. That said, sand also moves easily, so you have to use a rake to move it back into place after every game.
Learn how to throw a bocce ball so you can earn bragging rights at your next game.
Natural Grass – Natural grass is cost-efficient because you can simply use a surface that already has grass growing on it. All you need to do is create the frame for the court. On the downside, natural grass gets worn quickly and doesn't drain well.
Clay – Clay courts are usually firm, ensuring minimal bounce when playing. However, clay is expensive and you can't use it for outdoor courts because exposure to rain will damage the surface.
Artificial Turf – Although artificial turf is the most expensive of the surface options, it can save you additional costs due to its durability. It also requires minimal maintenance and reduces the ball's bounce. Artificial turf is commonly used for indoor courts.
Can You Play Bocce Ball On Concrete?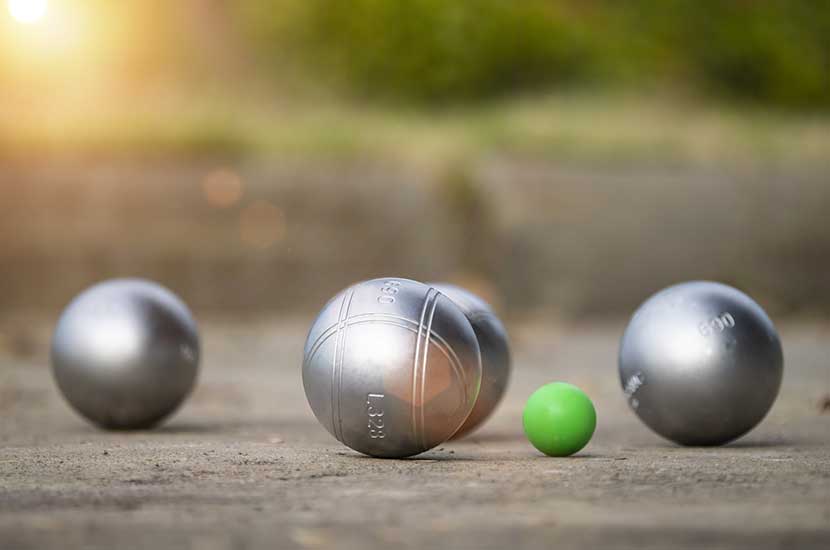 Yes, you can play bocce ball on concrete or any other type of court surface. However, you should note that every terrain has its disadvantages. When playing bocce ball on concrete, the ball is likely to bounce excessively. If the court is small, the ball may bounce out several times.
Tip: If you have to play bocce on concrete, aim to roll the ball on the floor instead of throwing it toward the target. You can also make the backboards and concrete curbs higher to prevent the ball bouncing away.
How Much Does A Bocce Ball Court Cost?
A bocce ball court costs $7 – $14 per square foot if you intend to use oyster shells as the surface material. In this case, a small 8 by 4-foot (2.4 x 1.2 m) court will be about $200. However, the total cost of construction varies depending on the materials you use. If you only need to build a wooden border, you can create your own bocce court for as little as $30.
Frequently Asked Questions
A good size for a backyard bocce court is 60 feet in length and 12 feet in width (18.2 x 3.6 m). These bocce ball court dimensions should work for most homes as the majority of city plots are 60 feet (18.2 m) wide. Homeowners who don't have enough room for a 60-foot court can make their court smaller.
The smallest size for a bocce ball court is 22 x 6 ft (6.7 x 1.8 m). These court dimensions are ideal for anyone with limited space. A small bocce ball court is also ideal for children who want to practice the sport indoors. These mini bocce courts will have the same features as a regular court but on a smaller scale. 
The best surface for a bocce ball court is an oyster blend. This material allows the ball to roll fast and move straight. It also absorbs bounce better than most other surfaces and allows for better drainage. You can use oyster shell flour on standard bocce court dimensions of 91 x 13 feet (27.7 x 3.9 m) or on courts of much smaller size.
There you have it – a complete guide to bocce ball court size. If you're a bocce player looking to set up a court at your home or elsewhere, you now have all the information you need. The most important thing to note is that you can always build a bocce ball court, even if you have little space available.