Women's basketball has existed pretty much since the game was invented. Every year at the WNBA, female basketball players prove that they are just as skilled as their male counterparts! However, when it comes to finding a good basketball shoe, there aren't as many options for women's basketball shoes as men's. While there are some great basketball shoes for women out there, they can be hard to find. But wearing the right shoe is crucial to help you play your best. That's why we have put together this list of the best womens basketball shoes. Whether you're a newbie or a pro, you can find the best basketball shoe for you here!
1. Adidas Pro Bounce Parker Shoe – Women's Basketball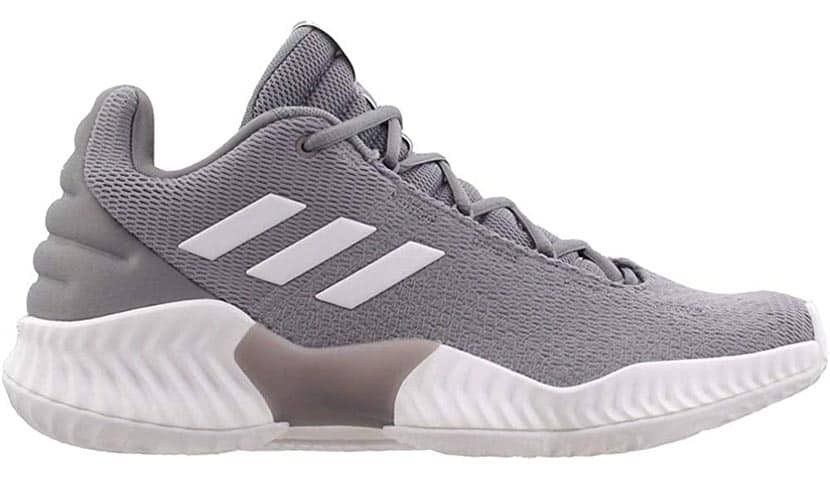 Editor's Choice #1: The amazing balance between flexibility, cushioning and support is what gets the Adidas Pro Bounce Parker the top spot. Breathable, lightweight and fantastically responsive, these allow you to weave, cut, pivot and shoot at the best of your ability. They may just be the best basketball shoes for women you can buy!
That's Candace Parker's motto and it's printed all over the translucent rubber outsole of these Pro Bounce basketball shoes for women. And with a fully mesh upper for maximum breathability, the motto describes these perfectly! They are super lightweight and provide all the bounce you would expect from a Pro Bounce shoe. For those speedy weavers who don't want anything impeding them on the court, these are ideal!
Great Cushioning And Support
Like all Adidas Pro Bounce shoes, these have excellent Flexible Bounce cushioning in the midsole so you can jump higher than ever. And although they are designed primarily for speed and flexibility, they still ensure stability through the structured shoe laces and strategically placed leather. For versatile players looking for flexibility, support, speed and bounce, these women's basketball shoes have it all. And they have a stylish design to boot!
2. Nike Jordan Womens WMNS Air Jordan 1 Mid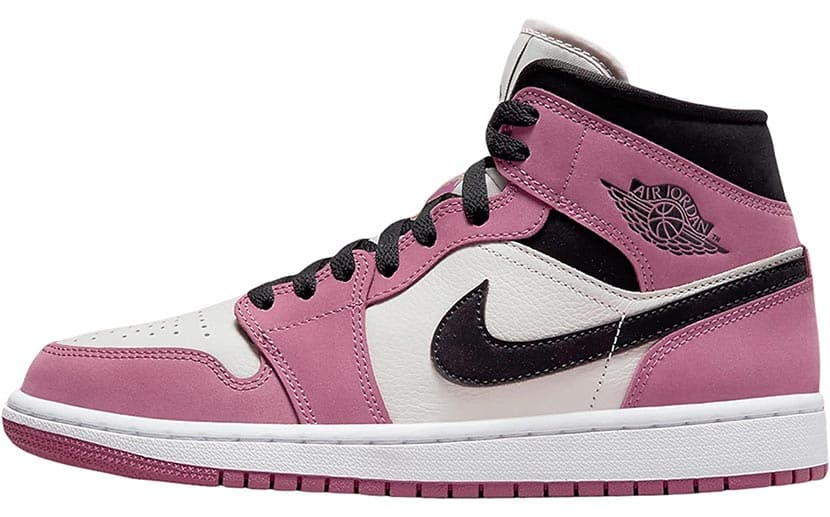 Editor's Choice #2: The Nike Air Jordan 1 women's basketball shoes are ideal for the style conscious who still want to kill it on the court. With fantastic traction, comfort and decent cushioning and support, these perform excellently for casual play. Plus, they come in a wide range of ultra fresh designs!
Whether you're shooting hoops or out and about in the city, these mid-top shoes will serve you well. The new berry pink design is stunning, but the Womens' Air Jordan 1 comes in so many different awesome colors. It's not really a performance shoe, but if you're a casual player, you shouldn't have any problems – these are durable shoes with good cushioning and support.
Fantastic Fit And Traction
Thanks to their strategically grooved rubber sole, these are some of the best basketball shoes for women when it comes to traction. They also provide a great balance between comfort and support, with an encased Air-Sole component to brace the heel and a strategically grooved rubber sole that supports the wearer's natural movement and foot composition. Plus, customers consistently say that these shoes fit to size, which is a bonus.
Built For Speed And Quick Cuts
The Nike Precision 6 is another men's basketball shoe that can work great for women too. Despite being a budget shoe, the Precision 6 offers excellent performance, particularly if you're looking for speed and agility. Their best quality is probably their traction which allows you to turn on a dime! Made from classic materials including mesh upper and rubber sole, these have a very low-cut design that allows maximum speed and responsiveness.
Comfortable And Lightweight
At 337 g (11 oz) in a size 10, these Nike shoes are incredibly lightweight. In general, these are almost identical to the Precision 5, but the one clear improvement is the comfort level. The new version has a buttery soft textile lining and padded collar and tongue doesn't feel synthetic at all. The only downside is the lack of cushioning for shock absorption, but all in all these are some of the best basketball shoes out there!
4. Adidas Women's Hoops 3.0 Mid Basketball Shoe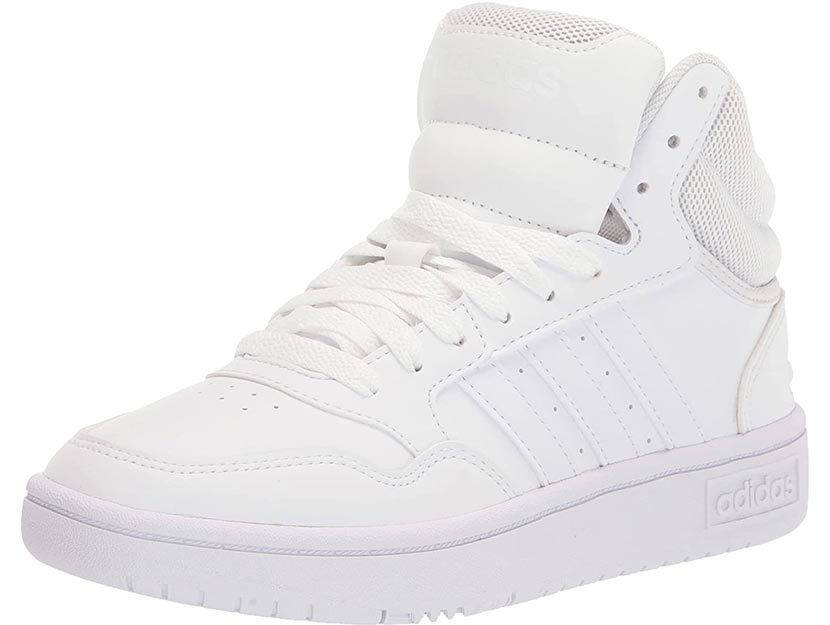 Classic Design And Comfort
If it ain't broke, why fix it? These Adidas Hoops 3.0 basketball shoes have a classic retro look, making them very popular women's basketball shoes. These are another affordable option that work great for casual players who want something they can wear in their everyday lives and while playing basketball. Your feet will thank you! Note that they run a little large, so you may want to go for a half size smaller than usual.
For a budget basketball shoe, these offer very good durability, with a synthetic leather upper and rubber outsole. The padded collar also enhances both comfort and ankle support. These shoes are slightly lower in the back than they are in the front, making them a great choice if you're looking for a balance between agility and protection. With decent traction and cushioning, these hit all the boxes.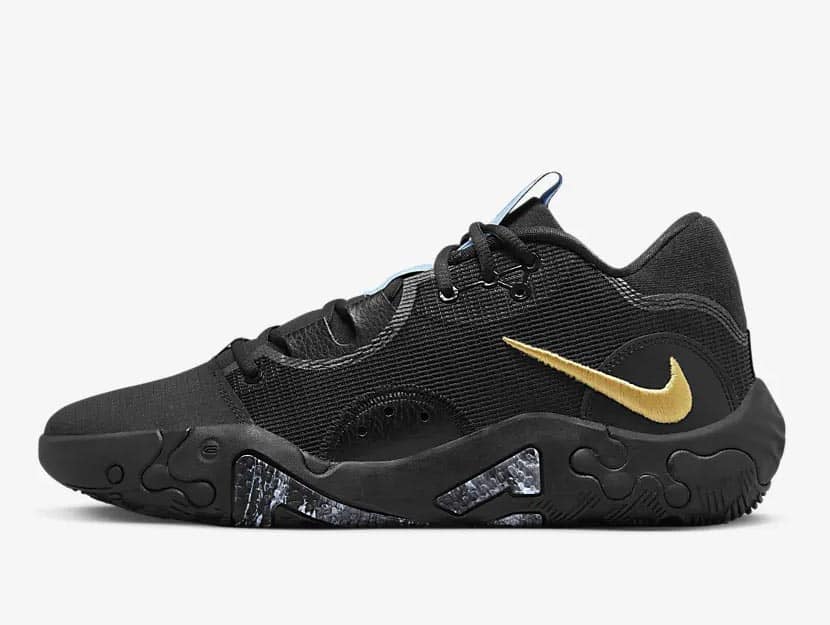 Fantastic Traction And Support
You may be wondering why we have included these Nike shoes, as they are not women's basketball shoes. However, because the fit is relatively narrow, they actually make great basketball shoes for women. Like the PG 5, the Nike PG 6 offers maximum grip even if you're playing basketball on a dusty court. Thanks to the lace enclosure and rubber outsole construction, they also offer good arch support and a generally secure feel.
Incredibly Light And Breathable
The Nike PG 6 are wonderfully lightweight and breathable shoes. They are very comfortable, though they feel stiff at first and as such require a break in period. The biggest change from the previous model is the switch to a React Foam midsole, which provides excellent cushioning and impact protection. The only downside to this shoe is that the materials are not the most durable, though they are some of the best basketball shoes in terms of performance.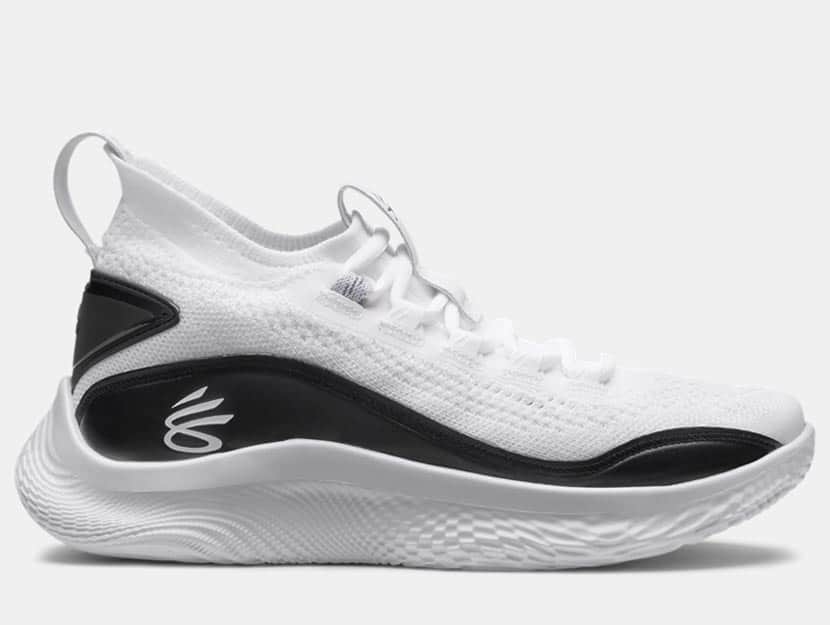 Great Traction And Support
The best thing about the Under Armour Curry 8 is its traction, thanks to its all foam, completely rubberless outsole. These shoes are insanely grippy and the foam provides excellent cushioning too. Curry shoes are also known for their support and these do not disappoint, making them an awesome choice if you have ankle issues. The bootie construction and high stretch collar provide both ankle and heel protection.
Breathable And Lightweight
This basketball shoe is ideal for guards who require support and responsiveness for quick movements. Because of their mesh upper and foam outsole, they are lightweight and breathable. However, we should note that customers who have used these shoes outdoors have found durability issues. They also fit a little wide and as they are not women's shoes, they won't work for ladies with smaller or narrow feet.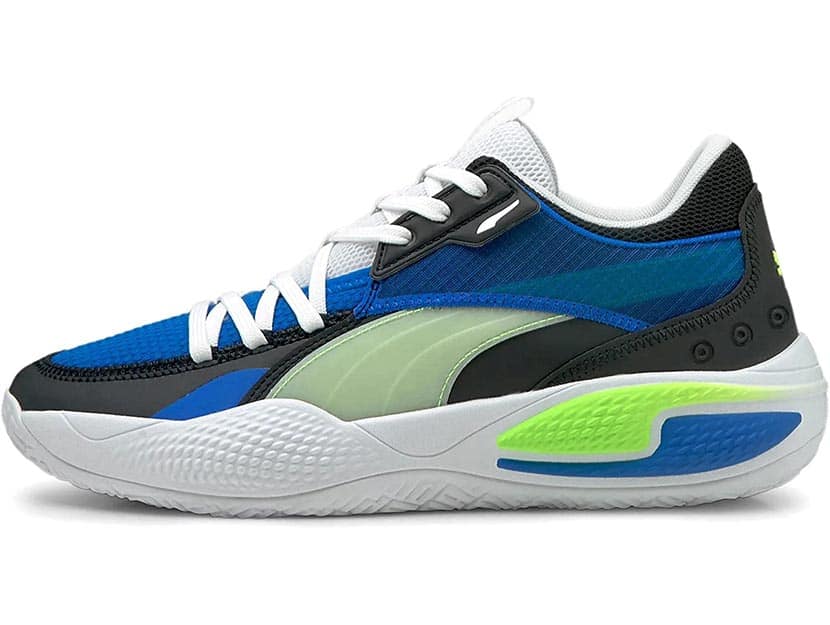 The Puma Court Rider is a men's shoe, but due to its snug fit these shoes work well for women too. It also offers extra grip on an outdoor court, though unfortunately it does not perform very well on an indoor court. For a budget shoe, the rubber sole and synthetic material upper are pretty durable. It also has a low to the ground feel and decent responsiveness.
Comfortable And Supportive
What customers like best about these basketball shoes is their support. They provide great arch support as well as layering on the lateral sides of the shoe for added support. One downside with these basketball sneakers is that apart from a padded heel, they offer little in the way of cushioning. But if you add your own specialized insoles, these are very comfortable.
8. WILTENA Unisex Lifestyle Basketball Shoes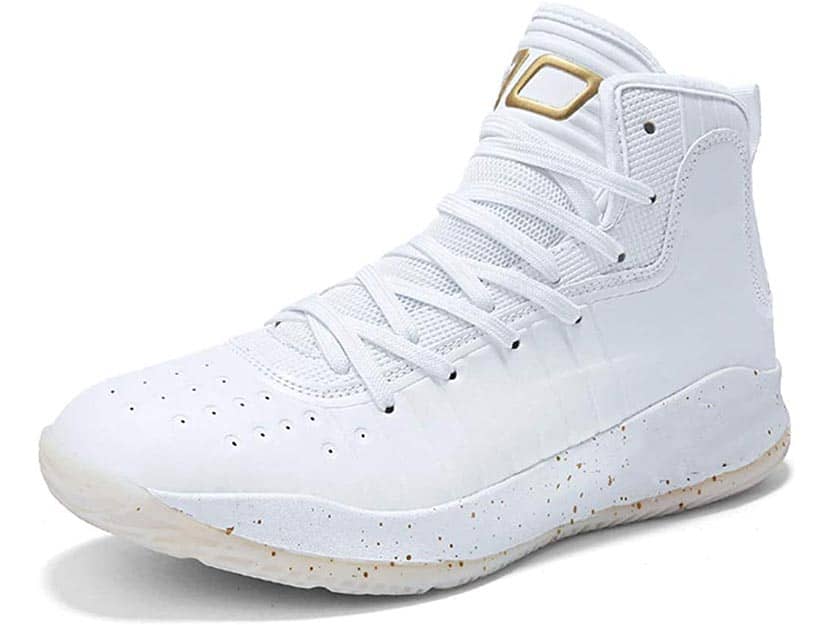 These Lifestyle basketball shoes are unisex, meaning they come in a very wide range of sizes. They also come in a wide range of unique and fun designs. If you're a casual player looking for an affordable shoe that you can wear off the court as well, these are a good option. Despite their low price, they are durable, with decent breathability and cushioning thanks to the EVA midsole. 
Good Traction And Support
These anti-slip basketball shoes offer good traction so that you won't find yourself slipping and sliding when you try to pivot. They also offer impressive ankle protection for a budget shoe, though this can be a downside as some found them too stiff. Some customers also found them uncomfortable, though others found that they were very comfortable and fit perfectly.
The more lightweight your shoe is, the more agility and flexibility you will have on the court.
Basketball players who pivot frequently between positions are best supported by mid tops.
It is important to check that the shoes feel comfortable when you try them on and to assess their cushioning and support so that problems with foot strain don't show up later.
Frequently Asked Questions
After extensive research, the best womens basketball shoes we could find were the Adidas Pro Bounce Parker Shoe as these offer the best balance of speed, flexibility, support and bounce. But if you're looking for something with more support or for more casual play, there are several fantastic options so you can find the best basketball shoes for you.