Pickleball is great exercise and good for your hand-eye coordination, without putting excessive strain on your body. No matter what kind of player you are, people of all ages can play, and most of all, it's fun! All this makes it the perfect family sport, though there are many tournaments for those wanting to play more seriously. However, with so many out there, choosing the best pickleball paddle can be a challenge. But not to worry – whether you are a power player or just trying out the sport for the first time, our pickleball paddle list sorts the wheat from the chaff so you can find the best pickleball paddle for you.
Best Pickleball Comparison Table
1. Selkirk Sport Amped Epic Lightweight Pickleball Paddle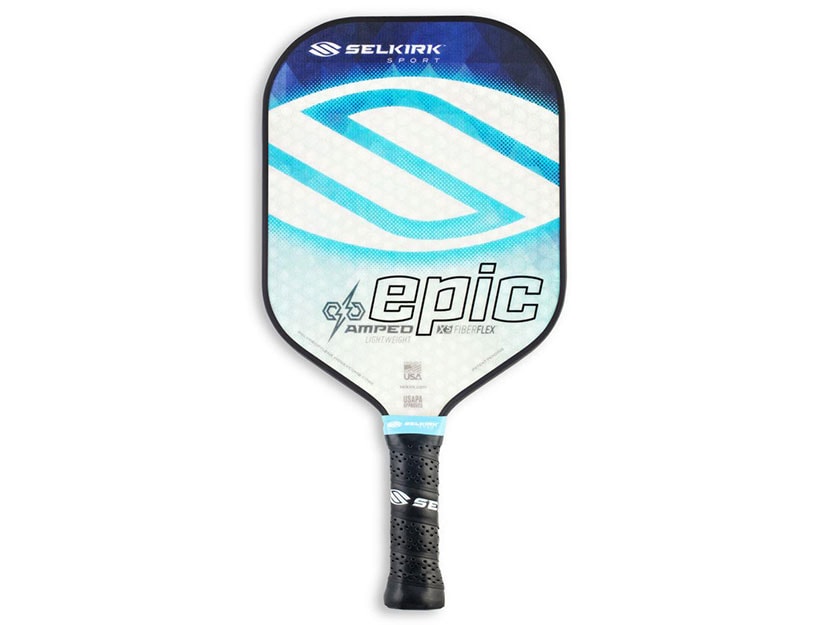 Editor's Choice #1: The Selkirk Amped Epic Lightweight pickleball paddle offers the perfect combination of power, control and performance. A technological game changer, the Epic has a new type of poly core, which makes it wonderfully light without losing power. The fiberglass face adds to the potency, and with its long handle, the Amped Epic is well-proportioned and comfortable to hold – one of the best pickleball paddles out there.
Selkirk is a great paddle manufacturer, and they have outdone themselves here. Most Selkirk pickleball paddles have a graphite surface, but the Amped Epic switches it up with a composite fiberglass paddle face. But what really makes this paddle special is its cutting-edge polypropylene X5 polymer core. The core material is much lighter than other polymers, meaning that the paddle can be lightweight without losing power. It also features torque suppression that helps reduce miss-hits when you hit off-center, and dampens vibration helps alleviate tennis elbow. This paddle core technology is a true trailblazer making an ideal paddle for tournament play.
Balanced For Power And Accuracy
This pickleball paddle achieves an incredible balance between power and control. It is unusually thick, allowing it to pack a punch on the court, and it does all this without becoming too heavy. The fiberglass face adds to the maneuverability and also offers a devilish spin. If you are used to a graphite face, this maneuverability may take some getting used to, but it's definitely worth it in the long run! This paddle manages to provide the perfect combination of power, control and performance, making it seem almost too good to be true.
The Amped Epic paddle is perfect for players experienced with tennis, or anyone who likes a longer handle. The length, along with the grip circumference of 4.25 inches (11cm), makes for a highly comfortable and balanced handle. The lightness of the paddle makes it aerodynamic and easy to move fast, but it is still perfectly balanced for a great on-court feel. Of all the paddles on this list, this is the best pickleball paddle for those who want to improve their performance in tournament play. The balance it achieves between maneuverability, force, speed and spin is unmatched.
2. Selkirk AMPED Invikta X5 Lightweight Pickleball Paddle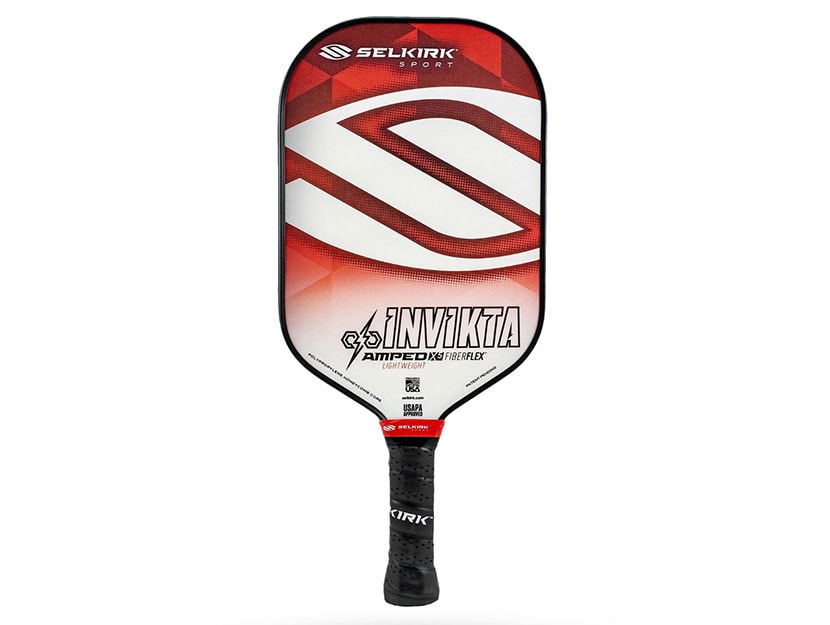 Editor's Choice #2: The Selkirk Amped Invicta has all the advantages of the Epic in an elongated form. Despite its elongation, this pickleball paddle still has a decently sized sweet spot and great balance. The Amped Invikta is perfect if you want that amazing combination of control and power, but favor a longer paddle.
Balance Of Power And Accuracy
Like the Epic, The Amped Invikta is also one of Selkirk's new Amped pickleball paddles. This refers to the fact that both power and control have been amplified in these paddles. As with the Epic, the Invikta makes use of the Fiberflex paddle face and the X5 polymer core. This gives it the exact same advantages as number 1 on this list, namely maximizing maneuverability and control while still packing a punch in terms of power and spin. With this paddle, you don't have to decide whether you are a finesse player or a power player – you can be both!
Pickleball champion Tyson McGuffin was enlisted to help design a pickleball that combines extra length without sacrificing the sweet spot. Despite being an elongated paddle, the Amped Invikta is not so long that it has to sacrifice width. It is long enough to give you that extra reach on the court, as well as heightened speed and aerodynamics, but it still has a generous sweet spot. Elongated paddles are usually not recommended for beginner players because they are more challenging, but the Amped Invikta overcomes these problems with its squared-off shape and large hitting area.
One way that the Invikta achieves greater length without sacrificing the sweet spot is through the longer grip length. Not only does this give you greater reach on the court, but it also provides more leverage when hitting those power shots. The ComfortGrip wrapped around the handle makes for a very comfortable hold. If you want a slightly longer paddle but don't want to sacrifice the large sweet spot, the Selkirk Amped Invikta is the best paddle for you.
3. Engage Encore Pro Pickleball Paddle
Decent Power, Fantastic Spin
Another powerful pickleball paddle, the Engage Encore pro has a lightweight design. It also has a wide surface area and decently sized sweet spot, which also enhances your ball control. The textured paddle face will give you the opportunity to make shots with an enormous amount of spin, which is fantastic for tournament play. However, the high level of sensitivity and spin does mean that it could take a bit of a learning curve to get used to this paddle, so it is perhaps not ideal for complete beginner players. It's perfect for someone who wants to impress opponents with a powerful spin, however.
The Engage Encore pro feels fantastic on the court because of its weight and balance. You can thank the combination paddle core of polypropylene and polymer honeycomb, as this allows the paddle to have a good weight balance for the perfect feel on the court. The grip is also both solid and comfortable, making for better control of the ball. This is a very well-rounded paddle that is optimized to enhance your performance on the court.
If you live in a neighborhood with strict noise level rules, or have family members who are easily irritated by the thwack of a racket hitting the ball, this paddle is a great choice. The Encore Pro has been optimized so that it makes virtually no noise on impact, so you can play to your heart's content without causing any irritation to neighbors. You might even find that you enjoy the silence as it allows you to concentrate more on the game.
4. Gamma Needle Pickleball Paddle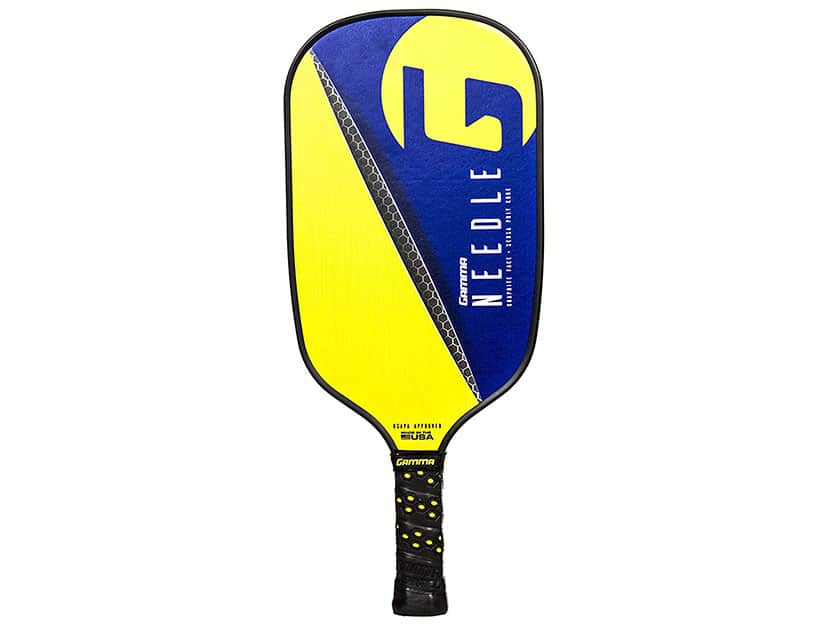 The Gamma Needle pickleball paddle is another exceptional paddle. For players who favor elongated paddles, it is a fantastic choice. It provides more reach across the court without sacrificing the sweet spot or becoming top heavy. Less than an inch of width is sacrificed in this elongated paddle. It has a wonderful sense of balance that will enhance your feeling of control on the court. This pickleball paddle also has a textured graphite paddle face that enhances ball bite and is fast and responsive. If you like a longer paddle, this one is almost as good as the Invikta.
The Gamma Needle uses a similar technology to the Selkirk paddles described above with its Sensa Poly Core technology. It isn't quite as thick as the Amped Epic or Invikta so it may not produce their level of power, but it can still exert considerable force as well as maneuverability. The Gamma Needle is a lightweight paddle and will be highly responsive to your movements. Whether you want to smash the ball across the court or do dinky shots near the net, the Gamma Needle has you covered.
The surface and core are not the end of Gamma's technological innovations, as this paddle features Gamma's honeycomb cushion grip that enhances comfort and control. This, coupled with the racket's balance, makes it feel incredible in your hand which in turn means fantastic shot response feedback. Whether you are an advanced player or a beginner, this paddle feels great to play with. The green and blue coloring and unique graphic design makes the paddle look super cool too.
5. TMPR Oculus XT Textured High Performance Polymer Honeycomb Pickleball Paddle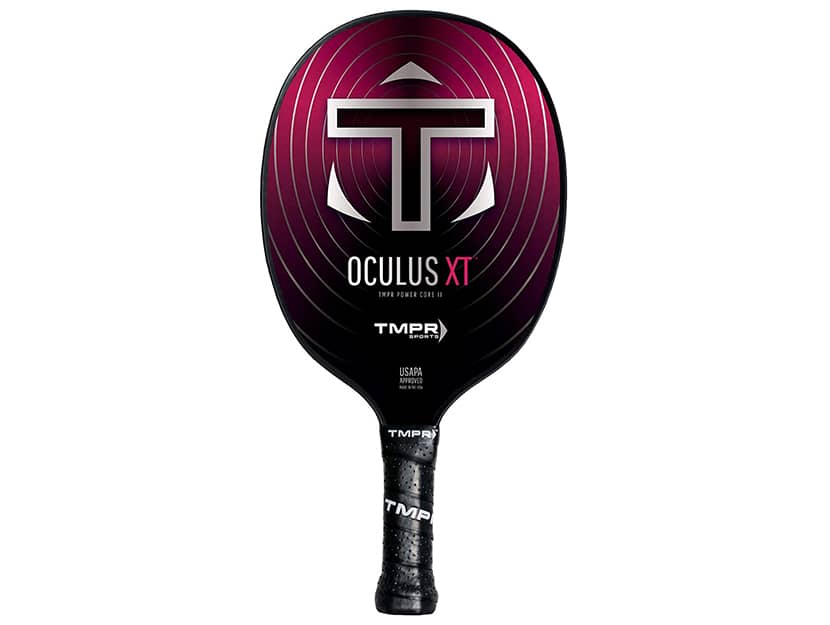 The TMPR Oculus XT features a polymer honeycomb core, allowing for a soft touch and a high degree of control without sacrificing power. But the best thing about the Oculus XT is its textured fiberglass paddle face, which will allow you to achieve phenomenal control of the ball. The TMPR Oculus XT is one of the most well constructed and durable paddles on the market, and is a great choice for beginner or pro players.
The TMPR Oculus XT has found the golden ratio when it comes to paddle width and length. The semi-large oval shape provides extra reach while also allowing the space for a much larger than average sweet spot. This streamlined shape and large hitting surface will definitely decrease the number of uncontrolled hits you make. You can also choose from two paddle weight classes, 7.1-7.5 oz (200-214g) or 7.6-8 oz (215-227g), so whether you prefer a more lightweight or a heavier paddle, TMPR has got you covered. The shape is a bit unusual so it may take some getting used to, but it will improve your speed and accuracy in the long run.
Vibration Dampening Technology
One unique thing that TMPR is bringing to the game with their paddles is their handle vibration dampening technology which greatly decreases strain on your hands. This makes this paddle ideal for anyone with wrist, elbow or shoulder issues. It also makes it a fantastic choice for older pickleball players. But this technology benefits everyone – not only is it gentle on the arm joints, it also makes the paddle feel like a natural extension of your arm, which does wonders for performance.
6. Paddletek Bantam EX-L Pro Pickleball Paddle
The Paddletek Bantam EX-L Pro is one of the most top quality paddles on the market and provides a comfortable mix of power and control. You can both smash the ball with considerable force, or hit intricate shots when you need to. This control can be mainly attributed to the paddle's massive sweet spot. The paddle has a polymer honeycomb core, which is the main upgrade from the original Paddletek Bantam EX-L. This core technology is proving to be a winner across all pickleball paddle brands as it provides the best combination of power and control.
The Bantam EX-L Pro is another stealthy paddle with fantastic sound absorption. This is great if you do not want to bother people nearby or you enjoy a softer paddle. This pickleball paddle features a polycarbonate surface with a velvet texture, which enhances the sense of control in all types of shots, while still providing ample force. It gives the paddle a very soft feel, which many players prefer and is ideal for beginners. However, if you prefer more of a pop, this paddle may not be for you.
The Bantam EX-L Pro pickleball paddle comes in large and small grip sizes. The length is 4 ¾ long, which is long enough to provide a little extra reach, without being so long that it becomes awkward or too challenging for beginners. However, some people find the grip slightly awkward, though others find it ideal. It's probably best to try out the feel of the grip before you buy the paddle. This pickleball paddle also comes in a wide range of bright colors to choose from.
7. Prince Response Pro Pickleball Paddle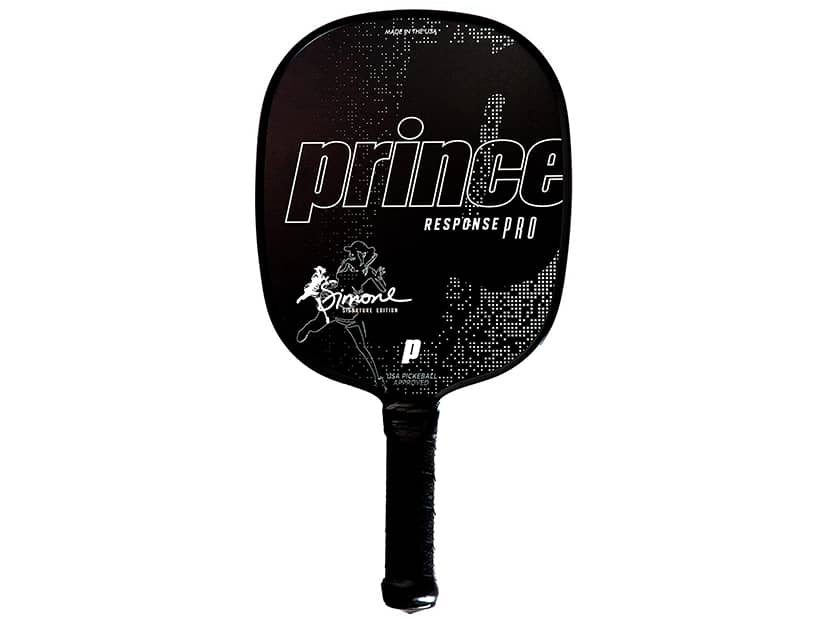 The main innovation provided by the Prince Response Pro pickleball paddle is its unusually rounded shape. This allows the paddle to have an enhanced sweet spot without becoming too large. The edge guard is slim to allow absolutely no wasted space. The sweet spot is one of the largest ever seen, helping with consistent direction and placing of the ball. This makes the Prince Response Pro a great choice for beginners, though it is also favored by pro players such as the two-time US Open Triple Crown winner Simone Jardim.
The core of the Prince response pro is one of thick polymer, allowing you to make a powerful swing every time, while still providing a significant level of control on speed and direction. The control offered does not quite match some of the paddles on this pickleball paddle list, but it still provides a good balance between power and control. The large sweet spot also makes up for some of the control lost through the thick paddle core.
The Prince Response Pro has a handle of 5 ½ inches (14cm), allowing for impressive reach without making the paddle itself longer. The length also means that player's of any hand size will have plenty of space. If you are partial to the two-handed backhand (like Simone Jardim), this length will accommodate you. If you are looking to increase the power you can bring to shots, the Prince Response Pro is the perfect choice, and the longer handle makes this possibly the best pickleball paddle for players who favor two-handed backhands.
8. Paddletek Tempest Wave Pro Pickleball Paddle
If you are completely new to pickleball, the Paddletek Tempest Wave may be the best pickleball paddle for you. For beginners, a well balanced paddle that feels good in your hand is crucial, and that is just what this paddle offers. Not too heavy or too light, with a perfectly balanced width and grip length, the Tempest Wave just feels right in your hand and is a dream to play with.
Smart Response Technology
The Tempest Wave Pro offers a wonderfully light touch that makes for fantastic maneuverability, without being too fast for beginners. This is achieved through Paddletek's new Smart Response Technology, giving it much better control than Paddletek's previous offerings. Having the right amount of touch is a huge advantage for novice players, as you can practice your technique at the net without having to worry about your dinks going too high. The trade-off with this level of touch is that the paddle does lose a bit when it comes to power. This is therefore not one of the best pickleball paddles for experienced players who want more zing. For those just starting out though, this paddle is ideal.
The large sweet spot of the Tempest Wave pro also makes it great for beginners. It is highly forgiving and allows for a greater degree of consistency. The Tempest Wave Pro is a graphite pickleball paddle with a polymer core, and is certainly one of the best graphite paddles out there. Although it is somewhat lacking in power, this paddle still provides more power than most. This is without a doubt one of the best pickleball paddles on the market today.
9. ONIX Z5 Graphite Carbon Fiber Pickleball Paddle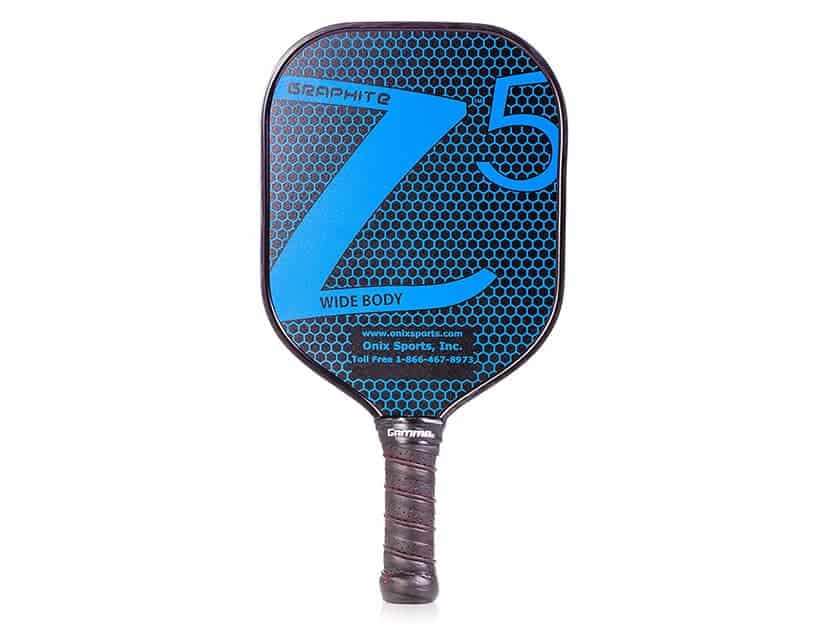 When holding the ONIX Graphite Z5, you will feel that the paddle weight feels just right. The Z5 weighs between 7.5 and 8.2 (213-232g), which makes it easy to move while still generating powerful smashes. The ONIX Z5 has a graphite paddle face, which makes it highly sensitive. The core of this paddle is Nomex honeycomb, which allows you to hit powerful shots with ease. The Nomex core is not necessarily as durable as some of the other core types on this list, and it also makes for a fairly harsh and loud pickleball paddle. However, this is another fantastic pickleball paddle and is still a great choice if you don't mind a louder paddle.
One way that the ONIX Graphite Z5 stands out from the crowd is with its extra large hitting area. This pickleball racket features a 8⅛ inch face width which makes for a very large sweet spot. The wide hitting surface makes it easier to hit winning shots, and gives you more ball control when playing dinks and spins and allowing firmer smash shots. The paddle shape is also very well balanced, giving you a sense of comfort and control on the court.
The ONIX Graphite Z5 has a well-shaped handle that at 4¼ is not too short or too long. In addition, this paddle features a cushion grip which makes it feel comfortable in the hand. Players who favor two handed shots may want the extra freedom of a longer handle, but this one is perfect for players who tend to stick to one handed shots. This paddle also comes in a range of colors, so you get to choose what suits you best. If you favor a graphite pickleball paddle, this is a great one to pick.
10. Pro-Lite Titan Black Diamond Pickleball Paddle
Advanced Build And Durability
The Pro-Lite Titan Black Diamond pickleball paddle is very well designed and excellently durable. The paddle features a carbon fiber surface with a polymer core that offers fantastic ball control and sensitivity. If you prefer a finesse-based playing style, this pickleball paddle is ideal. The carbon fiber face makes for advanced durability, so this paddle will last you for a very long time. Not only that, but the vibration dampening system helps alleviate wrist pain and chronic tennis elbow. It is also a quiet paddle, with a lot of sound-absorbing materials so that you can play freely without annoying family members or neighbors.
Another stand out feature of the Titan Black Diamond is its razor-thin edge, which adds to the incredible accuracy and control that this paddle provides. This, combined with the paddle's large hitting surface, making it easier to make those winning shots. A thin edge guard sometimes means reduced durability, but we have already established the durability of this pickleball paddle! If you know you prefer to play for accuracy rather than power, this paddle is a great choice for you.
There is one more thing no-one can deny about this pickleball paddle – it looks fantastic. It is available in a variety of colors, but the original black certainly gives it a sleek, almost James Bond type look. If you want to stand out on the court, this paddle is for you. The handle of the Titan Black Diamond is somewhat longer than usual at 5¼ inches long. This provides extra reach on the court and is great for players who favor a two-handed backhand.
Legend has it that pickleball was invented in 1956 by three dads on Bainbridge Island, just off the coast of Seattle, Washington. The dads invented the game to entertain their kids, who were bored with their usual summertime activities. Pretty great dads to invent such a fun game just for their kids to enjoy!
Because polypropylene is a fairly new technology, it is not yet clear how durable these paddles are. Nevertheless, the balance between finesse and power that you can achieve when using a poly core paddle is unparalleled.
Elongated paddles are a little trickier to play with, so we advise against choosing an elongated paddle if you are a novice player.
If you live in a noise-sensitive area, you might want to choose a quieter paddle with better sound absorption.
Make sure to choose a paddle that incorporates ultraviolet inhibitors, so that you can play outdoors without being too concerned about discoloration and sun damage.
Wooden paddles are especially vulnerable to warping from water or sun damage, so are not great for outdoor use.
A good pickleball paddle can last you up to five years if you take care of it well. However, you will shorten your paddle's lifespan considerably if you are careless in your treatment of it.
Frequently Asked Questions
Whether you are a beginner or experienced player, our number one pick for the best pickleball paddle is the Selkirk Amped Epic lightweight pickleball paddle. This paddle offers an unparalleled combination of force, accuracy, spin and speed. The Amped Invikta paddle is very similar, and is the perfect choice if you prefer an elongated paddle. But whichever one of the paddles on this list you choose, you are getting one of the best pickleball paddles on the market today!