Whether you've played King's Cup or Beer Pong at a College frat house, or Quarters down at your local pub, drinking games add a spirit of friendly competition to your night that makes people come together for unforgettable moments.
But as College graduation came and went and less frequent trips to the bar were made–especially during the course of COVID—many of us drinking game enthusiasts mistakenly thought those days were over…
We've compiled the definitive top 10 best board games for drinking. Our top picks have imaginative, intense new gameplay while mixing in the traditional drinking game action you already love.
1. These Cards Will Get You Drunk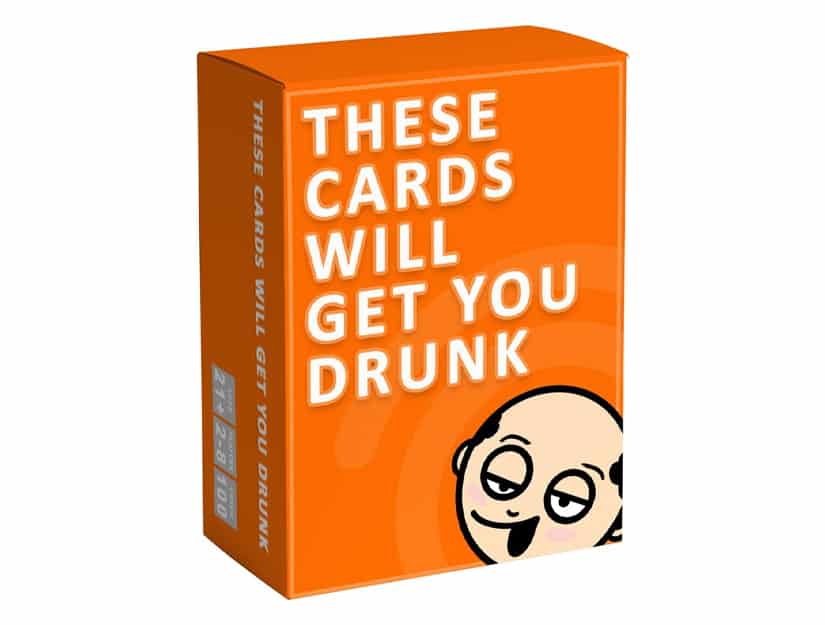 Editor's Choice #1: This surefire party-pleaser is an outrageous game, with hilarious challenges and 100 over-the-top card prompts. It's sure to shock your friends and inspire knee-slapping good times. This game also allows for 8 people, so you know it will be a party – exactly what you'd expect from an awesome game night.
Put Your Friends To The Test
Not only will these cards keep you on your toes, they also serve as a great ice-breaker among new friends getting to know each other. Inversely, for long-time mates, this is a great game for testing just how well you think you know each other. If 100 cards aren't enough, an expansion pack is available, with a new and improved deck of 100. You're able to play from 2 to 8 people as recommended, though you can definitely play with more – if not double that.
Once the drinks start flowing, it's easy to get lost in the rules of complex drinking board games or start missing shots in skill-based gameplay. With These Cards Will Get You Drunk, you're opting for an easy-to-learn-and-play drinking card game. Boasting an impressive 4.6 out of 5-star global rating, it is a stand-out favorite among the best drinking board games.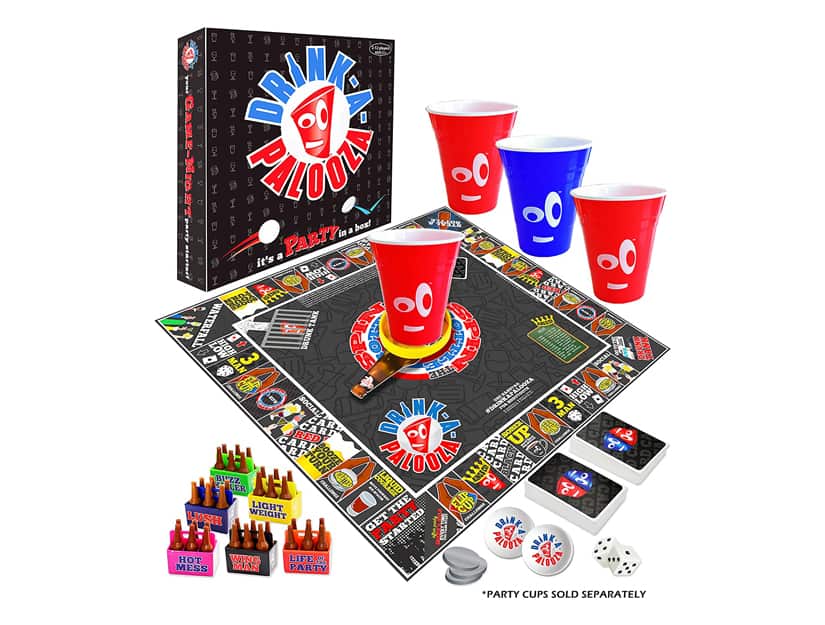 Editor's Choice #2: The Drink-A-Palooza combines all of your favorite drinking games into 1, compact, Monopoly-style drinking board game. Featuring the classics with a new twist, you're getting an improved gaming experience blended with the nostalgia of your College Senior Year. This is the type of game you and your pals can play tournament-style to get the competitive juices flowing.
To play, choose your six-pack game piece and roll the dice to get started. Move your pieces clockwise through the map and navigate through the mini-games; the player who completes their six-pack is the winner. Coming in at an enticing price and when weighing all the gaming options, small size footprint and the diversity of your experience each time, this is a steal. It also features 8 party-foul cards to customize your house rulebook.
The Drink-A-Palooza dice game, designed in the style of a traditional Monopoly board, borrows the family favorite's long-playing time – you can expect to take at least a couple of hours to get through the game in its entirety, depending on your skill level. The board itself is specifically designed to be water-resistant, with a sturdy, laminated surface ensuring you won't damage the game with spillage as the competition heats up.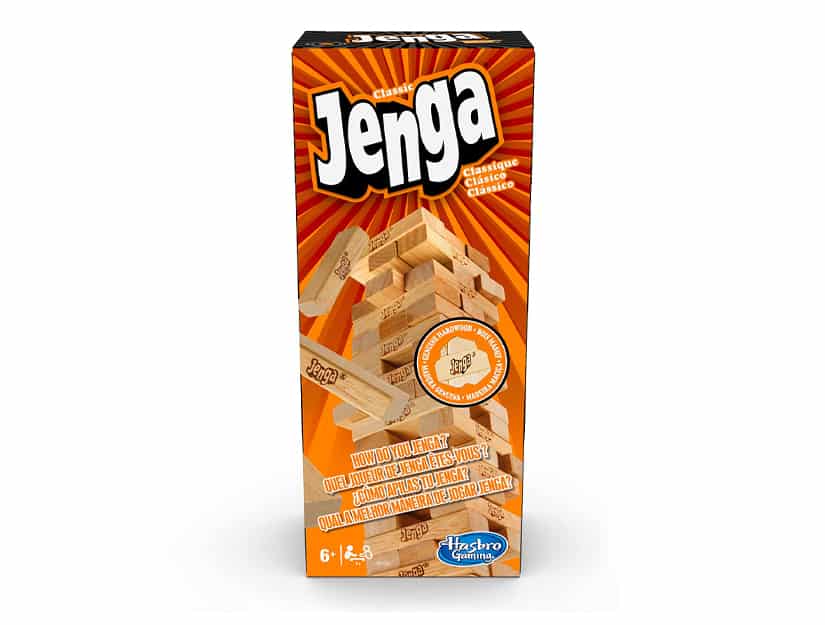 Drunk Jenga kicks the normal game up a notch. What you may remember as a game made for family scraps with your cousins in your parent's basement is now a boozy party game sure to entertain your friends.
Before you stack up the 53 reinforced hardwood blocks, write out some commands for players using your own creativity and tape them to the blocks. This style of play allows you to come up with the consequences based on just how diabolical you are. You can find examples of house rules and ways to play linked here.
Drunk Jenga has raised the stakes of the original skill-based game of balance and strategy, making it perfect for entertaining large groups who enjoy team-based play.
4. I've Never Party Board Game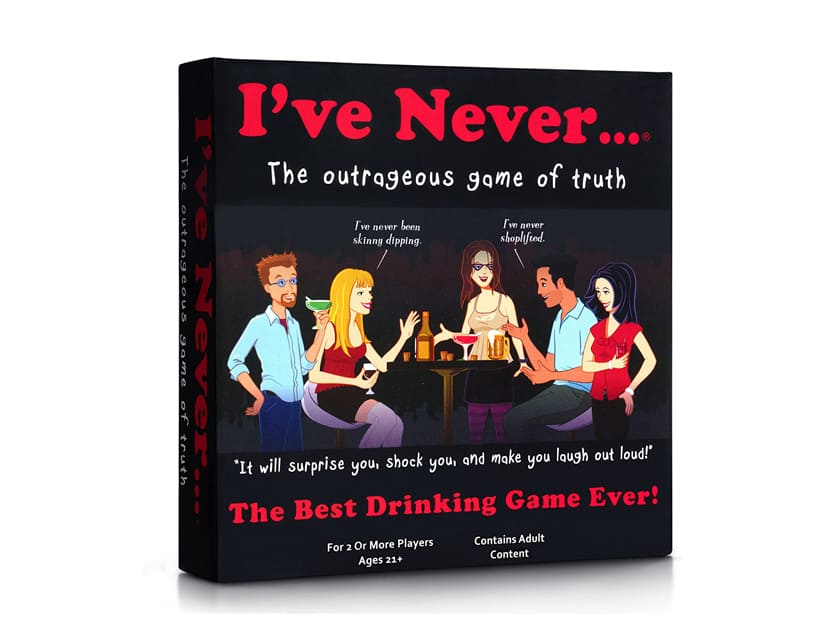 Chances are you've played Never-Have-I-Ever at the wrapping up of a party as the night comes to an end. With I've Never Party Board Game, the classic drinking board game takes center stage with interactive and edgy excitement.
Candyland But Make It 21+
Operating off a pseudo-Candyland design, the square you land on will either send you forward or backward (or to your drink). The game features 100 I've Never questions with 10 optional cards to write your own prompts to spice things up. If you're playing at the max size of 8 people, that's enough for each player to write their own custom question plus 2 extras.
The gameplay for I've Never moves swiftly, making it perfect for the pre-game party or for cycling through multiple rounds with more than 8 players.
5. Envy Born Games Don't Get Drunk Board Game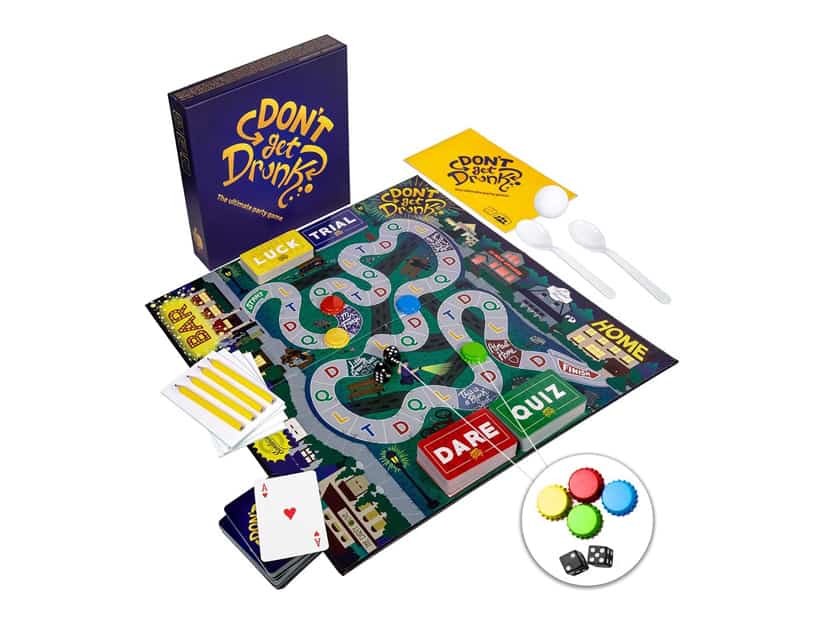 Standing tall with its unique custom-play each time, this game blends trivia with chance and skill games for extensive, broad gameplay. Find the best trivia board games here.
Much like Drink-A-Palooza, Don't Get Drunk features a ton of mini-games that make for a unique experience each time you play. You can expect to play King's Cup, Beer Pong, Flip Cup and many more. Incorporating trivia with chance and skill games for the ultimate contest, we loved the 'double dare' cards for players looking for more of a challenge through higher stakes and surprise twists.
There is no learning curve to Don't Get Drunk, which is why this is one of the best drinking board games. The instructions provided are simple and straightforward, while most of the mini-games seen here are ones you've played before.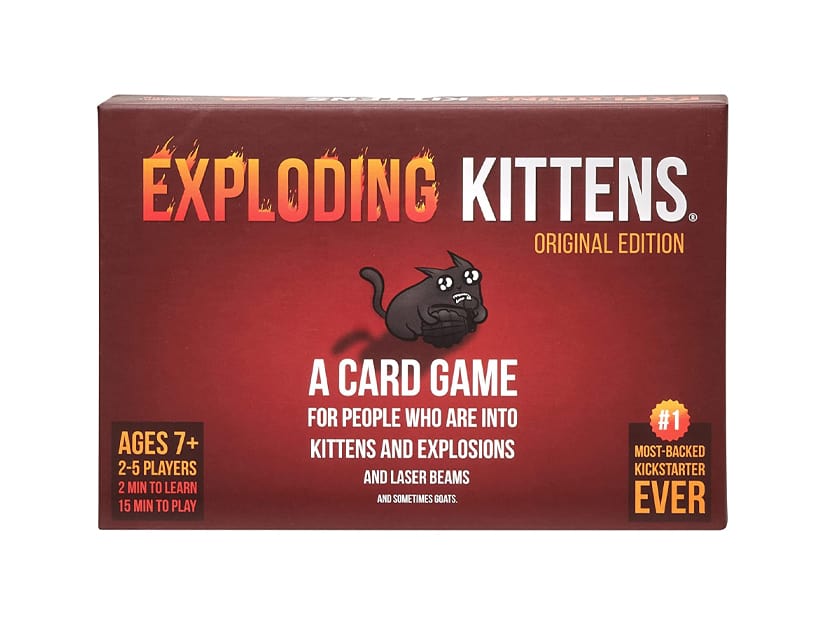 This hilarious game from the Oatmeal, borrows the webcomic's signature sadistic, off-the-wall humor for an eccentric, one-of-a-kind drinking board game experience.
This is a game that relies on Shakespearan-like betrayal, leaving your choices in Exploding Kittens as the likely talking point for the rest of game night. You're able to defuse the exploding kittens with laser-pointer cards or catnip sandwiches, while there are various action cards that require you to make alliances and complex strategies to avoid blowing up and avoid downing drinks.
A Strategy Game For Sadists
Whilst not for everyone, Exploding Kittens is a turn-based game sure to delight party-goers looking for shockingly fun times in a last-one-standing showdown. This kitty-powered game is the best strategy game among our best drinking board games. The artwork featured on the glossy cards is hilariously detailed and adds to the somewhat twisted gameplay. Expansion packs like Zombie Kittens or the sci-fi Imploding Kittens are available, which feature more cards than the default 56 card-pack found in the original game.
7. Cards Against Humanity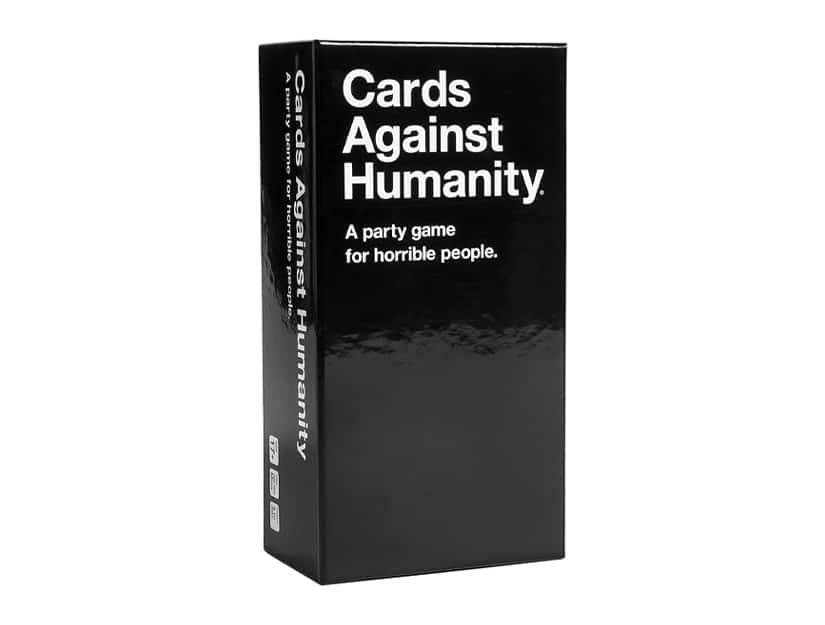 Ah, Cards Against Humanity: the quintessential, fill-in-the-blank card game that took the world by storm in 2010 with its outrageous gameplay. Though at risk of being overplayed, you can't go wrong with a classic.
With over 600 included cards, CAH makes it almost impossible to reproduce the same game twice. The striking, black-and-white design is simple and cutting to the eye, putting all the focus on just how controversial you can be. For drinking rules, you can get imaginative and plan them out beforehand or make them up as you go. Our favorites were each time you draw a blank card or you lose a round, drink! The game includes an alternate rulebook for even more playing options.
Hilariously Inappropriate
CAH is known for its crass and out-of-pocket humor that's sure to leave many players either wheezing from laughter or gasping from shock. It helps to know the dealer's sense of humor and what card pairings will have them in stitches.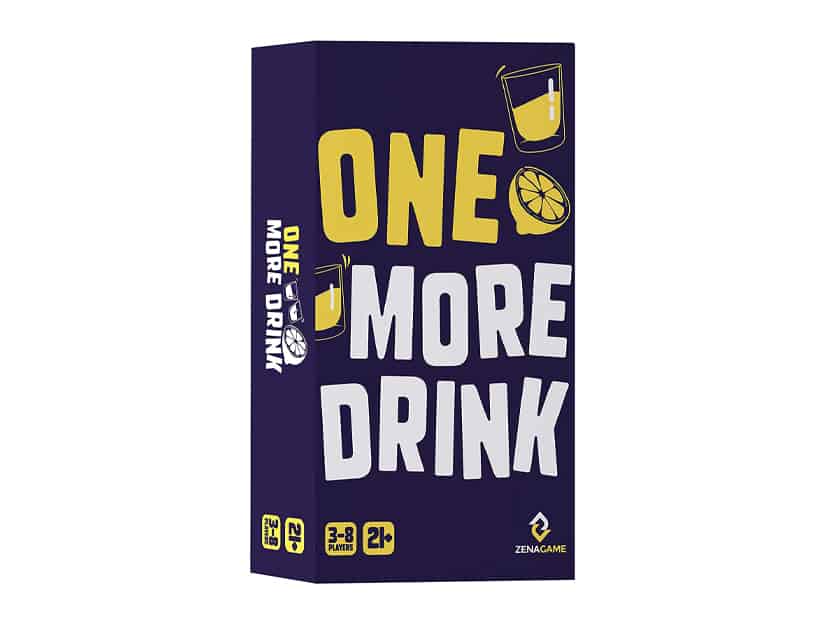 One More Drink's card-based drink prompts blend I Never with fun challenges and would-you-rathers – perfect for an unpredictable game night.
Pick A Card, Read It And Do What It Says
Yes, it's really that simple. This is one of those drinking board games that's designed to be beginner-friendly and easy to play, especially when impaired. The instructions lean heavily on the drinking, so as always, please drink responsibly.
With 300 possible cards to draw from, you have tons of playing options that go from tame to downright crazy. The cards mix skill games with voting for team-based fun and a chance to impress your friends.
While it doesn't reinvent the 'draw a card and drink' party games genre, One More Drink features more skill-based and/or challenge-based gameplay. It borrows heavily from predecessors like Cards Against Humanity but comes in at a cheaper price.
9. Shot Glass Tic Tac Toe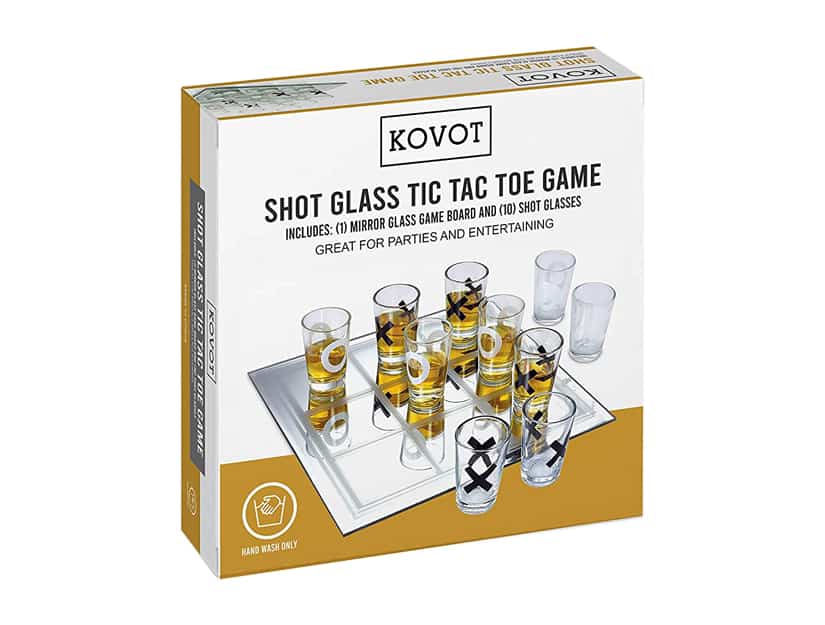 A boozy alternative to the traditional Xs and Os, Shot Glass Tic Tac Toe is a high-energy game of strategy plus risk and reward. You're risking a loss but at the cost of the tasty shots of your choice.
Finish your shot to play the glass on your desired square on the mirror game board. This is easy gaming at its finest. We'd recommend using half-pours or opting for the cheap stuff like beer or wine instead of liquor, as a couple of rounds of this might have you struggling!
Priced inexpensively, you're getting 10 1.5 oz. shot glasses, where the all-glass and mirrored game board will have you partying in style. Sometimes the best drinking board games are smart and sophisticated; this is one of those games.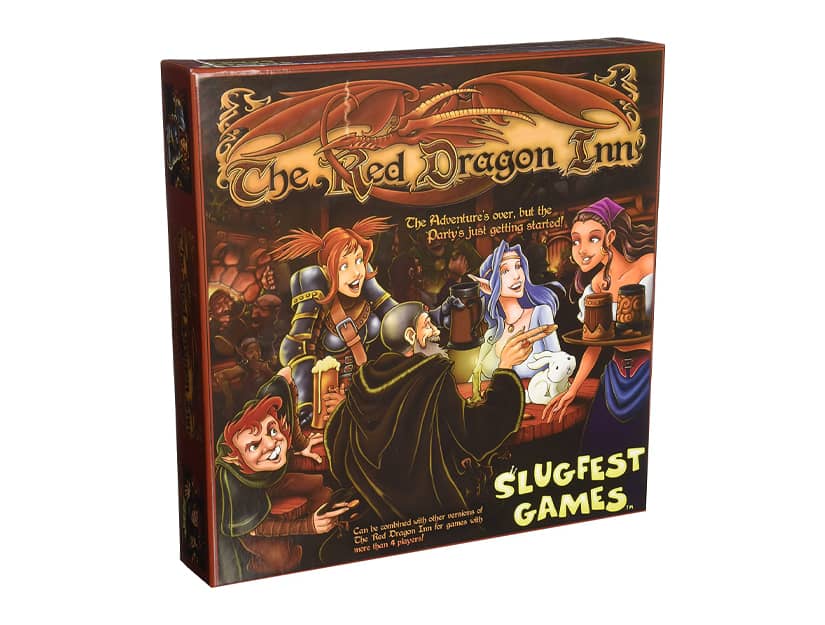 The Red Dragon Inn merges card games with role-playing board games. This is the game for poker fans who love the strategy and element of chance in games like Texas Hold Em' and Blackjack. 
Skyrim But Make It A Casino
You play as one of 4 player decks: Wizard, Priestess, Warrior Maiden or Halfling. The object of the game is to be the last player standing after a night of drinking, gambling and roughhousing at the infamous Red Dragon Inn. This RPG game blends fantasy with drinking games for all Comic-Con hopefuls and boasts competitive and engaging action cards. The game comes with:
30-card drink deck
Detailed, 6-page instruction manual
May Be A Little Complicated
The Red Dragon Inn demands an extensive explanation for new players. Whilst the complicated rulebook and playing cards may be a little intimidating for beginners, having a regular game night will help everyone learn quickly – and the more you learn in this game, the more intense it gets.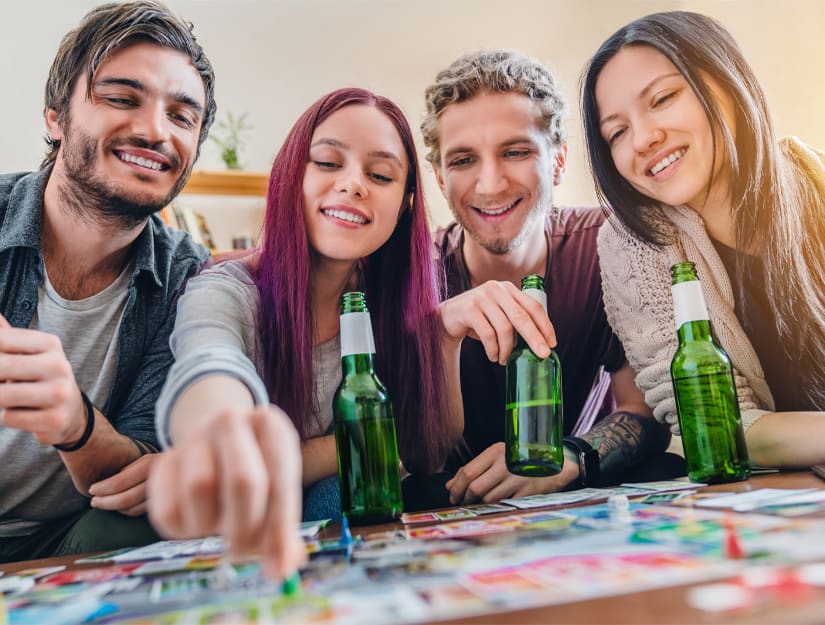 Read this Buyer's Guide to check what factors to take into account when shopping for the best board games for drinking.
What To Consider When Choosing The Best Board Games For Drinking
It's hard to tell if a game is fun or not without actually playing it. To help you get a feel for all of the best drinking board games, take note of these factors:
Our top picks here average out to about 2-8 players, intended for smaller parties with engaging gameplay full of surprises that will keep everyone on their toes. If you want to play with more people, then party dice games will be your best bet – try the Snake Eyes game.
For larger groups, consider games like These Cards Will Get You Drunk, Drink-A-Palooza or the Jenga drinking game. They all have enough dynamic play to keep groups over 8 interested and feeling involved. See the best solo board games next.
Drinking board games should be complex enough to be exciting but not enough to go over your friends' heads.
Draw-and-drink games tend to be the most straightforward gameplay experience, with included instructions on each prompt card.
Other options to consider include drinking board games like Shot Glass Tic Tac Toe, Drunk Jenga or Cards Against Humanity. Such party games require little to no explanation or arduous learning process, as most gamers have played them – or a variation – before.
There are two categories of board games considered in our list of the best drinking board games – think about which category will make for the most fun with the people you're playing with.
Deck Building Games involve constructing your own personal deck of cards during the course of the game.
Co-Op Games incorporate competition by pitting players against each other or the house.
These are very different from tabletop games but both categories lean into skill with an element of luck or chance attributed to the gameplay. For a more in-depth look into the different types of board games you can read more here.
How much time do you have? Are you looking for a speedy game to play while you're waiting for an Uber to arrive? Or are you planning some adult game nights?
If your playing time is short, consider a game like One More Drink or other card-based board games that can be wrapped up within 15 minutes.
If you got all night, a game like Drink-A-Palooza, involving tons of mini-games, challenges and ping pong balls, will make for a long-lasting gaming experience.
Nothing worse than choosing something for game night and it being a boring game that sucks the energy out of the room. To avoid this, think about games that have a decent amount of shock value, which will keep your friends guessing and the good times rolling.
Nothing kills boredom like Exploding Kittens or These Cards Will Get You Drunk. While the classic drinking game Cards Against Humanity will have you anticipating when the next mic-drop moment will be.
For features, consider what you look for in a drinking game and the factors that you can't compromise.
The best drinking games will bring you some form of versatility, whether it be in available expansion packs, included mini-games or supplied custom cards that let you create your own drinking rules.
These features specifically allow for repeatability, ensuring your board game will never get too familiar and leaves no room for the same old gameplay for your next game night.
The card-based games topping our list require, if anything, a simple shuffle of the cards. Easy set-up means more time to party and less time fumbling around with token game pieces, extensive board maps and extra accessories.
For games like Drunk Jenga, Red Dragon Inn or Drink-A-Palooza, you'll need a longer run-up time to have these games ready. Meanwhile, Shot Glass Tic Tac Toe requires manual washing after each game which requires preparing the game well before your guests arrive.
Generally speaking, our favorite drinking board games come in at an inexpensive price bracket, averaging out at about $20.
These party games are affordable on most budgets, whilst other games like Envy Born Game's Don't Get Drunk Board Game is priced at $29.99 and The Red Dragon Inn at upwards of $40.
The ever-sleek Shot Glass Tic Tac Toe brings you a stylish, modern board game that will elevate your party to a new level of class that you wouldn't expect from a drinking game.
Meanwhile, the Drink-A-Palooza board game features a water-resistant laminated board cover that ensures your gaming surface won't deteriorate from spills, snack, meals or wear and tear.
Each game considered is fairly compact in size, making for a small footprint and ideal for storage when not in use. Check here for more of the best board game storage ideas.
Frequently Asked Questions
Board games that are good for drinking are those that are easy to explain, learn and play, accommodate the number of players interested and make for entertaining and fun game nights. The top 3 best board games for drinking are: These Cards Will Get You Drunk, Drink-A-Palooza and Drunk Jenga.
The most fun drinking game is These Cards Will Get You Drunk. Featuring 100 dynamic playing cards full of outrageous party games and challenges, These Cards Will Get You Drunk is an easy-to-play crowd-pleaser that's so much fun it'll put an end to hosting boring parties and make you the most popular amongst your friends.
A drinking board game is a board game that involves some aspect of drinking alcohol tied into its gameplay. Usually operating off a risk and reward theme, drinking games involve skill and chance elements that result in the loser of the game or round drinking from an alcoholic beverage of their choice.
Take your game nights up a notch by incorporating the best board games for drinking into your next party. If you want the top choice, aim for These Cards Will Get You Drunk or Drink-A-Palooza, since these games feature exciting, hands-on gameplay that honors traditionalists whilst also enticing newcomers looking to enjoy some party games.