At first glance, you may not think backgammon strategy is something you can apply to a backgammon board. While this game utilizes two dice, it's usually the more strategic player that finds success and wins regularly.
There are a few ways to implement a strategy in this game. If you're a beginner, then focus on the opening moves. Knowing which one is best based on your dice roll will give you an advantage right from the start.
For advanced players, choose a playstyle that allows you to comfortably move your checkers forward without too much risk.
Honing and practicing these skills makes playing backgammon so much fun and addictive – there's a reason it has been around for hundreds of years!
Setting up the board is very specific. Like chess, the pieces have exact locations where they need to start.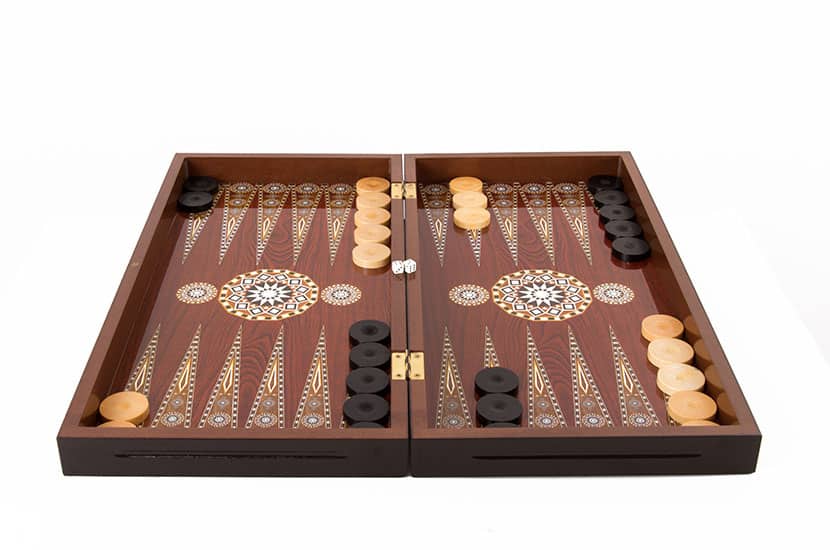 Each game starts the same way:
Start by placing two checkers on the farthest point from your inner table, the 24 point.
Then set five more checkers halfway around the board on the 12 point.
Place five more on your 6 point in your inner table.
The last three checkers will occupy the 8 point.
Your opponent's checkers will mirror this setup, and you will be ready to start.
Now the fun begins as you try to gain the upper hand over your opponent with a killer opening move! You can set the tone early in the game by using one of these backgammon opening moves to take a head start.
Occupying points is the best way to slow your opponents progress and keep your checkers safe. To do this on the opening move, you want your dice to be within two of each other. For example, 4 and 2, 3 and 1, or 5 and 3. These rolls will allow you to take over a point within your inner board, making it very difficult for your opponent to exit.
An opening move of 6 and 1 is also advantageous as you can take over your own seven point to start building a prime; more on that later.
While these are the best opening rolls, they don't always happen, so you must be prepared to make the most of any roll you get on your opening move.
Leaving a vulnerable checker may be unavoidable. If this happens, try to leave one that is far back so if it gets caught, it won't have far to travel to get back in the game.
Here are the five basic backgammon strategies that are easy to learn and sure to improve your game.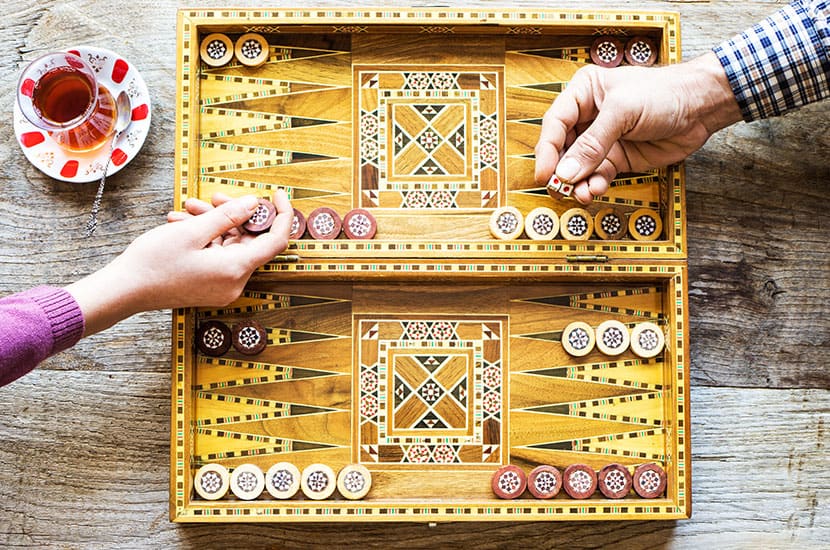 As the name suggests, the objective of the running game backgammon strategy is to run and move your furthest checkers early. Don't concern yourself with hitting your opponent's checkers, and just get all your checkers around the board safely and fast.
You can adopt this strategy halfway through a game if you are winning. Do not use this strategy if you are losing; you will leave yourself too vulnerable.
This backgammon strategy does not require any blocking either. Simply move your furthest pieces first, so no one gets left behind. This strategy relies on some good dice rolling, so be sure you have your lucky rabbit's foot close at hand!
This strategy is meant for bold players who want to throw a bit of caution to the wind. It involves ruthlessly pursuing your opponent's vulnerable checkers and sending them to the bar repeatedly.
By attacking full time, you will be able to keep your opponent's advancing checkers far away from their inner table while you slowly move forward. This relies heavily on your opponent, leaving checkers open for you to hit.
It's also recommended to use primes as well. This means blocking a consecutive set of points, making it much more difficult for your opponent to either roll back on the board or advance past your prime.
Careful you don't leave too many of your own single checkers with this strategy. If your attacking checker remains vulnerable, you can be the victim of your opponent's blitz and may find your checkers on the bar as well.
The holding backgammon strategy requires you to strategically place two of your checkers deep in enemy territory. By keeping two of them in your opponent's home board, you make it impossible for them to prime the whole thing.
This also creates a safe haven for your other checkers should they get sent to the bar. They will have at least one point to land on to get back in the game safely.
Typically you would want to move your furthest checkers as fast as you can. But if you find yourself stuck, dig in for the long haul and try to catch your opponent when they are vulnerable with the holding game.
Taking the hold game to new heights, the back game requires you to really "set up shop" in your opponent's board.
By taking up more than one point, you make it very difficult for your opponent to move their checkers in and even more challenging to bear off since they do not want to leave a single open.
The back game is born out of necessity and less of a routine game plan. In order for it to work effectively, you will need more than three checkers in your opponents home board. That means you will have to get sent back by your opponent first.
Priming is a strategy that gets used throughout almost every backgammon game played. It places the focus on building a wall, preferably close or in your home board, to make it difficult for your opponent to pass and keeps them in the outer board.
You only need two of your checkers to own a point, so many opportunities exist to implement this skill. The key is to take over consecutive points. If you have six in a row, then it's impossible for your opponent to pass until you dismantle your wall yourself.
As a bonus tip, always ensure you're using the doubling cube when you can. You never know what your opponent is thinking, so any slight advantage you have to make a money play, use it to double the value in an all out attack.
Even if your opponent rejects, you win the game and get the current value of points. Most people think the object of backgammon is to get your checkers off the board as soon as possible. In actuality, the object is to make your opponent believe you will do this before them. Once they think that, you will win with the doubling cube and hopefully get full point value as well.
Frequently Asked Questions
The best backgammon strategy will be whichever one works best for you. Some styles suit certain personalities better, and it's your job as a player to hone these winning ways. The game of backgammon is one of the oldest in the world, the skills you learn now will be helpful for your whole life. The game isn't going anywhere, and all the backgammon boards are the same. So enjoy the journey and the experience of learning something new. Hopefully, you find the best strategy that gets you some wins as well.